Innergize
Free Software to Keep Your OWC Flash Storage Fast and Reliable
Innergize Your Workflow with Highest Performance and Reliability
OWC Innergize™ is the first stage of the Capture to Completion™ ecosystem of OWC products that propels you on your creative capture journey with full confidence. This OWC custom-designed app is a complete health, performance, and field firmware upgrade management tool that ensures OWC Atlas memory cards are always ready to boldly deliver the highest level of workflow performance and reliability.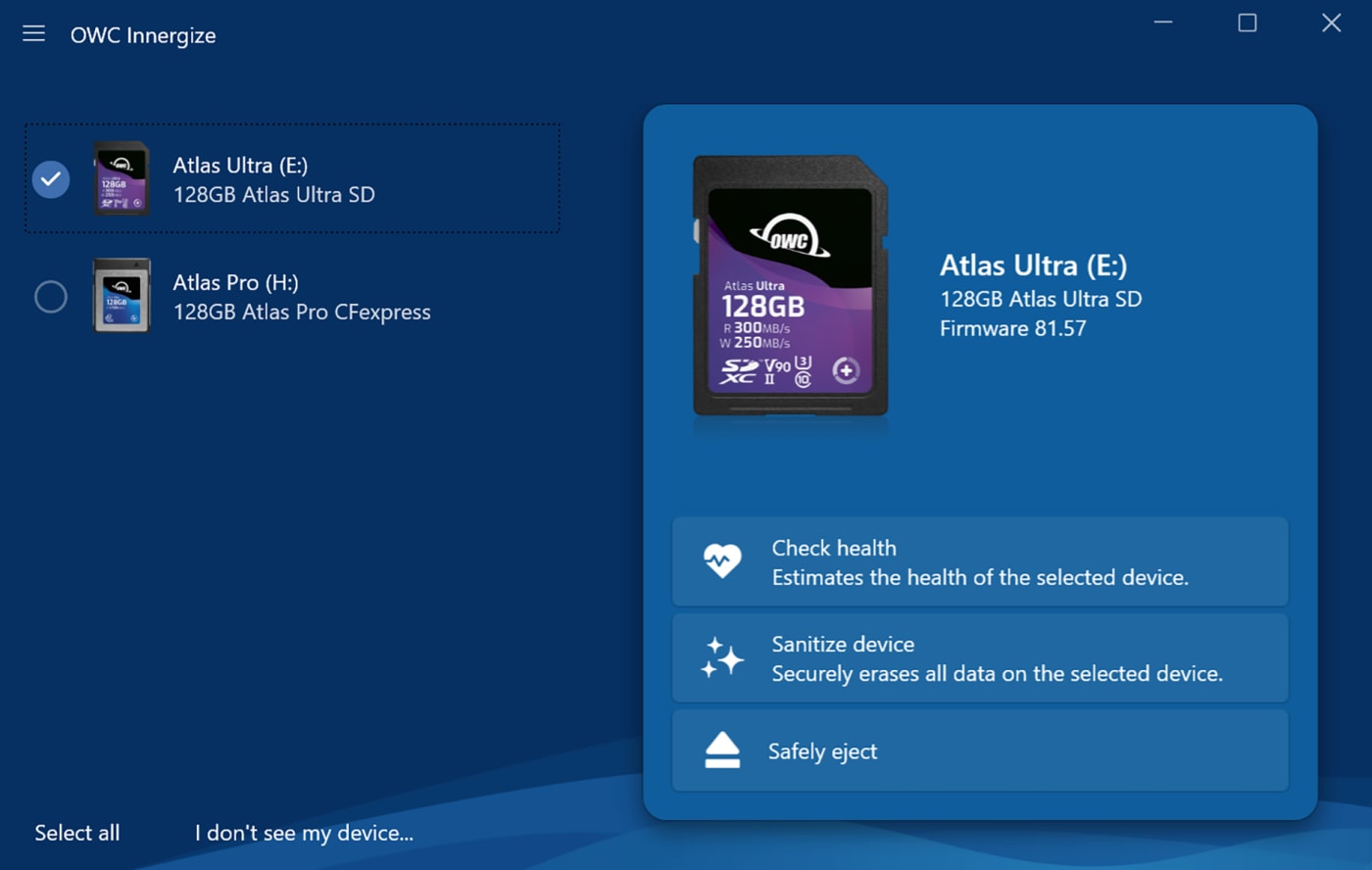 Push Past Limits
At OWC, we're all about creating the most comprehensive solution to make you the best at your creative craft. We know performance, reliability, and completeness are the true OWC product features you depend on to get your work done flawlessly on time.
Innergize helps professional photographers, videographers, and content creators effectively handle ever growing higher resolutions, framerates, bit depths, codecs, and the need to store all that increased data. Normal use of flash memory slowly degrades its ability to write at maximum speeds. When you need to use your camera's most demanding settings, that's when flash memory really gets stressed, and problems can occur. With Innergize, you can push past the limits of flash technology and not experience dropped frames, missing a picture because the camera buffer was maxed out, or your camera automatically stopped recording.
Work with Maximum Confidence and Reliability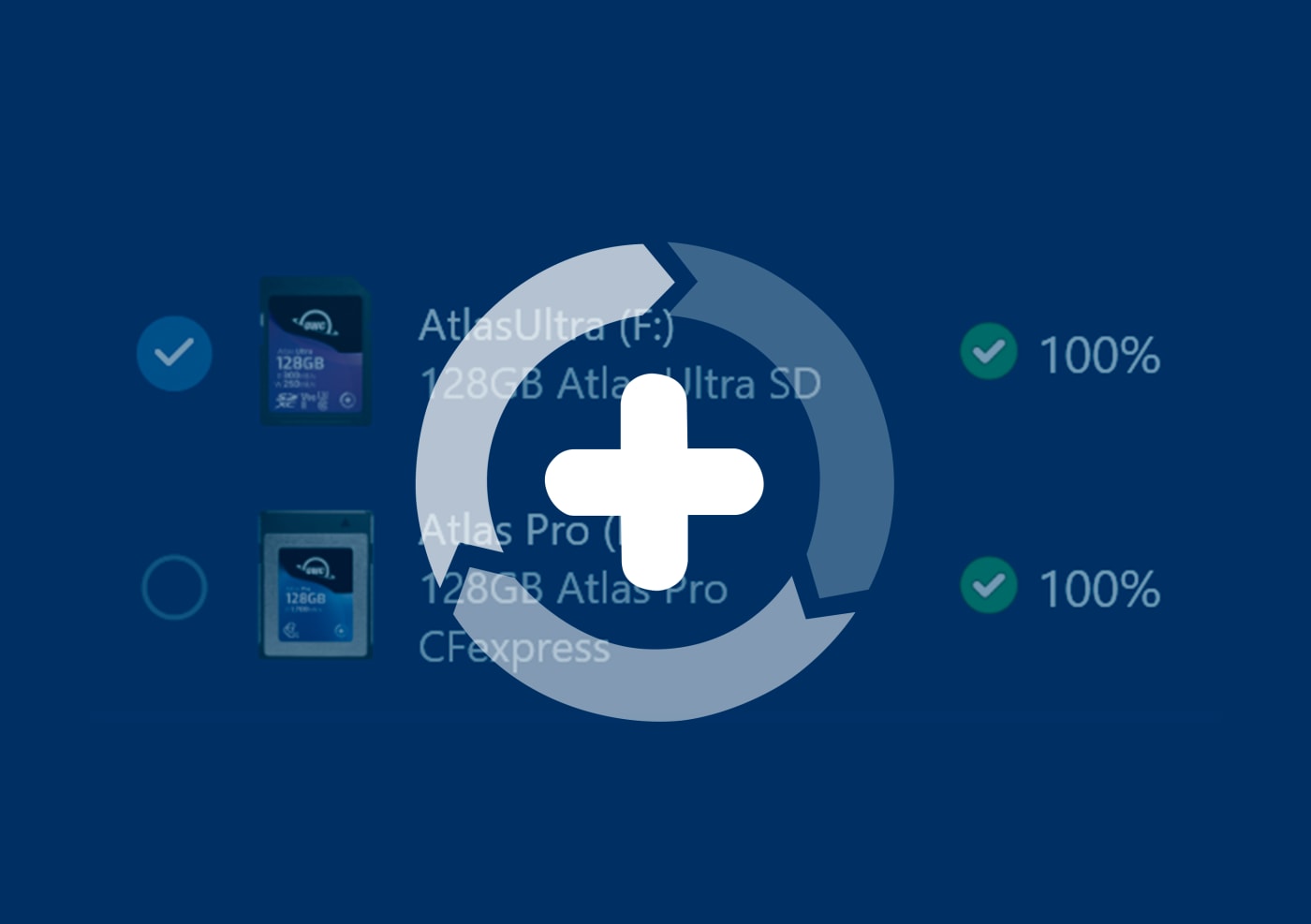 Health
Over time and use cycles, flash memory does wear out. Innergize verifies and reports the percentage of use life remaining. Now you can work with full confidence your OWC flash memory product will deliver the reliability you can trust.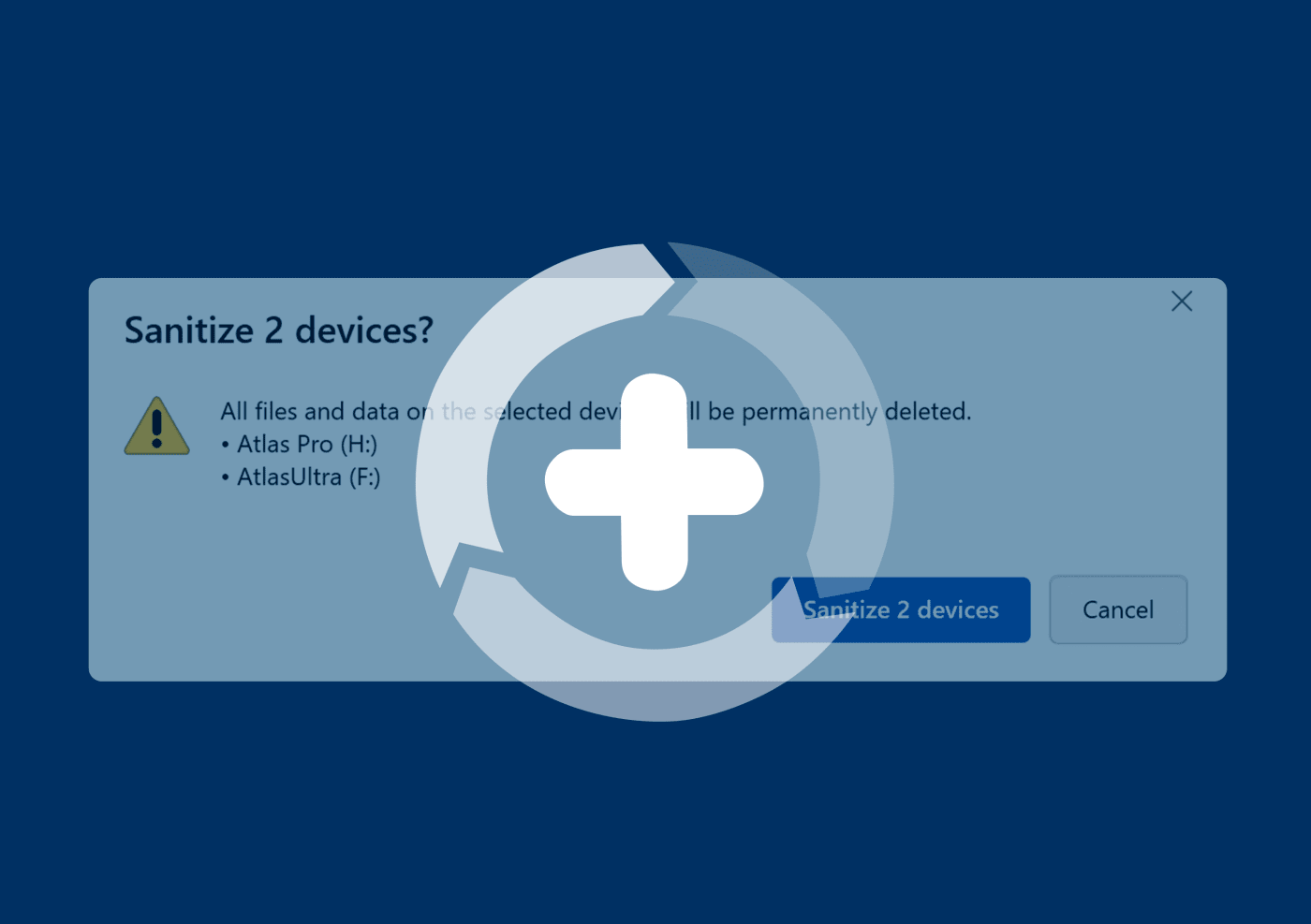 Sanitize
Writes, deletes, and formatting all take their toll on memory cards. Innergize cleans and restores the flash memory performance of OWC memory cards so you can get the best results on every use.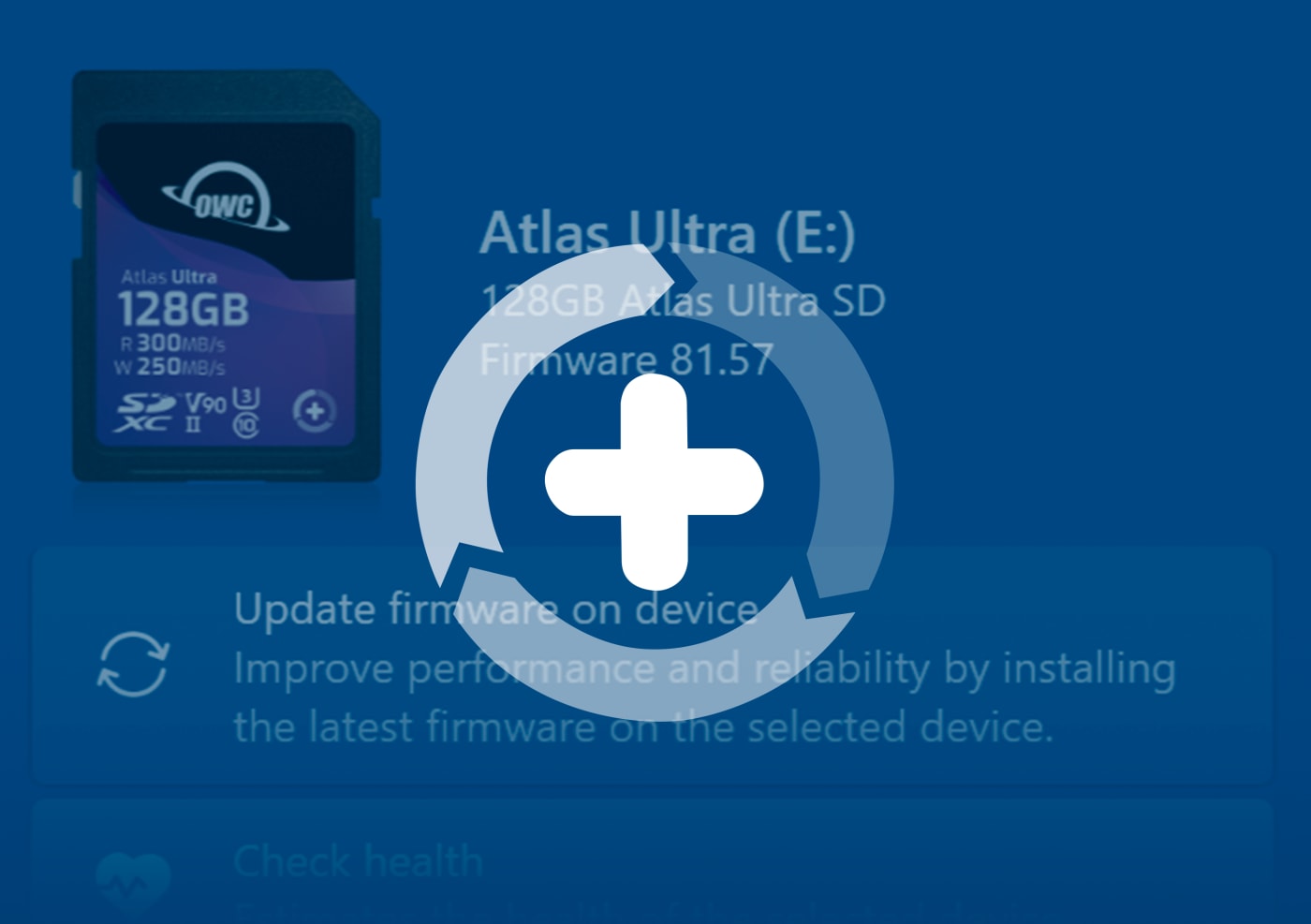 Field Upgrade
When new cameras or firmware updates to existing cameras are introduced, they may not work properly with flash memory cards and drives. Innergize gives OWC memory card users the ability to quickly upgrade their firmware in the field for full compatibility, additional performance enhancements, and bug fixes for optimal reliability.
Ready. Set. Go Be Your Best Confidentially.
We created Innergize to function like a creative pro's "pre-flight" checklist. Whether you're a filmmaker embarking on a big project or a wildlife/sports photographer using burst sequences with RAW hi-res pictures, you simply apply Innergize to your OWC Atlas memory cards (after backing up your existing data of course!) before starting any project to restore peak performance, monitor longevity, and update compatibility.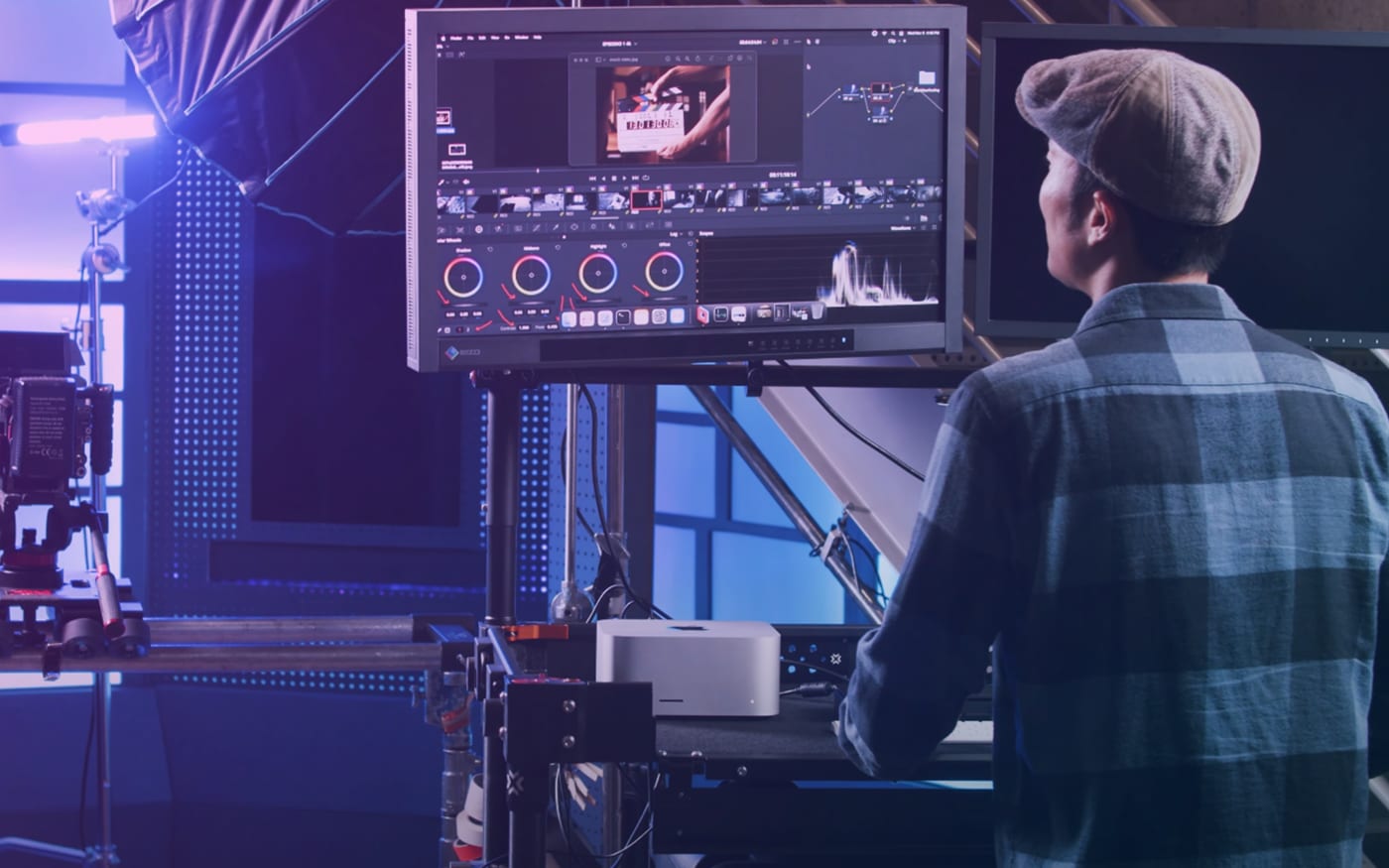 Powerfully Complete and Free
We're passionate about ensuring your success, so we created an ingenious ecosystem that you can build your entire creative capture workflow around. OWC memory cards, card readers, connectivity docks and storage solutions with reader slots communicate with Innergize through special OWC firmware. The result is a seamless, unified solution that delivers our renowned "it just works" experience. And the best part of all is that you can download Innergize for free!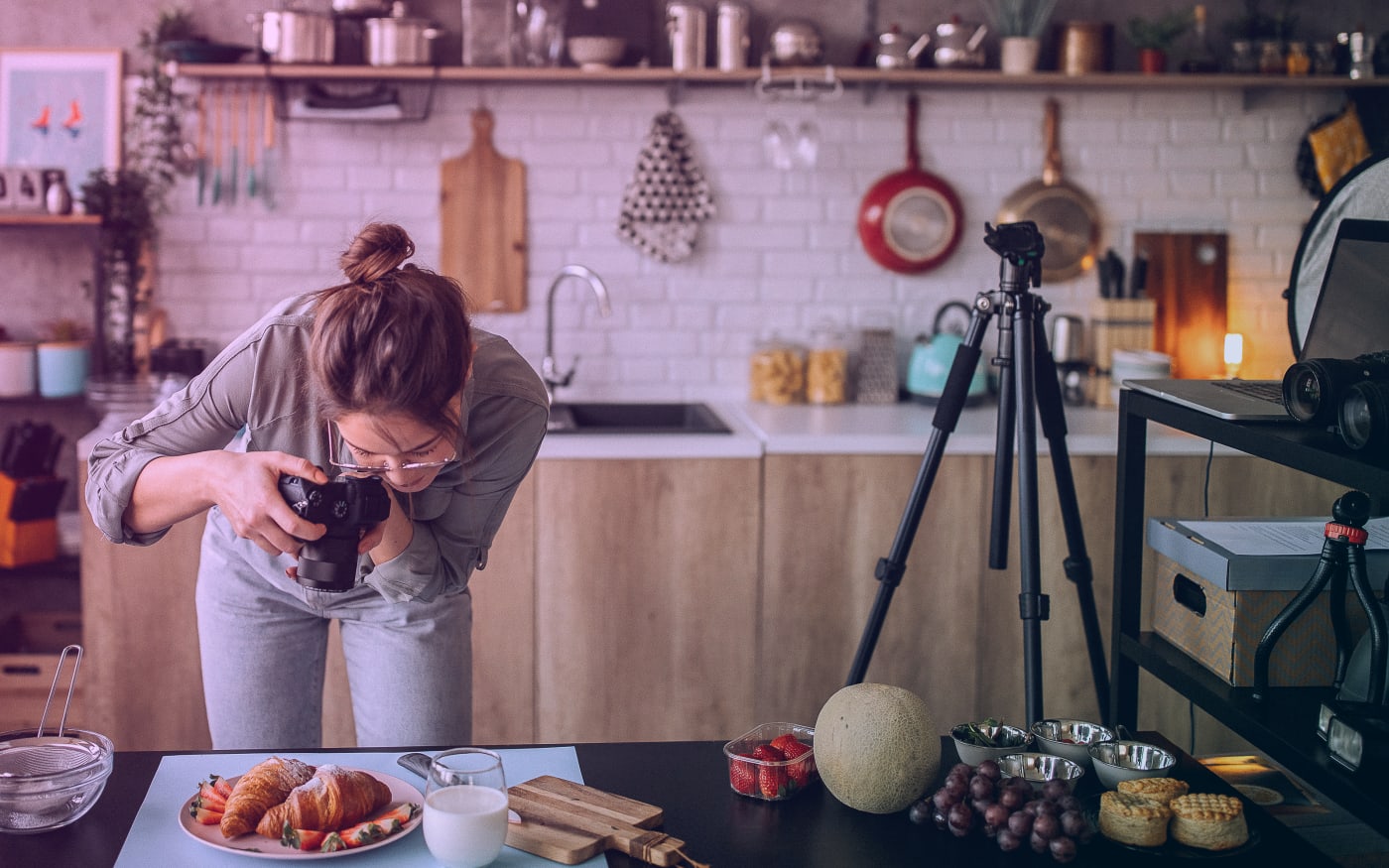 Innergize Enabled OWC Products
Note: The use of Innergize with various OWC card readers, docks with card reader slots, and storage solutions with card reader slots may require a firmware update or other conditions. Please refer to individual product pages for further details.
Innergize Enabled Storage & Docks with SD Card Readers
The industry's first Thunderbolt 3 storage, docking, and PCIe expansion media workflow solution. Perfect for digital imaging, VFX, and video editing.
Explore
The only drive you need to organize your digital life. Features dual drives and seven ports, taking you from notebook to workstation in seconds.
Explore
Add three Thunderbolt 4 ports, 4 USB ports, along with Ethernet, audio, and card reader functionality to your Thunderbolt 3 Mac or Thunderbolt 4 PC.
Explore
Through a single cable the OWC 14-Port Thunderbolt Dock brings 14 ports, convenience, and power to your Thunderbolt 3 equipped Windows PC or Mac.
Explore
The first full-featured Thunderbolt dock with a built-in power supply. Go anywhere + connect more than bus-powered docks.
Explore
Designed for pro creative workflows and features 10G Ethernet, frontside CFexpress and SD card readers, Thunderbolt (USB-C) device support, and peripheral ports.
Explore
The best bus-powered 6-port mini dock to connect, charge, display, and import on-the-go. About the size and weight of a hockey puck.
Explore
With five essential ports, up to 100W pass-through power, and just one cable, you're ready to display, charge, connect, and import while on the move.
Explore
Innergize Enabled SD Card Readers
Empower yourself with maximum workflow efficiency by ingesting CFexpress and SD memory cards simultaneously.
Explore
Compact bus-powered dual slot SD memory card reader that helps photographers, filmmakers, and content creators work smarter & more efficiently.
Explore
Innergize Enabled CFexpress Card Readers
Empower yourself with maximum workflow efficiency by ingesting CFexpress and SD memory cards simultaneously.
Explore
Easily transfer captured content from CFexpress Type-B cards, and take advantage of transfer speeds over 1600MB/s with Thunderbolt and up to 900MB/s with USB.
Explore