ThunderBay Flex 8
The industry's first Thunderbolt 3 storage, docking, and PCIe expansion media workflow solution. Perfect for digital imaging, VFX, and video editing.
FLEXible Storage
Eight drive bays: use a mix of U.2/M.21 NVMe and SATA/SAS2 drives for up to 172TB of capacity and real world speeds up to 2,750MB/s
Future ready: top four bays can use U.2 SSDs…the emerging M&E industry storage standard
Powerfully easy RAID: create, manage, and monitor advanced RAID sets with SoftRAID
Docking FLEXibility
Do more: second Thunderbolt 3 port3 for daisy chaining devices or additional display(s)
Connect more: (1) USB-C and (2) USB-A 10Gb/s ports for peripherals and mobile devices
See more: DisplayPort 1.4 for connecting up to an 8K display4
Fast media ingest: front-side SD 4.0 and CFexpress card readers with up to 985MB/s speed
FLEXpandable for Unique Needs
Play your card: (1) PCIe slot for audio/video capture, networking, SSD storage, hardware RAID card, or I/O card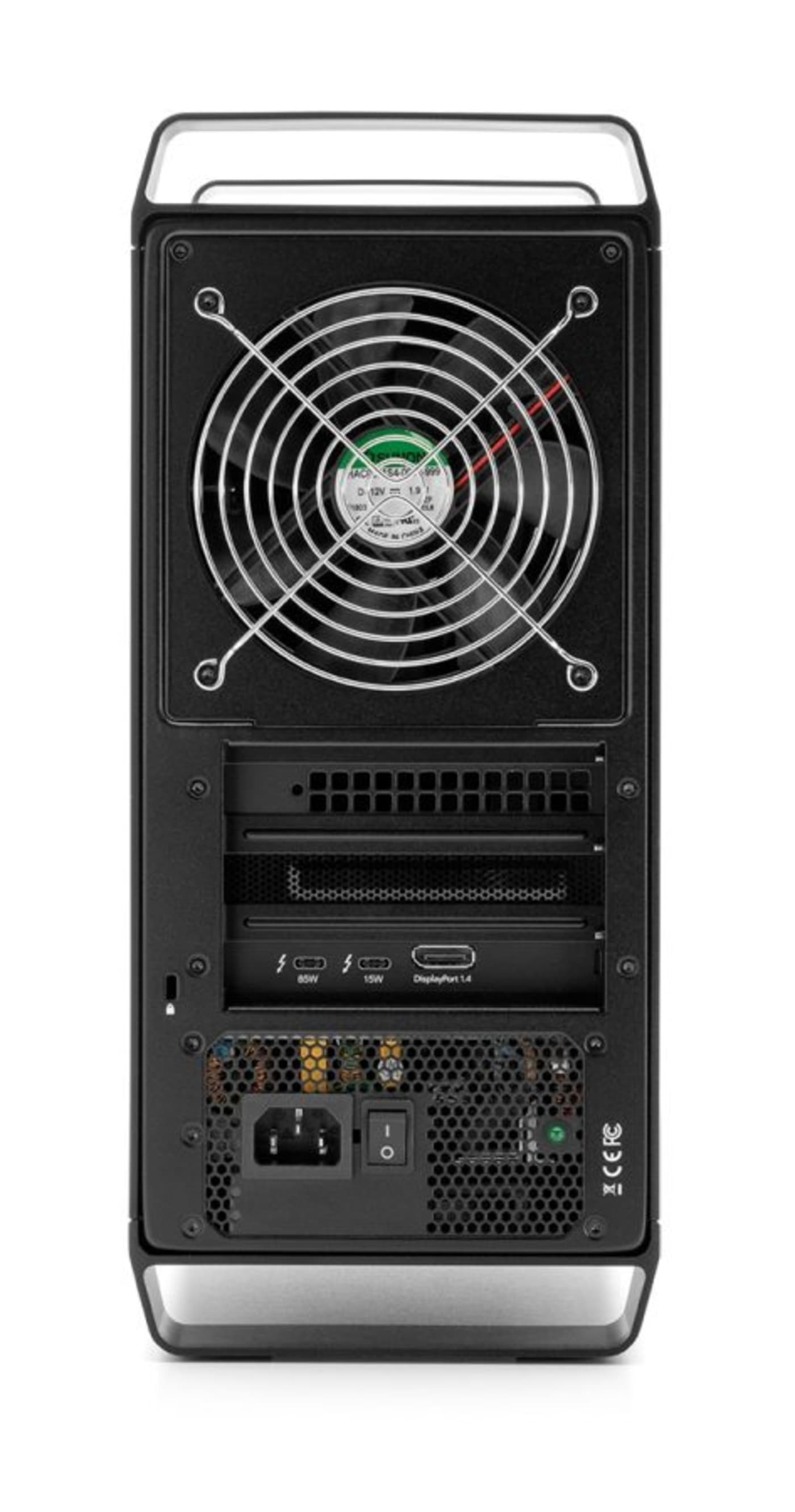 Kind of a Big Deal
The ThunderBay Flex 8 is the world's first 3-in-1 productivity platform with unprecedented speed, space, versatility, and convenience. This highly configurable solution took home the 2020 "Best of Show" Award at Video Edge. This year the OWC ThunderBay Flex 8 was already nominated for the 2021 Tech Leadership Awards and it was a 2021 CES Innovation Award honoree. Experience for yourself why this groundbreaking platform continues to be heralded as "groundbreaking" and "revolutionary."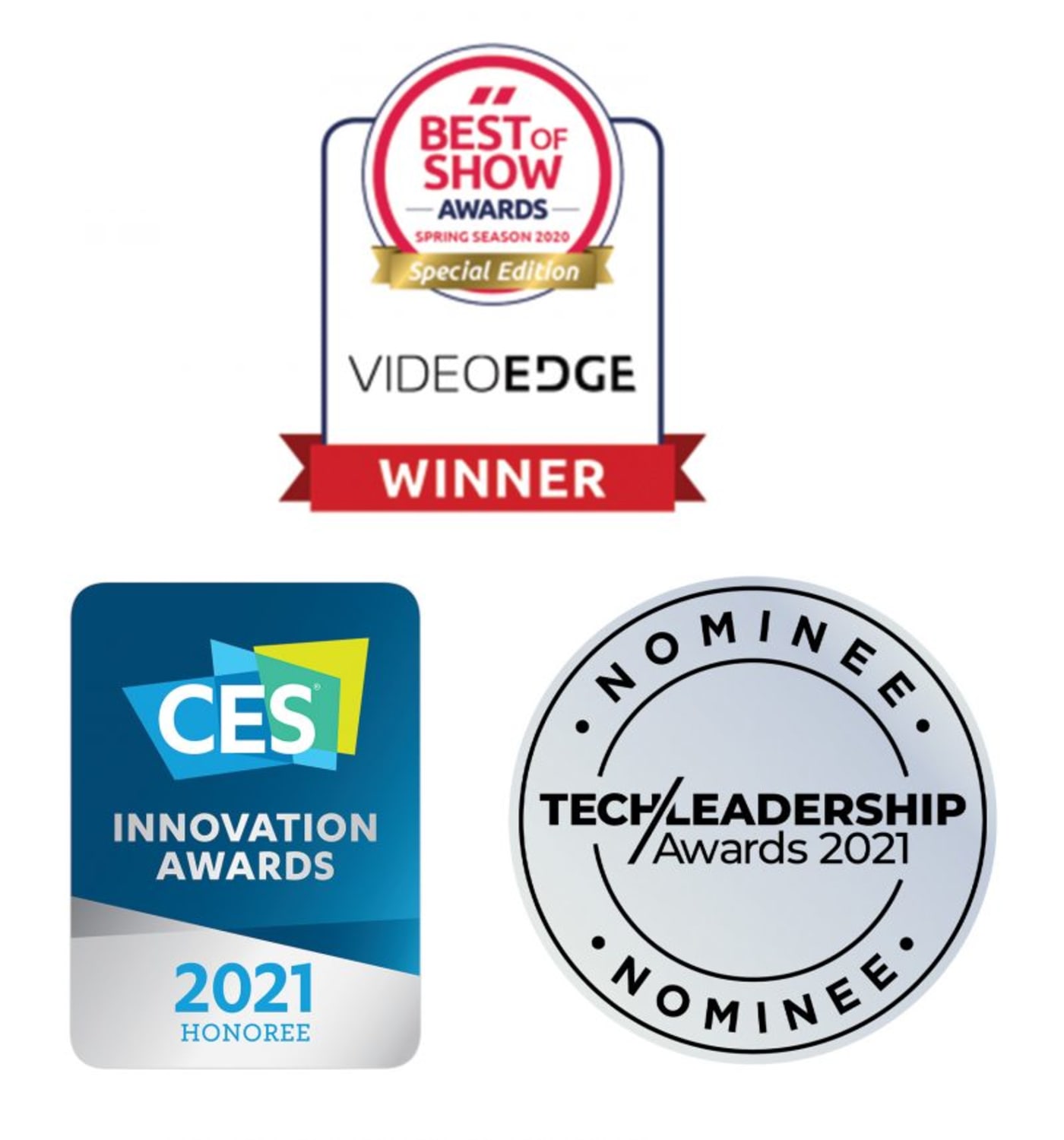 Flex Your Way Through Every Workflow
ThunderBay Flex 8 is a groundbreaking workflow solution from the world's leading Thunderbolt accessory manufacturer. It offers eight drive bays that support a mix of SATA/SAS and U.2/M.2 NVMe drives for up to 172TB of storage capacity. Next, there's a plethora of ports including (2) Thunderbolt 3, (1) USB-C, and (2) USB-A for device docking and charging.

See your work in greater detail by adding up to an 8K display via a built-in DisplayPort 1.4 connection. Ingest hi-res images and video via front-side SD 4.0 and CFexpress card readers. And when you want to expand your desktop capabilities, there's a PCIe slot waiting for your specific project needs.
ThunderBay Flex 8 is the one Thunderbolt 3 desktop device that rules them all. With an irresistible economy of scale, this consolidated solution is ideal for anyone waiting for the right moment to invest in Thunderbolt technology.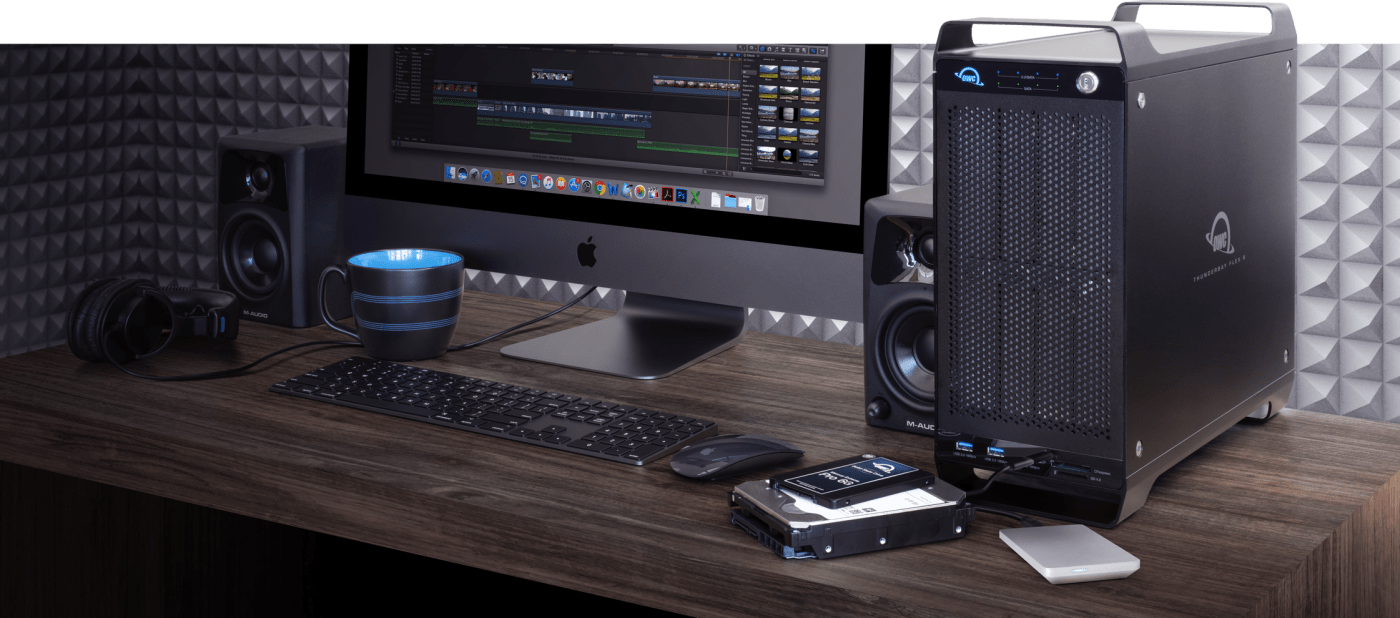 At the heart of the ThunderBay Flex 8 capabilities are two cutting-edge technology standards: NVMe and PCIe. Non-Volatile Memory Express (NVMe) optimizes the performance of modern flash technology over the Peripheral Component Interconnect Express (PCIe) standard. It enables significantly faster SSD performance with a more direct and optimized path to a computer's processor.
Tying both of these technologies together is the Thunderbolt 3 interface which uses the PCIe bus. This interface offers the fastest data transfers possible on a single cable between computers and peripherals like storage solutions, docks, and expansion devices while also supplying charging power.
The Future Standard of Storage Available Today
Right out of the packaging, all eight bays can utilize SATA 6Gb/s 2.5-inch SSDs or 3.5-inch HDDs. To take advantage of 40Gb/s PCIe technology, the top four bays are NVMe U.2 SSD ready. These emerging super-fast SSDs enable ThunderBay Flex 8 to meet the future storage needs of content creators and video production pros.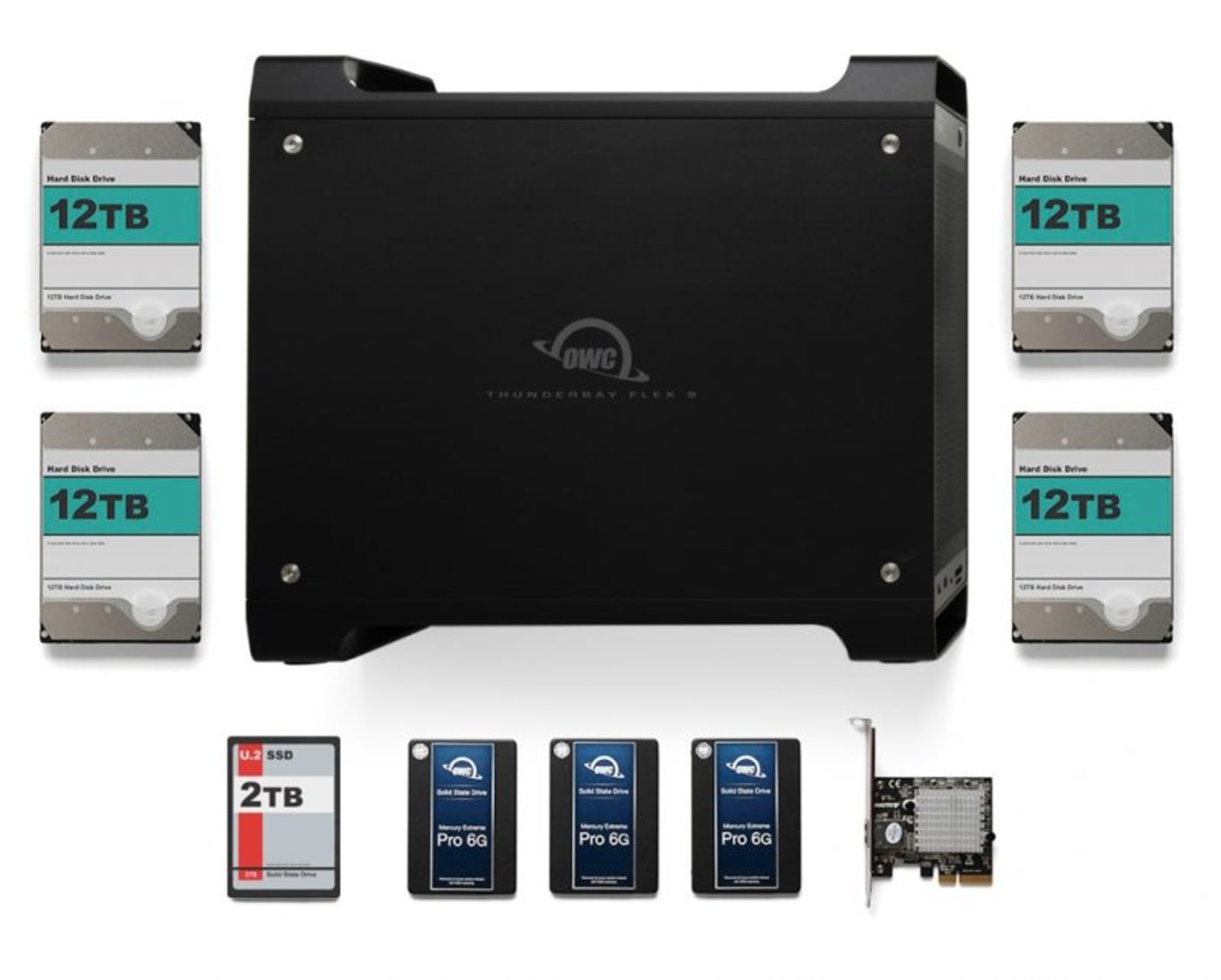 A Protective, Economical Post-Production Solution
Sending a drive from set to post-production typically entails tedious and time-consuming drive enclosure disassembly to access the storage drive or costly shipping of the entire enclosure to the post lab. But ThunderBay Flex 8 offers yet another option.
By installing an OWC U.2 NVMe Interchange System carrier tray (sold separately) with a built-in U.2 connector into a ThunderBay Flex 8 drive tray, you can protect the U.2 SSD drive's connector from repeated install/removal wear for improved drive longevity and investment. When done with your shoot, just ship the lightweight protective carrier and drive to the lab where the carrier can be installed into an OWC Helios 3S (sold separately) equipped with the OWC Interchange System. It's a complete solution to safeguard your data while lowering shipping costs.
End-to-End Workflow Possibilities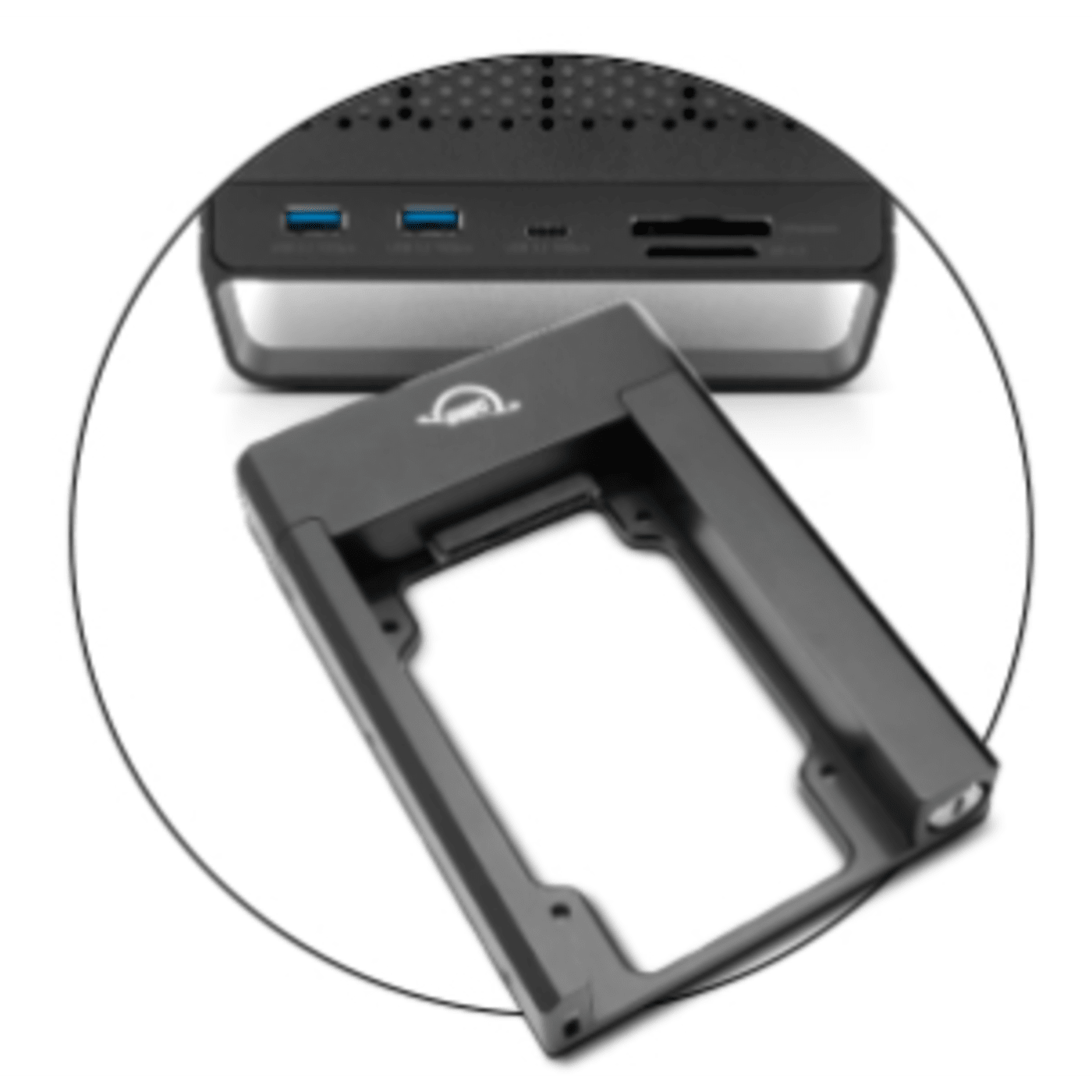 On-Set
U.2 Interchange System Carrier Tray + ThunderBay Flex 8
Protects U.2 SSD drive connector from install/removal wear to improve drive longevity and investment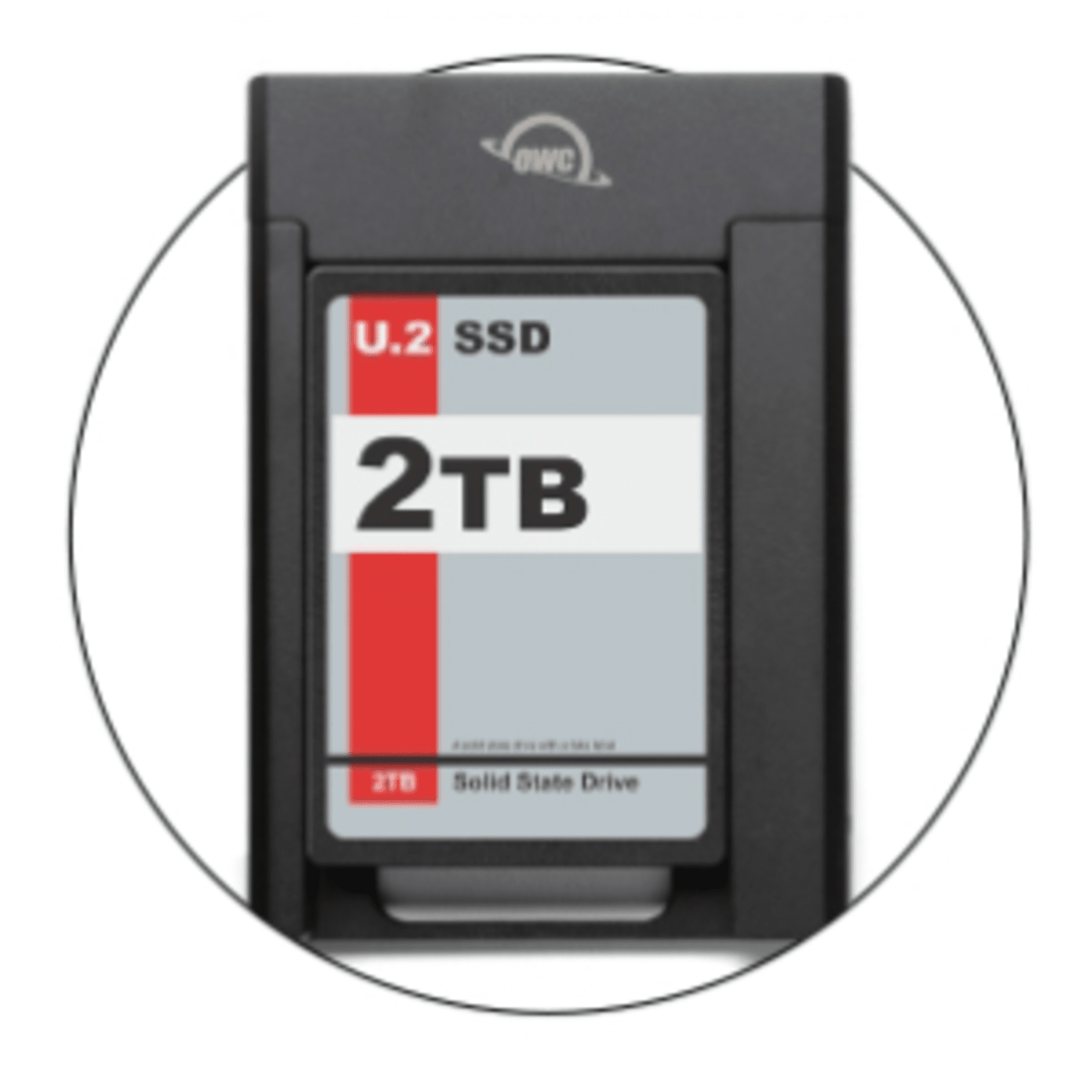 Transit to Post-Production
Interchange System Carrier Tray with U.2 SSD
Lightweight protective carrier safeguards data while lowering shipping costs vs shipping entire enclosure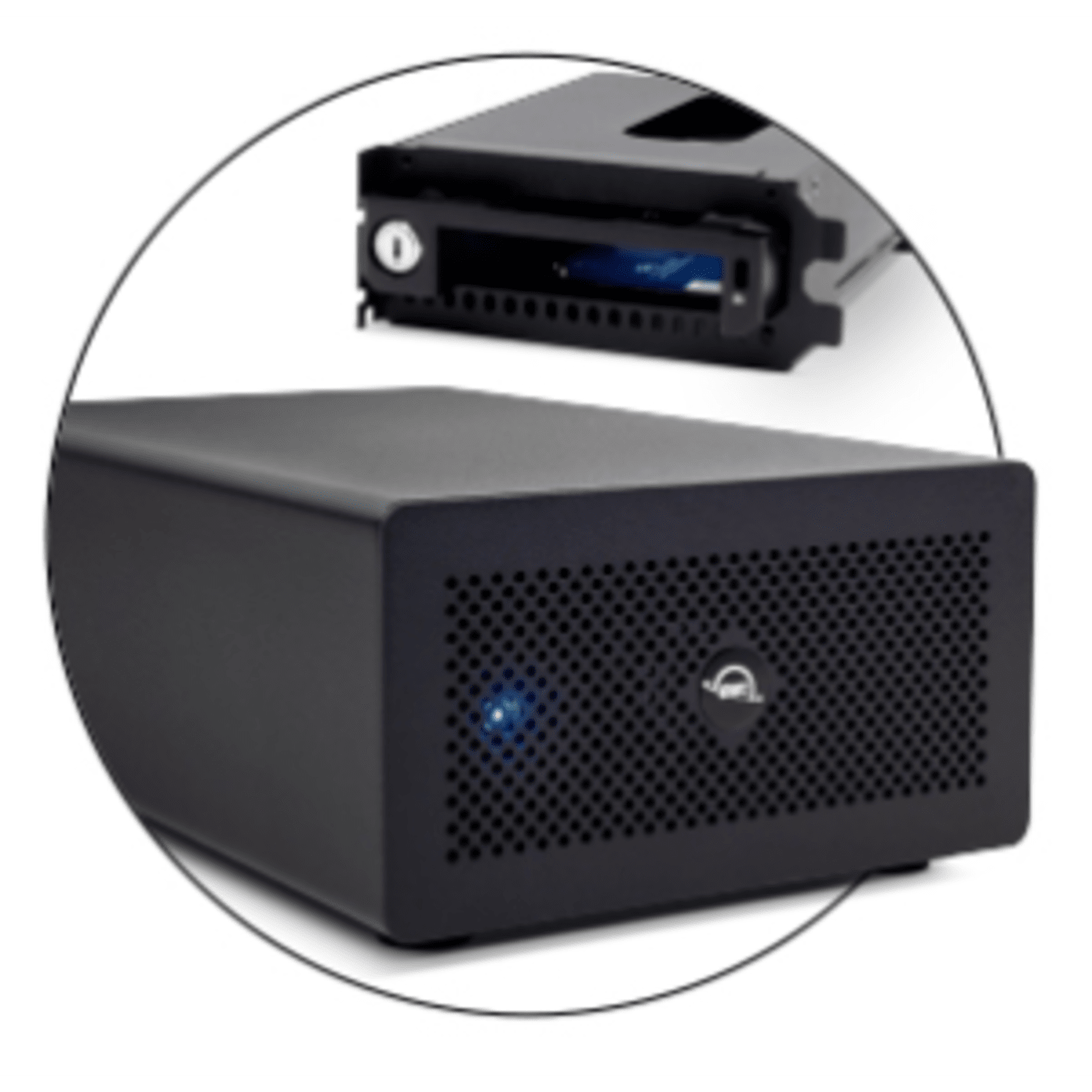 Post-Production Lab
Interchange System Carrier Tray with U.2 SSD + Helios 3S + Interchange System
Desktop U.2 NVMe SSD sawappable storage for fast processing of footage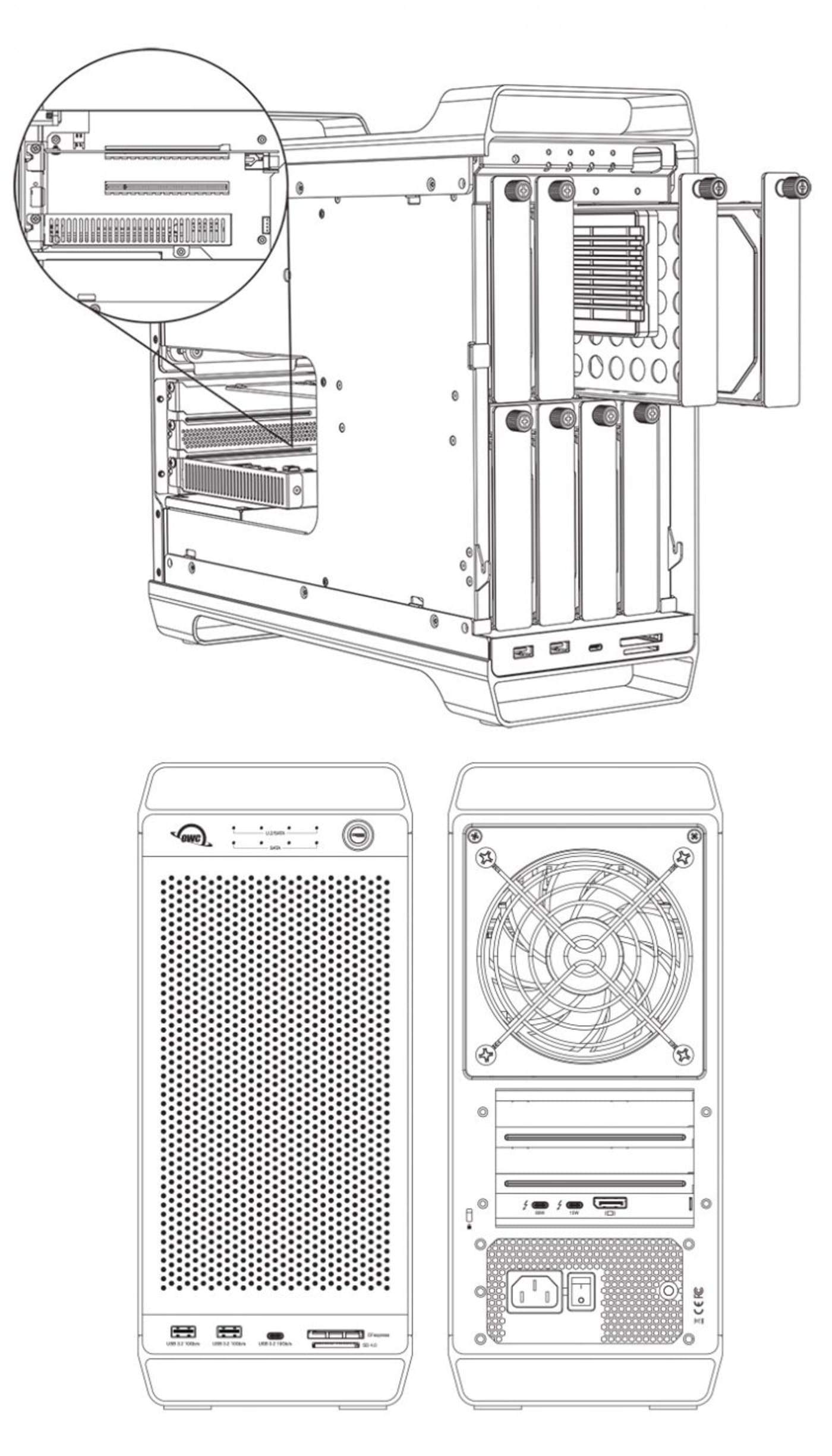 Muscle-Flexing Data Performance
Are you a video pro working with 4K/8K and even Phantom high-speed files? The ThunderBay Flex 8 offers a variety of drive configurations that deliver real-world read/write speeds of 2,750MB/s that saturate the Thunderbolt 3 speed threshold. Try any of these options:
Eight FLEXible drive bays with up to 2,750MB/s real world speed
Four top bays: install your choice of U.2 NVMe SSDs (one bay PCIe 3.0 x4, three bays PCIe 3.0 x1), 2.5-inch SATA 6Gb/s SSDs, or 3.5-inch SATA 6Gb/s HDDs.
Four bottom bays: install your choice of 2.5-inch or 3.5-inch SATA 6Gb/s drives. Removing the SATA drive controller and replacing with a SAS controller card enables use of faster SAS HDDs.
Swap out the built-in SATA drive controller card with a SATA/SAS hardware RAID card and configure 8 x SATA/SAS drives in hardware RAID 0
Docking Flexibility
A virtual buffet of productivity-enhancing possibilities awaits you with the docking connections built into ThunderBay Flex 8. Power your notebook with up to 85W power delivery while capturing multi-stream hi-res footage at full frame rate. Connect audio and video mixers, digital camera, keyboards, and other peripherals and charge mobile devices via one USB-C and two USB-A 10Gb/s ports. Ingest and work with 4/8K RAW video and RAW photo files immediately at speeds up to 985MB/s with frontside SD 4.0 and CFexpress card readers. Add more viewing space with up to an 8K monitor via the DisplayPort 1.4 interface. And if all that's not enough to satisfy your project needs, daisy-chain up to five additional Thunderbolt 3 devices!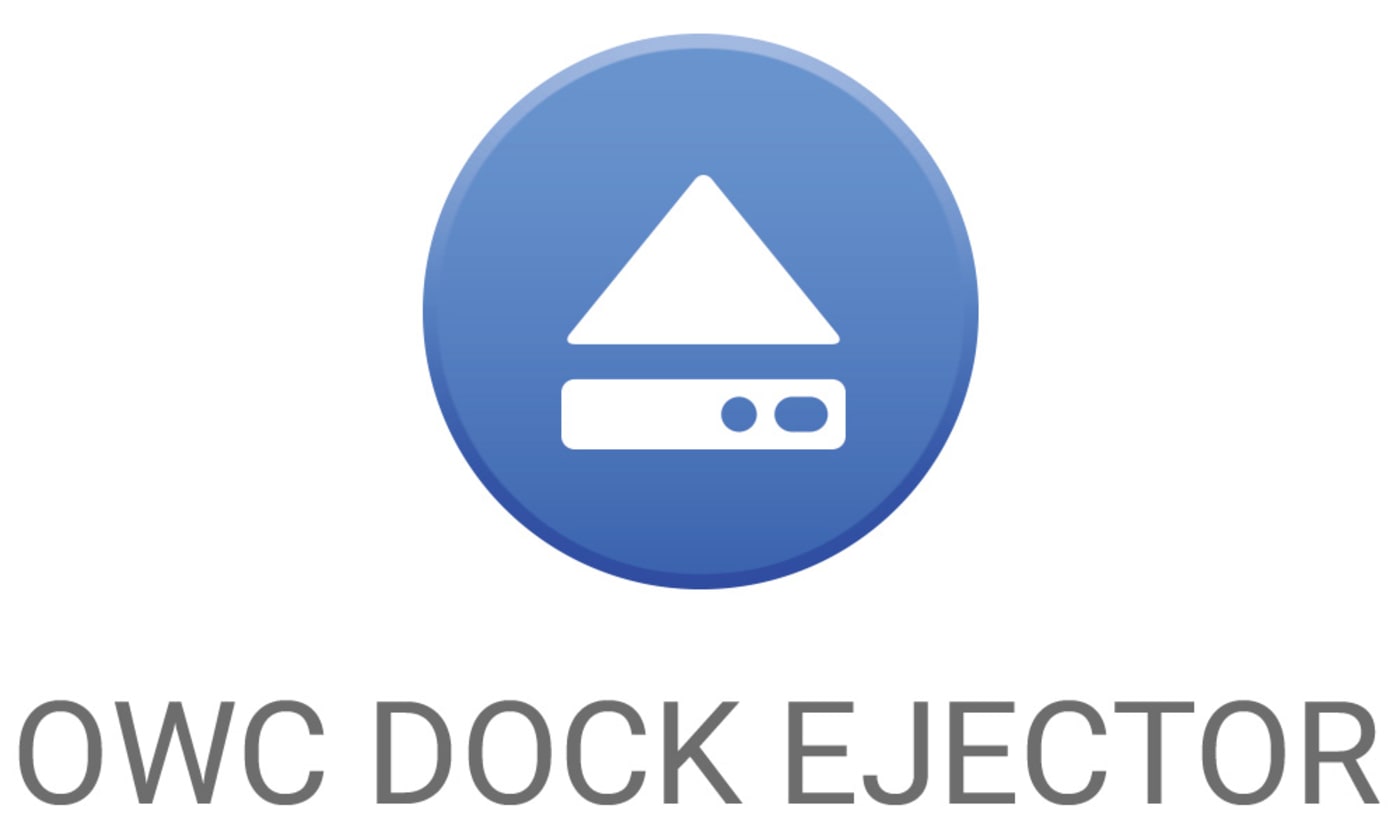 Disconnect In One Click
Safely disconnect multiple drives in a single click. OWC Dock Ejector was designed by OWC hardware and software engineers to ensure all data is written before disconnection, saving time and protecting against data loss. It makes losing your hard-earned work a thing of the past.

FLEXpandable for Unique Needs
By removing the enclosure's side panel, you can expand your capabilities by installing a half-length, full-height, single-width expansion card in the PCIe x16 connector/x4 lanes slot. Add a 4K video capture card for direct ingest of multi-stream high-res footage. Record high-quality tracks with an audio card and then edit and archive tracks. Create a powerful file server with a high-speed networking card. By replacing the built-in SATA drive controller with a SATA or SAS RAID card, you can even turn ThunderBay Flex 8 into a hardware RAID storage solution while keeping a PCIe slot open for other cards.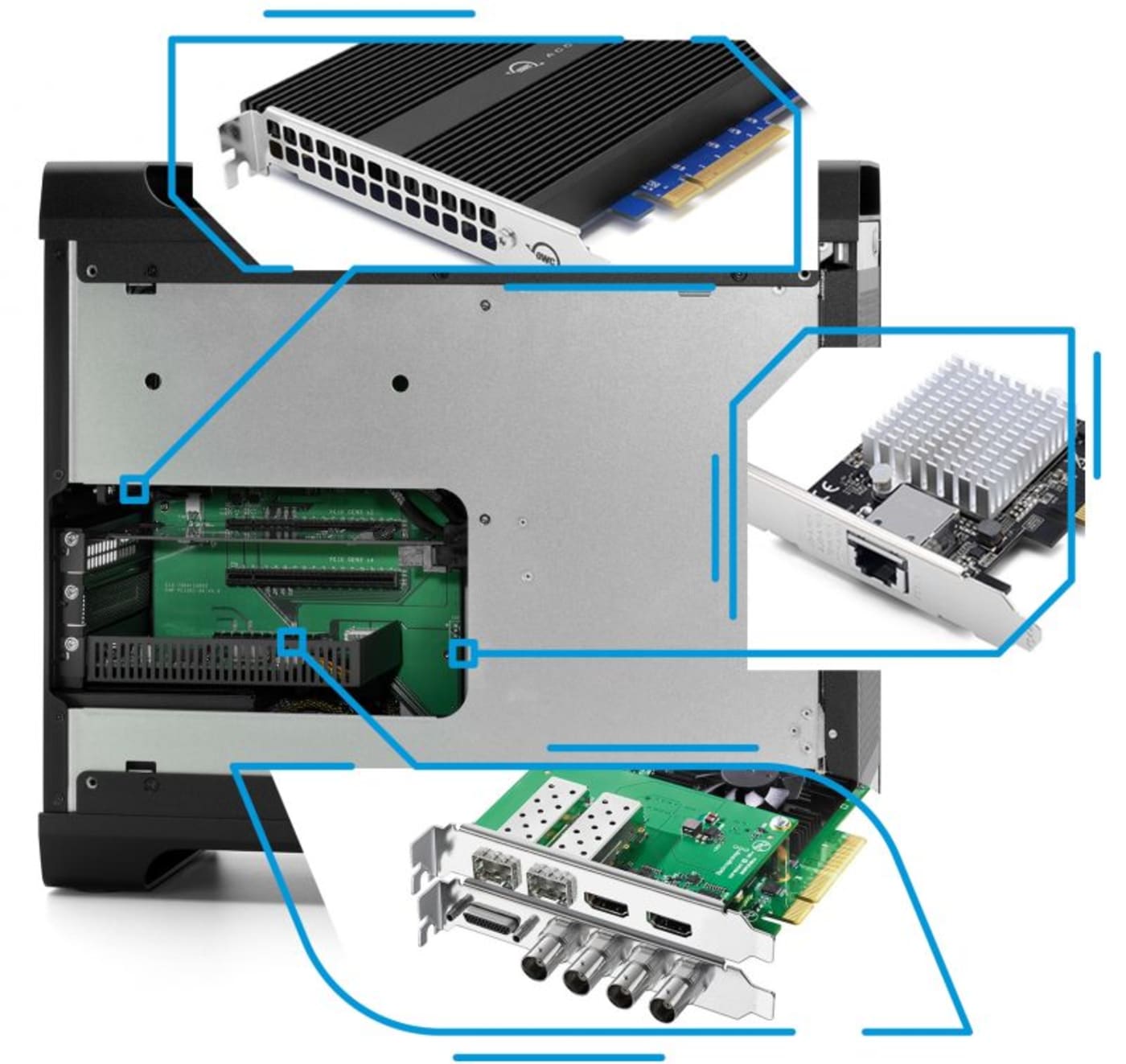 A FLEXtraordinary Platform
ThunderBay Flex 8 is a user-configurable platform that you can use to launch into projects with a new realm of time and money-saving results. To get you started, we suggest three sample configurations that make the most of the extraordinary highlights that have made OWC solutions the choice of performance enthusiasts and cinematographers around the world: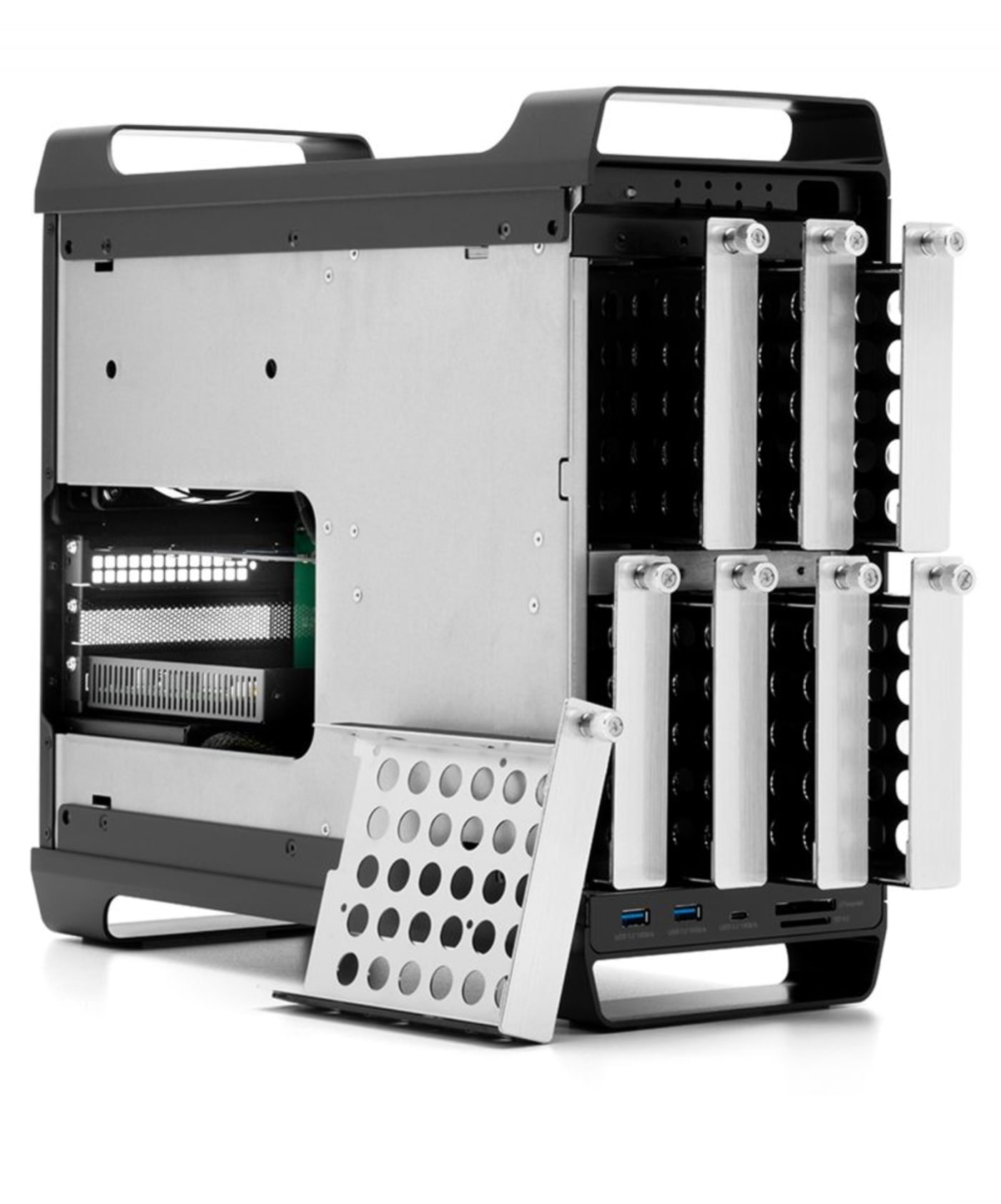 Sample Configurations
An empty enclosure that lets you add your choice of drives and PCIe cards. You can remove the SATA drive controller card to add a RAID or SAS drive controller card
The bottom four bays populated with SATA drives and top four bays left empty for use with U.2 NVMe drives, M.2 NVMe drives with adapter, or SATA/SAS drives
All bays filled with SATA drives, one bay left as cold spare, the other seven preconfigured in RAID 0 or RAID 5 with SoftRAID
Includes SoftRAID: Easy And Complete Drive Management
Now you can quickly access and robustly protect your data with SoftRAID. SoftRAID makes it a breeze to create RAID volumes by helping you through the entire process. With multiple RAID options, you decide what you're using your RAID volume for and how much space to allocate to it. It's that simple to create your preference of speed and/or redundancy for your data volume.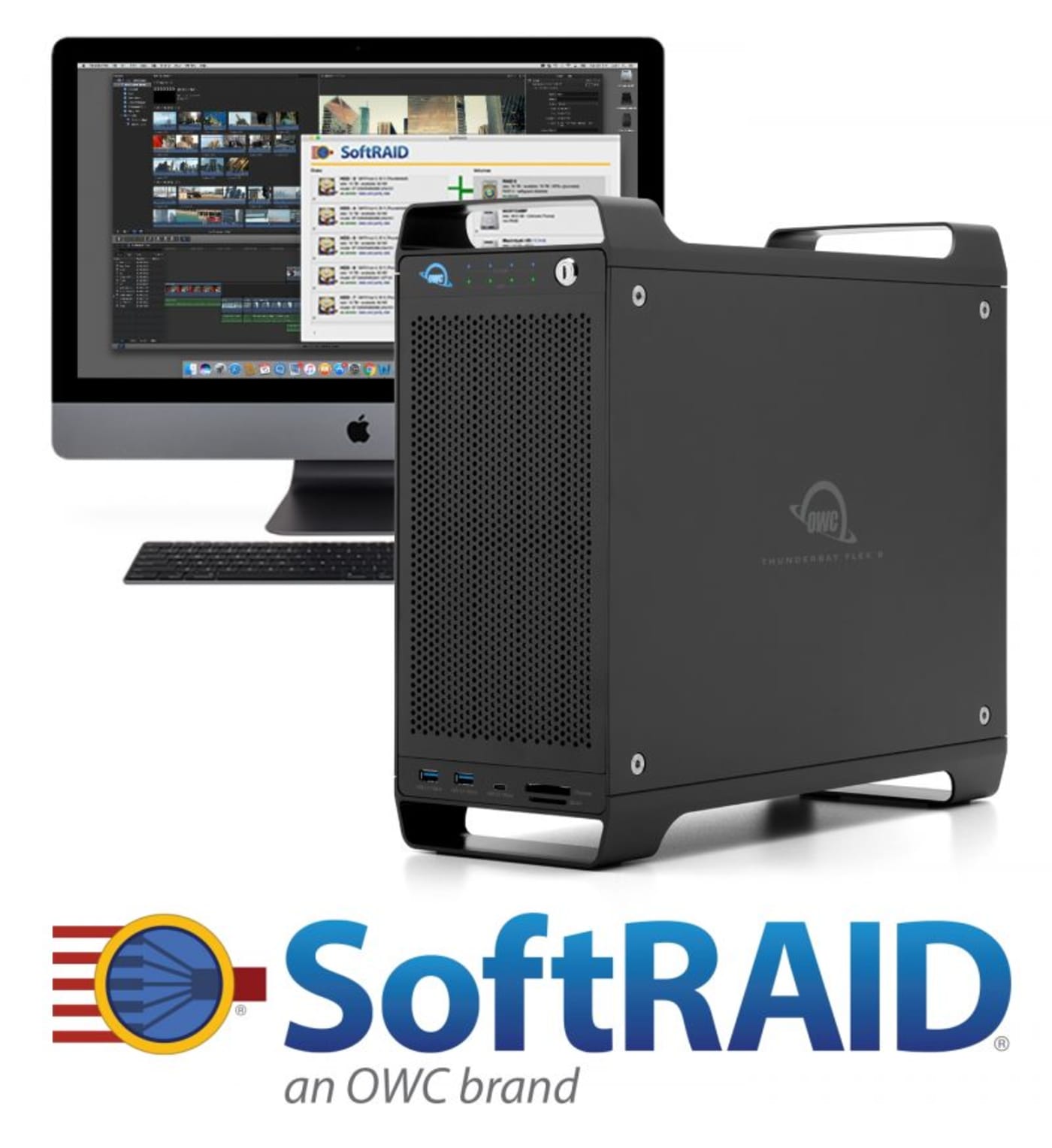 SoftRAID highlights:
Advanced: create RAID 0, 1, 4, 5, 1+0 (10) volumes (RAID 6, 6+ coming soon) and get email notifications for drive and RAID volume health with SoftRAID Pro (Mac only)
Verify: volume validation ensures sectors can be read, parity is correct, and any potential volume failure is minimized
Certified: drives are validated before use to ensure they are safe for data storage
Vigilant: predictive warnings help protect against unexpected drive failure
Outperforms: up to 86% faster than AppleRAID
Thorough: full TRIM support improves internal and external SSD performance in all RAID levels Innergize Your Workflow with Highest Performance and Reliability
OWC Innergize™ is the first stage of the Capture to Completion™ ecosystem of OWC products designed to seamlessly propel professional photographers, videographers, and content creators to the highest level of workflow performance and reliability. This OWC custom-designed app is a complete health, performance, and field upgrade management tool when using OWC Atlas memory cards with OWC Atlas readers and reader equipped products.
Work with Maximum Confidence and Reliability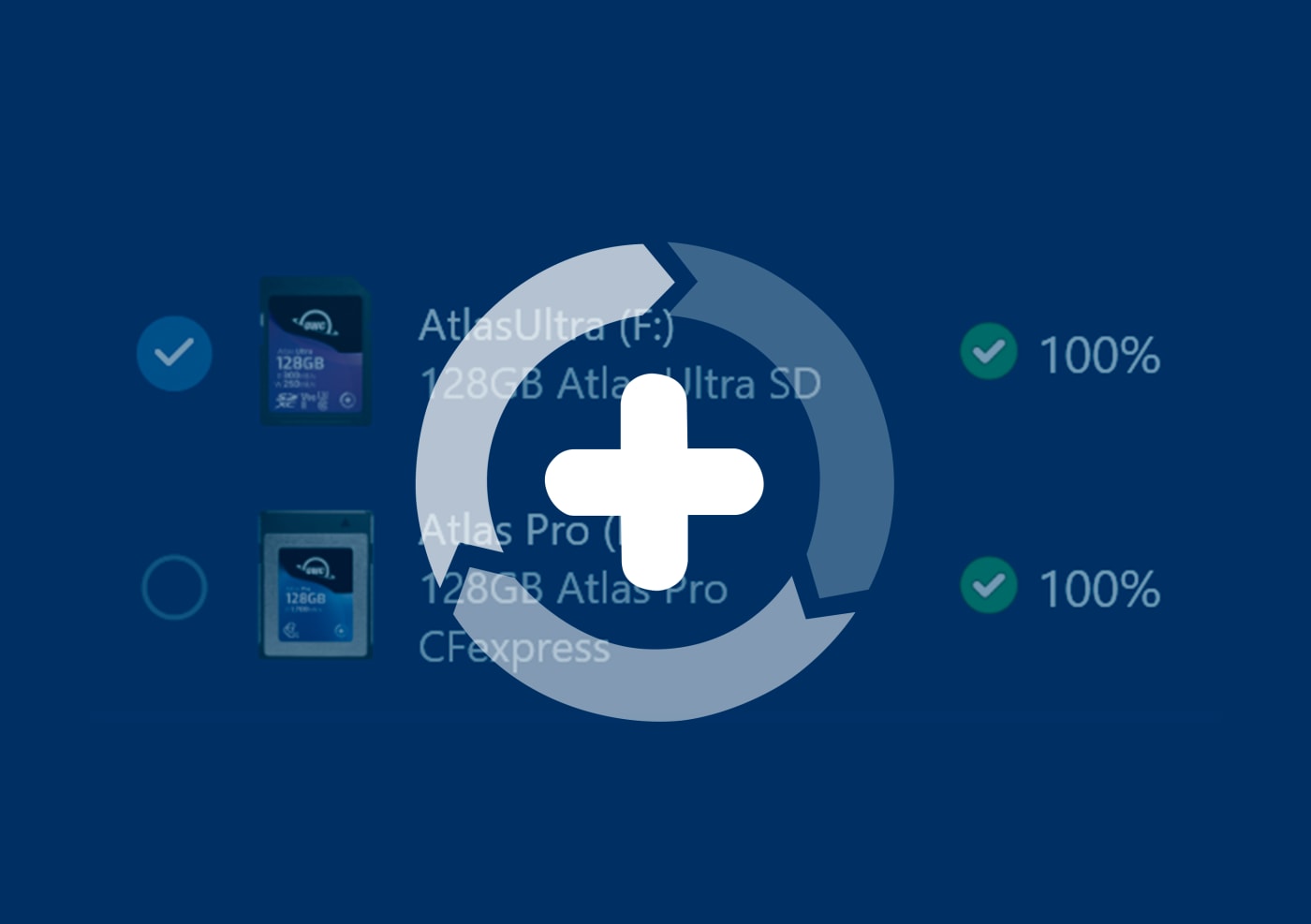 Health
Over time and use cycles, flash memory does wear out. Innergize verifies and reports the percentage of use life remaining. Now you can work with full confidence your OWC flash memory product will deliver the reliability you can trust.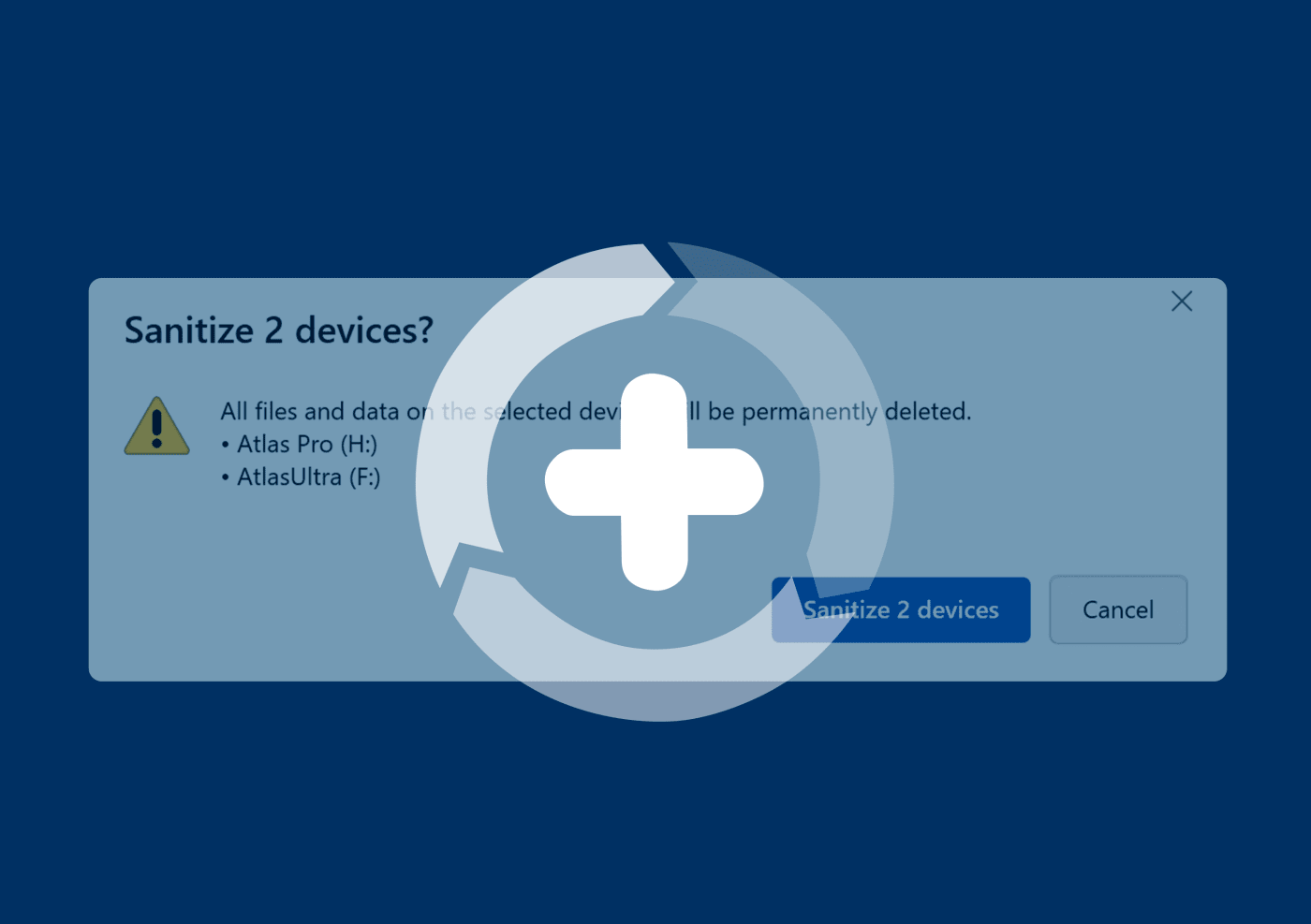 Sanitize
Writes, deletes, and formatting all take their toll on memory cards. Innergize cleans and restores the flash memory performance of OWC memory cards so you can get the best results on every use.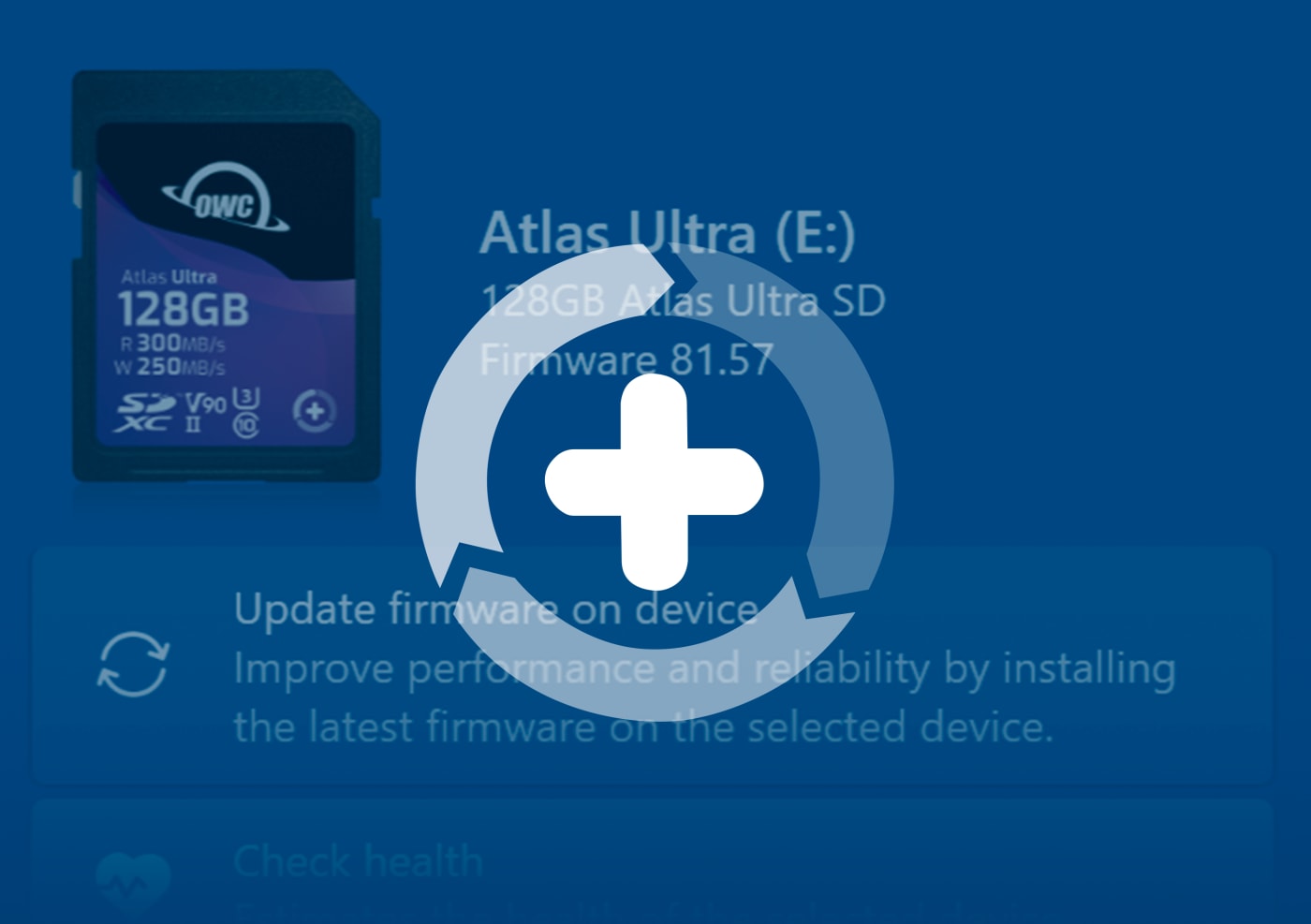 Field Upgrade
When new cameras or firmware updates to existing cameras are introduced, they may not work properly with flash memory cards and drives. Innergize gives OWC memory card users the ability to quickly upgrade their firmware in the field for full compatibility, additional performance enhancements, and bug fixes for optimal reliability.
Requires M.2 to U.2 adapter.
Requires SAS drive controller.
Apple Mac models with Thunderbolt 2/Thunderbolt ports can be connected using an Apple Thunderbolt 3 (USB-C) to Thunderbolt 2 Adapter (sold separately). This configuration provides data transfer at up to 20Gb/s but does not support notebook charging.
Full DisplayPort 1.4 capabilities depends on host computer support of DisplayPort 1.4 specification through its Thunderbolt 3 connection, host computer GPU capabilities, and connecting cable capabilities.