ThunderBay 4
We made the OWC ThunderBay 4 even better with all improved internals, performance, reliability, and flexibility.
OWC's flagship RAID powerhouse has been redesigned to take advantage of the phenomenal performance and power of the Thunderbolt 3 interface. With capacity up to 80TB it's now faster, cooler and quieter than ever before.
Dual Thunderbolt 3 ports
Maximize the potential of four 3.5-inch drives or four 2.5-inch drives — no adapter needed
Ultra quiet, heat dissipating aluminum chassis
RAID ready or RAID 5 option
Edit. Experiment. Create. Design.
Edit, view, stream, and produce more with ThunderBay in your 2K, 4K, and audio production workflow. With ThunderBay's performance capabilities you can complete projects faster, have more time to experiment, and push your creations to the next level.

Enhance editing capabilities in video apps like Apple Final Cut Pro, Adobe Premiere, and Avid Media Composer. Empower greater audio production capabilities in audio apps like Avid Pro Tools and Logic Pro X. Edit large photos in apps like Adobe Photoshop, and browse large photo libraries in apps like Apple Aperture and Adobe Lightroom. Simply put, you can do more with a ThunderBay 4 enhanced workflow, and with a RAID 5 array you get data redundancy on top of great performance!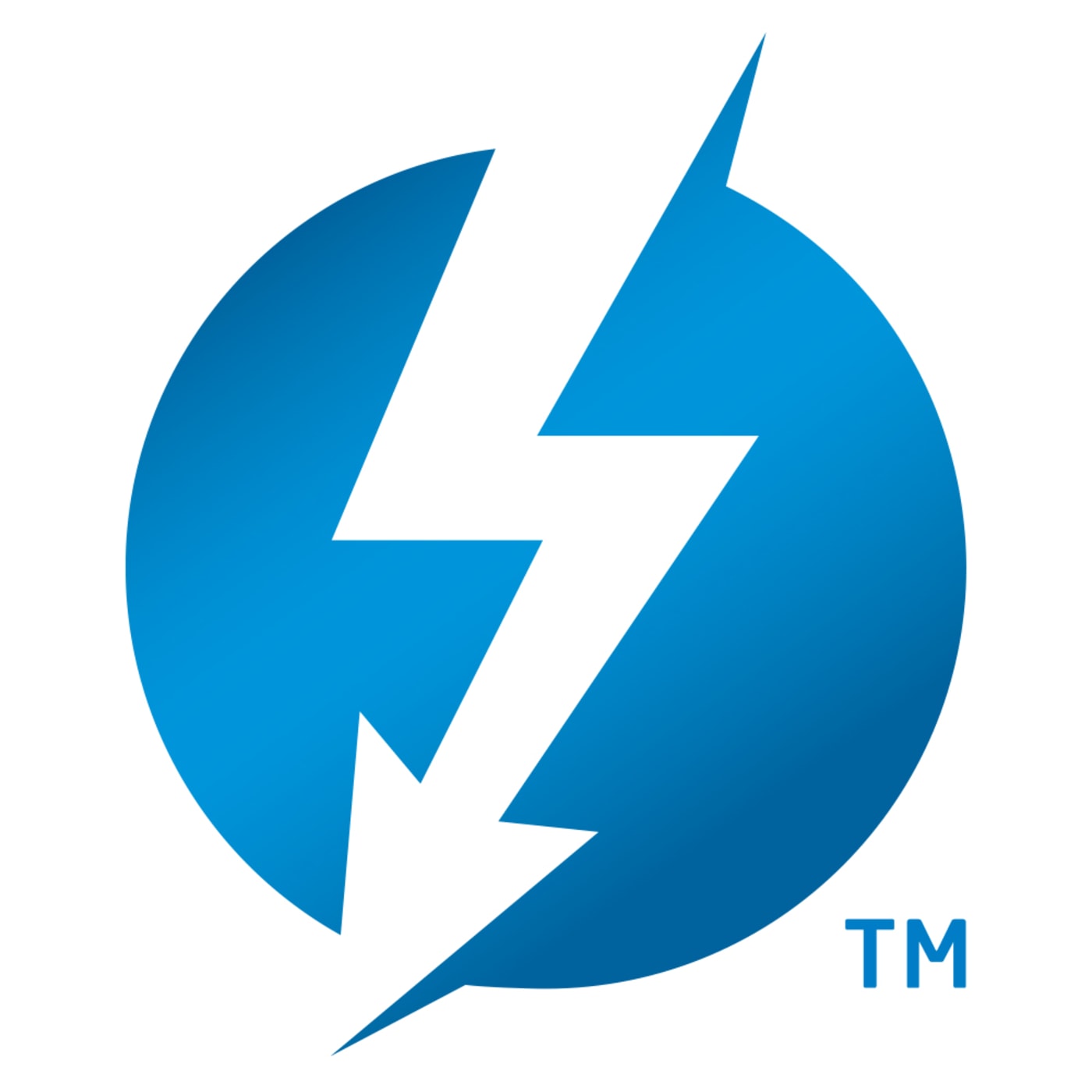 Connect To Thunderbolt And Thunderbolt 2 Systems With Ease
The OWC ThunderBay 4 harnesses the power of Thunderbolt 3 to provide backwards compatibility with Thunderbolt and Thunderbolt 2. Whichever interface/speed your workflow demands, it's easy to integrate OWC ThunderBay 4's massive capacity and performance capabilities. Add a Thunderbolt 3 (USB-C) to Thunderbolt 2 Adapter and you're all set.


Pro-tips: Daisy-chaining With Thunderbolt Devices
With the ability to run up to six devices per port, Thunderbolt ports amplify your laptop or desktop with peripheral power. Learn the basics of daisy-chaining Thunderbolt devices for maximum performance in this handy infographic. View Infographic

Includes SoftRAID: Easy and Complete Drive Management
Now you can maximize disk space, get the fastest access speeds, and protect against disk failure with Plug and Play simplicity. SoftRAID's easy setup makes it a breeze to create RAID volumes by helping you through the entire process. Just decide what you're using your RAID volume for and how much space to allocate to it. It's that simple to create your preference of speed and/or redundancy attributes of your data volume.

OWC enclosures ship with the XT version of SoftRAID. SoftRAID XT and Lite XT are fully featured and designed to only work with OWC solutions. Learn More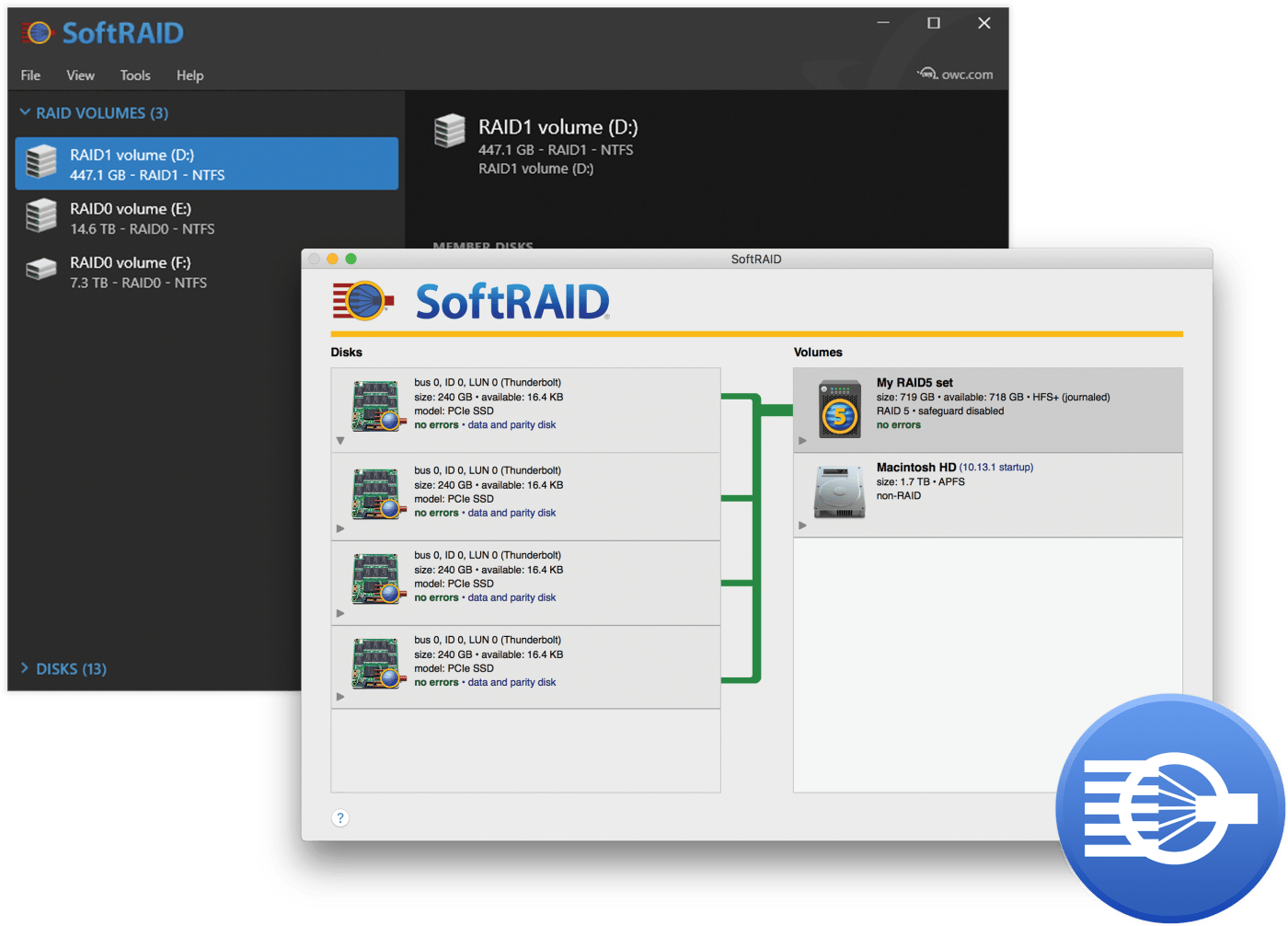 SoftRAID Lite XT for Windows and SoftRAID XT and Lite XT for Mac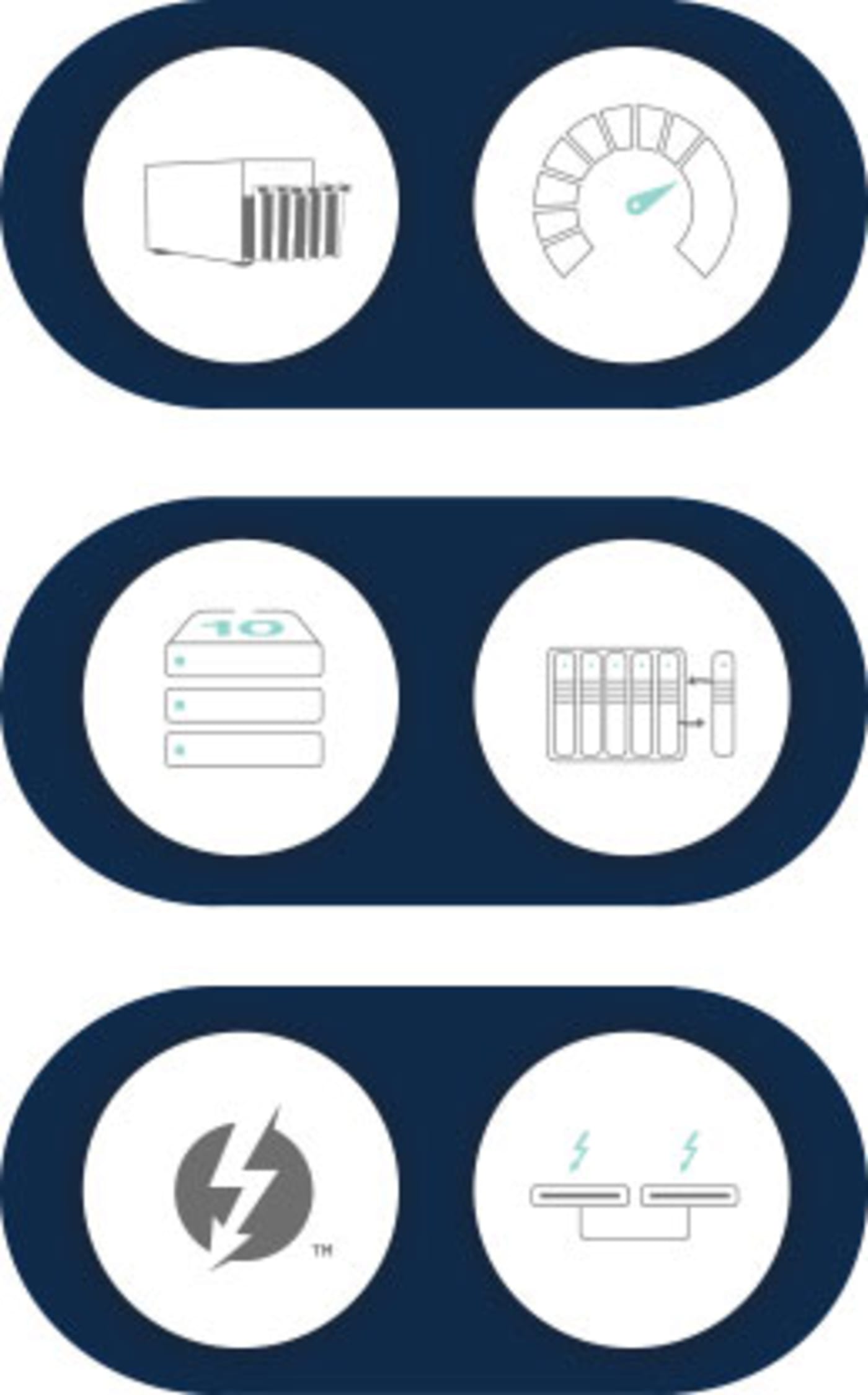 Workflow And Storage Solutions For Pros
Whether you're finishing and mastering, creating proxies or working with state-of-the-art VFX and AR, you need dependable tech that keeps pace with your demands. OWC workflow and storage solutions cover every angle, delivering processing speeds up to 2800MB/s1, capacity for all five levels of RAID, and bonus features like the freedom to daisy-chain and hot-swap. Use the chart to find the perfect match for your workflow and storage. View Chart