A Note About USB Performance on M1 Macs
OWC testing has found USB performance on base model M1 Macs to lag behind other chips. Here's why.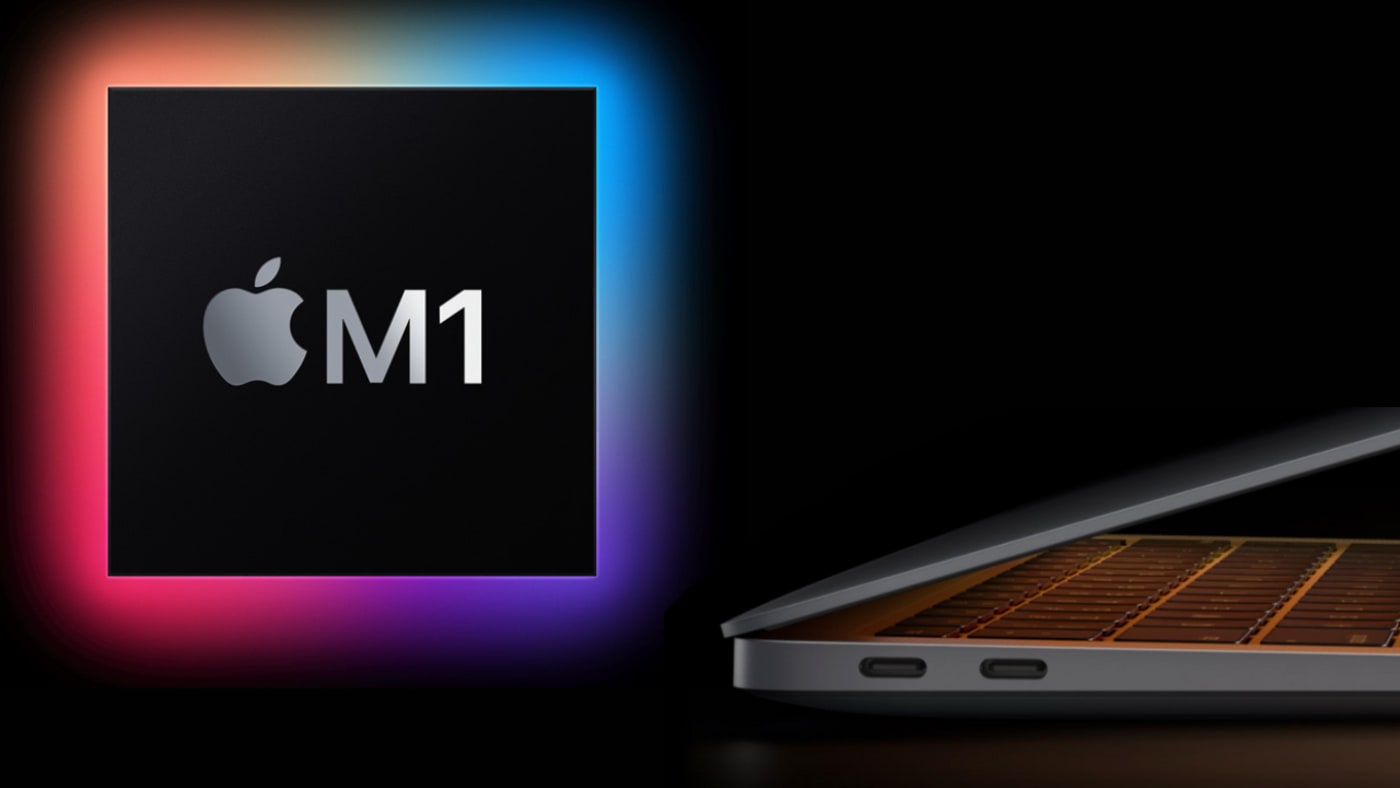 Apple silicon has revolutionized personal computing. From the line's inception in 2010 with the release of the A4 processor in the iPhone 4 and the original iPad, its combination of speed and low power consumption remain unmatched today.
The iPhone continues to enjoy a healthy performance gap over its competition while the Mac platform—now almost entirely powered by Apple M-Series processors built from the foundation the A-Series established—is redefining what creative professionals can accomplish on the go with ARM-based hardware.
And while the transition from Intel processors to M-Series processors on the Mac has been nothing short of impressive, it is still a platform in its nascent years and there are bound to be hiccups and growing pains. Case in point is a performance issue the team here at OWC recently discovered in Macs with M-Series chips.
The issue itself is related to decreased performance of seemingly all USB-connected peripherals, regardless of brand or type. However, the severity of the issue depends on whether you have a base M1 processor in your Mac or an M1 Pro, M1 Max, M1 Ultra, M2, M2 Pro, or M2 Max.
If you have a base configuration M1, keep reading. If you have any other M-Series chip, just know that you should update to macOS 13.3, released March 27, 2023. Prior releases contained a bug that caused decreased USB performance on other M-Series chips, but upgrading to macOS 13.3 should fix the issue for you.
If you have a base M1 machine, however, you'll still see lower USB performance even after updating to macOS 13.3. Specifically, we've seen write speeds on NVMe drives up to 44% lower on base M1 configuration Macs than what they are on Macs with other M-Series processors or an Intel chip. That's really the basis for this whole post, unfortunately.
We tested two external NVMe SSD drives and an OWC Mercury Elite Pro Dual with 3-port hub and two 2.0TB Mercury Extreme Pro 6G SSDs inside, connected to the following Macs, all running macOS 13.3:
MacBook Air 10,1 with an M1 processor
MacBook Pro 18,2 with an M1 Max
Mac Mini 14,2 with an M2
Mac Mini 14,10 with M2 Pro
MacBook Pro 15,2 with an Intel processor
We tested each drive connected directly to each machine and connected through a dock. As you can see, the most dramatic decline in performance is seen in write speeds on the M1 MacBook Air.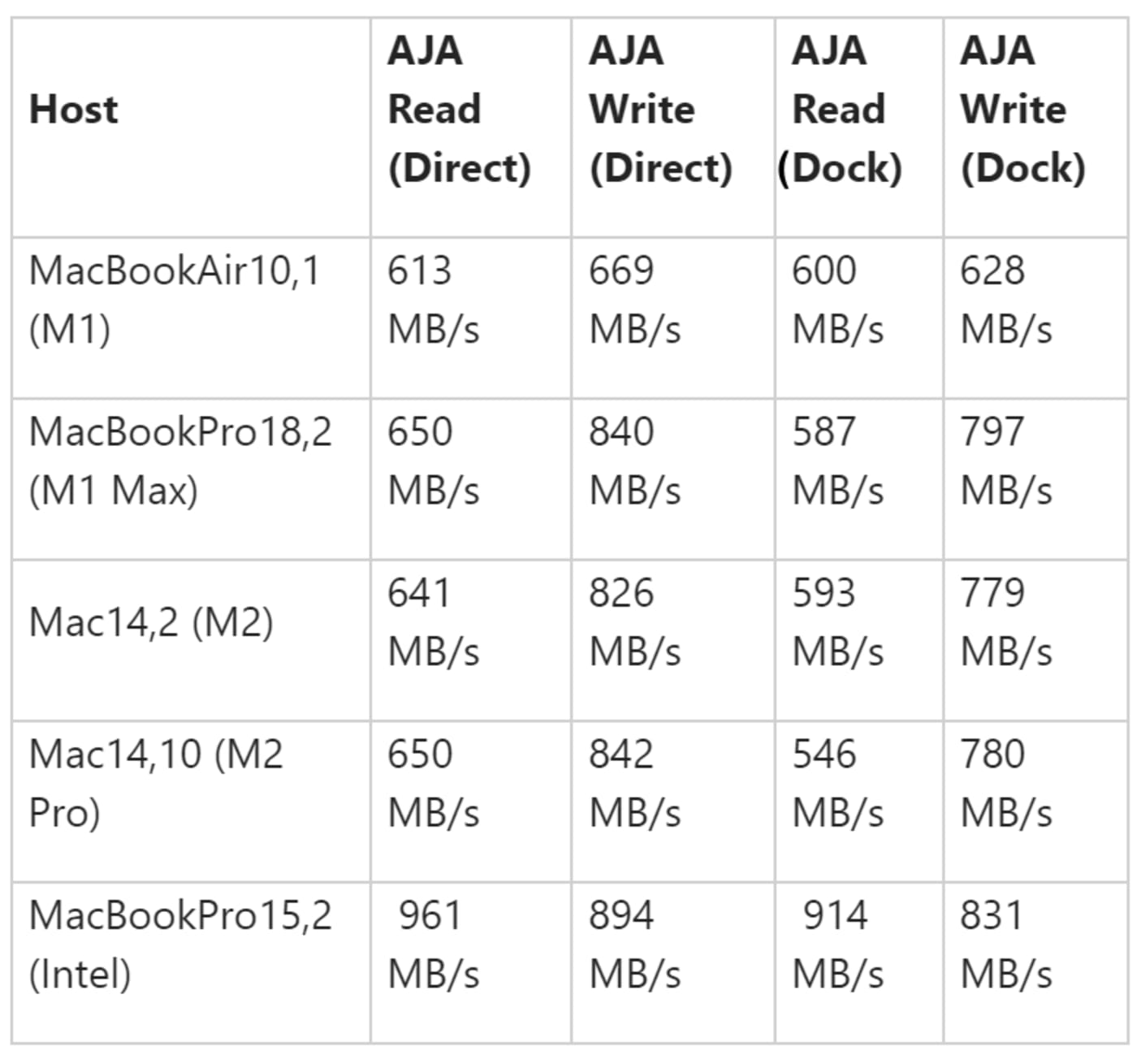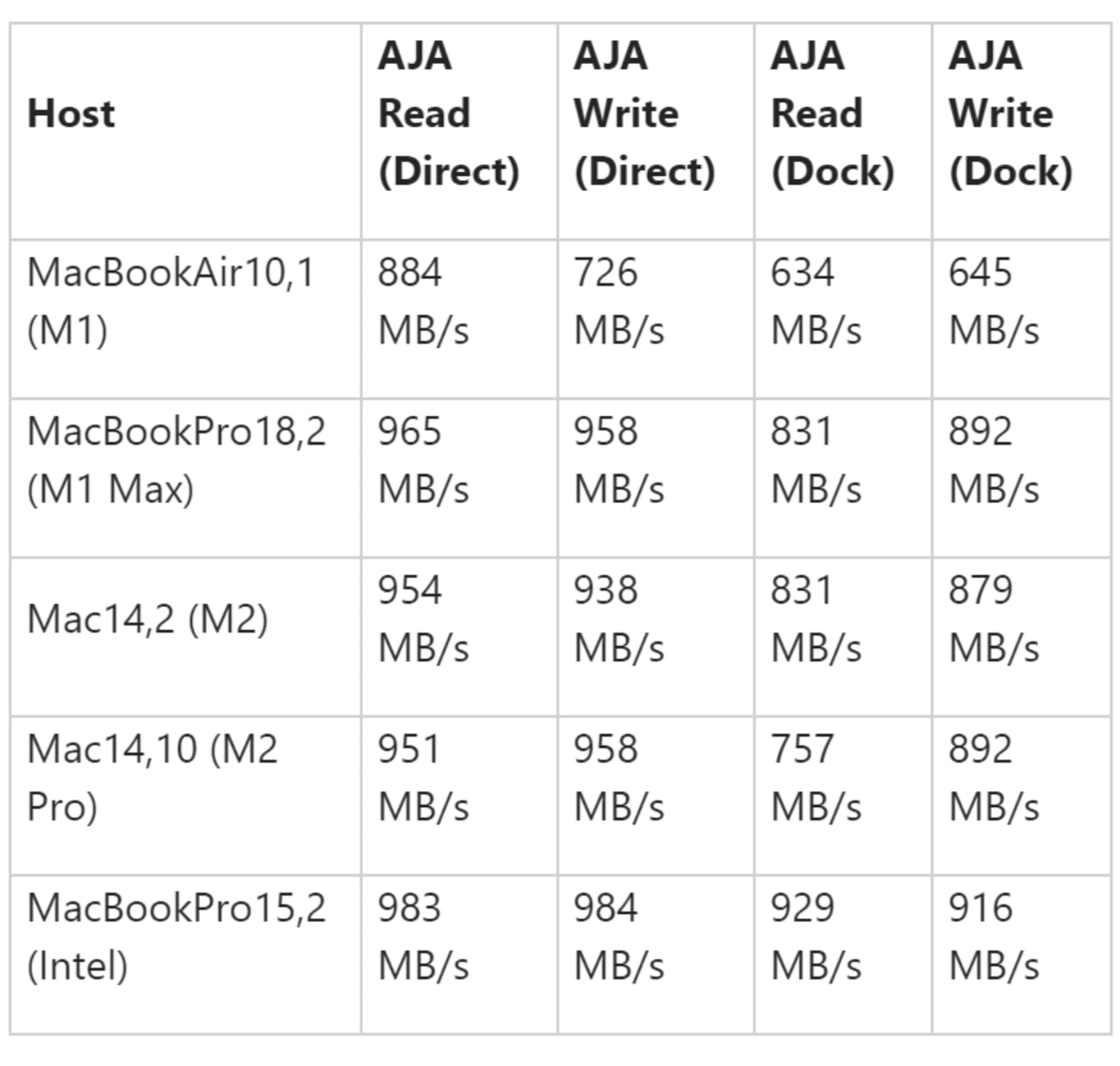 OWC Mercury Elite Pro Dual with 2.0TB Mercury Extreme Pro 6G SSDs
The reason drives connected to the base M1 MacBook Air lag behind the other machines is that, unlike all other M-Series processors released after, the base M1 does not support USB Attached SCSI Protocol, or UASP. When supported, the UAS protocol provides up to 70% faster data transfer speeds than the older Bulk Only Transfer (BOT) mode.
Oddly enough, Apple initially introduced support for UAS in macOS 10.8, however, the ports on base M1 Macs do not support the protocol.
We've reached out to Apple to let them know about the issue and here's hoping they can figure out a way to add support for UASP on M1 Macs through a future update to macOS.

Other topics you might like