How to Choose the Best Portable NVME Hard Drive for Your Workflow
How do you choose the right NVMe bus-powered SSD? The OWC Envoy Pro line has you covered.
You've got to get this one right
Copying your video footage in the field from your camera cards is such a critical operation. So, making the right choice for your drives is imperative. We're going to do a comparison between four of the top portable drives from OWC. Each one features the latest tech and blazing-fast speeds, but there are some differences in features and cost. So, let's help you make the best decision for your needs and budget.
I always recommend–if it is possible–to copy your footage to more than one place. Hollywood pros will immediately make 3 copies. But if you have the space on your laptop, you can make one copy to your external Envoy drive, and one copy to your laptop. Then, you have the copy on your cards. That means that you can walk away from the set with 3 copies of your data.
OWC Envoy line
The Envoy line is designed for creators on the go. These drives are all "bus-powered". That means that they run with just a single cable to your Thunderbolt or USB-C jack. They don't need a separate "power brick" that connects to a wall outlet. So, if you are out shooting in a field for the day, and you need to dump cards at lunchtime, you don't have to stress to find a power outlet. If you are traveling internationally, you won't need to carry along adapter plugs for your drive or worry about international voltages. Having a bus-powered drive is key to removing the barriers that cause people to delay when they back up their data. That can make for a tenuous drive back to the hotel. It is so much better to make that copy in the field.
Each of these Envoy drives has an SSD in it. Or, more properly, they have an NVME drive. That little NVME stick offers a host of improvements over traditional drives.
What is an NVMe drive?
NVMe stands for Non-Volatile Memory Express, the latest evolution of solid-state drives (SSDs) for laptops, desktops, and even gaming consoles like the PlayStation 5. The first thing you need to know about NVMe storage is that it is fast. Crazy fast.
All of these drives can copy data with speeds of at least 1000 MB/s. That's like 6 times faster than a drive that uses a "spinning disk" hard drive. If you've never used an NVMe-based drive before you'll be blown away. You can work right from these disks as well. In the past, shooters would copy footage to a single spinning drive in the field. Then they would have to copy that footage to a RAID array at the office to have a setup fast enough to edit from. No more with NVMe. The drive you offload to is plenty fast enough to edit from immediately.
NVMe is also physically robust. Spinning drives are much more prone to damage from falls and bumps. That places your data at risk from the shock that NVMe isn't vulnerable too.
NVMe drives are small also. This means that you can easily tuck them into an inner pocket on your laptop bag. That provides even more protection. And when you consider that the drive is smaller, and there is no power supply, you realize just how much space and weight you'll be saving in your bag.
When you combine the time and space savings, robust construction, and the removal of the need for AC power, you completely transform your offloading and editing workflow.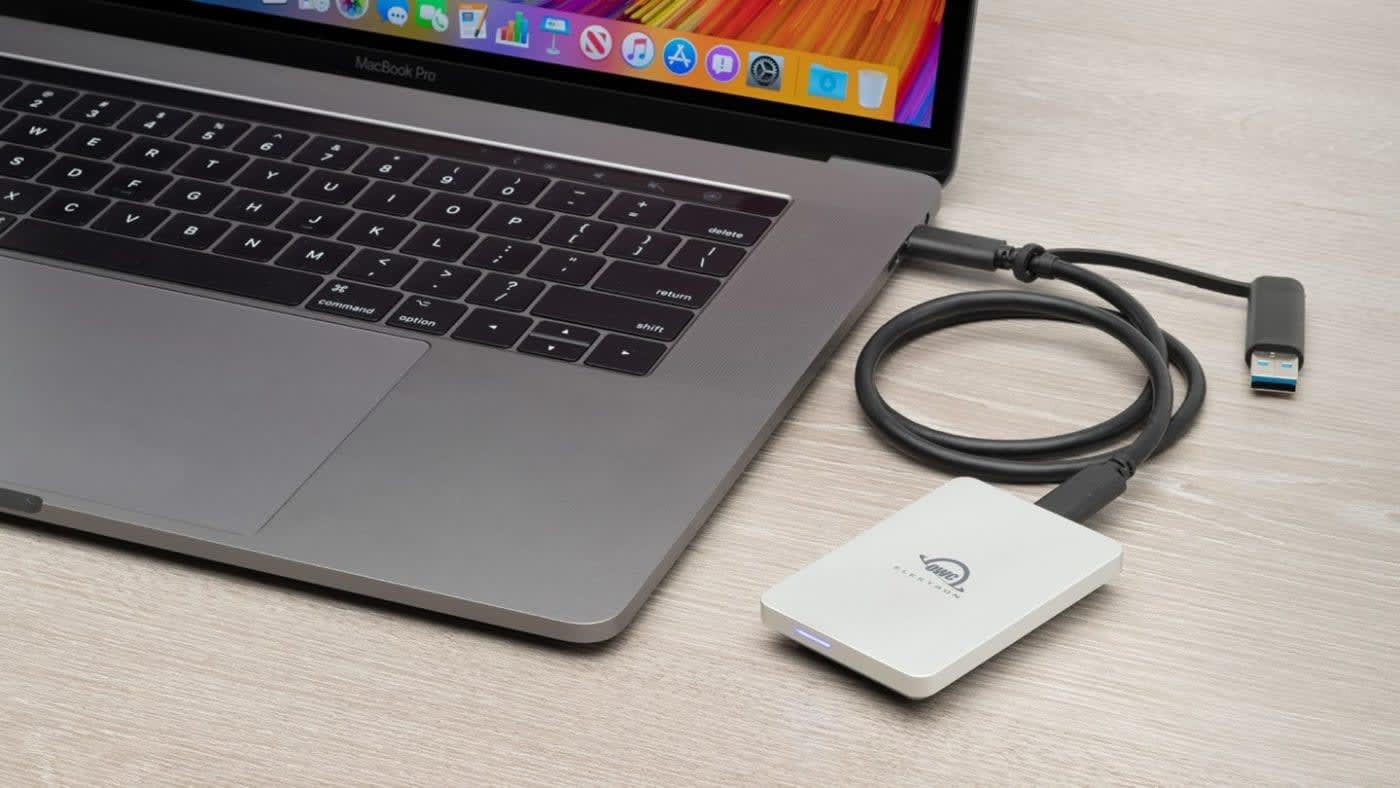 This tiny tank of a drive comes in capacities of up to 2TB. It's waterproof, dustproof, and crushproof. All of that comes in a lightning-fast enclosure with a USB-C port that runs at speeds up to 1011 MB/s. At $219 the electron is really affordable too. This makes it a great option for those creators who are trying to keep things both their budget and their kit as small as possible.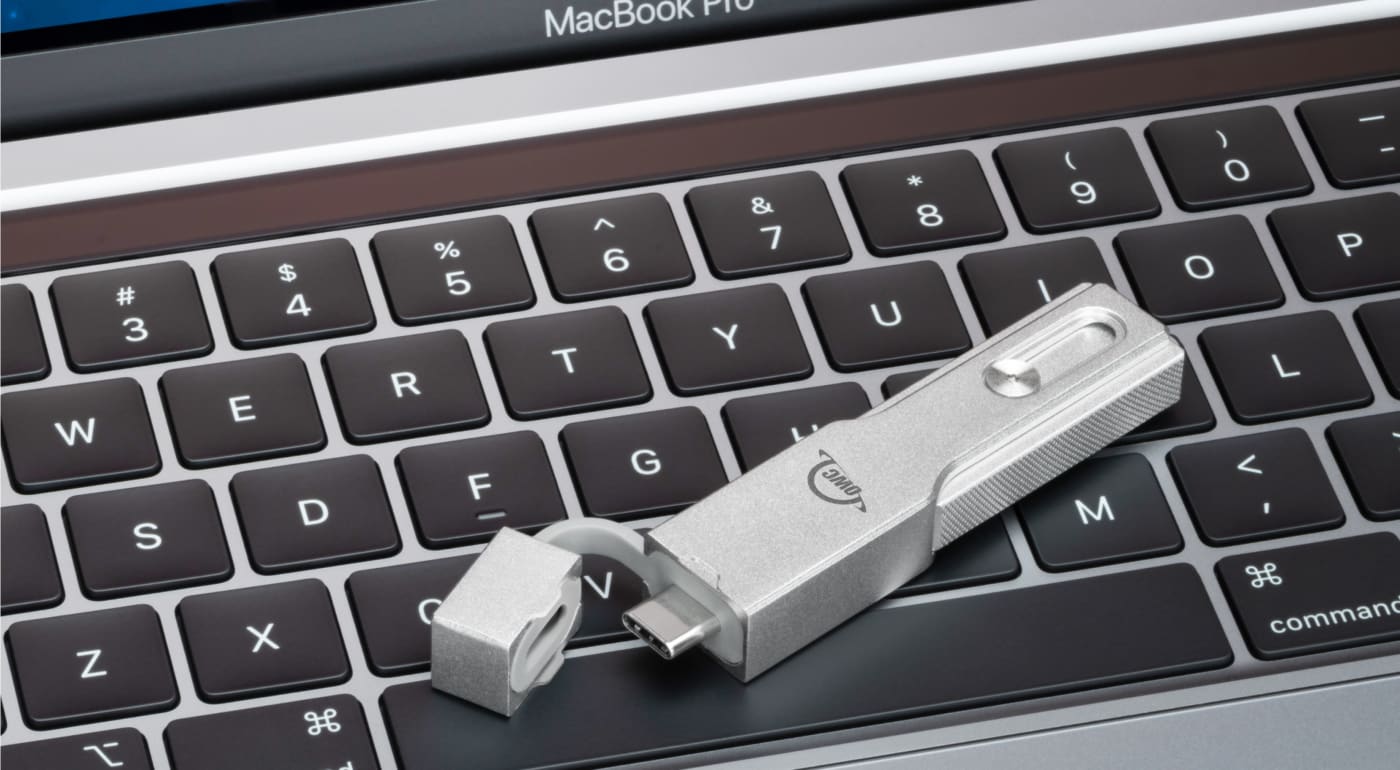 If you need a drive that takes portability down to comfortably fitting in the pocket of your jeans or on a lanyard, but you don't want to sacrifice speed, the Envoy Pro Mini is the drive for you. Perfect for use as a shuttle drive for handing off large assets like raw photography or video files, the Envoy Pro Mini takes what typically requires a much larger drive and shrinks it down to the size of your typical thumb drive.
And because handing the drive off was considered as part of this drive's design, it works with everything thanks to dual USB-A and USB-C connectors.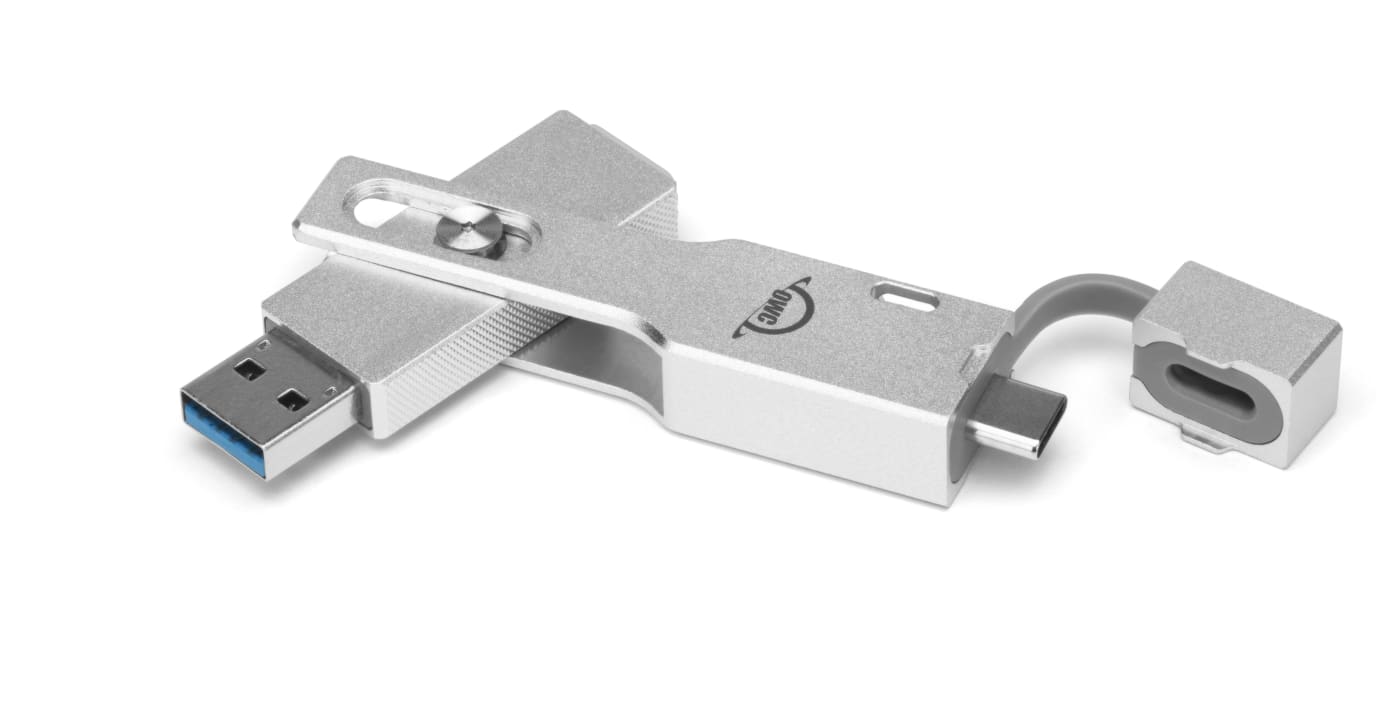 The Envoy Pro Mini can access and transfer data at up to 946MB/s real-world speed, allowing you to do just about anything you want with his drive from creating a secondary/portable OS boot drive, using it as a shuttle or migration drive, recording tracks on a multitrack mixer or creating a portable Steam games library. It's OWC's most versatile drive.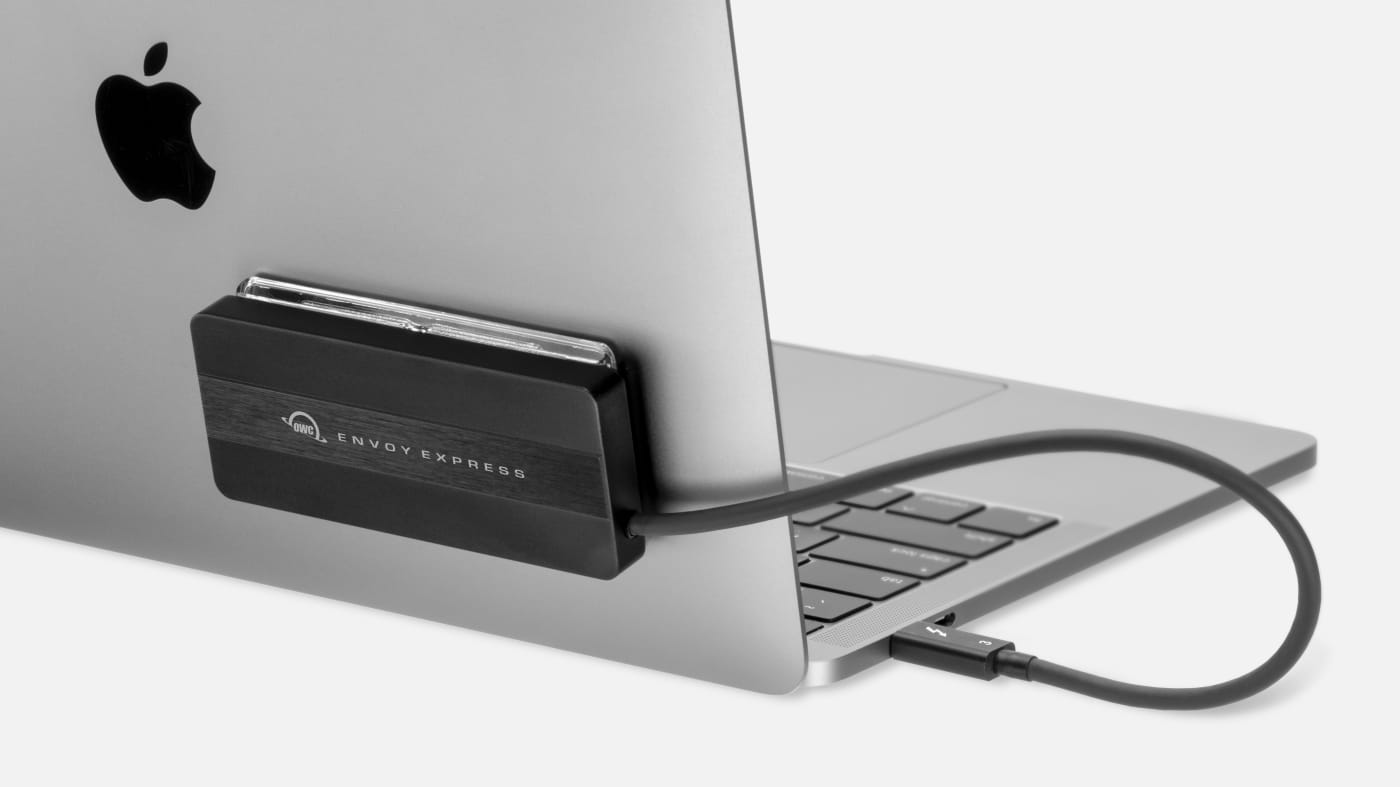 Next up is my personal favorite drive. The OWC Envoy Express comes in at a lower price than the Envoy Pro EX at just $579. Right off the bat, you'll notice that it is nearly 50% faster at 1553MB/s real-world performance! It is smaller and lighter than the Envoy Pro EX. It has a robust all-metal construction. A short Thunderbolt 3 cable is built right in. But my favorite thing about this drive is that it comes with a little clear plastic holder that adheres to your laptop lid.
The drive slides in and the cord just peaks around the corner. The efficiency gains from this setup are enormous. It makes it much easier to work on a plane, or on your lap. But the biggest thing is that you aren't scared that your drive will fall off the table and come unplugged when you need it most! This is such a great design that it trumps the increased speed of the other drives for my "on-the-road" work. It makes working with 8K REDCODE RAW footage a breeze!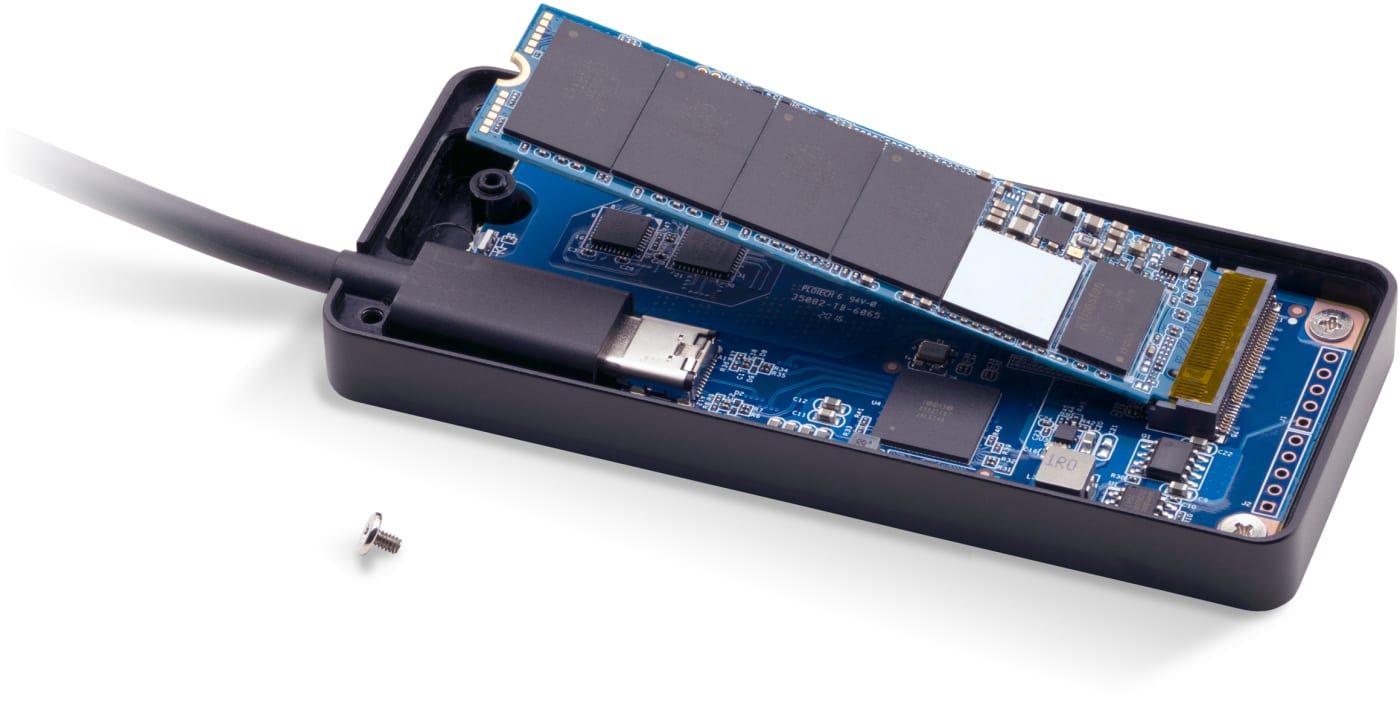 The other awesome thing about the Envoy Express is that you can bring your own drive. The drive comes in 2TB and 4TB configurations with drives already installed, but you can also order it as an enclosure for only $79. The Envoy Express supports any NVMe M.2 2280 SSD available today as well as any future models that come along in the future. That means if you need to swap out a full drive for another, or maybe you want to upgrade the size of your drive, you can.
But if you want to crank up the performance just wait until you see the next level of Envoy Pros.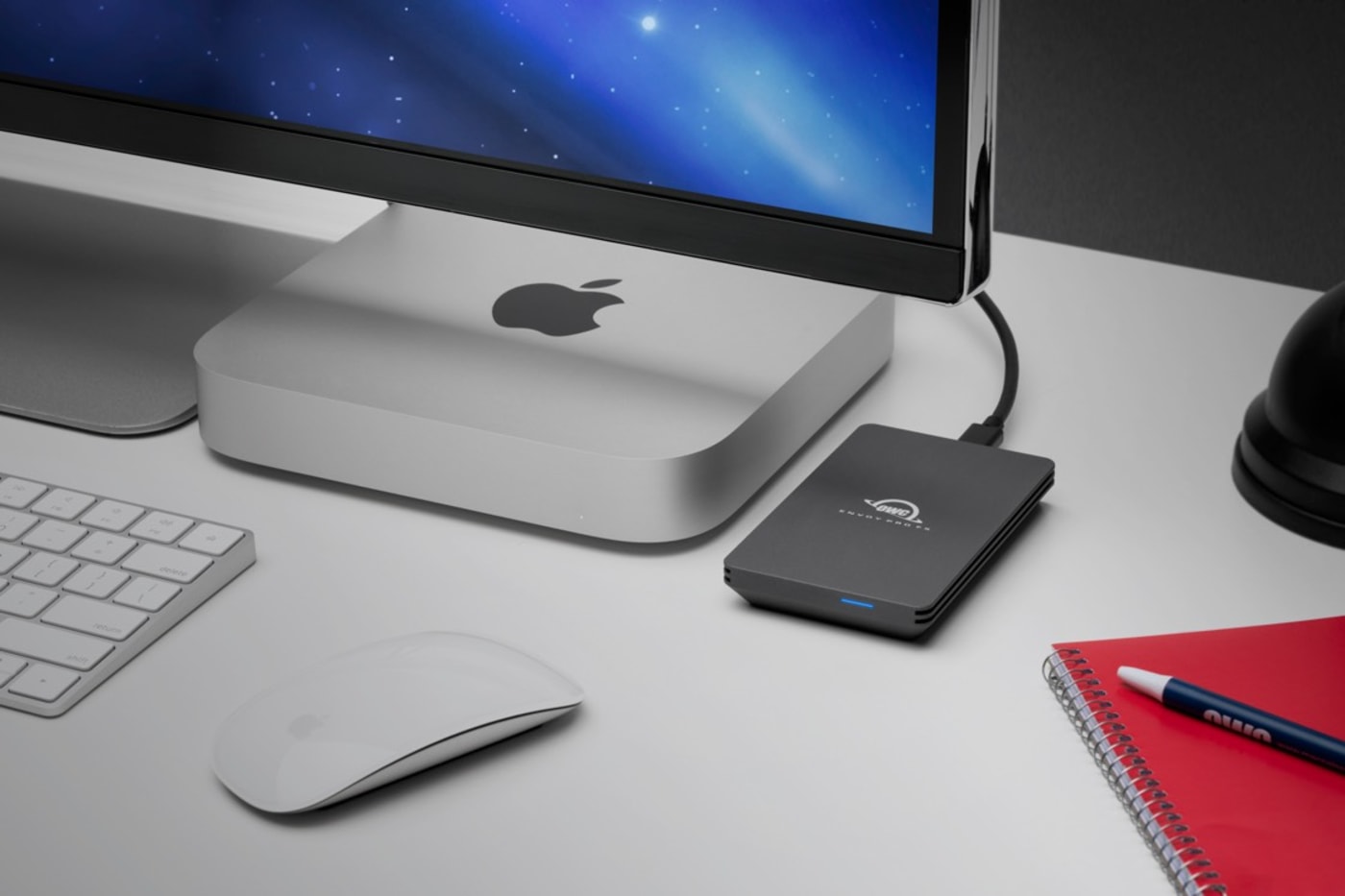 The Envoy Pro FX takes the crown in terms of performance, flexibility, and compatibility. At $699, comes with Intel® Evo™+ Thunderbolt™ Certification. Its Thunderbolt 4 interface allows it to connect seamlessly with the latest machines. It maintains compatibility with computers that have older USB-A connections with its convertible cable. At speeds up to 2800 MB/s, it is incredibly fast.
The construction of this drive is so robust that it got sent into space aboard the Blue Origin New Shepard rocket! But it's not just physically tough, it's tough on security as well, being fully compatible with macOS and Windows encryption. At the same time, it's designed to stay cool while pulling heavy loads. This is critical for a drive to maintain its performance under harsh conditions.
In conclusion
From what I've observed one of the marks of a true creative professional is their storage story. Pros know what it takes to ensure that their data is protected from physical damage, human error, and mechanical failure. They know that time is money and data loss or mismanagement isn't an option. They recognize that in order to have clear headspace for creating they need solid, redundant systems to support them. And that is why the OWC lineup of professional portable drives exists.
You can check out each of the drives discussed in this article right here:
Other topics you might like