USB 3.2 (10Gb/s)
Drive Dock
World's first NVMe U.2 + SATA Dual-Bay Drive Dock
Access Multiple Bare 2.5-inch and 3.5-inch NVMe U.2 and SATA Drives
Read, write, hot swap, and boot 2.5-inch and 3.5-inch HDDs and SSDs with SATA or U.2 connectors
World's first SATA/NVMe U.2/NVMe M.22
Independent power switches and simultaneous drive operation
Includes USB-C and USB-A cables for Plug and Play use with millions of computers and tablets
Built in power supply eliminates bulky, power brick hassle
Fanless aluminum enclosure for quiet and cool operation
One Solution for Yesterday's, Today's, and Tomorrow's Drives
Read, write, clone, boot, transfer, store, backup, verify…. do it all with your SATA drives of nearly two decades plus the latest technology NVMe SSDs here today and yet to come with the OWC Drive Dock. With this world's first dual bay SATA/U.2/M.2 drive dock, you open a new world of quicker and easier use of bare 2.5-inch and 3.5-inch hard drives and solid state drives.
SATA 6G SSD
AJA System Test
2 x SATA 6G SSD in RAID 0
AJA System Test1
M.2 SSD via U.2 Adapter
AJA System Test
USB-C (10Gb/s)
Maximum Theoretical Speed
Experience maximum performance out of your drive(s)! The OWC Drive Dock delivers the highest bandwidth USB-C 10Gb/s can deliver in real-world uses.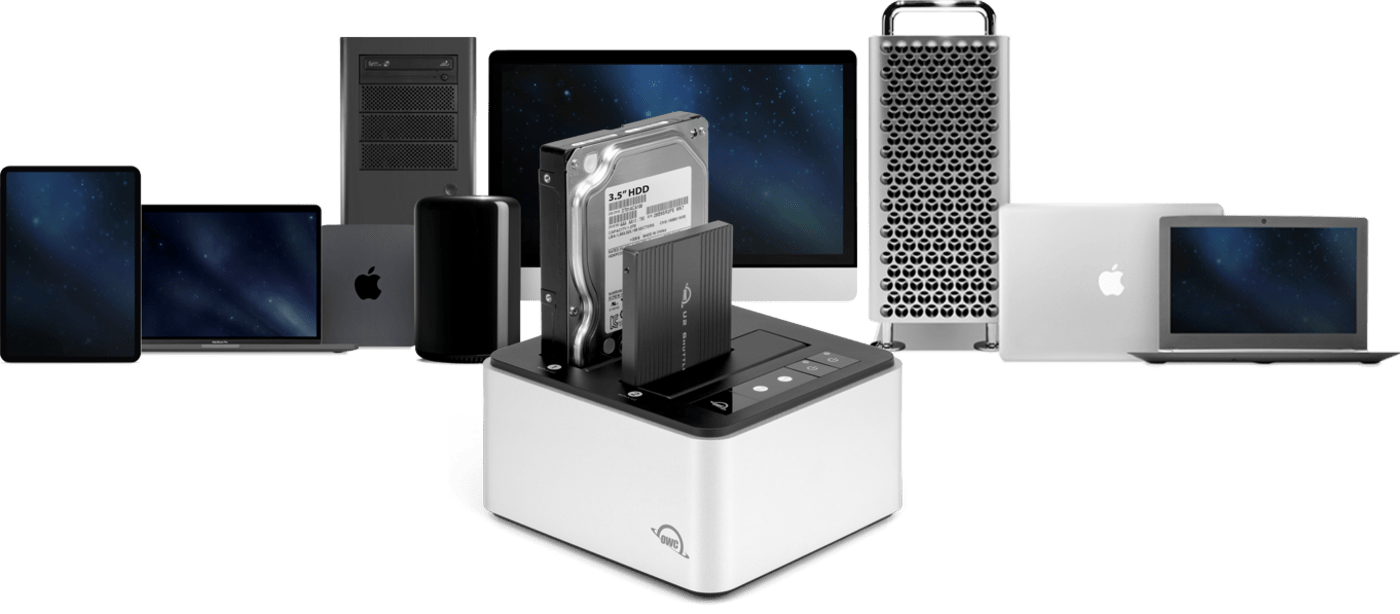 Use Your Drives with Millions of Computers and Tablets
With both USB-A and USB-C cables included, the ultimate in flexible compatibility is yours with the OWC Drive Dock. Use your drives with millions of computers and tablets, including Thunderbolt 3, Thunderbolt 4, and USB4 as well as machines from decades ago.
Safe and Efficient Swaps
Whether you are churning through many drives or performing archival backup, you can swap drives safely with the OWC Drive Dock. With each drive bay having its own power source, you can perform bare HDD handling best practices by powering off the desired bay and waiting for spin-down before removal. You can also leave a drive docked in an unpowered bay for immediate access while saving electricity or putting powered-on hours on the drive.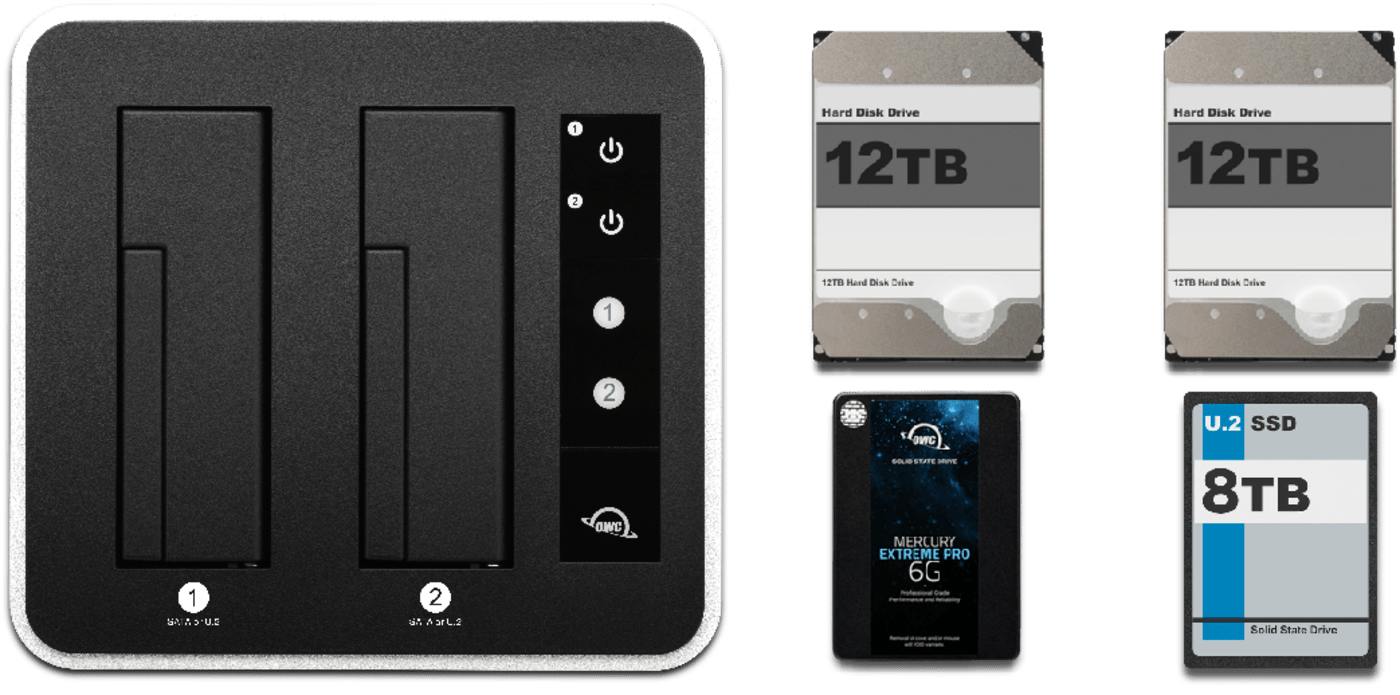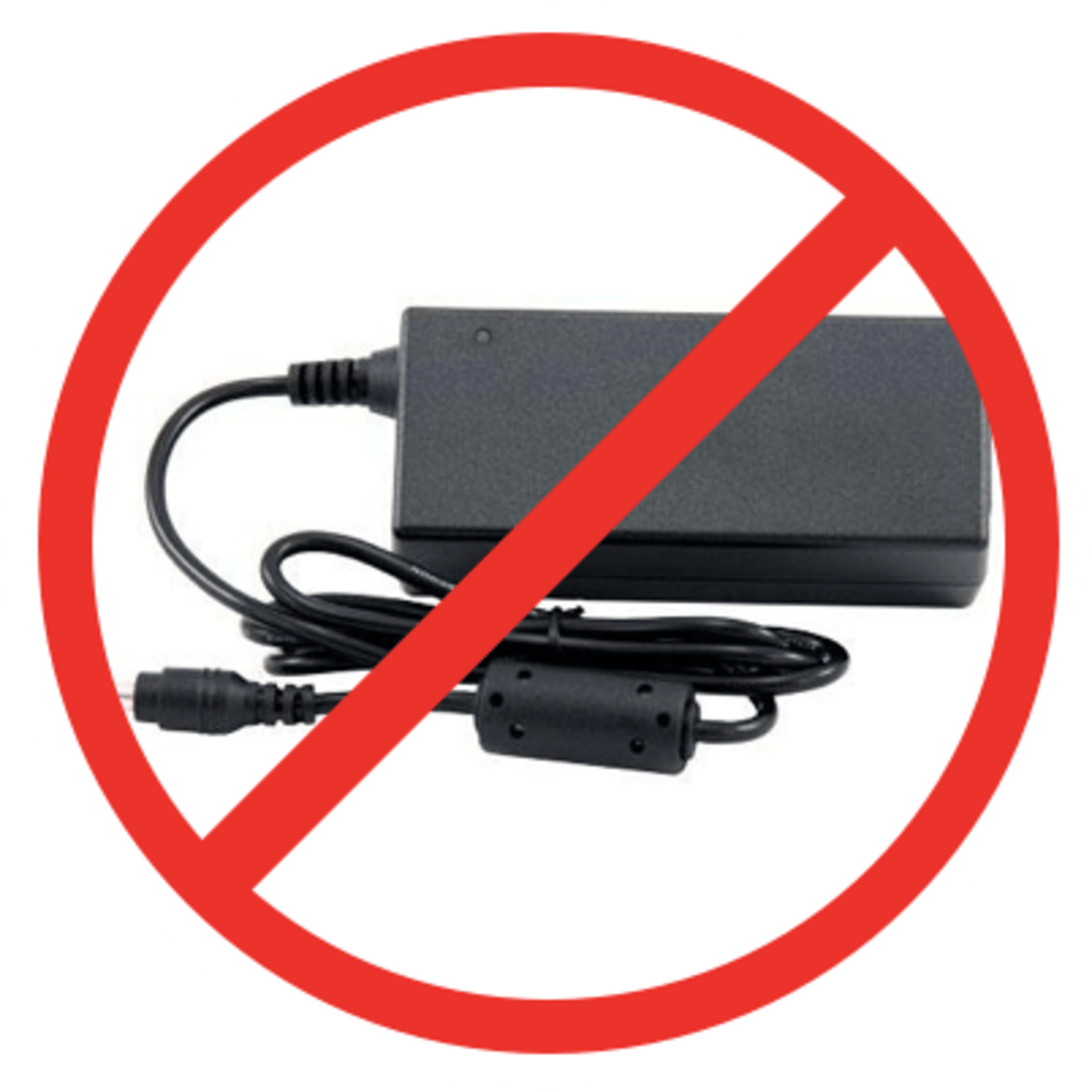 Complete Convenience
No tools, no drivers, no enclosure disassembly… just instant, effortless Plug and Play drive swaps. A built-in power supply eliminates the bulky, power brick hassle. Just plug the OWC Drive Dock's standard dual prong power cord into an AC outlet and you're ready to enjoy the incredible convenience of this quiet, fanless data access solution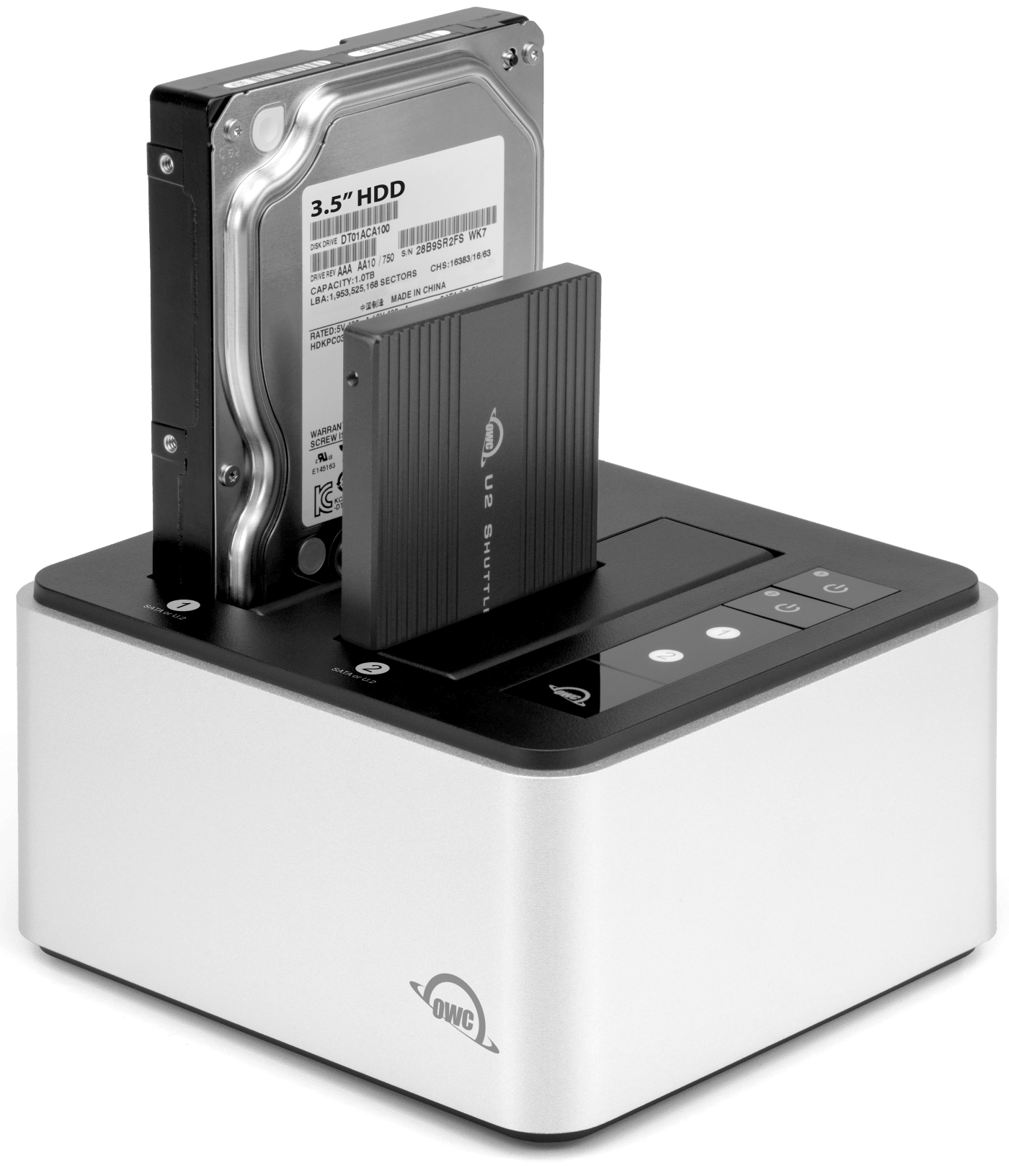 Retask M.2 "Blade" SSDs
After upgrading your machine with a higher storage capacity NVMe M.2 SSD like an OWC Aura, you can retask your existing M.2 "blade" SSD for continued storage uses in the OWC Drive Dock via an M.2 to U.2 adapter like the OWC U2 ShuttleOne1. Or, buy a new M.2 drive and use the OWC U2 ShuttleOne to build a high-performance on a budget U.2 SSD that can be hot swapped at will in the OWC Drive Dock.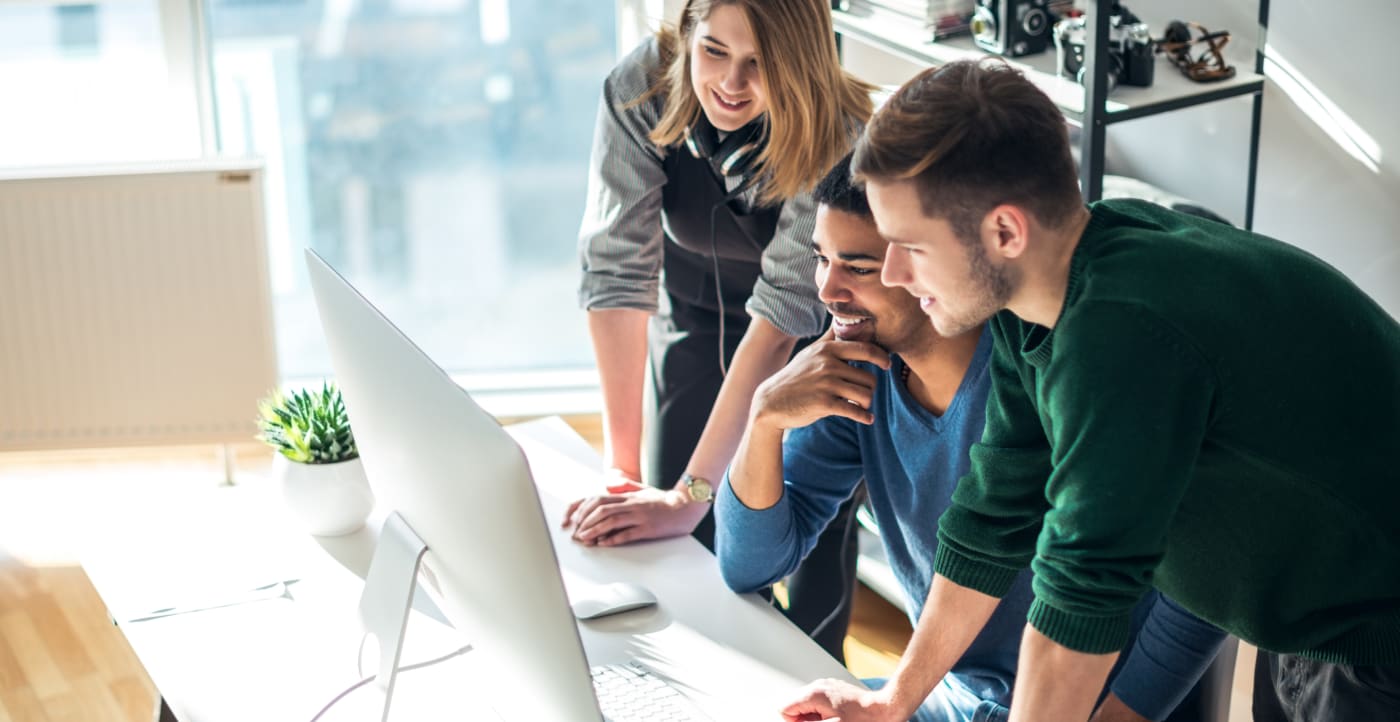 Expand Your Possibilities with the U.2 Innovator
You can use U.2 drives in full confidence with the OWC Drive Dock because we're the leader in U.2 storage innovation. We've created an entire ecosystem of U.2 external storage solutions and drive adapters to offer the broadest choice of U.2 drive use options For All Computerkind™.
The combination of the OWC Drive Dock and the OWC U.2 ecosystem opens a new dimension to data transfer possibilities:
Remove a U.2 drive from the OWC Helios 3S with Interchange System or ThunderBay Flex 8 desktop solutions or the Flex 1U4 rackmount and ship it to a post location equipped with the OWC Drive Dock for easy and economical drive access.
Move backup data to an offline location with an OWC U.2 solution for backup workflows.
Capture stunning 12K RAW video to a 2.5-inch U.2 SSD with a Blackmagic URSA Mini Pro 12K and URSA Mini Recorder. Then quickly and easily read and backup your files with the OWC Drive Dock. Or, install the U.2 drive into a OWC U.2 desktop or rackmount solution to get the highest performance from a Thunderbolt-based editing workflow.
1010MB/s sequential read/write (max) performance based on testing 2 OWC Mercury Extreme Pro 6G SSDs in a RAID 0 in an OWC Drive Dock connected to a MacBook Pro 2019 (MacBookPro16,1) with 64GB RAM and 2.4GHz i9 processor running AJA System Test (4K-Full resolution, 64GB file size, 16bit RGB codec, single file test). Speeds may vary based on specific file size and format, settings, features, software, and other factors.
OWC ShuttleOne NVMe M.2 to 2.5-inch U.2 SSD Adapter sold separately.