Aura Ultra III
Gear up your system for media projects and gaming with the advanced M.2 NVMe technology. Read speeds up to 3,400MB/s and write speeds up to 3,000MB/s.
Make New Gains
Using NVMe technology designed for flash memory, Aura Ultra III gears up your system for media heavy projects or breakthroughs in your favorite hardware-punishing games.
Read speeds up to 3400MB/s1
Write speed up to 3000MB/s1
Ideal for PCs and external storage
Workstation-class productivity
High-performance 3D TLC NAND
NVMe 1.3 (PCIe 3.1x4)
SLC caching for burst performance
7% over provisioning
Ready To Zoom
Aura Ultra III provides a perfectly optimized blend of speed and reliability features to reach read speeds up to 3400MB/s1, so you can stream high-res video and graphics files without a glitch. With a built-in SLC caching technique, the drive delivers ultra-fast write speeds up to 3000MB/s1 optimized to endure your render queue.

Inside-out Versatility
Aura Ultra III is a versatile SSD that's at home in an external storage enclosure or on your motherboard. Externally, Aura Ultra III offers dependable speed and data protection for on-location downloads of large media files. Internally, Aura Ultra III adds a new performance dimension to your PC that can equate to faster previews, renders, and processing in audio and VFX programs.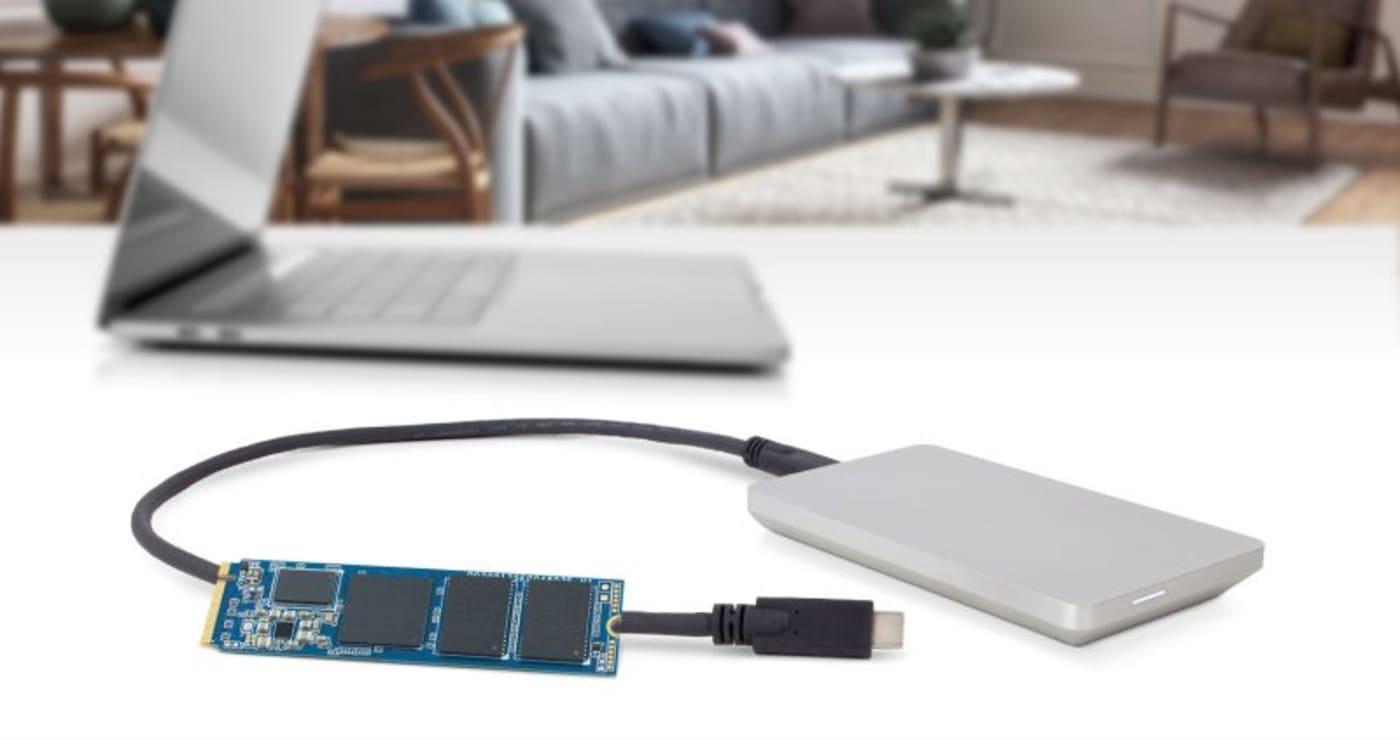 Built To Outlast
Engineered with fail-safes, Aura Ultra III is optimized for the best and longest working life, especially in write-intensive workflows. From running double checks on data and correcting errors to ensuring the uniform use of its flash media, this SSD is calibrated for endurance as a factory pre-set.

7% Over Provisioning
Aura PCIe-based flash storage reserves 7% of the overall capacity as free space. Always. With this allocated free space, Aura SSDs can perform these normal maintenance tasks making your drive more stable, dependable, and ultimately a safer place to store your data.

Service And Support
OWC is proud to introduce Aura Ultra III to its lineup of industry leading SSDs. Aura Ultra III is backed by free USA-based lifetime support. Our support teams are available to answer questions, troubleshoot, and help you get the most from your new SSD.

Actual performance may vary depending on host computer, environment, and use conditions.
Requires a compatible external enclosure. Not a compatible replacement for the internal drive in any Mac computer.