We're Doubling the Speed of our Atlas CFexpress Cards—and You Might Not Even Need to Buy Them
OWC Atlas Ultra CFexpress memory cards are now twice as fast, boasting industry first backwards and forwards compatibility.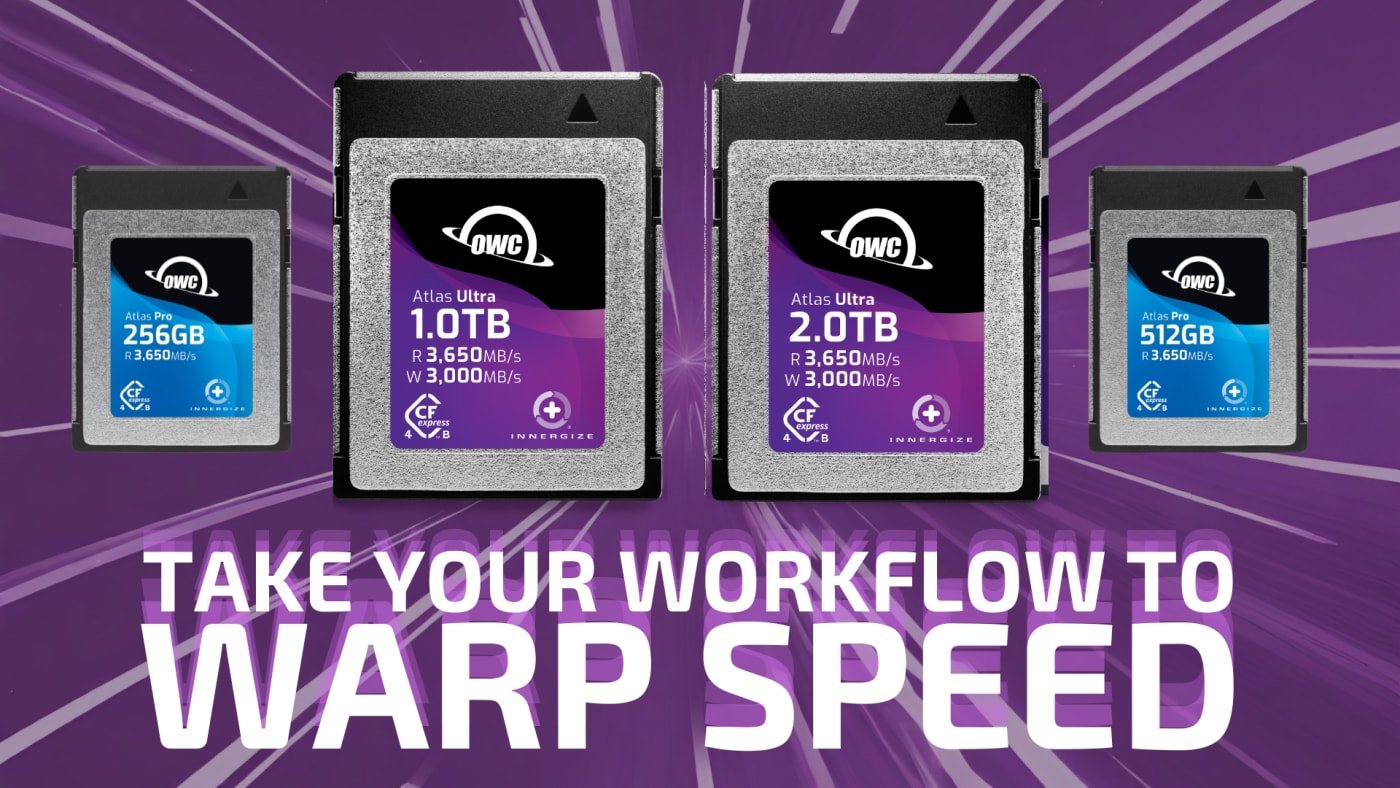 The advance of digital photography and video is nothing short of astonishing. Just look at this progression of digital imaging over the last couple of decades. Cameras in all shapes and sizes—from the iPhone 15 Pro's ability to record 4K/60 ProRes to external drives, to the incredible Nikon Z8's 45MP sensor and 120fps burst mode—are capable of capturing images with more detail than ever before.
With this advance in capability comes more data. A lot more data. Now more than ever, professionals need to ensure that their memory cards match the capabilities of their cameras if they expect to get the most out of their investment. That means memory cards that can handle120fps still image bursts with little buffering, and also store multiple terabytes worth of data in the form of 12-bit 8K video.
Here at OWC, we build solutions for professionals. Our Atlas line of memory cards are the latest example of our commitment to long-lasting, pro-grade capture gear, and we're extremely excited to announce a major new product launch and available update for existing customers.
First, we're launching new Atlas Pro and Atlas Ultra CFexpress 4.0 memory cards, boasting double the speed of CFexpress 2.0 cards. Second, we're absolutely stoked to announce a game-changing industry first: if you own our previous generation Atlas Pro Ultra 1TB or 2TB CFexpress cards, you'll be able to upgrade your cards to the new ultra-fast CFexpress 4.0 speeds free of charge via our Innergize™ app.
Unprecedented speed redefines what's possible
The new Atlas Pro 256GB, Atlas Pro 512GB, Atlas Ultra 1TB, and Atlas Ultra 2TB cards leverage PCIe Gen 4 technology to enable mind-blowing 3650MB/s read and 3000MB/s write speeds—a 97% increase from the previous generation cards.
The major speed increases to Atlas cards make it possible to capture stunning 4K, 6K, and 8K+ videos—enabling the next generation of cameras and the ability to scale your available storage with future camera purchases. Plus, thanks to the massive read/write speed increases, these new cards provide the ability to access and offload content for editing and distribution like never before.
Even with these incredible performance increases, the power consumption of OWC memory cards is only one-third of the allowable specification, making them ideal for any battery-operated cameras—past, present, or future.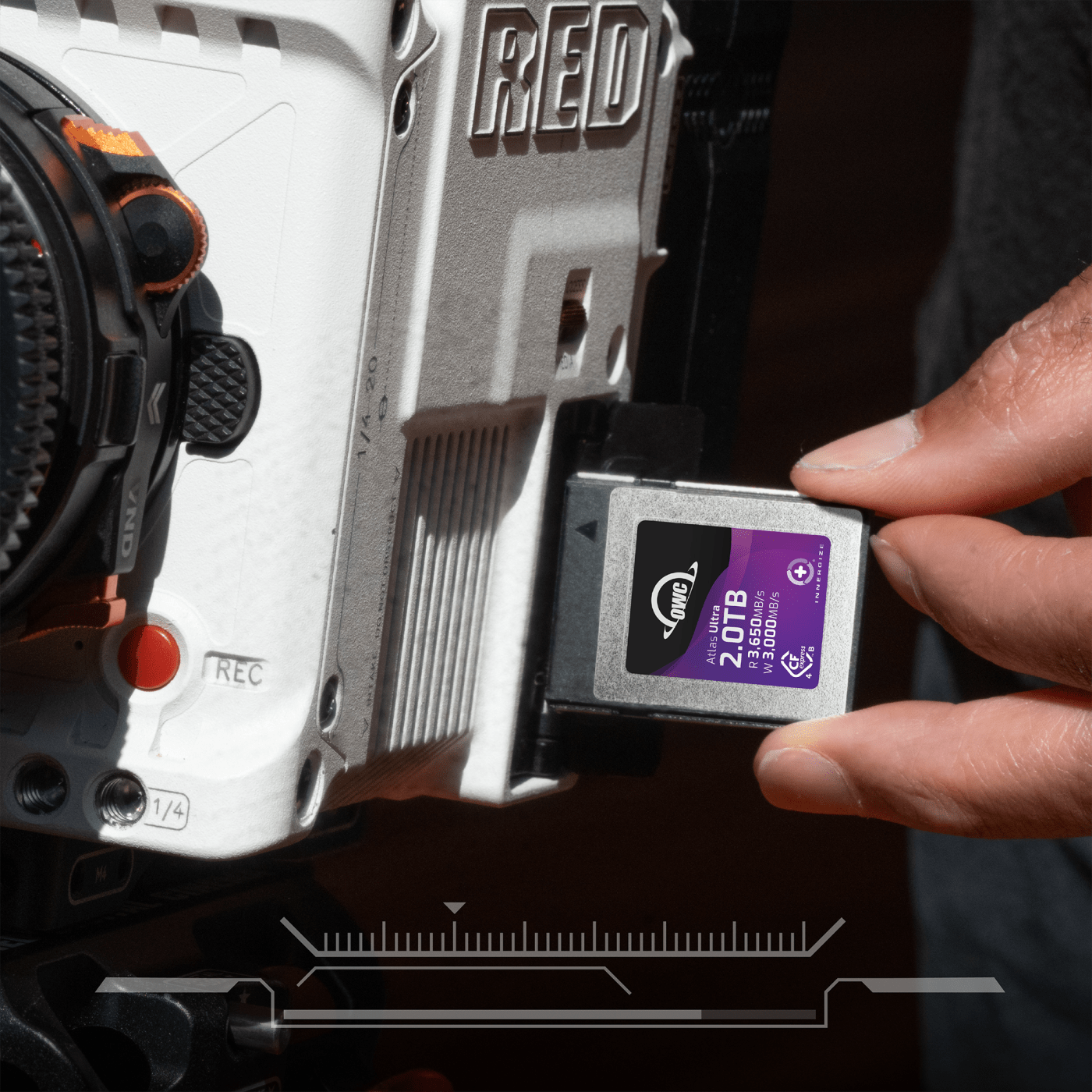 Industry's first backward and forward compatible CFexpress cards
For more than three decades, OWC has dedicated itself to designing solutions that extend the use life of technology. The new Atlas CFexpress 4.0 memory cards continue that commitment by utilizing OWC's Innergize™ software to allow owners to upgrade the firmware on previous PCIe Gen3 Atlas Ultra 1TB and 2TB cards to the new CFexpress 4.0 firmware.
We first launched our Atlas Ultra 1TB and 2TB cards earlier this year. These cards were designed from the start to ensure forward compatibility through a firmware upgrade to the CFA 4.0 specification.
Memory card users have never had the opportunity to elevate their card's performance and prolong its usefulness with field firmware upgrades. This OWC-exclusive upgrade nearly doubles the current read/write speeds, from 1850MB/s and 1700MB/s read/write speeds to 3650MB/s and 3000MB/s.
In addition, Atlas CFexpress CFA 4.0 memory cards are backwards compatible with CFA 2.0 PCIe Gen 3 hosts, providing both flexibility and performance.
The OWC Atlas Ecosystem
The Atlas lineup isn't just memory cards. With the aim of supporting professionals throughout each phase of their workflow, OWC has built the Atlas family to be the most comprehensive assortment of hardware and software solutions to support anyone. The OWC Atlas ecosystem is the first step of the process to ensure photographers and videographers have the tools they need to get their vision from camera to audience.


Atlas CFexpress and SD memory cards provide flexibility and choice for photographers and videographers based on their cameras and how they use them. Because they are tested under the most aggressive settings each card type can handle, Atlas memory cards securely store irreplaceable content and deliver the highest reliability and performance.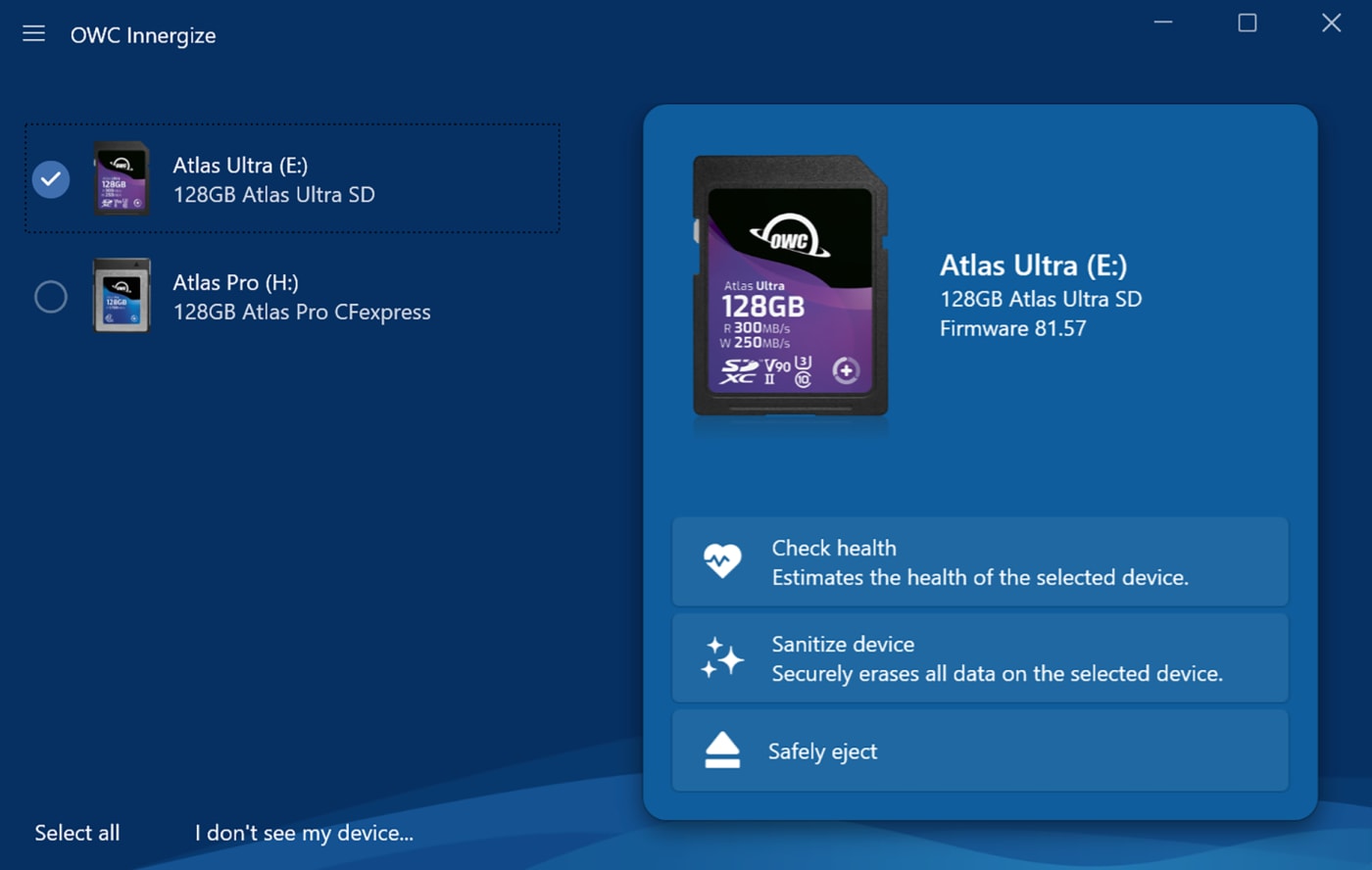 OWC's Innergize™ software is an integral part of the ecosystem built for OWC Atlas memory cards and readers. Innergize first checks the health of an Atlas card to ensure it is reliable to use, and then cleans
and restores performance so there will be zero dropped frames when shooting video or continuous burst photos. Atlas owners can then upgrade their firmware in the field to take advantage of the latest card improvements and ensure OWC cards and readers will perform optimally with their cameras.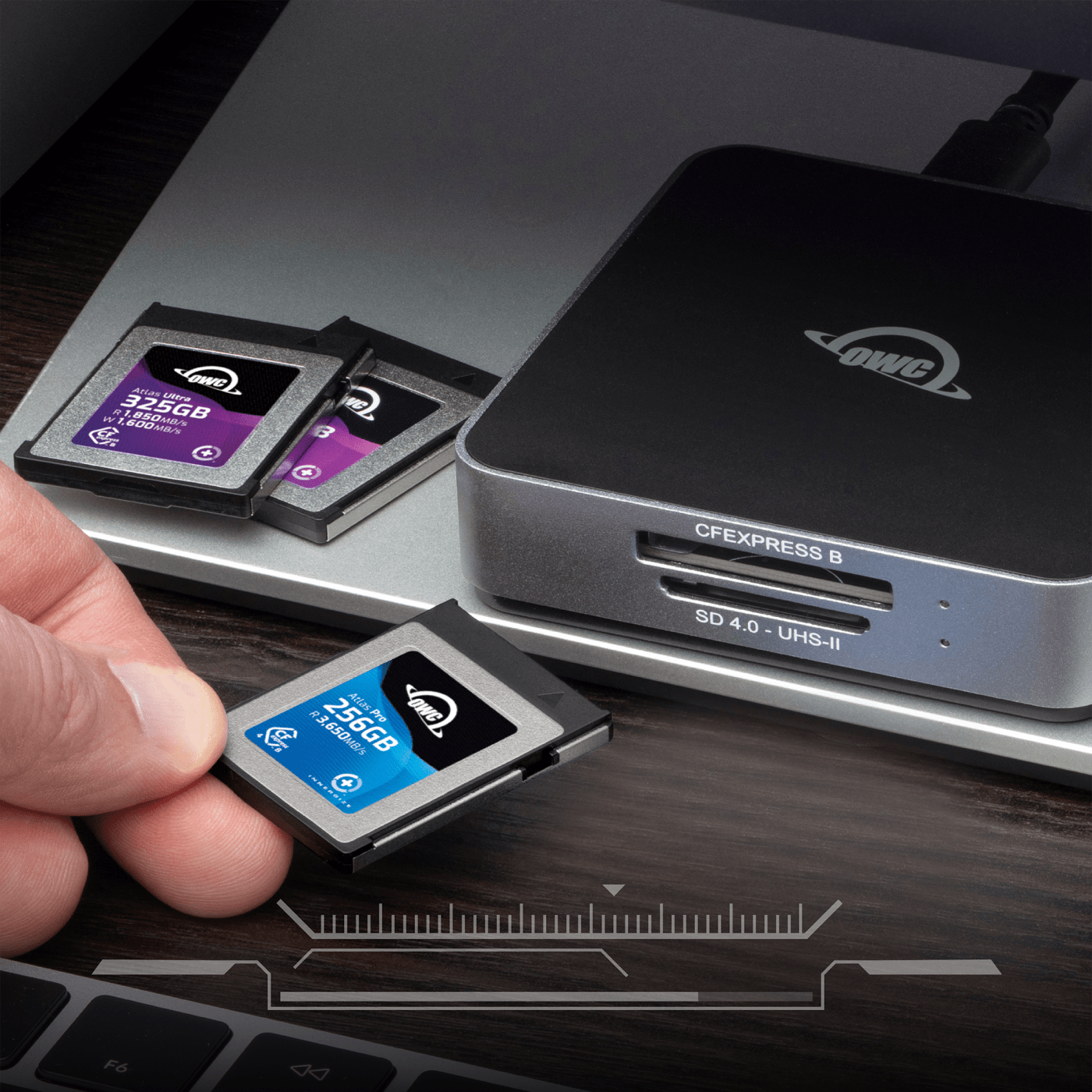 Go from ingest to edit with a wide range of bus-powered portable Atlas card readers, as well as SD and CFexpress card reader equipped OWC docks and storage solutions. OWC memory card readers have been specifically designed and extensively test proven to deliver effective heat dissipation so Atlas memory cards will deliver maximum sustained throttle-free performance.
Pricing, Availability, and Upgrades
Cost-effective, highest quality memory cards for the most demanding needs of professional photographers and the most common use cases of professional filmmakers.
High-performance, highest quality memory cards for the most demanding video recording uses of professional filmmakers and continuous burst mode shooting by advanced photographers.
Atlas Pro CFexpress CFA 4.0 256GB and 512GB memory cards
Available October 12 for $169.99 (256GB) and $199.99 (512GB).
Atlas Ultra CFexpress CFA 4.0 1TB and 2TB memory cards
Available in October12 for $579.99 (1TB) and $999.99 (2TB).
Upgrade for Atlas CFexpress 1TB and 2TB memory cards
To upgrade your existing Atlas Ultra 1TB or 2TB CFexpress card with 1850MB/s on the card label to the new CFexpress 4.0 specification, download OWC's Innergize™ software and upgrade the firmware. Upgrade will be available Oct. 12, 2023.
Other topics you might like