Archive Like a Pro: This All-in-One Drive and Dock Makes Backing Up Video Projects Easy
Pro video teams should always back up three copies of their videos. The OWC Gemini makes the process easy.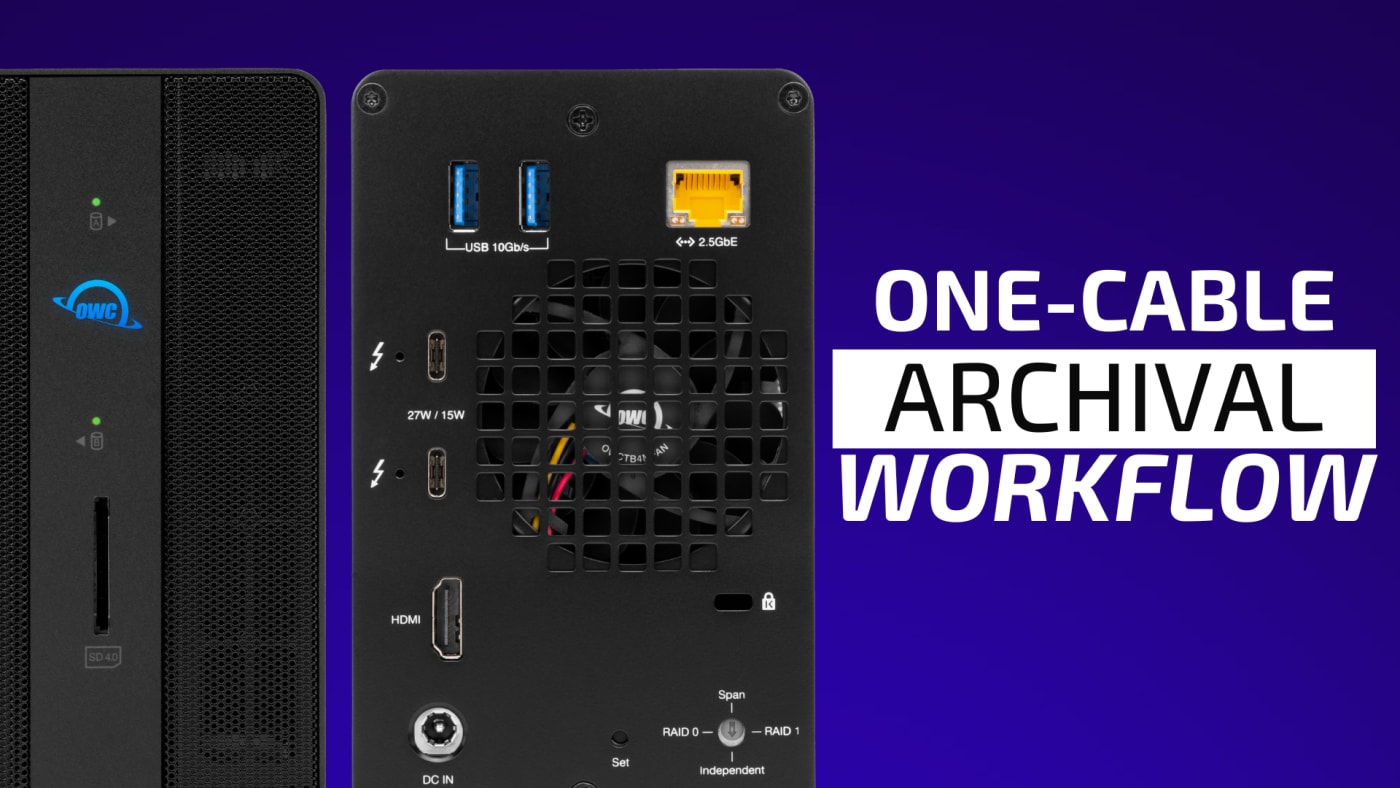 When it comes to archiving data for video projects, the process can get complicated quickly because of the size of video files. You must also juggle exports, renders, proxies, versions, and more. And the safest archival strategies requiresyou to store multiple copies of these assets in multiple locations.
Because of this complexity, most content creators operate without a good archiving strategy. So you end up with drives of various kinds and a combo of docks, cables, and various software solutions.
If your archival strategy is in need of an overhaul, the OWC Gemini is the easiest way to get started with a secure and professional archival process. Here's how.
The 3-2-1 backup rule
According to NinjaOne "The 3-2-1 backup rule states that you should have at least three copies of your data; two of the backups should be stored on different types of media, and at least one backup should be stored offsite or in the cloud."
If you're a professional video creator, you should treat the 3-2-1 rule as the bare minimum when it comes to how you backup your footage. In fact, many filmmakers and other professionals go beyond the 3-2-1 rule, opting to file more backups in more places than this rule recommends.
But balance is important as well. Ultimately, you don't want your archival strategy taking up too much of your time. So, it's up to you to determine the exact number of backups and locations your operation requires to avoid losing footage while still being realistic about how long it takes to archive each project.
Thankfully, the OWC Gemini makes this process a lot easier to determine.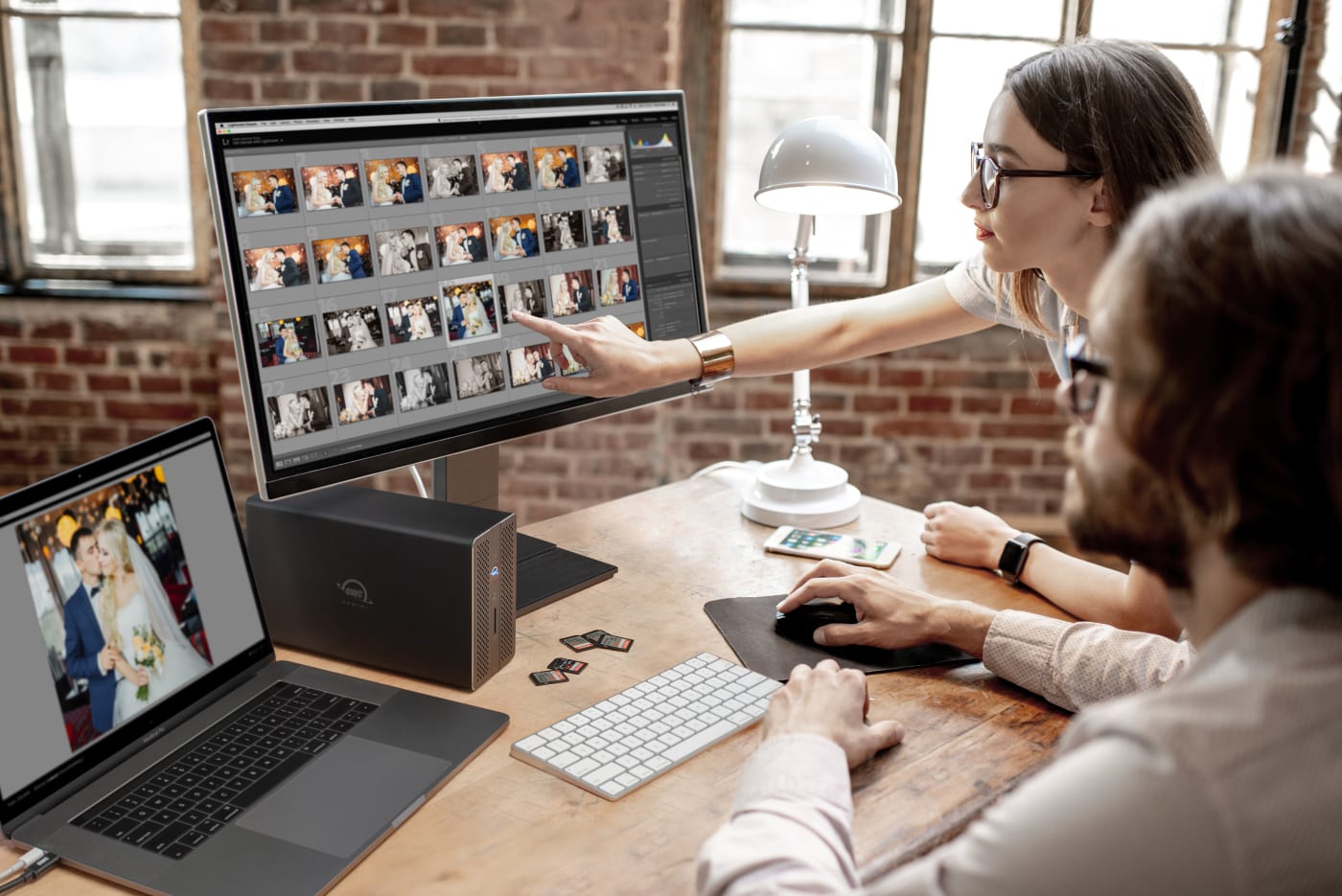 OWC Gemini is designed for easy video archival
The OWC Gemini isn't your typical archive solution.
On the storage front, the Gemini features two bays with support for spinning hard drives or SSDs. Because it's a Thunderbolt 3 enclosure, Gemini is optimized for speed. By connecting Gemini to your computer via Thunderbolt 3, you'll see data rates up to 956 MB/s. That means backing up those large projects to Gemini will take minutes instead of hours.

But what makes Gemini truly unique is that it combines fast storage with Thunderbolt docking capabilities.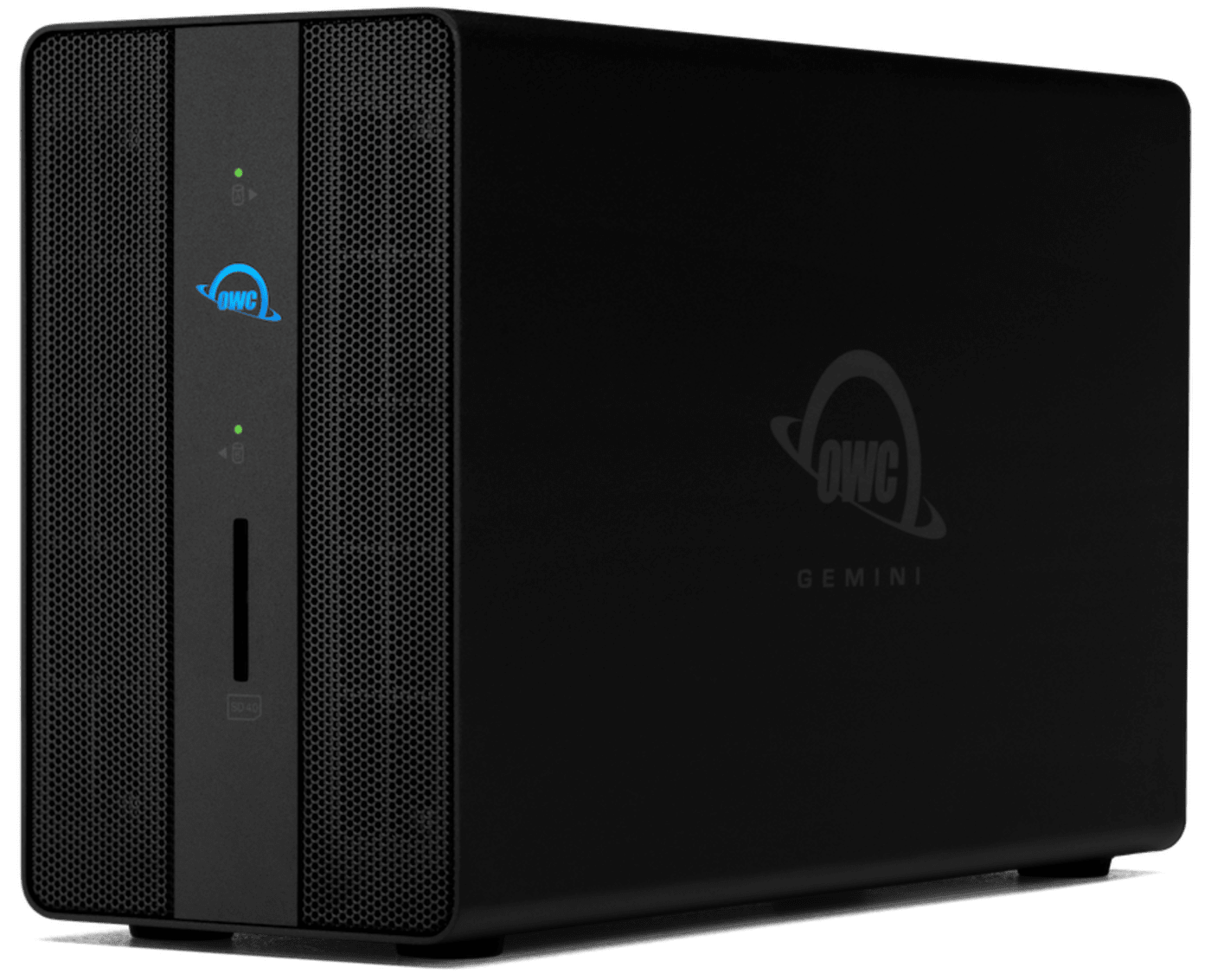 Gemini allows you to connect an additional Thunderbolt device (or daisy chain of devices), an SD card, two USB-A devices, and up to an 8K display via the HDMI 2.1 port. That Thunderbolt port can also be used to connect a USB-C device, add another display, or charge Thunderbolt (USB-C) devices.
Plus, you can wire into your local network to share and upload footage to that network or the cloud through the fast 2.5 Gbps Ethernet port.
Thanks to Gemini's combination of storage and connectivity, it really is the only thing video professionals need on their desktop. Other than your computer of course.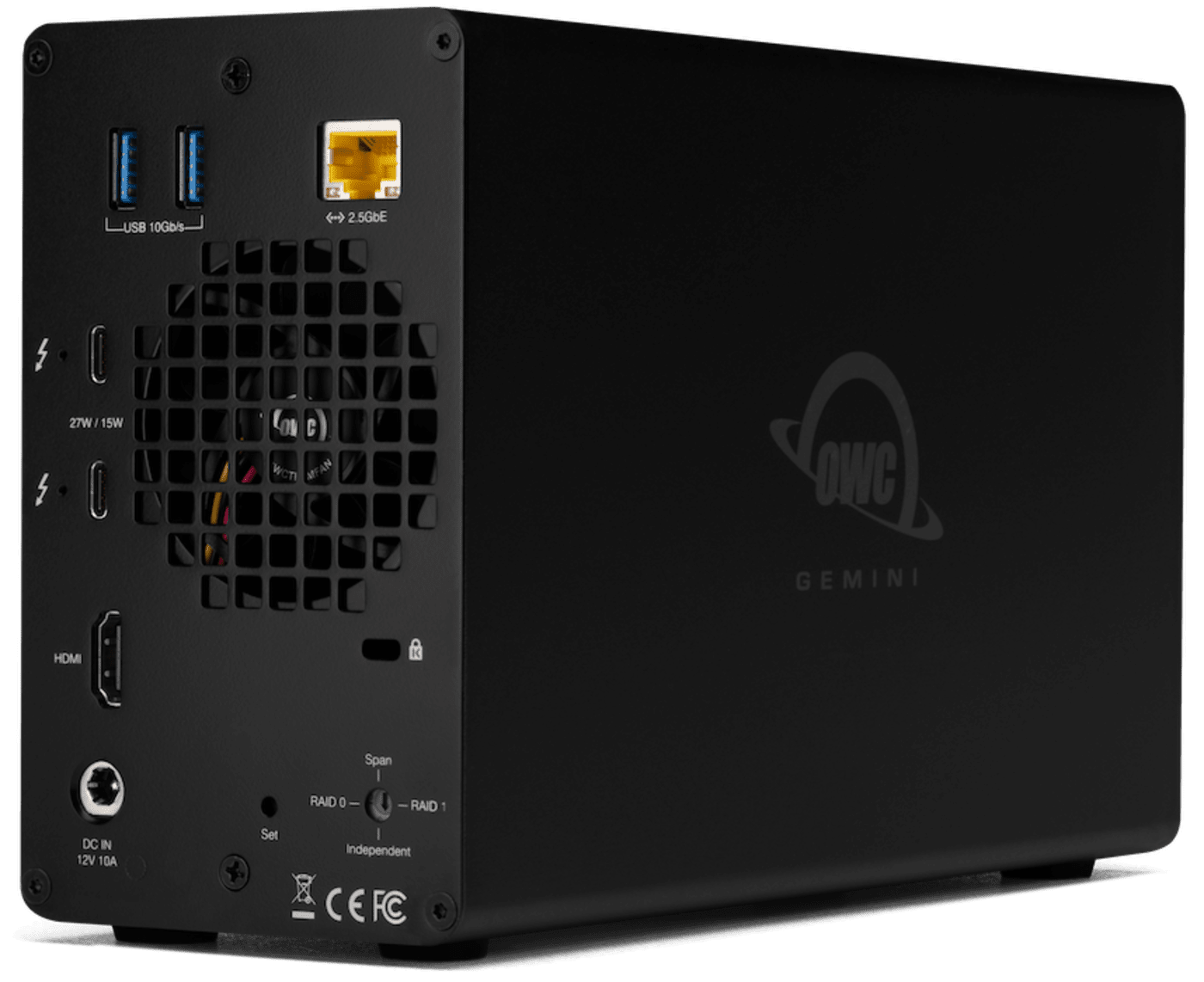 Archival strategies with OWC Gemini
Gemini's two hard drive bays and support for RAID creation through the SoftRAID app make it a great choice for creating archives.
In addition to being optimized for SoftRAID, Gemini features a built-in hardware-based RAID controller. And if you work cross-platform, you can easily connect Gemini to Mac and PC using OWC's MacDrive software (sold separately).
If you are archiving a single project, start at the 4TB level for $469.99 ($329.99 for the enclosure only). And if you are archiving a ton of projects, you can go all the way up to 40TB.
Once you get your footage transferred to the Gemini itself, it's also a good idea to store a master export of your video in the cloud. That way you have your data in a second location. If you think you'll need to go back to that video and re-edit it, you may consider uploading everything you shot for that project to the cloud.
However, cloud storage isn't cheap. And the thought of paying monthly to store data that you might use someday is a tough proposition. So, putting your highest quality export into cloud storage makes sense, and then making a couple of local copies on a Gemini is a much better approach than most content creators are doing now.
For instance, if you have a YouTube channel, the chances might be pretty small that you'll go back and use clips that didn't make it into the edit. But if you are making a feature-length documentary film, you might want parts of interviews that didn't make the cut.
Both of these kinds of projects would be great for archiving on the Gemini. But on the film, you might want an additional copy on a separate disk that gets stored at another location in a fire-proof safe for safekeeping.

Different levels of storage with Gemini
It helps to think about video storage in relation to how quickly you can use the footage. Here are some basic categories:

Online storage
Online storage refers to the fast, working storage attached to your computer and used for editing. This will probably be the smallest capacity, but the highest speed storage in your system. If you used the Gemini for this purpose, you'd set it to RAID 0 and connect it via Thunderbolt. When using Gemini for this purpose, you'd also probably want to equip the two available onboard bays with a couple of SSDs instead of spinning hard drives.

Nearline storage
This level of storage is not as fast as your online storage, but you probably won't access it much. Let's say you shot a commercial, and you've delivered the files. You might move the data from your Online storage to your larger capacity and slower nearline storage for the next several months. This way, you've still got the data on hand if you need to revisit it.

Gemini's on-board drives can be used as nearline storage, but you can also connect to nearline storage drives through Gemini's USB-A port for transfer speeds up to 10 Gb/s. In this way, you could use the Gemini as an edit drive, while the connected drive is your nearline storage drive.
You could also attach a separate Thunderbolt drive to Gemini to use as your edit drive, while Gemini's on-board drives act as your nearline storage.
Offline storage
Let's say six months have passed since you shot the commercial we discussed in the previous section. It may be time to set those files on a shelf as completely offline storage.
It's not a bad idea to specify how long you will hold onto a client's data in your contracts. You might open the project up in your editing application and use the consolidate function. You can eliminate renders, old versions, and proxies.
Once you've downsized your project, you can use the Gemini to make two copies in its enclosure and set it on the shelf. That is "offline." It's still key to store that master quality export in the cloud. If your office had an earthquake, fire, or theft, you'd still have that full-quality export in the cloud.

Cold Storage
If you need to create an offsite archive for all footage, you can explore cold storage. It is relatively low cost, but it takes forever to upload or download your footage.
The Gemini can serve as a "stage" for uploading projects to cold storage. At that time, you may decide to clear off your Gemini but keep in mind that you really still want another local copy. The Gemini allows you to remove the disks so that you could store a copy for safekeeping.
Just keep in mind that spinning disks and SSDs don't last forever on the shelf, so this backup to Cold storage still needs to be checked periodically for data integrity.

Conclusion
The OWC Gemini offers a wealth of functionality because of its unique dual-bay design. It can serve multiple functions throughout the lifecycle of your data. It's key to have data solutions that are flexible, speedy, and redundant. The OWC Gemini is all that and more.

Other topics you might like