ThunderBay 4 mini with Thunderbolt 3
With four 2.5-inch drive bays, OWC ThunderBay 4 mini transforms your SSDs and HDDs into a pro-grade, Thunderbolt 3 storage solution in a compact design.
The Perfect Combination Of Speed, Size, And Convenience For Permanent Access To Your Data
Retasks/maximizes SSD potential: four 2.5-inch drive bays
Pro-grade speeds: up to 1556MB/s with (2) Thunderbolt 3 ports (Thunderbolt 2/Thunderbolt backward compatible)1
Fits all needs: add your own drives or choose from pre-configured solutions
Daisy-chain expansion: add up to five additional Thunderbolt devices
Deployment ready: solutions undergo rigorous multi-hour drive burn-in
Whisper quiet: heat dissipating aluminum with 32.5dB cooling fan
Quick swaps: drives mount on sliding trays
Plug and play: no drivers needed and includes Thunderbolt cable
Easy RAID setup: included SoftRAID guides you through every step of creating RAID volumes
Thunderbolt certified for Mac and Windows
Worry free: up to 3 Year OWC Limited Warranty with 1 Year Level 1 data recovery
Big Raid System Performance In A Compact Design
The ThunderBay 4 mini is perfect for repurposing or maximizing 2.5-inch SSDs for a compact data storage solution. It's big on performance and flexibility, yet ThunderBay 4 mini is about the length of a pencil and weighs only 3.1 pounds with SSDs. The rugged heat-dissipating aluminum enclosure features two Thunderbolt 3 (Thunderbolt 2/Thunderbolt backward compatible)1 for up to 1556MB/s speeds, so you have more than enough bandwidth to handle personal and business backups — all the way up to today's highest resolution audio, photo, and video formats. If you are seeking big RAID performance that's small enough to fit on a desk, in a rack, or on a DIT cart, your wish is now a reality.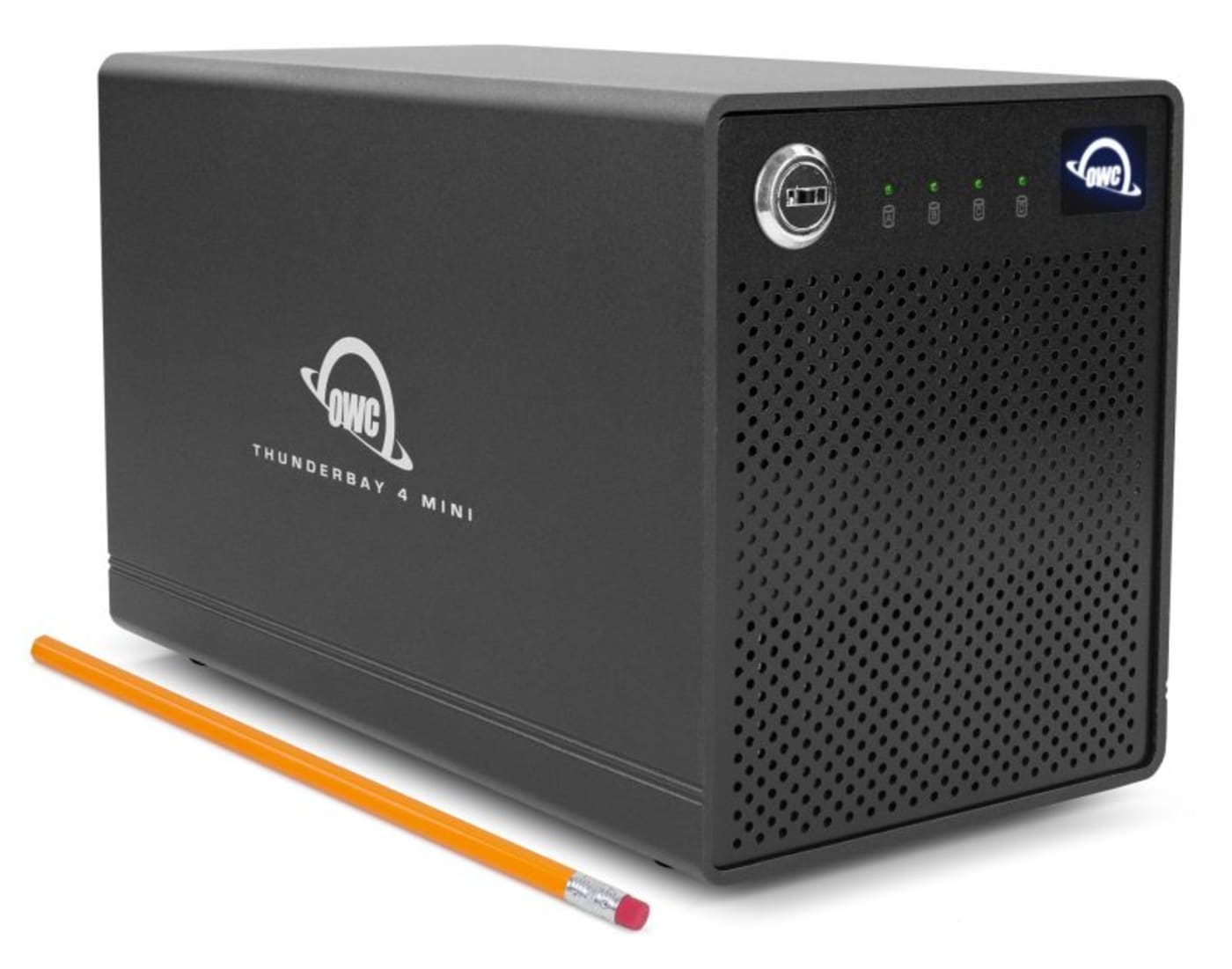 A New World Of SSD Use Flexibility
With four drive bays, you can mix or match different brand and capacity 2.5-inch SSDs and HDDs. Use mixed drives independently or combine drives as a RAID with the included SoftRAID setup and management software. Available in a variety of pre-configured capacity solutions to achieve your desired balance of storage, performance, and data redundancy.
Whatever the day or project demands, the ThunderBay 4 mini is the perfect workflow solution:
Expand production capabilities in industry-leading creative platforms like Final Cut X, Avid Pro Tools, Apple Pro Logic, and Adobe Lightroom
Edit large images
Manage massive photo and audio libraries
Store drone videos
Use it as a transport drive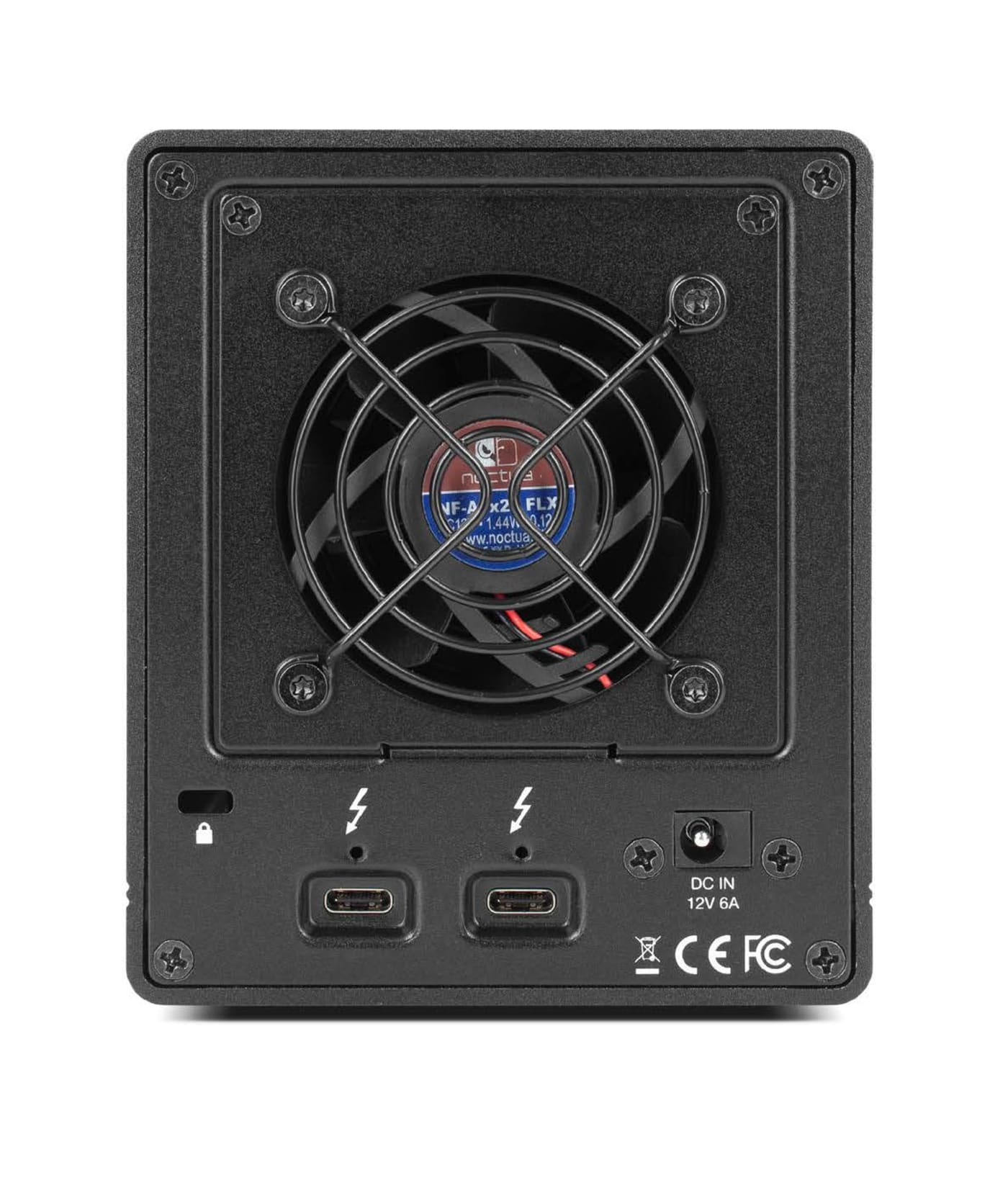 Store More, See More, Do More
With the ability to daisy-chain you can add up to five additional ThunderBay 4 mini solutions to create massive storage capacities. Merge them with SoftRAID for even more flexibility, capacity, and capability. Or if speed is what you're after, connect multiple ThunderBay 4 mini solutions to multiple Thunderbolt 3 ports on your Mac or PC to achieve exponential speed capabilities. Beyond storage, the sky is the limit for what you can connect. Attach a 5K Thunderbolt display or two 4K displays. Place a USB 3.1 device at the end of the chain. With an extra Thunderbolt 3 port, you have the flexibility to add to your daisy-chain and master any task at hand.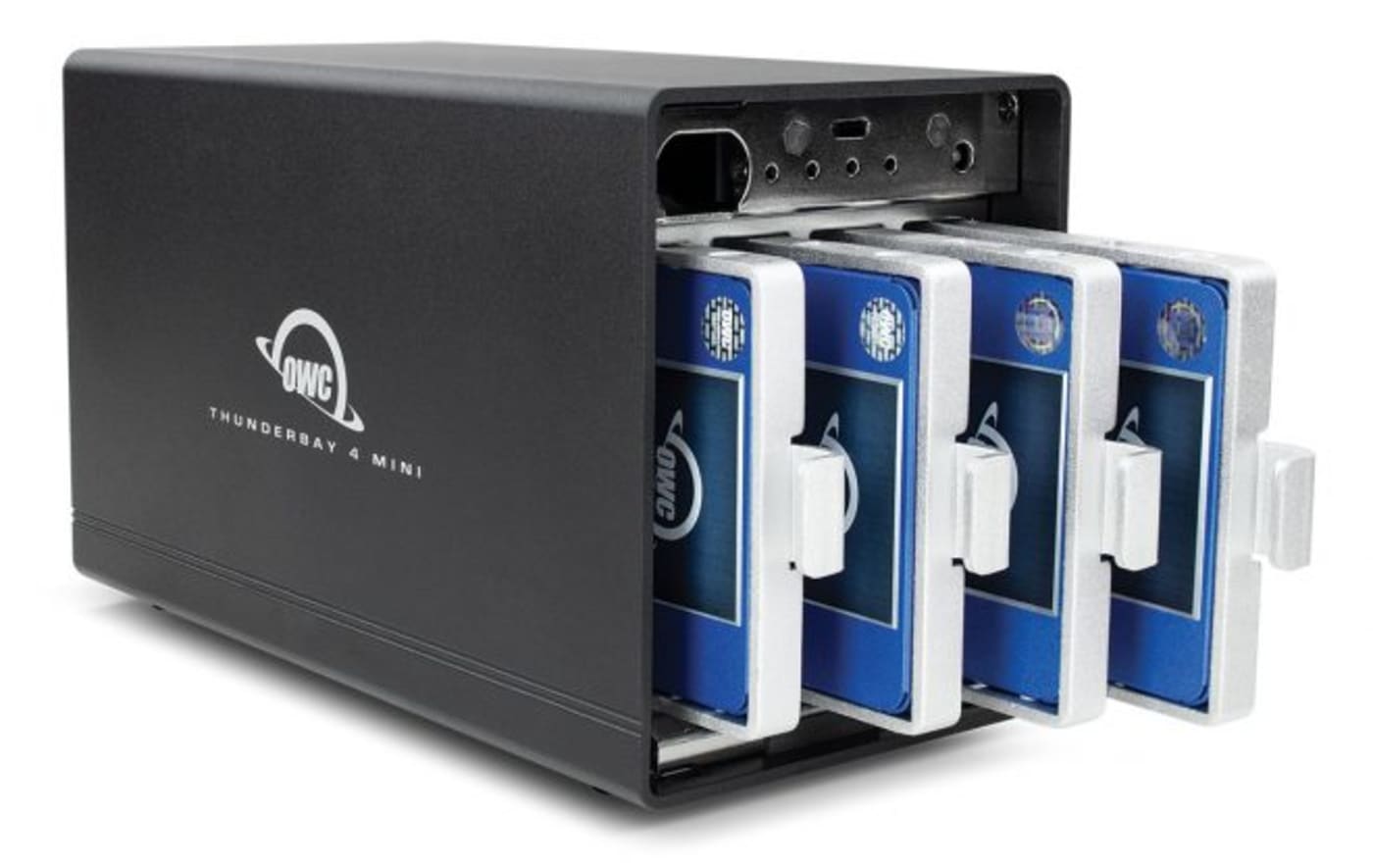 Install Or Swap Drives In Minutes
Want to access another drive or expand your storage capacity? Simply open the front panel security lock to access the four individual bays. Drives mount to a tray that slides back in and automatically plugs into a drive connector so you can get back to work in minutes.

Includes SoftRAID: Easy and Complete Drive Management
Now you can maximize disk space, get the fastest access speeds, and protect against disk failure with Plug and Play simplicity. SoftRAID's easy setup makes it a breeze to create RAID volumes by helping you through the entire process. Just decide what you're using your RAID volume for and how much space to allocate to it. It's that simple to create your preference of speed and/or redundancy attributes of your data volume.

OWC enclosures ship with the XT version of SoftRAID. SoftRAID XT and Lite XT are fully featured and designed to only work with OWC solutions. Learn More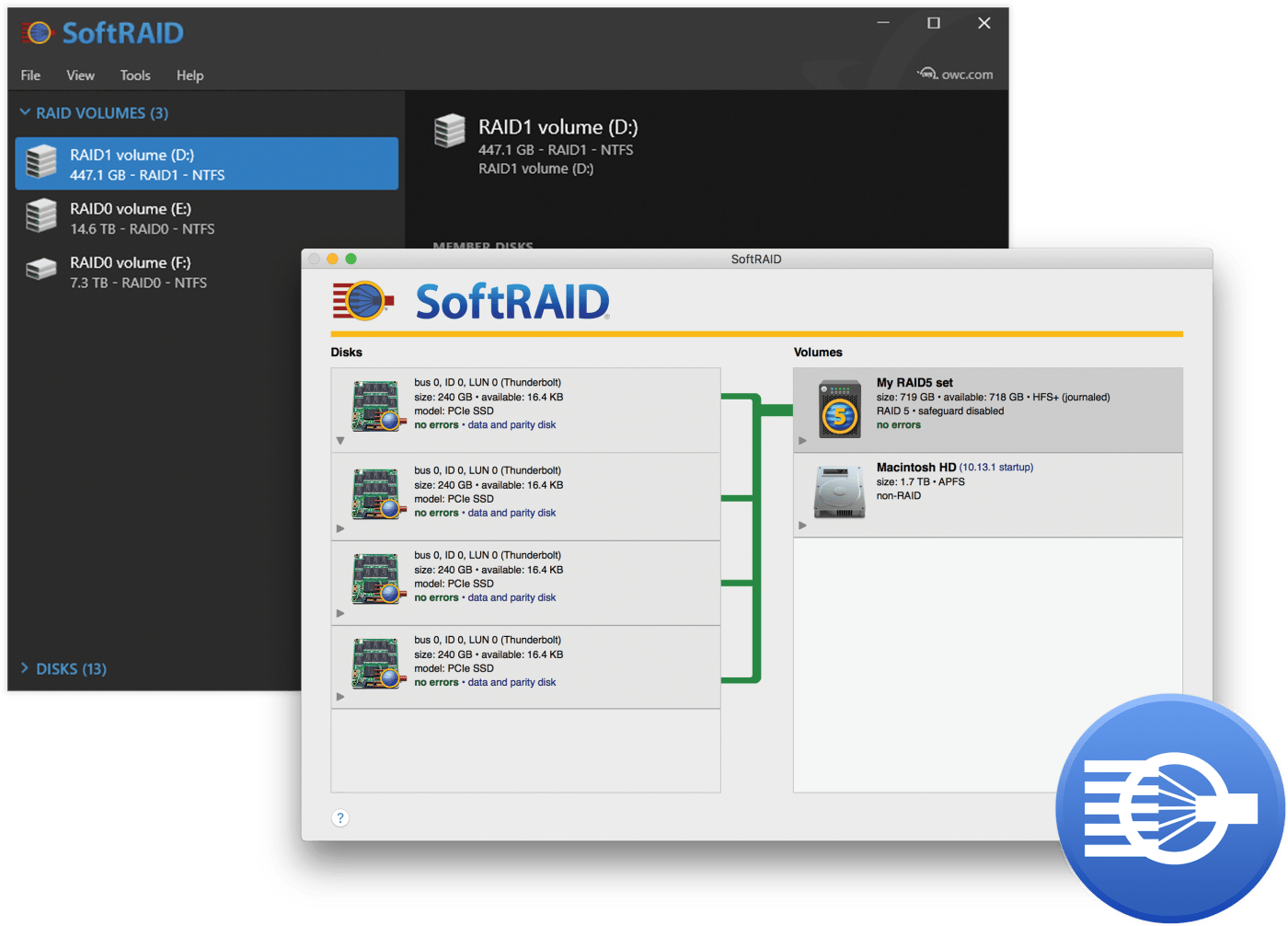 SoftRAID Lite XT for Windows and SoftRAID XT and Lite XT for Mac