Jupiter Mini
High-Performance 10GbE Desktop NAS with Industry Leading Reliability and Support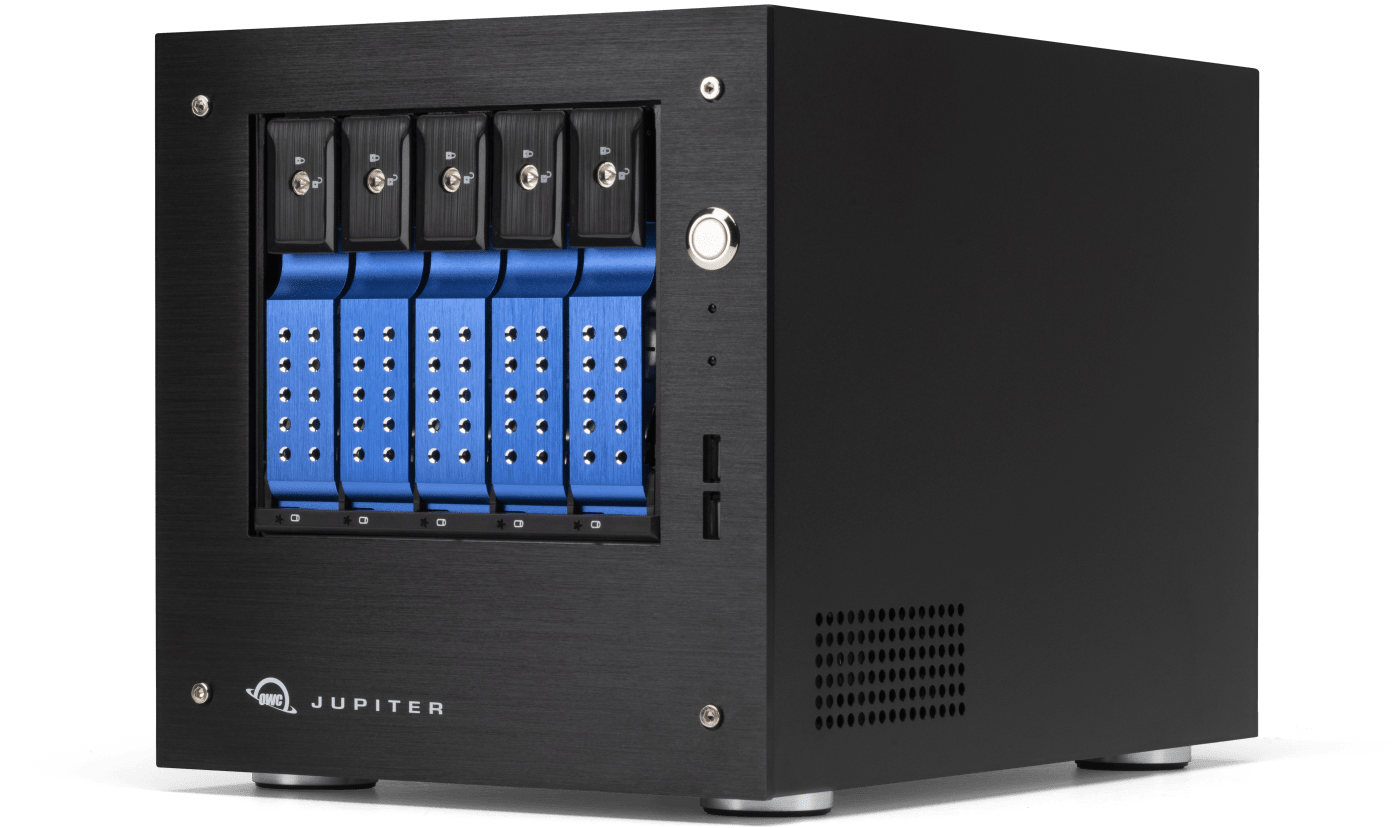 The Desktop NAS Built for Small Business and Workgroups
Reliable Data Integrity: Modern Enterprise file system that automatically creates redundant copies of your data to ensure your files are readily available, even in the case of drive failure.
Mac and PC Compatible: Jupiter Mini seamlessly connects to your users on MacOS, Windows, Linux, UNIX, iOS, and Android.
Performance to Scale: Intel® Xeon® processor, 32GB of ECC RAM, and enterprise-grade hard drives ensure maximum uptime without errors during demanding tasks — every Jupiter Mini passes a rigorous certification process to ensure out-of-box performance.
Set and Forget: Preloaded TrueNAS SCALE is the world's #1 open-source NAS OS that is easy-to-use and performs automatic checks of your data integrity without manual oversight from your team.
Fully supported: Included three-year warranty, can be extended to five years, and includes software and workflow support as well as one source for hardware warranty assistance.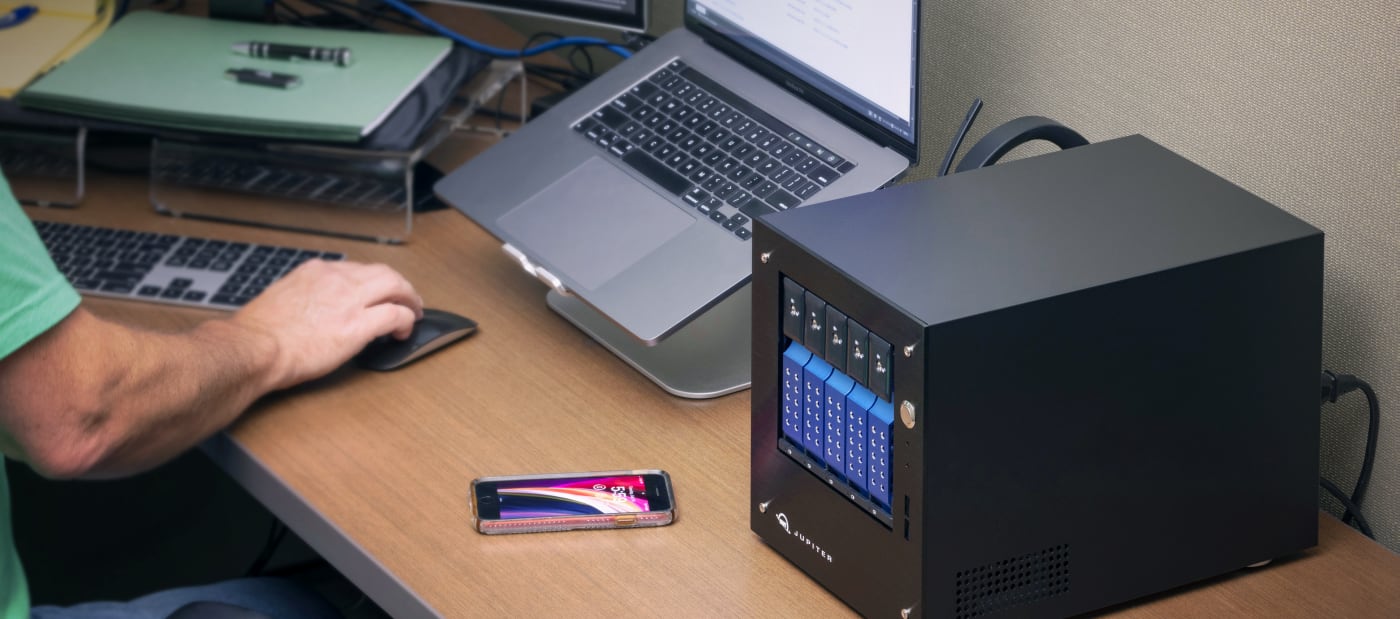 Simple. Powerful. Complete.
With five drive bays, 2 x 10Gb + 2 x 1Gb Ethernet ports, and included support, OWC Jupiter Mini is the perfect desktop-sized NAS for a secure and centralized powerhouse for file sharing in small business, remote work, education, research and creative content. For more than three decades, the OWC name has been synonymous with high-performance storage solutions. We've been the trusted brand that SMBs, educators, and content creators have turned to for help managing their digital assets.
OWC Jupiter Mini continues our commitment to putting the control of data into your hands in a unique desktop Network Attached Storage (NAS) solution. Now your business can share files without needing the space a traditional NAS device requires or without needing to invest in costly rack mounted gear. You also won't have to source components from different vendors or pay exorbitant support fees. Jupiter Mini is a time and money-saving one-source enterprise grade storage solution backed by an unmatched level of pre- and post-sale support that OWC's reputation has been built upon.
Faster Networking, Instant Access
Jupiter Mini's 2X 10GbE and 2X 1GbE Ethernet ports enable ultra-fast access to files across your team. You can connect users directly to the Mini's Ethernet ports, add a switch for supporting larger workgroups or a wireless access point to enable wireless access
The Jupiter Mini also includes networking features usually exclusive to Enterprise environments. The Ethernet ports can use subnets to act as virtual fences that separate different parts of your network (each subnet can have its own security measures). Or you can opt to combine the speeds of the ports on the Jupiter Mini with port bonding, providing a single high-bandwidth connection.
Subnetting improves network efficiency. Each subnet operates as an independent network with its own range of addresses, allowing more efficient routing and enhancing security by limiting broadcast traffic and controlling access between subnets.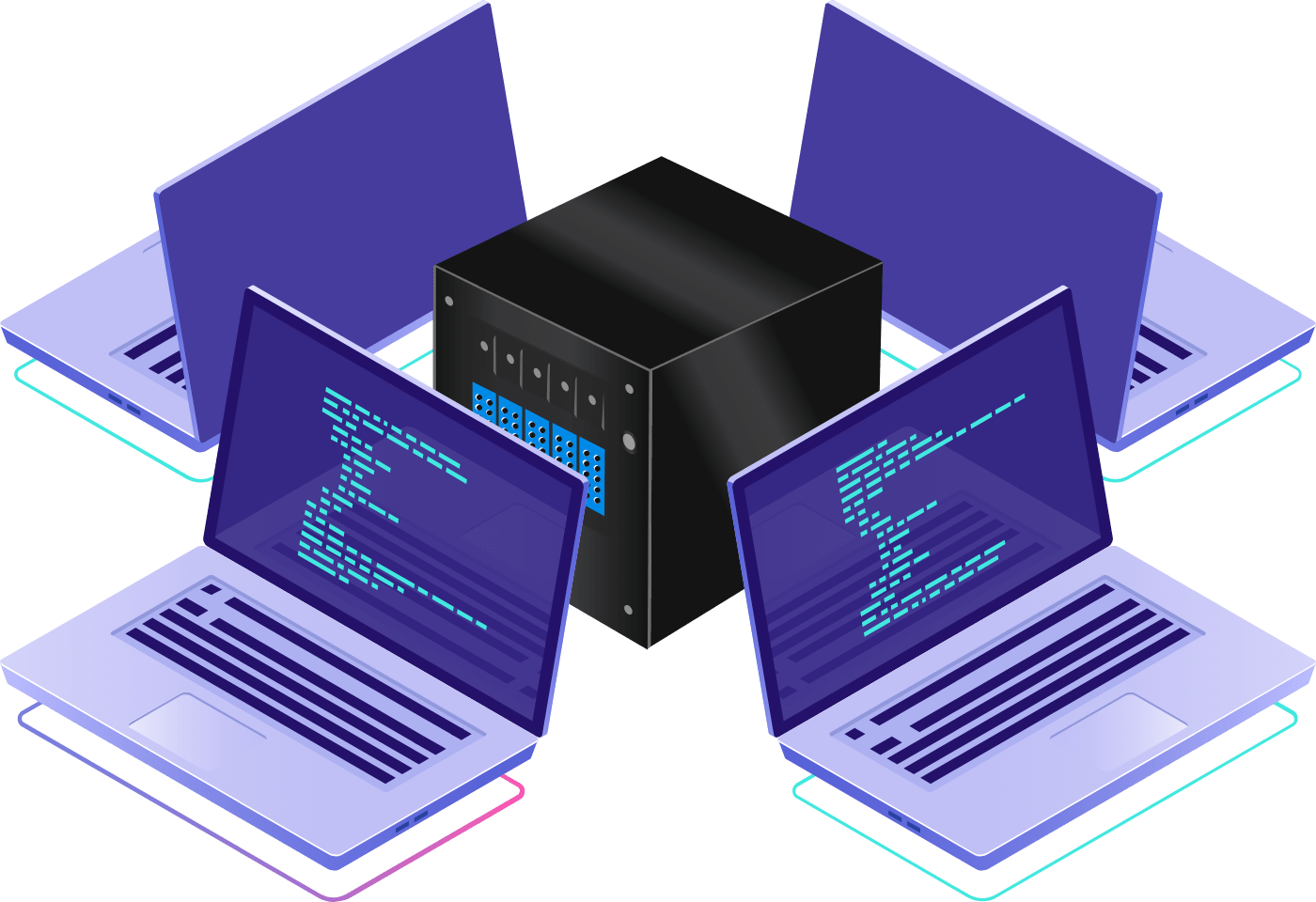 Easy-To-Use, Even Without IT
Your time is better spent running your business, not troubleshooting your shared storage. Luckily, we built Jupiter Mini to operate with minimal oversight that doesn't require 20-year IT background. After a quick initial setup, Jupiter Mini operates in the background with no babysitting by you.
Jupiter Mini is pre-loaded with TrueNAS, the #1 open-source NAS OS that automatically protects and mirrors your data. TrueNAS is open source, meaning that it constantly receives security patches, feature updates, and has been refined to be as easy-to-use as possible. The TrueNAS dashboard can be accessed from any user's MacOS, Windows, Linux, UNIX, iOS, and Android device.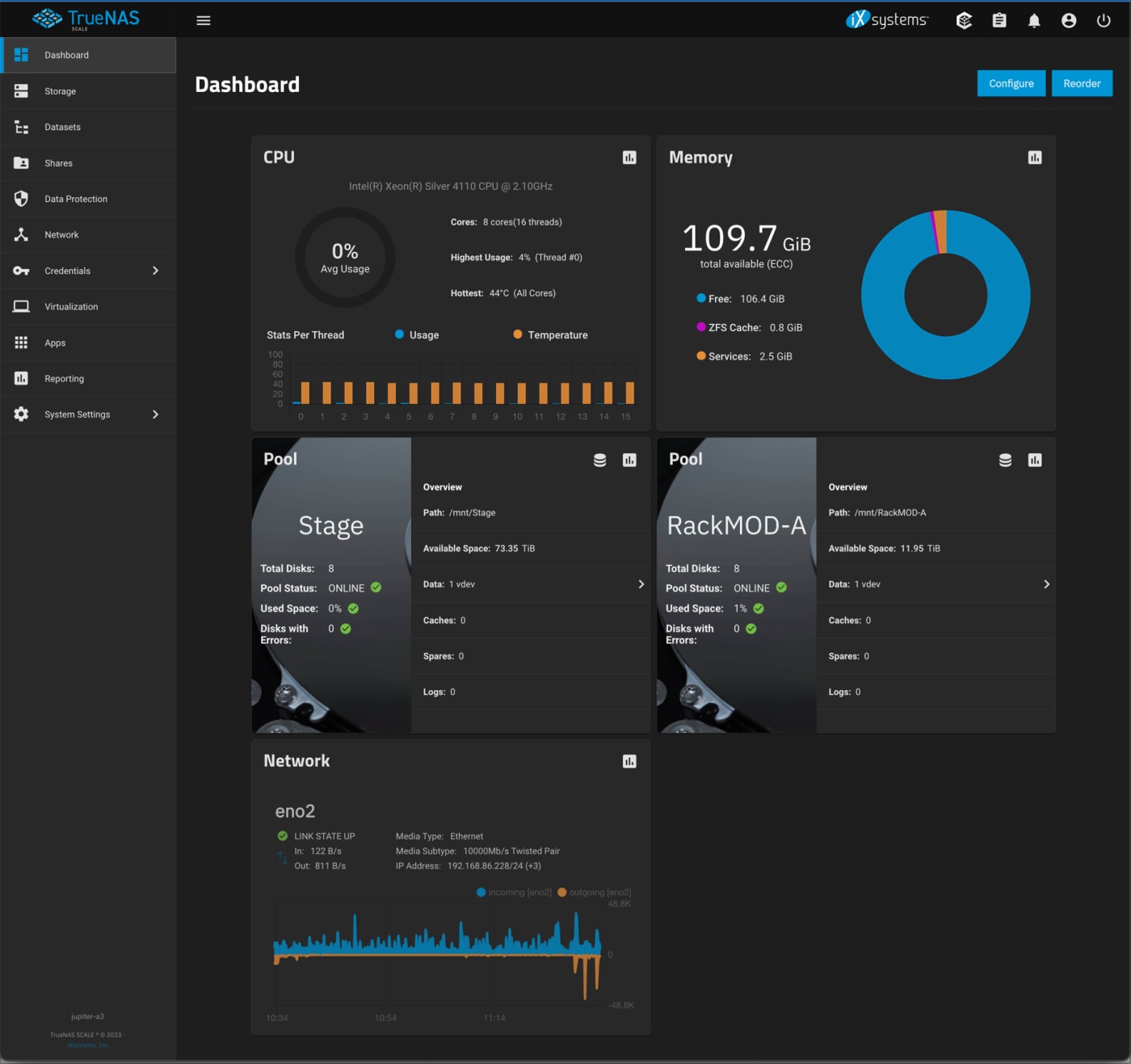 Jupiter Mini comes pre-configured out of the box by our team to strike a balance between performance, storage pool space, and data redundancy. However, you can also tailor Jupiter Mini to your specific use-case with just a few clicks.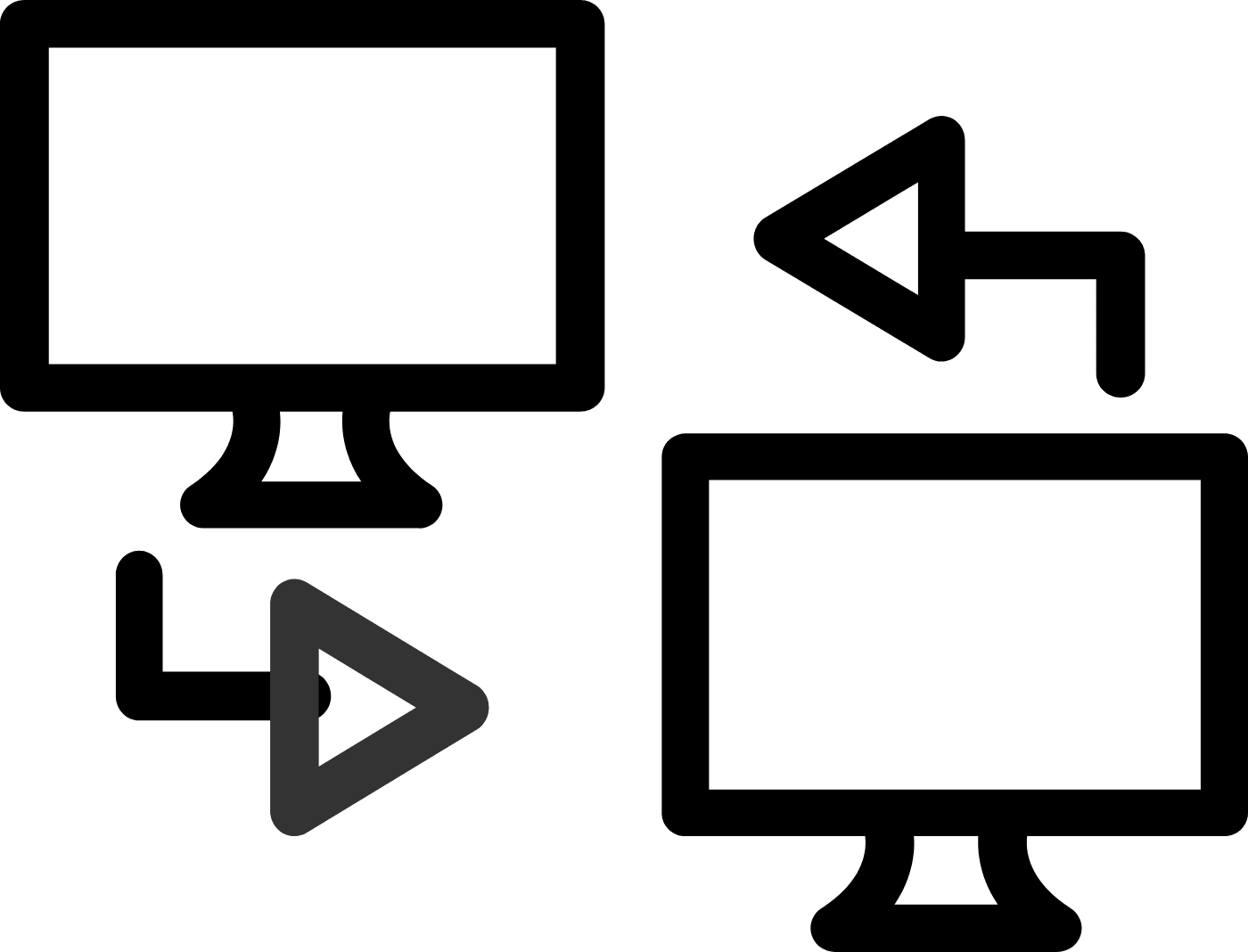 Remote Access Ready
Jupiter Mini allows your teams in-office and remote to access your files from anywhere in the world. Jupiter Mini is prepared for remote sharing with when combined with services such as OpenVPN, ZeroTier, or port-forwarding on your corporate firewall.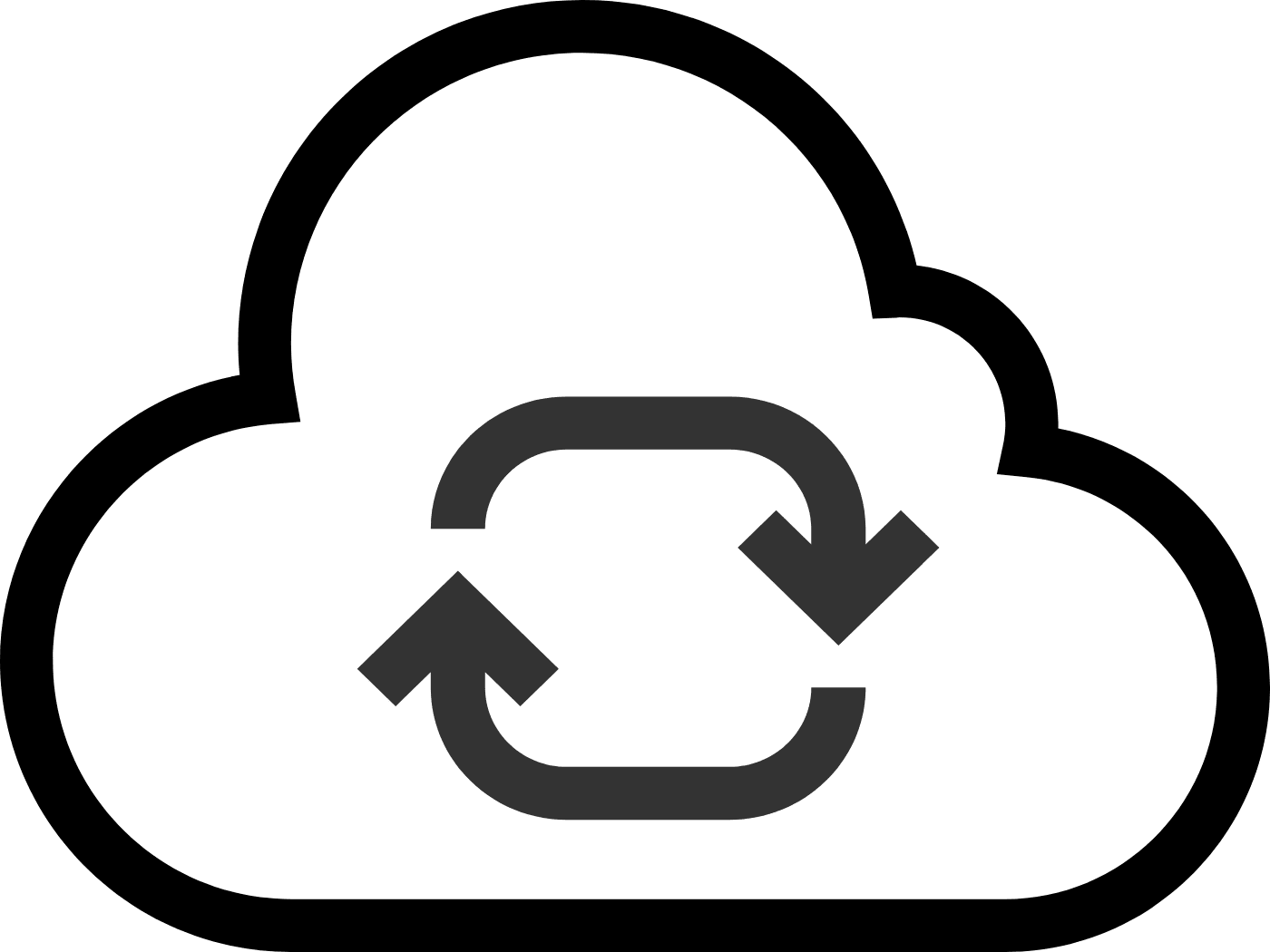 Sync with the Cloud
Backup and transfer files to your Dropbox, Google Cloud, Microsoft OneDrive, and other cloud services with built-in cloud sync on the Jupiter Mini.
Data that is Shared, and Protected
Storing files amongst scattered, standalone hard drives risks data becoming lost, corrupted, and wastes valuable time searching. We take the integrity of your data seriously. Jupiter Mini utilizes an Enterprise-grade file system called ZFS RAID. ZFS RAID is a modern file system that goes beyond typical storage redundancy. ZFS routinely collects data on your hard drive status, records snapshots, and has built-in parity protection. Even in the case of a drive failure, ZFS keeps your file data available. Upon replacement of the failed drive, the system will repopulate the data that was on the original failed drive keeping your data available and your operation running smoothly.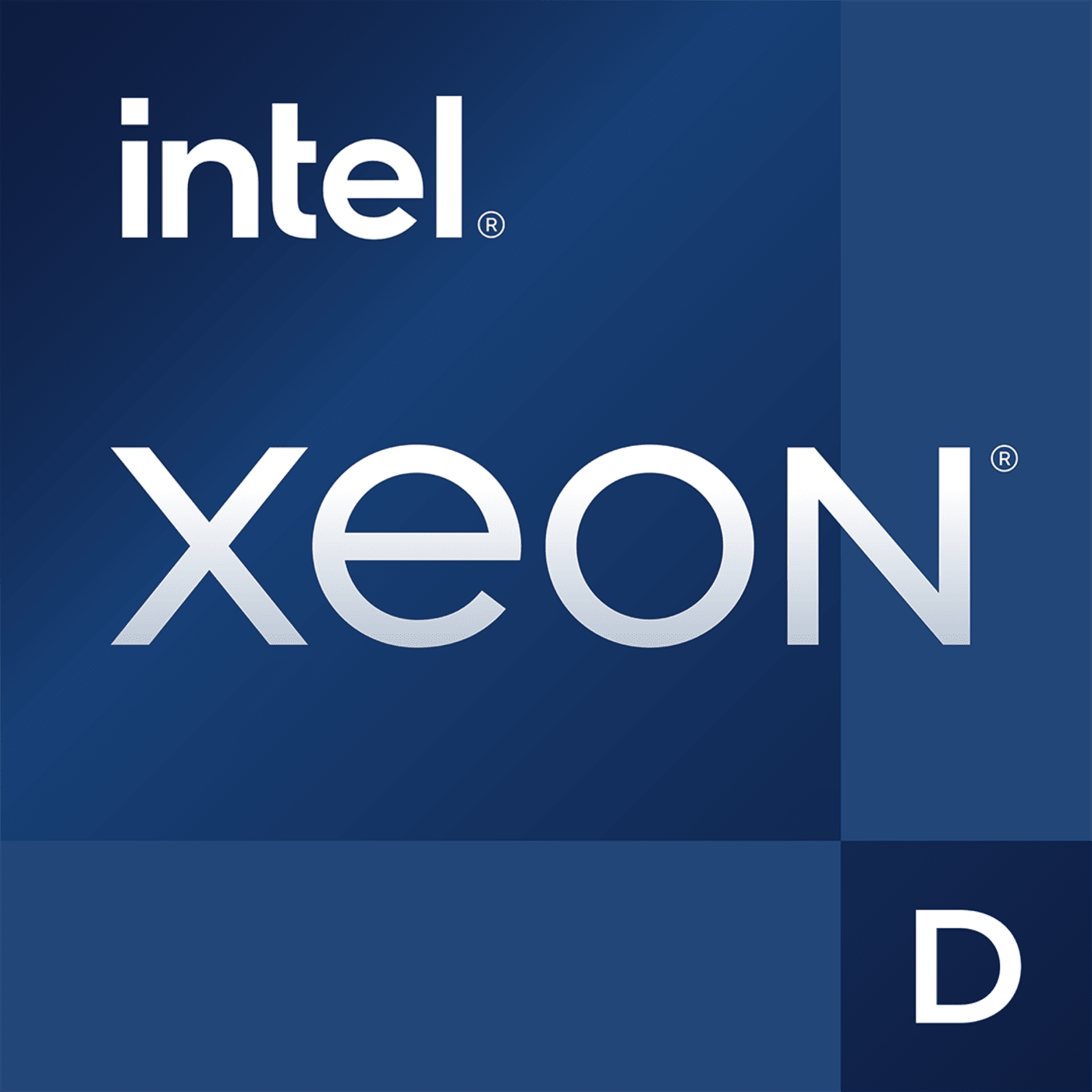 Futureproofed for Your Business
Jupiter Mini can support up to 50+ user teams out of the box. Our Intel® Xeon® server-grade processor and high-bandwidth 32GB of ECC (Error Correction Controlled) DRAM that allows multiple users to access files simultaneously without slowdowns and protects against data corruption. Better yet, Jupiter Mini can be upgraded to 64GB of ECC DRAM for even larger workgroups.1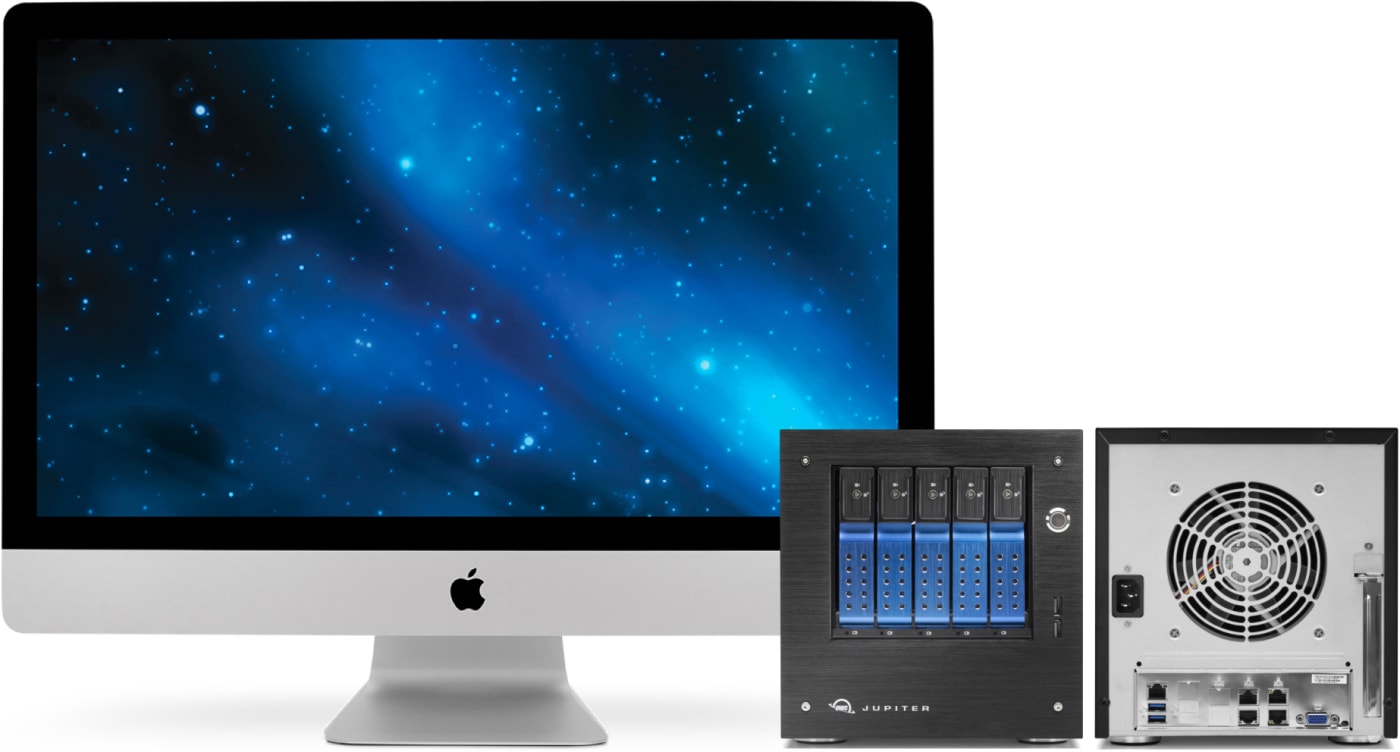 Compact
Despite being packed with Enterprise-grade hardware and software, Jupiter Mini operates quietly in a compact design that fits on any Desktop work environment.
Single Source Support Tested + Ready to Work
We understand having confidence in gear reliability is paramount to professionals. That's why every Jupiter Mini solution goes through an intensive performance certification prior to shipping. This ensures your Jupiter Mini arrives operating properly and immediately ready for demanding use.
Better yet, there's no need to contact multiple suppliers if you have questions or run into issues. Jupiter Mini's components and hardware are fully warrantied through OWC. We're backed by 35 years of outstanding after-sales support and include a warranty that can be extended for up to 5 years.
Speak with our Integrations team!
Let us help you build the perfect shared data storage system.
FAQs
What supporting hardware and network upgrades will I need to utilize a NAS like Jupiter Mini?

The basic requirements are a 10Gb Ethernet network switch, a 10Gb Ethernet adapter (for most client computers), Category 6A Ethernet cabling to and from the Jupiter Mini to client computers.
How much time will be required to get Jupiter Mini up-and-running?

Getting Jupiter set-up takes 1-1.5 hours, and most installations can be accomplished with the very helpful OWC Quick Start Guide. We do recommend having us provide you with a no-cost consultation to discuss and simplify the most time-consuming considerations like site preparation, data migration, and technical staff coordination. We can suggest guidance for on-site positioning of Jupiter and networking hardware.
Am I going to have to hire IT staff or an outside contractor to manage this?

No…and that is a major benefit to the "set it and forget it" design of Jupiter Mini! Our dedicated Jupiter Technical Support staff will assist you in setting up IP addresses, client computer sharing, and email notifications. While straightforward, connecting to a network switch may require additional set-up time.
Besides initial set-up help, where do I go for help if I have an issue with Jupiter Mini or the drives?

Another key value of the Jupiter Mini is that it is backed by renowned "one stop shop" OWC support. To provide the ultimate in ownership convenience, your Jupiter Mini system AND the drives are all warrantied and supported by us and you can choose to extend that warranty coverage to five years. For three years, you will receive included support with guaranteed response in one business day. You will also get software updates, access to the easy-to-use TrueNAS web management interface, application support, and high-level workflow consultations.
What's Jupiter Mini's immediate impact on my business and can it grow with my business?

You will realize savings in the thousands of dollars with each project Jupiter Mini helps you complete. Gone are the high labor costs associated with drive set management tasks like purchasing and configuration, download/upload time, and reduced employee productivity. Factor in the priceless value of your data assets and Jupiter Mini's ROI is truly immeasurable. When you need to expand your storage capacity, you can add a SAS HBA card to Jupiter Mini and connect to a Jupiter Kore DAS/NAS expansion solution for overwhelming capacities.
How much storage space do I need? How much usable storage do I have?

The general rule is you need to have available at least 1.5x the usable capacity you intend to have online and accessible. You need to consider rates of accumulation and offloading to secondary storage/archive as well as the RAID scheme you choose to use. A final consideration is that your actual usable capacity is dependent on Jupiter Mini's TrueNAS SCALE operating system's 80% full capacity threshold. This built-in safety feature protects your existing data while alerting you that you need to expand your capacity.
What is the read/write speed with single and multiple users?

Many NAS technology providers promote the eye-catching, but impossible to achieve 10GbE maximum theoretical speed of 1200MB/s. Because there are many variables that can affect performance (data type and application, client traffic, network design, file size, and workstation capabilities to name a few) we typically achieve real-world benchmark test speeds of 600MB-1000MB/s to ensure you will be completely satisfied Jupiter Mini will meet your needs.
What happens if a drive fails?

We plan for the unthinkable and that's why Jupiter Mini solutions come pre-configured with the TrueNAS SCALE host storage operating system. With its advanced ZFS filesystem algorithms, this innovative OS detects and alerts you to a hard drive issue well before it fails. Both the TrueNAS dashboard and email notifications will alert the administrator when a drive becomes "degraded". You then simply contact us to verify the drive condition and initiate a drive replacement. To mitigate even brief downtime, we do recommend you purchase 1-2 cold spares of the same capacity drive and store them on-site.
Even with all the data protection of Jupiter Mini, how can I ensure I do not lose any data?

TrueNAS SCALE has various RAID parity schemes to choose from based on how much drive capacity you want to commit to data protection. RAID-Z1 – which functions like RAID 5 and is the default RAID setting for Jupiter Mini – will protect your data unless two or more drives fail at the same moment. Dual parity (known as RAID-Z2) is similar to RAID 6 and protects data until three or more drives fail. Due to Jupiter Mini having five drives, we primarily recommend RAID-Z1.

Additionally, as you are the sole party responsible for personal and/or company data, you must include data redundancy in your workflow plans. In addition to the excellent data protection Jupiter Mini offers, you need to create a second and third set of data (AKA the "3-2-1 Rule") as a sensible standard). We will discuss this matter with you in our Pre-Sale Consultation and make additional recommendations from the OWC storage ecosystem, so you have a complete one-source backup and archive solution.
Depending on workload type.