Videomaker Names OWC Jupiter Mini NAS of the Year
The no. 1 magazine for video enthusiasts names OWC Jupiter Mini as the best NAS for video professionals.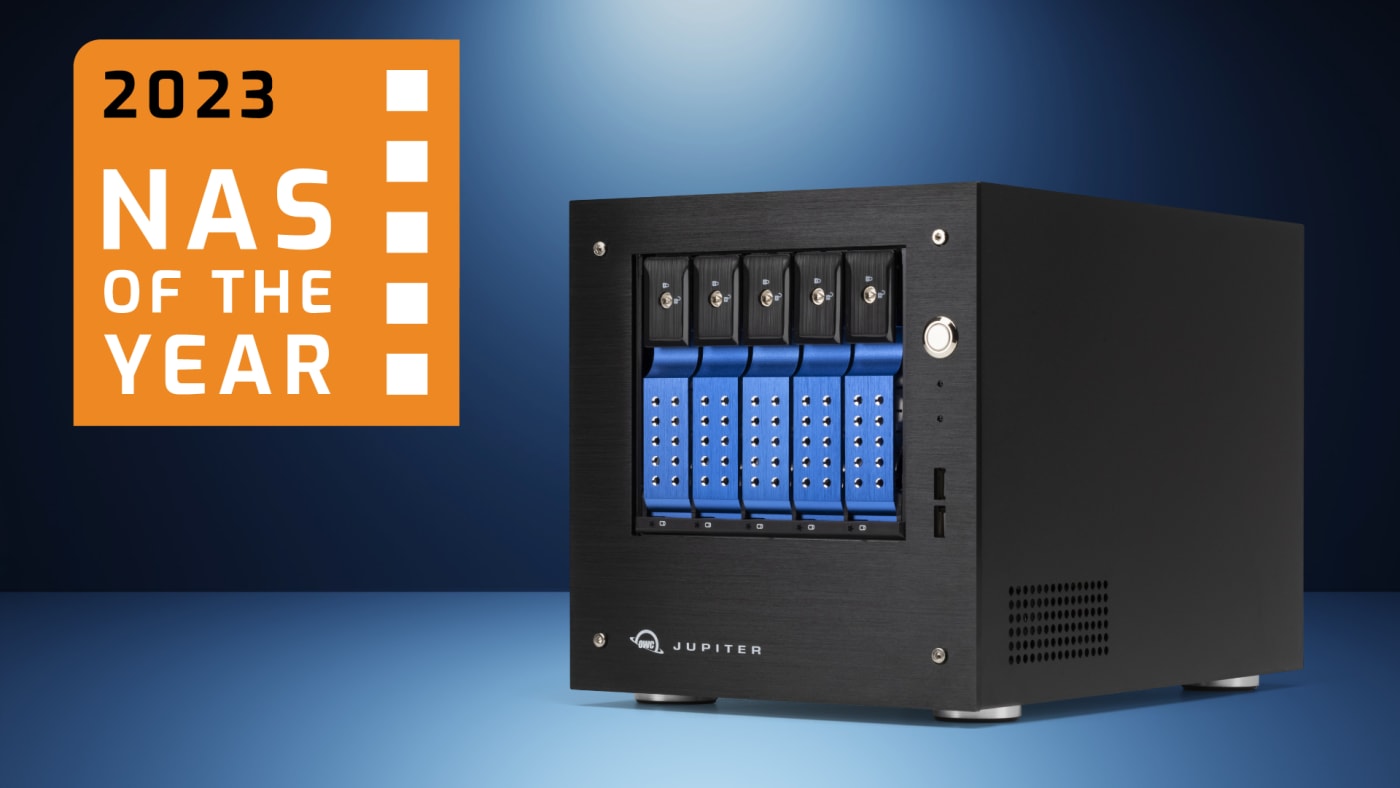 If you're a content creator or part of a greater workgroup, you know all too well the struggle of finding an all-in-one storage solution with enough capacity, speed, and collaborative features for robust file sharing.
That's why we built Jupiter Mini, a fast Network Attached Storage solution with 10Gb Ethernet and huge capacities up to 100TB that is easy to set up and yet small enough to put on a desk. We think it's the perfect enterprise NAS for small teams.
So, we were thrilled to hear that Videomaker, the no. 1 magazine for video enthusiasts, agrees. Videomaker has named OWC Jupiter Mini as the best NAS for video professionals in their latest buyer's guide for the best digital storage solutions for video editors.
Jupiter Mini has five drive bays, supporting 20-100TB of storage capacity, giving your team's data a secure, centralized home. It allows easy file sharing without the need to invest in costly rack-mounted gear or sourcing components from different vendors.
Thanks to the Intel Xeon server-grade processor inside along with 32GB of Error Correction Controlled (ECC) DRAM, Jupiter Mini supports up to 50+ users, allowing them to simultaneously access data without slowdowns or data corruption. Better yet, Jupiter Mini automatically creates redundant copies of your data to ensure your files are safe, even in the case of drive failure.
You can even backup and transfer files from Jupiter Mini to your favorite cloud service. Jupiter Mini supports file transfer to Dropbox, Google Drive, Microsoft OneDrive, and other cloud services.
But hosting simultaneous access to your data doesn't amount to a lot If access to that data isn't quick. That's why Jupiter has 2x 10GbE ports and 2x 1GbE ports and supports subnet virtual fences and port bonding.
We understand having out-of-box confidence and reliability is paramount to running a business. That's why every Jupiter goes through an intensive performance and burn-in certification prior to shipping. There's no need to contact multiple suppliers if you have questions or run into issues. Each Jupiter Mini and its drives are fully warrantied through OWC along with included support.
So, go with the NAS solution perfect for creative media teams in mind and Videomaker's choice for video professionals: OWC Jupiter Mini.
Other topics you might like