Thunderbolt 5 is Officially on the Way. How the Best Port is Getting Even Better
Intel has officially announced Thunderbolt 5, an update to the industry-leading specification that will double bandwidth and more.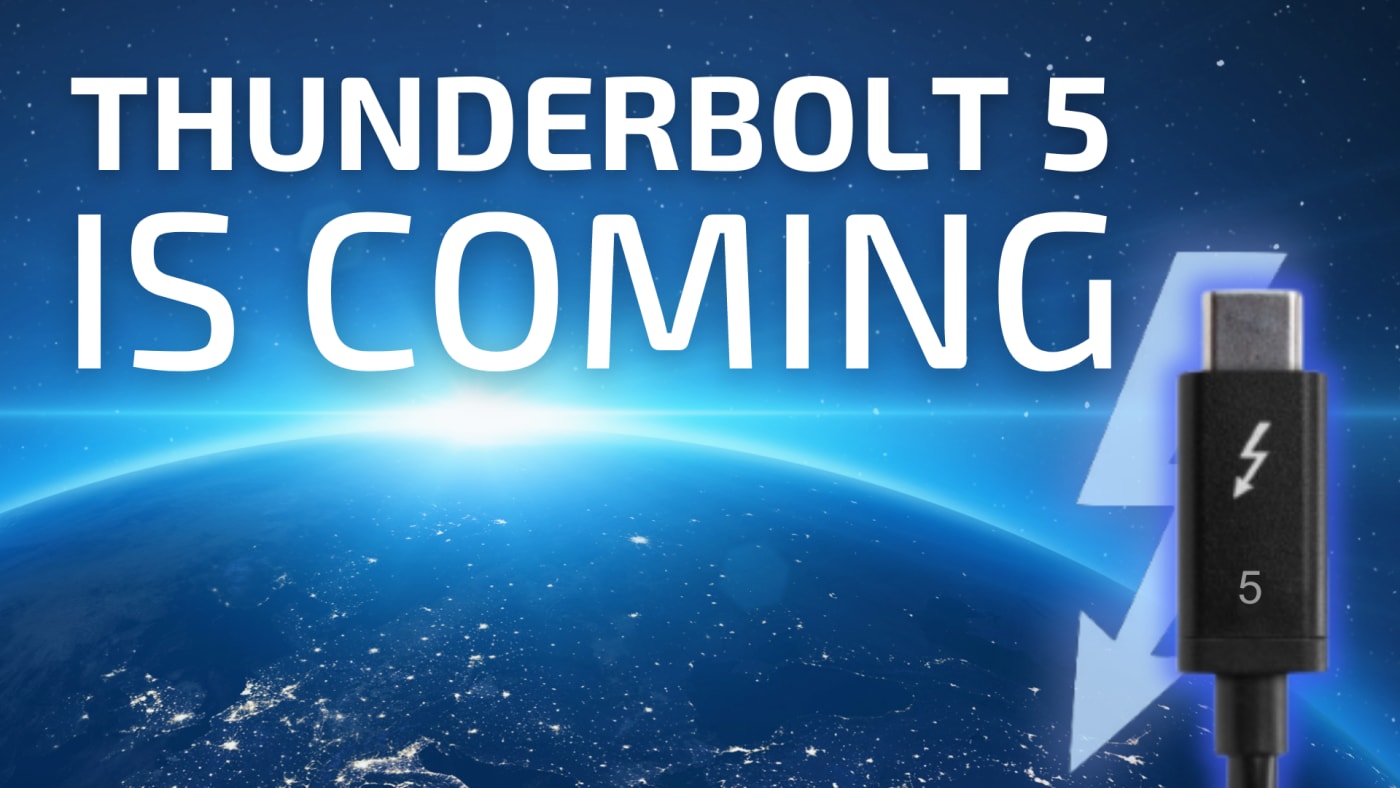 The most powerful port is about to get even better.
Intel is in the home stretch of development for the latest version of its Thunderbolt™ interface standard: Thunderbolt 5. Today, the company announced that Thunderbolt 5 will launch next year.
Built atop the ubiquitous USB-C connector, Thunderbolt is the most versatile data port available, combining reliable data transfer speeds, incredible support for high-resolution displays, and pass through charging—all in one port.
Thanks to this power and versatility, Thunderbolt has made incredible things possible, no matter if you're working from a desk or on the go.
Beyond providing fast data transfer and high-resolution display support, Thunderbolt also provides peace of mind...unlike USB-C.
While many USB-C products adhere to a common connector type, Thunderbolt, on the other hand, is a standard. To be sold as a Thunderbolt product, a drive, dock, cable, or host device must meet Intel's strict certification requirements, ensuring that each product that carries the Thunderbolt name can achieve the performance specs for a given Thunderbolt generation.
This means that when you buy a Thunderbolt product, you know it's going to have a certain baseline of requirements and perform with a high degree of reliability and performance.
Nobody knows this better than the folks here at OWC. We are the Thunderbolt experts, offering more Thunderbolt products than any other manufacturer. As you'd expect, we've already begun working on implementing Thunderbolt 5 into new products. And we're so pumped about what this new technology is capable of that we wanted to share a few things about it with you right now.
So, what is the new spec from Intel that you can expect from upcoming Thunderbolt 5 products? We've covered everything you need to know in the article and video below:
Where things stand with Thunderbolt 3 and Thunderbolt 4
As we explained in a previous post, though they are engineered for very different purposes, the previous and current generations of Thunderbolt—Thunderbolt 3 and Thunderbolt 4, respectively—do have one thing in common: bandwidth.
Both Thunderbolt 3 and Thunderbolt 4 are based on PCIe Gen 3 and offer bandwidth up to 40Gbps. In other words, both Thunderbolt 3 and Thunderbolt 4 can allocate or consume bandwidth at a flow of up to 40Gbps.
Thunderbolt 4 marked the introduction of a hub chipset architecture, allowing for the creation of new types of hubs and docks with multiple downstream Thunderbolt ports.
If you want to learn more about choosing between Thunderbolt 3 and Thunderbolt 4 OWC devices, we break it all down much further in this post here, but the TL;DR is this: as things stand, Thunderbolt 3 storage is best for those who value speed, while Thunderbolt 4 is best for the latest in dock and hub solutions.
How Thunderbolt 5 will shake things up
While previous generations of Thunderbolt were based on PCIe Gen 3, Thunderbolt 5 is based on updated USB and DisplayPort standards and PCIe Gen 4. With this new chipset architecture, Thunderbolt 5 enables the creation of no-compromise devices.
No compromise…today
However, thanks to a lot of thoughtful and pain-staking engineering, OWC already offers no-compromise Thunderbolt devices today thanks to the flexibility of the Thunderbolt 3 chipset.
Because Thunderbolt 3 allows the Thunderbolt 3 device itself to access all four lanes of PCIe bandwidth, you can split that available bandwidth any way you like. This gives us the ability to make fast Thunderbolt 3 drives, Thunderbolt 3 docks, and fast Thunderbolt 3 drives that also have docking capabilities.
Take the OWC ThunderBlade for instance. This is a speedy external Thunderbolt drive with transfer speeds up to 2800MBps. But it also has an extra Thunderbolt port on back, allowing you to connect via daisy chain up to five (5) more Thunderbolt devices to it.


We've also taken this approach with our Thunderbolt 3 docks. In our Thunderbolt Pro Dock, we combine the Thunderbolt 3 chipset with our own custom chipset to create a device that is not only capable of connecting a display, three (3) USB 3.0 devices, one (1) USB-C device, and an SD card, but also supports 10Gb Ethernet and has a built-in CFexpress reader.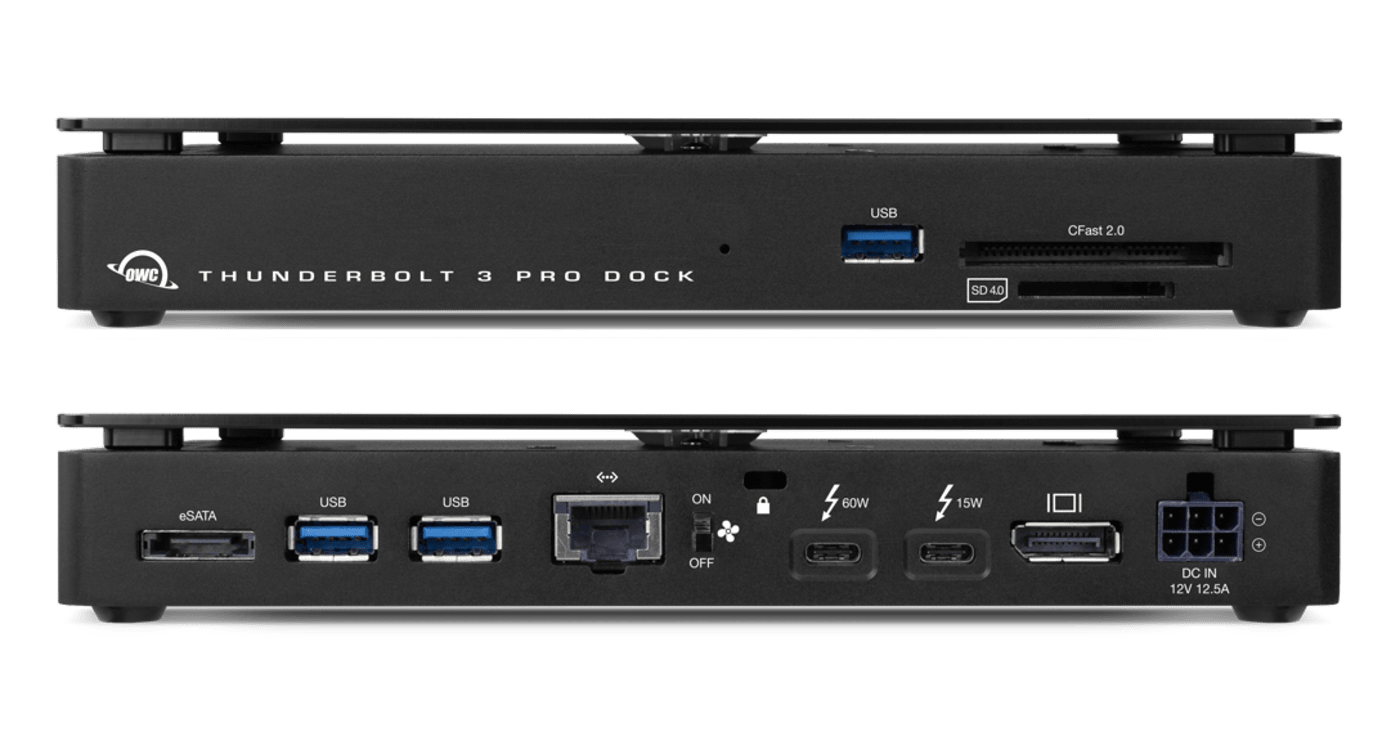 In other words, you don't need to wait for Thunderbolt 5 to get a no-compromise Thunderbolt solution. OWC has you covered today and in the future.
Double your bandwidth, double your fun
Getting back to Thunderbolt 5 improvements, when the latest version of the standard debuts, it will double the amount of available, bi-directional bandwidth from the 40Gbps found on Thunderbolt 3 and Thunderbolt 4 devices, to 80Gbps.
Doubling the available data bandwidth will provide more headroom for data-hungry devices such as Thunderbolt drives and high-resolution displays. And you'll need the extra headroom since you'll have the ability to connect not only those higher-resolution displays, but also more data-hungry drives than you could before.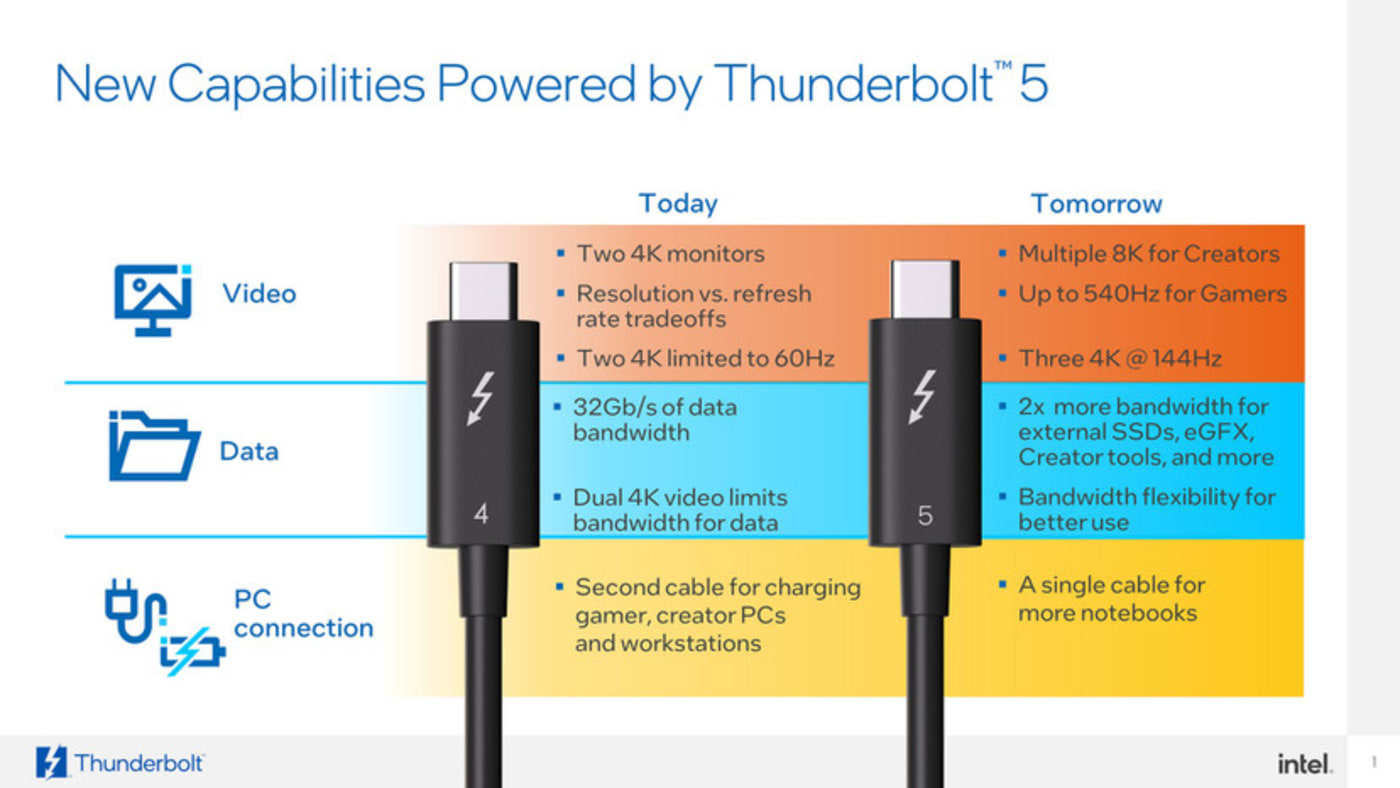 Speaking of displays, Thunderbolt 5 will support DisplayPort 2.1 connectivity and will also allow for up to 120Gbps of uni-directional bandwidth. This flex from 80Gbps to 120Gbps of bandwidth is implemented when Thunderbolt 5 detects video-intensive usage.
According to Intel, this bandwidth flexing is made possible thanks to how Thunderbolt 5 allocates bandwidth. During normal use, Thunderbolt 5 allows for 80Gbps of bi-directional bandwidth: two lanes at 40Gbps per lane in one direction, and two lanes at 40Gbps per lane going in the other direction.
However, Thunderbolt 5 can also dynamically rebalance bandwidth when it detects video-intensive use, such as when you connect to an 8K monitor. When that happens, Thunderbolt rebalances the available bandwidth, allowing for three PCIe lanes at 40Gbps to flow in one direction (120Gbps total), and one lane at 40Gbps to flow in the other.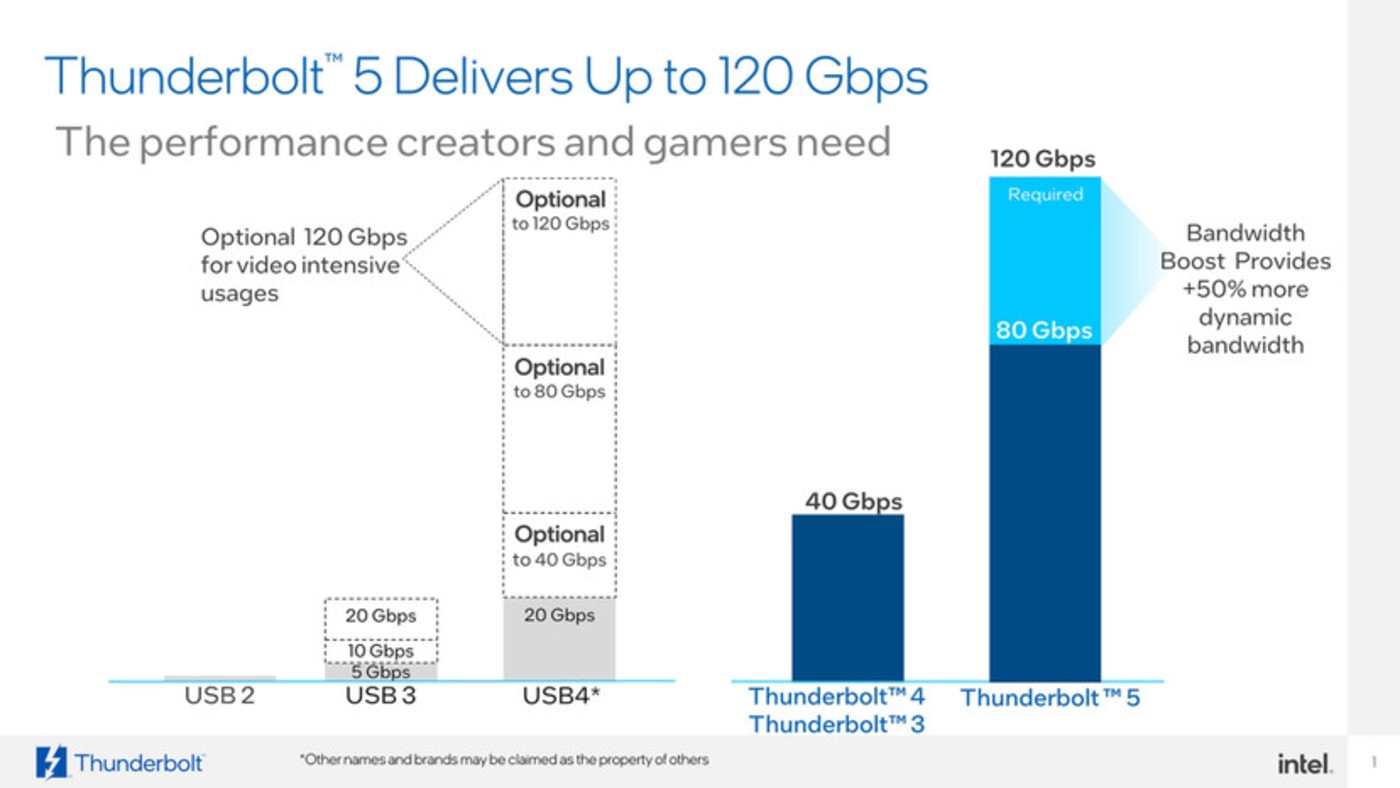 Finally, Thunderbolt 5 will also enable devices to supply up to 240w of available power—more than double the amount currently possible. Devices that choose to provide this amount of power would supply much more available juice for powering and/or charging connected devices.
Backwards compatibility
More good news around Thunderbolt 5 it should be backwards compatible with both Thunderbolt 3 and Thunderbolt 4, including support for Thunderbolt cables that are already available today, up to one (1.8) meter in length. We will be sure to provide an update on backwards compatibility once we find out more.
When is Thunderbolt 5 coming out?
The first Thunderbolt 5 products are expected to launch next year in 2024. And no one is more excited about the possibilities Thunderbolt 5 will bring than everyone here at OWC.
OWC will be ready when Thunderbolt 5 comes to future generations of computers and mobile devices. And we'll continue to offer products with the best and most innovative implementations of this versatile platform like the Thunderbolt Go Dock, Gemini, and ThunderBlade.