Final Cut Pro and Logic Pro are Finally Coming to the iPad
Apple has reimagined its Final Cut and Logic Pro apps from the ground up to make use of the iPad's portable power.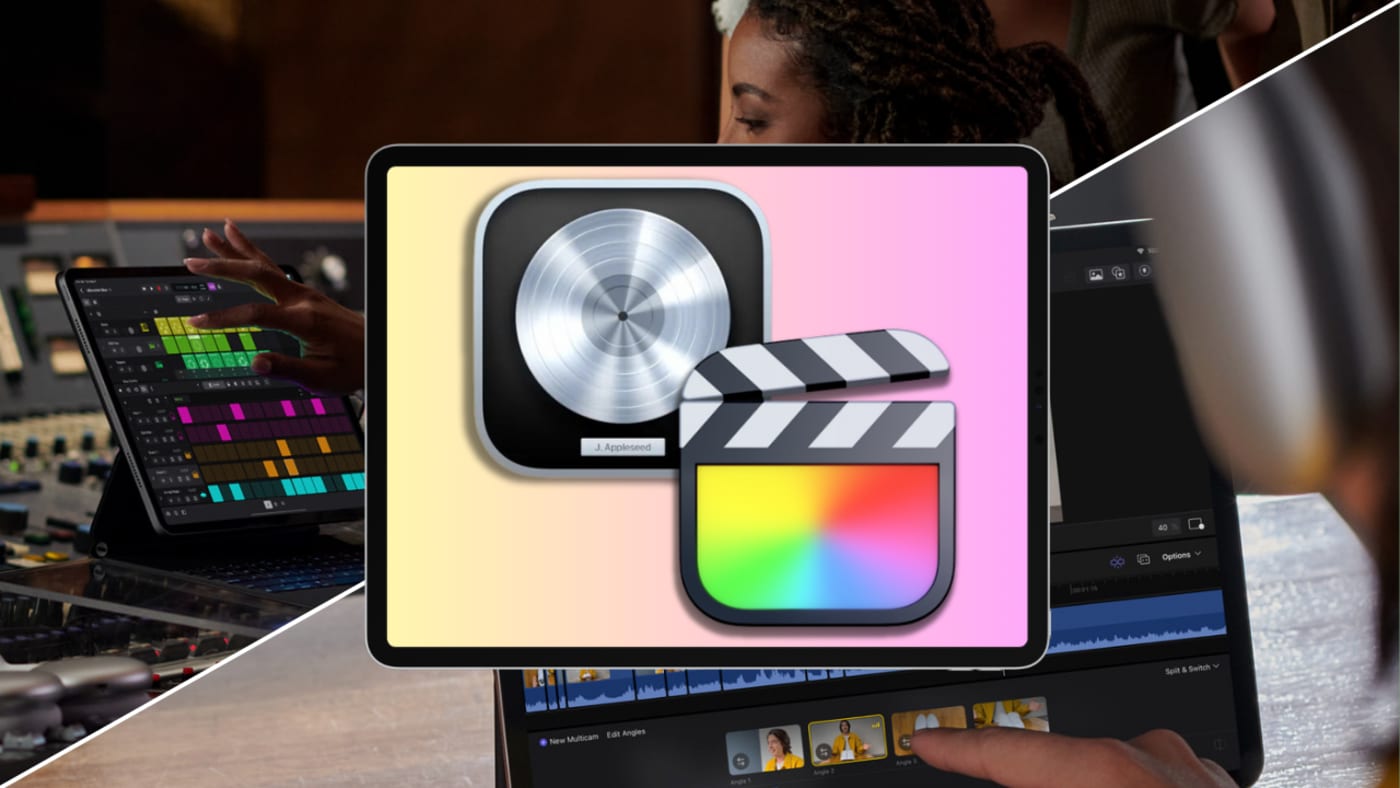 Apple today announced that it will soon bring its two longstanding professional apps to the iPad.

Final Cut Pro and Logic Pro will launch on the App Store on Tuesday, May 23, 2023. Both apps will be fully-featured professional applications capable of recording, editing, and exporting video and audio, but re-imagined for the touch interface and mobile capabilities of the iPad.

Apple is going with a subscription model for these iPad apps. Unlike Final Cut Pro X and Logic Pro, which sell for $299 and $199 respectively on the Mac, Final Cut Pro and Logic Pro for iPad will both run $4.99 per month or $49 per year. Both apps will start users out with a one-month free trial.
Final Cut Pro for iPad features

As you'd expect, this wasn't just a quick port of Final Cut Pro over to the iPad. Apple says it has completely rebuilt the FCP experience with a new touch interface and more intuitive touch-based—and stylus-based—tools.

There's full support for multi-touch included here, so any trackpad muscle memory you have for manipulating the timeline won't be wasted. Instead you'll simply be able to directly touch the elements you're tweaking.

Plus, Apple has developed a new jog wheel interface element for Final Cut Pro for iPad that allows you to navigate the timeline, move clips and make frame-by-frame edits with "just the tap of a finger."

There's also Apple Pencil support with a new Live Drawing feature. Apple says you can draw and write directly on top of your video content, which could literally open new horizons for illustrators and video editors. Apple Pencil's hover feature, introduced with M2 iPads, is also supported, and allows you to skim and preview footage without touching the screen. You'll need an M2 iPad Pro to use the feature though.

Of course, if the new touch features don't interest you, the Final Cut you know and love—keyboard shortcuts and all—is still at the heart of this app. That means you'll be able to connect the iPad and comfortably edit with your Smart Keyboard, or you can connect to your monitor and hard drives with the OWC Thunderbolt Go Dock. In fact, we recently put together a whole tutorial on how to make your iPad Pro into a great video editing workstation. Check it out here.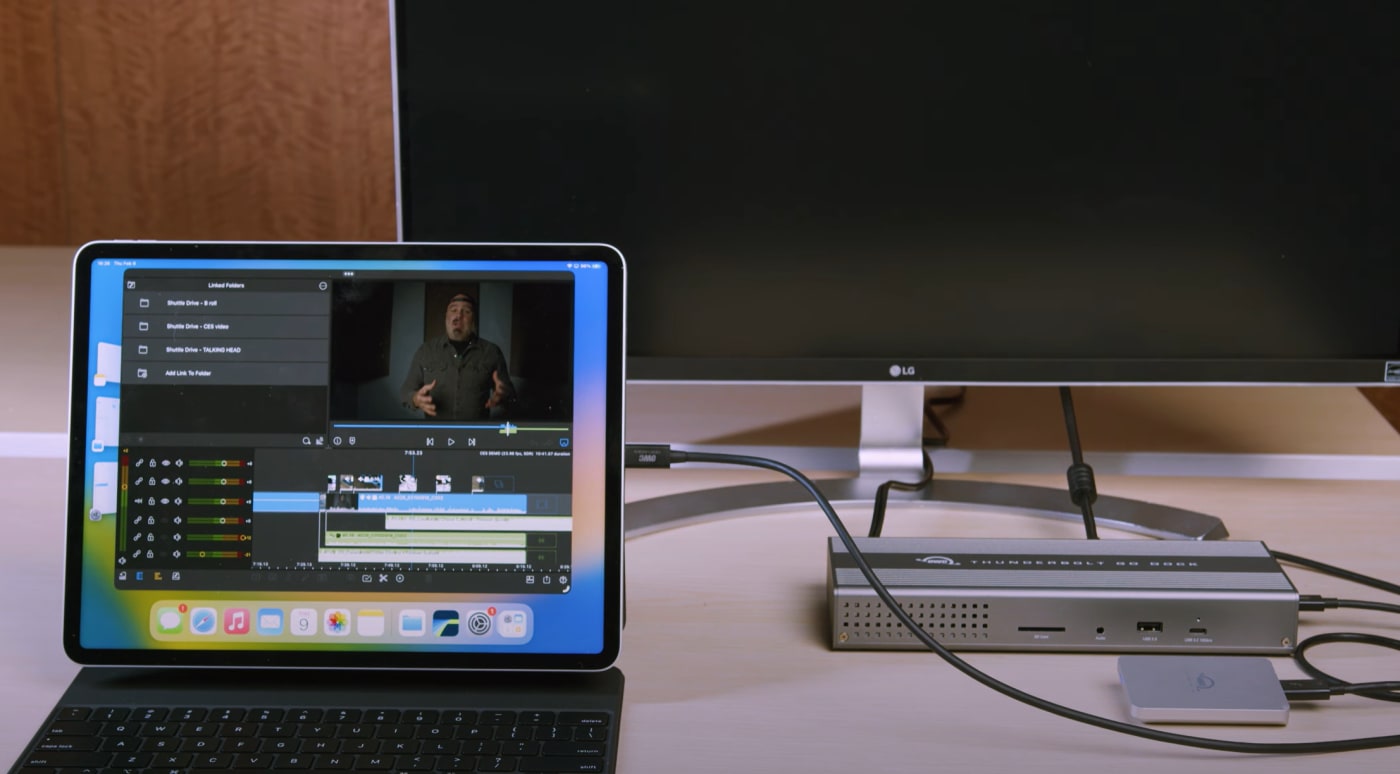 The first full-featured Thunderbolt dock with a built-in power supply. Go anywhere + connect more than bus-powered docks.
Add three Thunderbolt 4 ports, 4 USB ports, along with Ethernet, audio, and card reader functionality to your Thunderbolt 3 Mac or Thunderbolt 4 PC.
Through a single cable the OWC 14-Port Thunderbolt Dock brings 14 ports, convenience, and power to your Thunderbolt 3 equipped Windows PC or Mac.
Add 3 x Thunderbolt (USB-C) Ports
3 x USB 3.2 (10Gb/s) Type-A
USB 2.0 Type-A
Gigabit Ethernet
SD Card Reader
Analog Audio In/Out
96W Power Delivery
Dual Display support up to 4K
Display support up to 8K
Compatible with Thunderbolt 3 devices
Includes Thunderbolt cable
For Mac and PC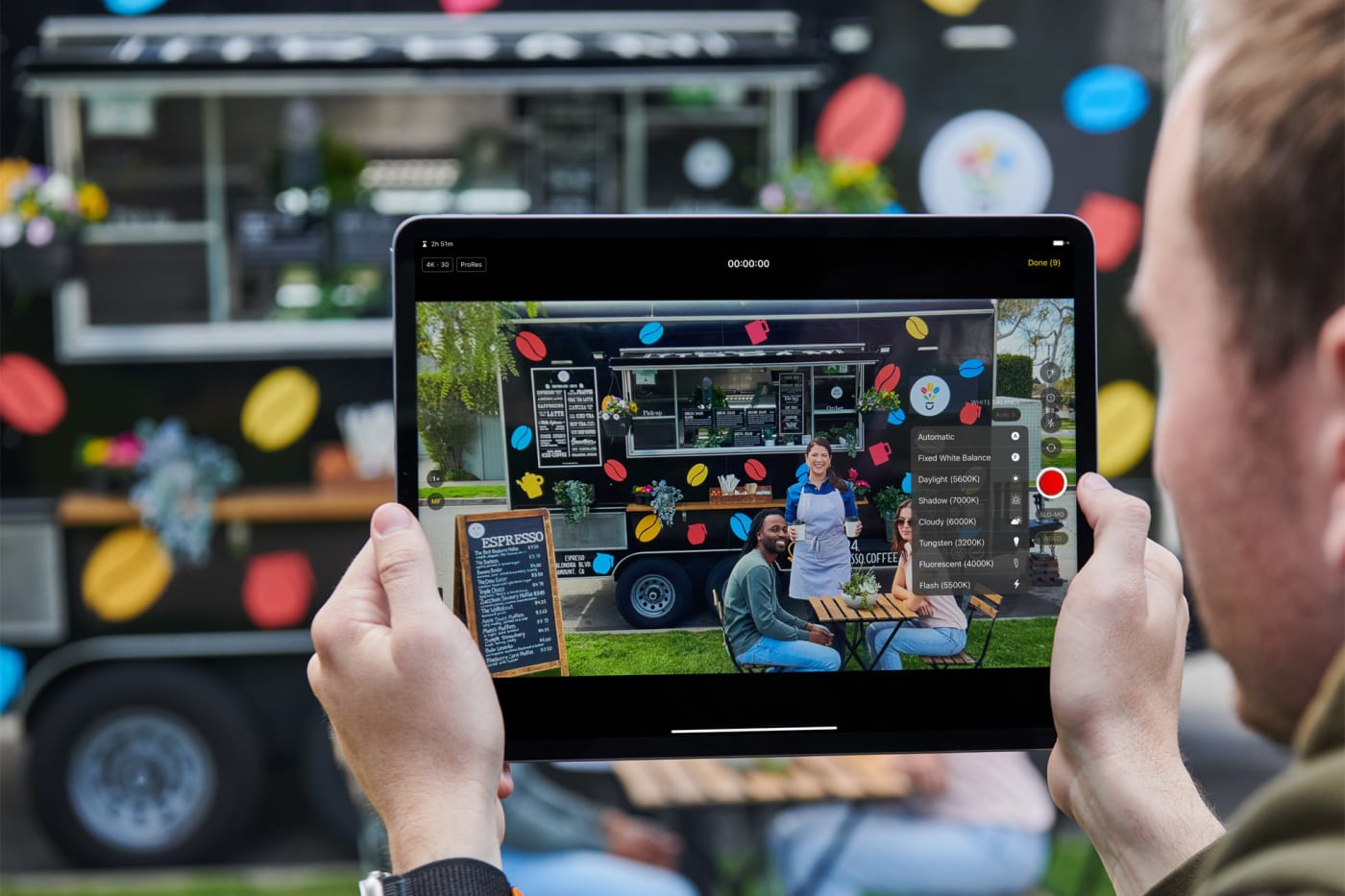 Capture and multicam editing
Another major difference between this new iPad version of Final Cut Pro is that it includes a new Pro Camera mode. Because the iPad has built-in cameras, Apple wanted to integrate video creation into its editing app. Within Final Cut Pro for iPad, you can shoot video in portrait or landscape and manually control your focus, exposure, and white balance. The app also supports audio monitoring.

There's also full support for multicam editing here as well, with automatic synchronization of clips allowing editors to switch between angles or cameras within a multicam clip with a tap.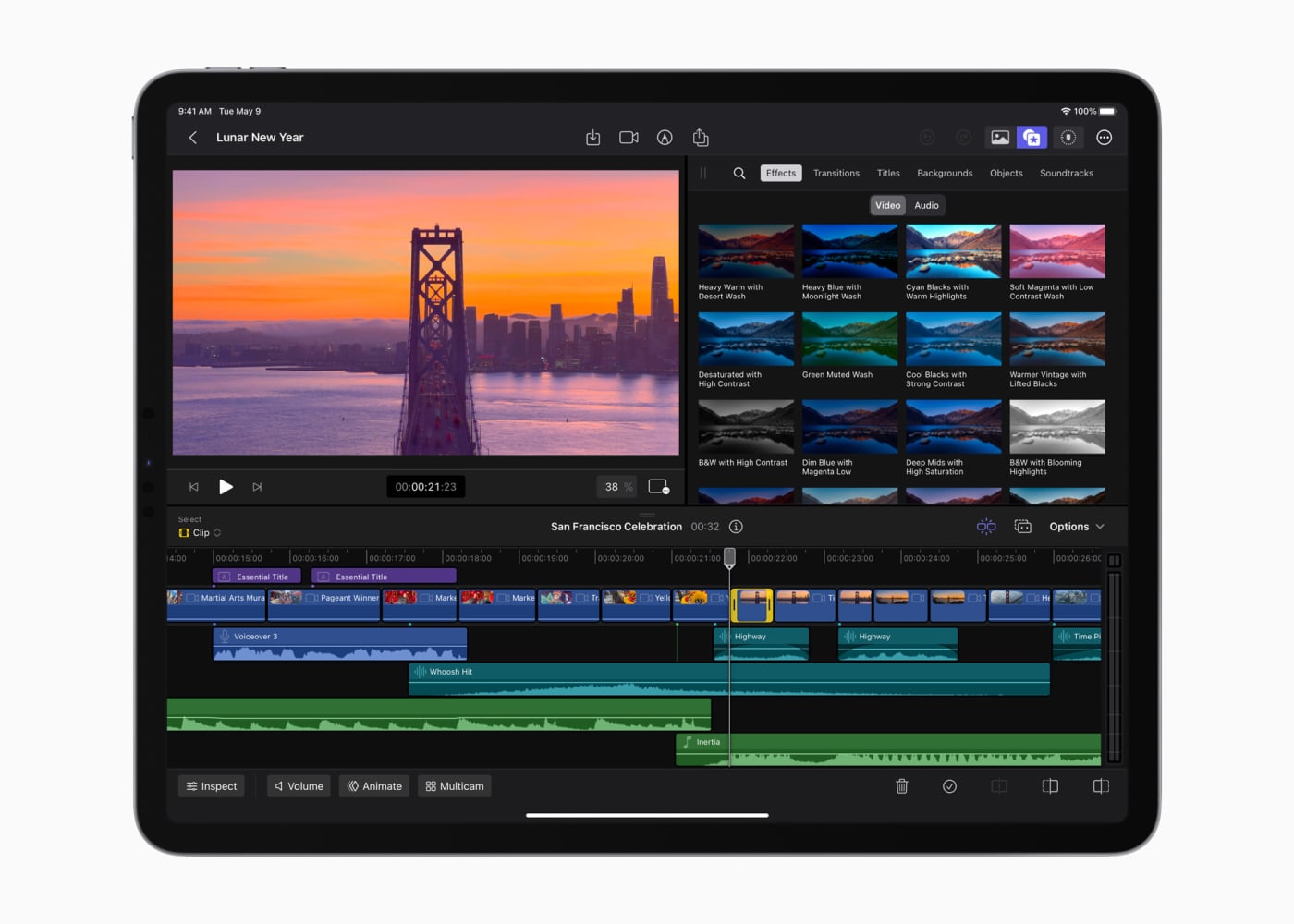 AI editing and built-in graphics/effects
Apple has also added machine-learning to Final Cut Pro for iPad to speed up time-consuming editing tasks. Scene Removal Mask allows editors to remove or replace the background behind a subject without the need for a green screen.

The app also features Auto Crop and Voice isolation features.

The app also features built-in graphics, effects, and audio, including HDR backgrounds, customizable animated patterns, and pro-quality soundtracks that automatically adjust to the length of a video.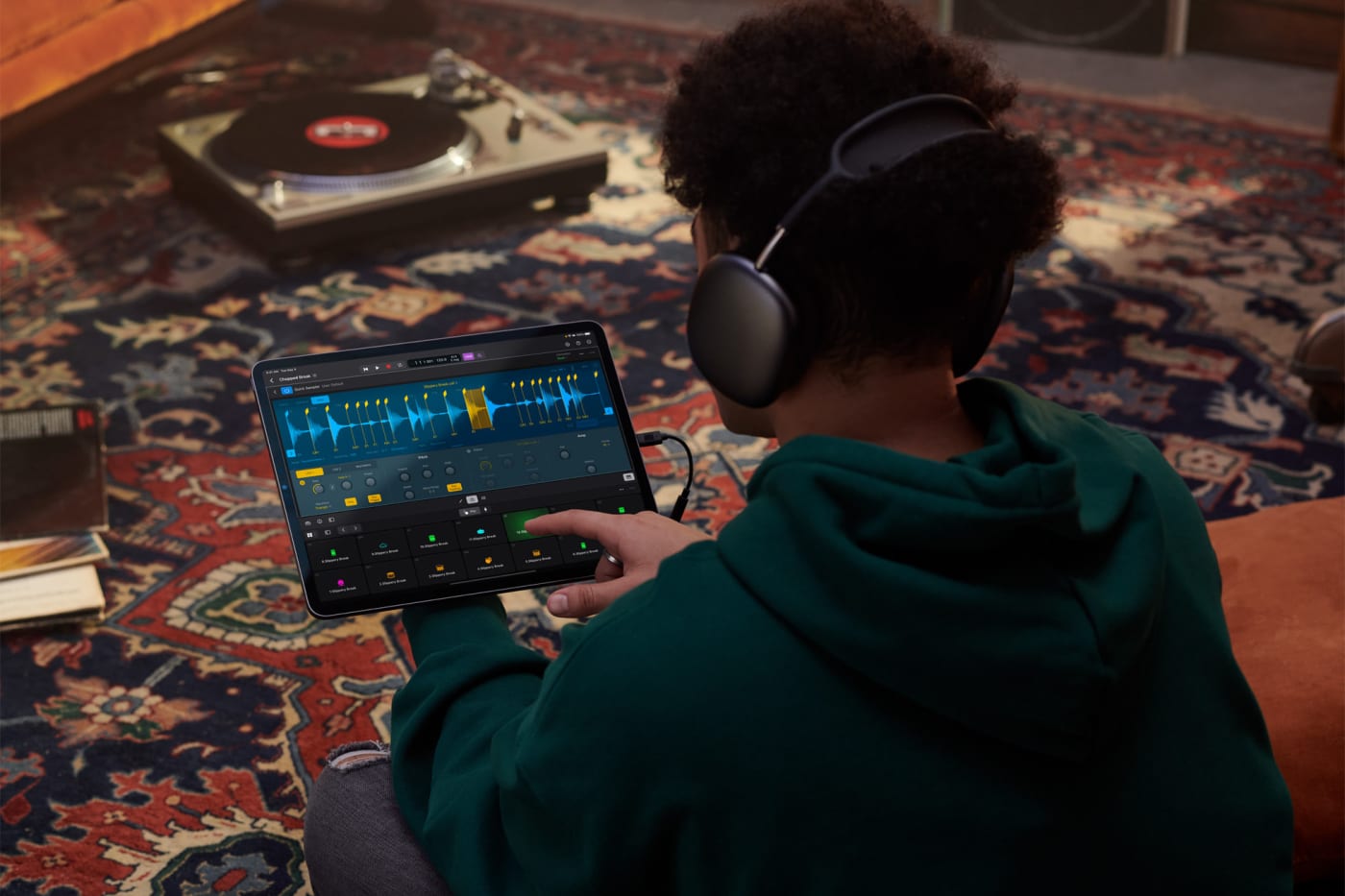 Logic Pro for iPad Features
Like Final Cut Pro for iPad, Apple is taking advantage of the iPad form factor and touch interface with the new Logic Pro for iPad.

As we recently covered in our look at Logic Remote for iPad, for certain musicians and editors, a tablet interface can unlock a higher level of creativity in Logic because you can directly manipulate what you're looking at on the screen.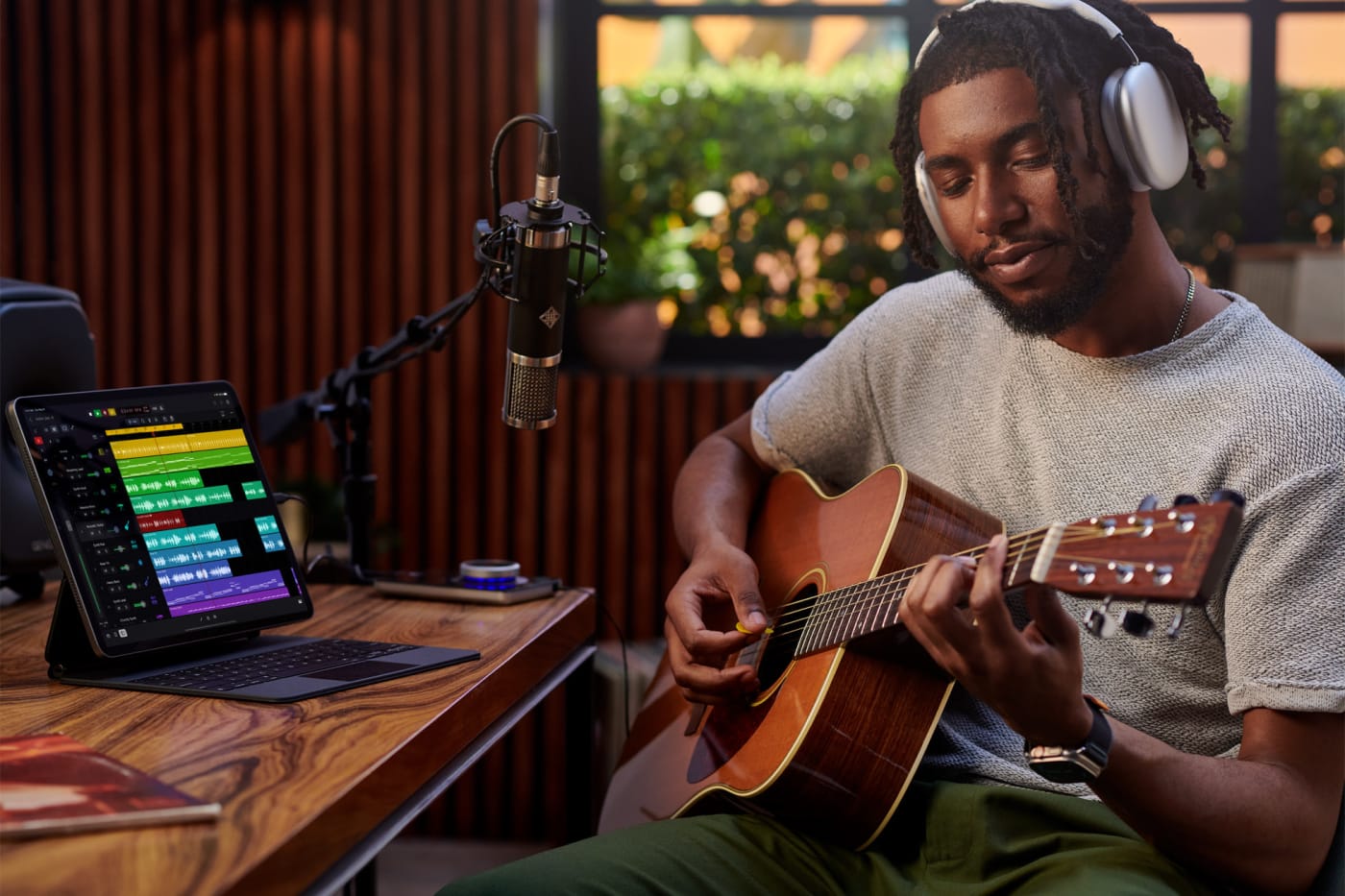 Logic Pro for iPad features Plug-in Tiles allowing you to keep your most used controls at your fingertips. The app also feature more than 100 instruments and effects plug-ins, including Sample Alchemy, a new manipulation instrument that can transform audio samples with a tap of your finger.

Of course, because there are built-in mics on iPads, Logic Pro for iPad supports recording from those mics, or you can record from a mic connected via USB/Lightning as well.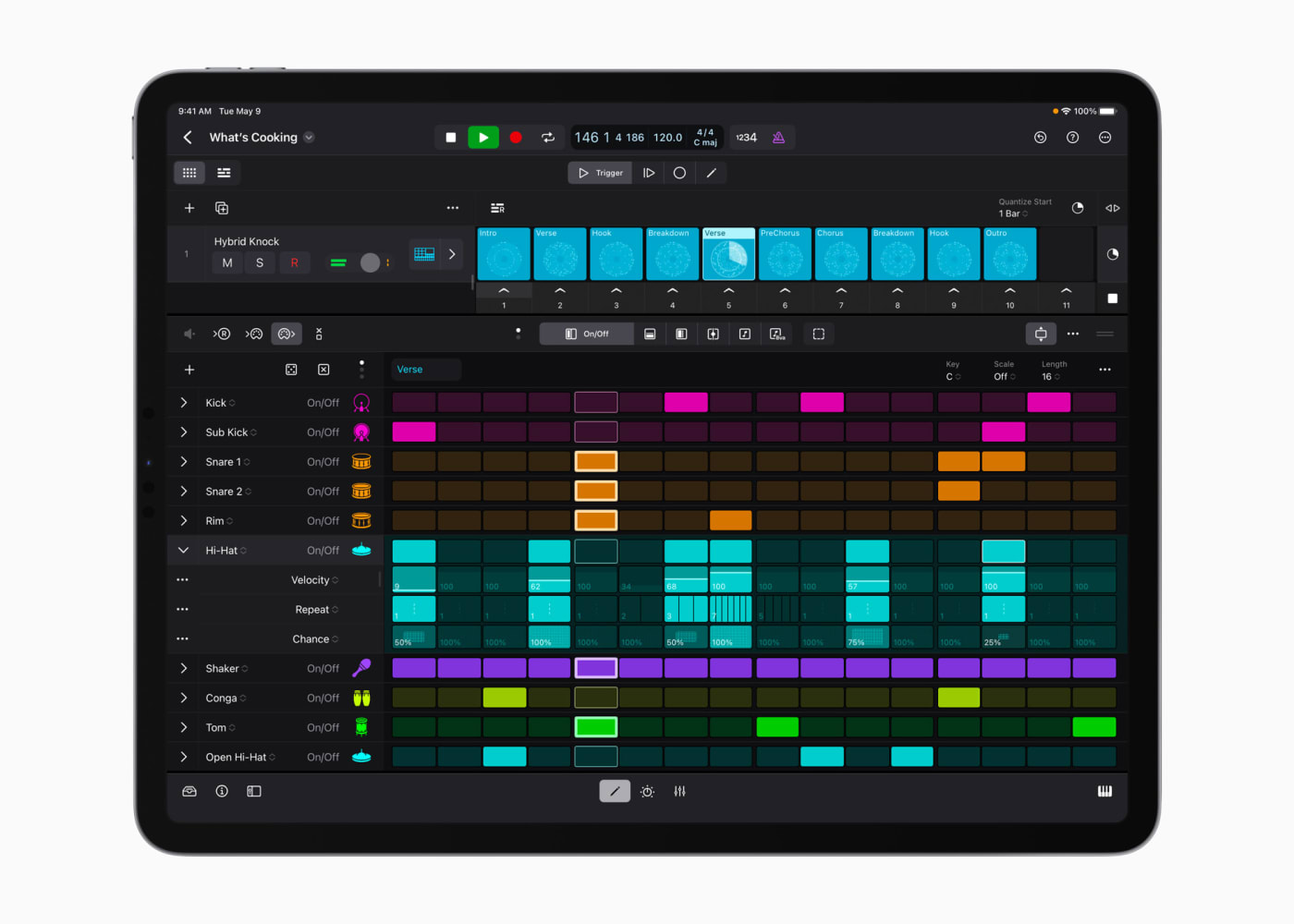 The app allows producers to program and tweak beats and craft custom drum kits. Apple also includes Beat Breaker, a time and pitch-morphing plug-in, and Quick Sampler, which can chop and transform audio samples into entirely new playable instruments. The app also includes Step Sequencer for programming drum patterns, bass lines, and melodies.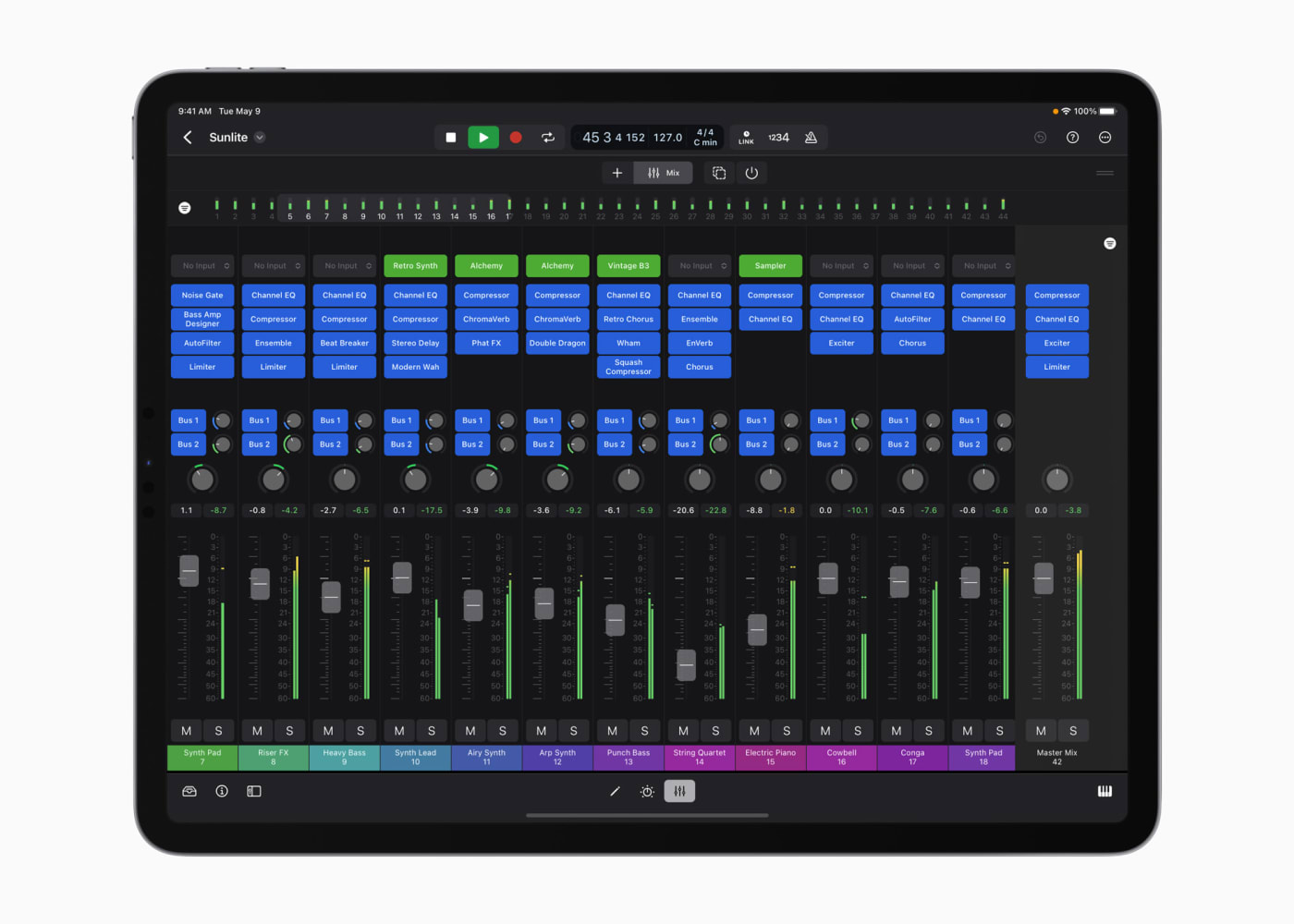 But it wouldn't be Logic Pro without full-feature pro mixing support. Thankfully Logic Pro for iPad's mixer is just that, with channel strips, volume faders, pan controls, plug-ins, sends, and precise automation.
Which iPads can run Final Cut Pro for iPad?
As the more resource intensive of these two new apps, Final Cut Pro does require more power. Therefore, the iPads you can run the app on are limited to those with the M1 chip or better. That means you'll need at least a:

5th generation iPad Air or newer
3rd generation 11-inch iPad Pro or newer
5th generation 12-inch iPad Pro or newer



Which iPads can run Logic Pro for iPad?
Logic Pro is a bit more forgiving. It requires the A12 Bionic Chip, which expands the number of iPads it can run on considerably. The app can run on the:

8th generation iPads and newer
3rd generation iPad Airs and newer
5th generation iPad minis and newer
3rd generation 12.9-inch iPad Pros and newer
2nd generation 11-inch iPad Pros and newer
Other topics you might like