Atlas Lens Co.'s New Mercury Anamorphic Lenses and OWC Storage Power Breathtaking Glider-Mounted Tour of the French Alps
To pull off the technical feat of mounting anamorphic lenses to a glider while flying through the Alps, this crew relied on the new Atlas Mercury Series lenses and OWC storage solutions.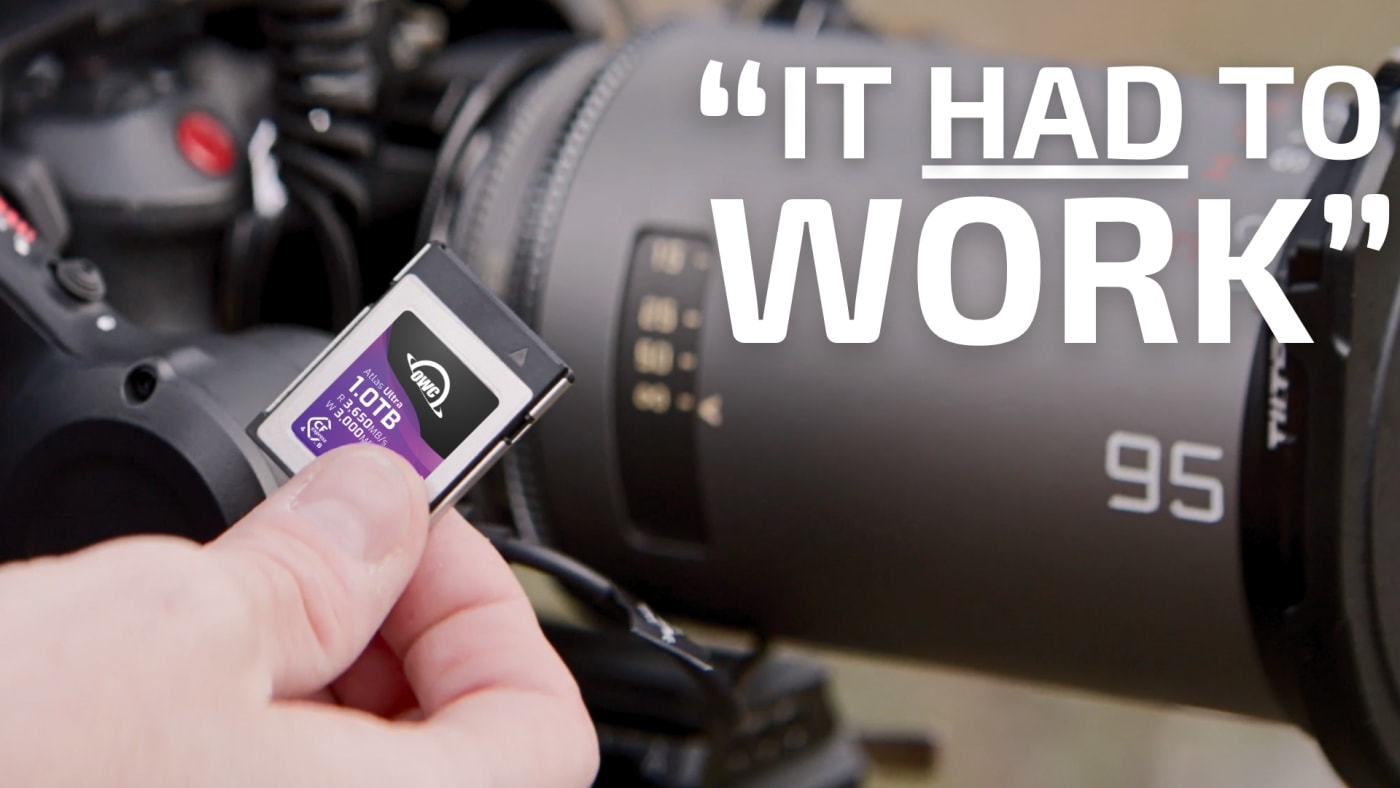 When you picture a snowy mountain landscape in your mind, the image you see in your mind's eye is very likely one of the Alps. The Alps range is synonymous with its soaring, craggy peaks, but it also holds one of the world's most diverse landscapes with glaciers, gorges, lakes, valleys, and beautiful green meadows.
Even if you've never visited this iconic mountain range that crawls across eight European countries, it serves as a touchpoint not only for snow-capped mountains, but of a certain comfort in that we can live or just visit so near to such vast and beautiful things.
"There's just something about the French Alps that you can't replicate," says Jonathan Pears, a cinematographer from Burbank, California. "You know when you're there and you just know when you're looking at it."
That's likely due to humanity's long connection to the Alps. Evidence suggests people have been living among the Alps around 50,000 to 60,000 years. And despite this long-shared history of man and landscape, we are still finding new ways to explore and share the experience of exploring this unique terrain.


Case in point: an incredibly ambitious shoot that Pears headed up last year for Atlas Lens Company. Atlas Lens manufactures professional anamorphic lenses that are aimed at being more affordable and more accessible for a wider range of filmmakers. This week, the company is launching its new line of Mercury Series anamorphic lenses.
"Use of anamorphic has exploded in the last four or five years and I think that is in part due to the degree to which Atlas has democratized the lens," Pears says.
The new Mercury lenses are half the size and only a portion of the price of Atlas Lens Company's Orion line of lenses. That means even more filmmakers can make use of anamorphic. But just as important, because of the small size of Mercury lenses, they'll be able to use the lenses in more situations than before.


Because of that, Atlas wanted to do something special to show off the unique size of Mercury lenses. So, they brought Pears in to dream up a shoot that would put the unique qualities of Mercury lenses to the test. Using those lenses and supported by OWC Atlas Ultra CFexpress memory cards and Envoy Pro FX storage solutions, Pears and his team pulled off a daring shoot in the French Alps that is not only beautiful to behold, but also an impressive technical feat of filmmaking.
Cameras in silly places
Pears is a longtime Atlas collaborator and contractor who has shot with each of the company's prototypes and consults on the development of new lenses. His background is largely shooting action sports, which is all about giving you the feeling that you're right there with an athlete as they climb, skate, surf, ski, hang glide, or bike.
"I'm very used to putting cameras in silly places and doing silly things with them," Pears says. "Things they weren't necessarily designed to do."
Inspired by the Top Gun movies, Pears thought mounting cameras to an aircraft for a flight through the French Alps would serve as an impressive showcase of the Mercury's capabilities. But to push the limit even further, they wouldn't simply mount cameras to a helicopter or an airplane. Pears wanted to get the viewer closer to this incredible landscape and provide a perspective on the Alps with anamorphic lenses that hadn't yet been possible.
So, he decided to mount his cameras and Mercury lenses to a glider.


"There's a different level of freedom associated with flying a glider because there are no engines," Pears says. "And because Mercury lenses are half the size and weight, we would be able to put a camera with an anamorphic lens in places that don't disturb the glider.
"We really wanted to encourage filmmakers to be able to get out of their comfort zone with these lenses."
"It had to work"
With the idea in place, Pears needed a glider pilot. But not just any glider pilot; one skilled enough to navigate treacherous terrain in a free-falling aircraft with the added weight of multiple cameras and lenses.
Pears brought in Stefan Langer, a world champion glider pilot who also happens—like Pears—to have mechanical engineering degree.
Pears and Langer worked together to hammer out a plan for how the shoots would go and how the cameras would be mounted to the exterior of the glider.
"We were a traveling circus for this. We had to bring nine bags altogether for the gear: cameras, rigging hardware, comms, clothes, and lenses. And we packed the five cameras and the full set of Mercury lenses in carry-on bags," Pears says "We were in a remote location where we had to take everything we could. There were no camera stores nearby and we wouldn't be able to get there and realize we needed specific equipment and then rent it.
"Everything we had to take was very specific and it had to work."


With that in mind, Pears and the crew chose to use OWC Envoy Pro FX SSDs for storage on the project due to their combination of ultra-fast speed, small size, and extreme durability.
"We had six Envoy SSDs, with three serving as the main drives and the other three as the backups," Pears says. "And all six drives fit in one lens pouch in a backpack. There's no other way to travel with that amount of military-grade storage in such a small amount of space."
"Plus, not having to be precious with those drives in transit to a remote village in the southern French Alps was incredible. To be able to put a bag down or shove it under an airplane seat or a seat in the airport, the peace of mind and reliability is amazing."
"Every shot is a one-off"
Pears and crew set out for the southern French Alps in September 2022. They setup shop in the town of Barcelonnette and timing was everything.
Each morning, the crew drove dark alpine roads to beat the sunrise to their remote shooting location. But they also battled low lying fog and volatile weather that brought intermittent thunderstorms throughout the shoot.
Though Pears and Langer had figured out *how* to mount cameras to the exterior of the glider, having cameras on the outside of the aircraft added in a challenging wrinkle to the shoot itself because it meant having to press record while the glider was on the ground and not being able stop until the glider landed.
For the shoot, Pears and Atlas partnered with Canon whose mirrorless R5C cameras were paired with Atlas Mercury lenses for the glider-mounted shots. However, Pears and the team also mounted a Canon C70 cinema camera to the glider for one shoot as well. For shots of the glider in flight, the crew used a Canon C500 II from a helicopter.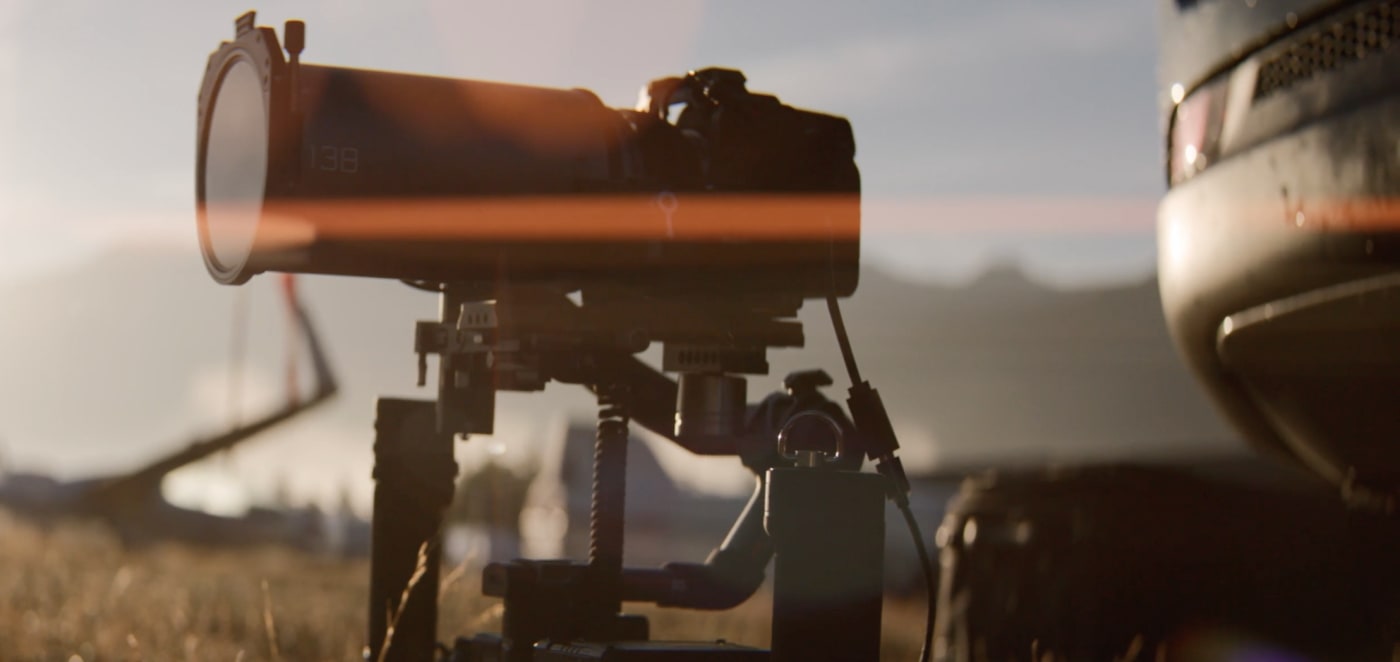 Pears wanted to shoot RAW 8K footage with the Canon R5Cs mounted to the glider. That meant being able to hit record, fly a 45-90 minute fight, land and hit record again. You need quite the memory card to handle 10-12 bit 8K RAW footage for 90 minutes.
With these conditions and the inability to control the cameras during flight, "it was imperative that everything we shot came down in one piece and all the files were there," Pears says.
Thankfully, Pears and the crew had a cache of 1TB OWC Atlas Ultra CFexpress cards.


"When you're in that environment with a limited number of days, with the weather changing, a limited amount of money, all of these things are limiting your opportunity," Pears says. "When you're doing a dozen glider flights and also shooting out of a helicopter, every shot is a one-off. Every single time we did something, it had to be the shot we would potentially use."
Every camera on the shoot was equipped with a 1TB OWC Atlas Ultra CFexpress card, allowing the crew to get 130 minutes of RAW 8K footage on each card. Pears says the speed and reliability of the card allowed the worry of storage to fade away and for the crew to focus on the shoot itself.


"Honestly, the most impressive thing is the fact that there's nothing to really talk about with these cards," Pears laughs. "The reliability—you just know the footage is going to be there. By the end of day one, the data side of the shoot was just not an issue at all."
Long days, lovely footage, sound sleep
After several long days of being up before sunrise and shooting until sunset, Pears and the crew had carried out their mission. The Mercury lenses performed beautifully, supplying a presence and point of view of the Alps that must be seen to be believed. Footage that would not have been possible without Langer's piloting skill, Pears' ability to engineer a mounting solution, and the extremely impressive combination of the Mercury lenses with the Canon R5C.
"The footage we got back you just have to see it to appreciate it," Pears says. "And the last thing I wanted to worry about was memory cards or storage. Honestly during the entire shoot the thought never even crossed my mind that 'Oh, maybe we should double check that drive to make sure it's working.' That's what OWC brings to the table."


Pears said OWC storage gave the production the freedom to focus solely on the engineering, aviation, and production problems the shoot presented them with. Plus, at the end of the day, the combination of OWC Atlas Ultra CFexpress cards, Envoy Pro SSDs and OWC's Copy That software allowed the crew to quickly offload and backup their footage with enough time to relax in the evening.
"You're just not limited by having to be careful due to capacity or worrying about dumping footage at the end of the day taking two hours or more," Pears says. "We were dumping whole 1TB cards in 10 or 15 minutes. Each day of the shoot, we had all of our cards offloaded in under an hour.
"When you're on that schedule and you can get to bed an hour earlier, it might seem like a small thing, but the peace of mind it gives you and the time it gives you back—these cards are worth their weight in gold."

Pears said it was his first time using Copy That, noting that he was impressed by how the software takes care of the backup and verification that all the files are safely backed up.
"To not have to worry about that aspect is absolutely invaluable," Pears says.


Pears says the shoot with OWC storage solutions reinforced how much an efficient and reliable storage workflow can improve the quality of a shoot and quality of life during the shoot.
"I recently had two drives from another brand fail and I wound up losing a whole music video," Pears says. "So, you buy right or buy twice.
"We shot everything in 10-bit and 12-bit RAW and the speed of just plugging in the Envoy SSDs and being able to edit off of them with those speeds—I've not experienced a whole shoot end-to-end at those speeds, in this way, that was so seamless and dependable, not just from the data point of view but from the speed."
"I don't think I want to go back to doing it any other way."
You can view Pears and Atlas Lens Company's incredible short film right here.
Other topics you might like