Mercury Pro U.2 Dual
Blazing-fast NVMe SSD performance meets massive capacity in this compact, dual-bay Thunderbolt storage solution. Perfect for backups and pro creative uses.
Fly Through Creative Projects
Blazing Fast: Utilize Thunderbolt's full 2800MB/s data bandwidth for jaw-dropping speed
Unrivaled Capacity: The only dual bay solution with eight NVMe SSDs
Easy RAID: Plug and play out of the box or enjoy more RAID variations than traditional dual drive enclosures — up to RAID 10
Includes SoftRAID: World's most user-friendly fully featured software RAID package
Additional Connectivity: Second Thunderbolt USB-C port lets you add up to five Thunderbolt devices, or your choice of a USB-C or DisplayPort1 device
Easy Drive Monitoring: Front panel activity LEDs offer instant status update
Deployment Ready: Solutions undergo a rigorous multi-step performance certification
Compatible: With Mac and Windows
Worry-free: Up to 3 Year OWC Limited Warranty and lifetime US-based support
Edit, Ingest & Backup In A Blink
The Mercury Pro U.2 Dual is powered by eight NVMe SSDs, so you can edit high res files on the fly, ingest and duplicate dailies without a hitch, rip through the tightest of timelines, and backup huge music and photo libraries in a flash. While it offers blazingly fast performance with massive storage capacity, this compact solution is small enough to easily fit on a DIT cart, in a rack, or on your desktop.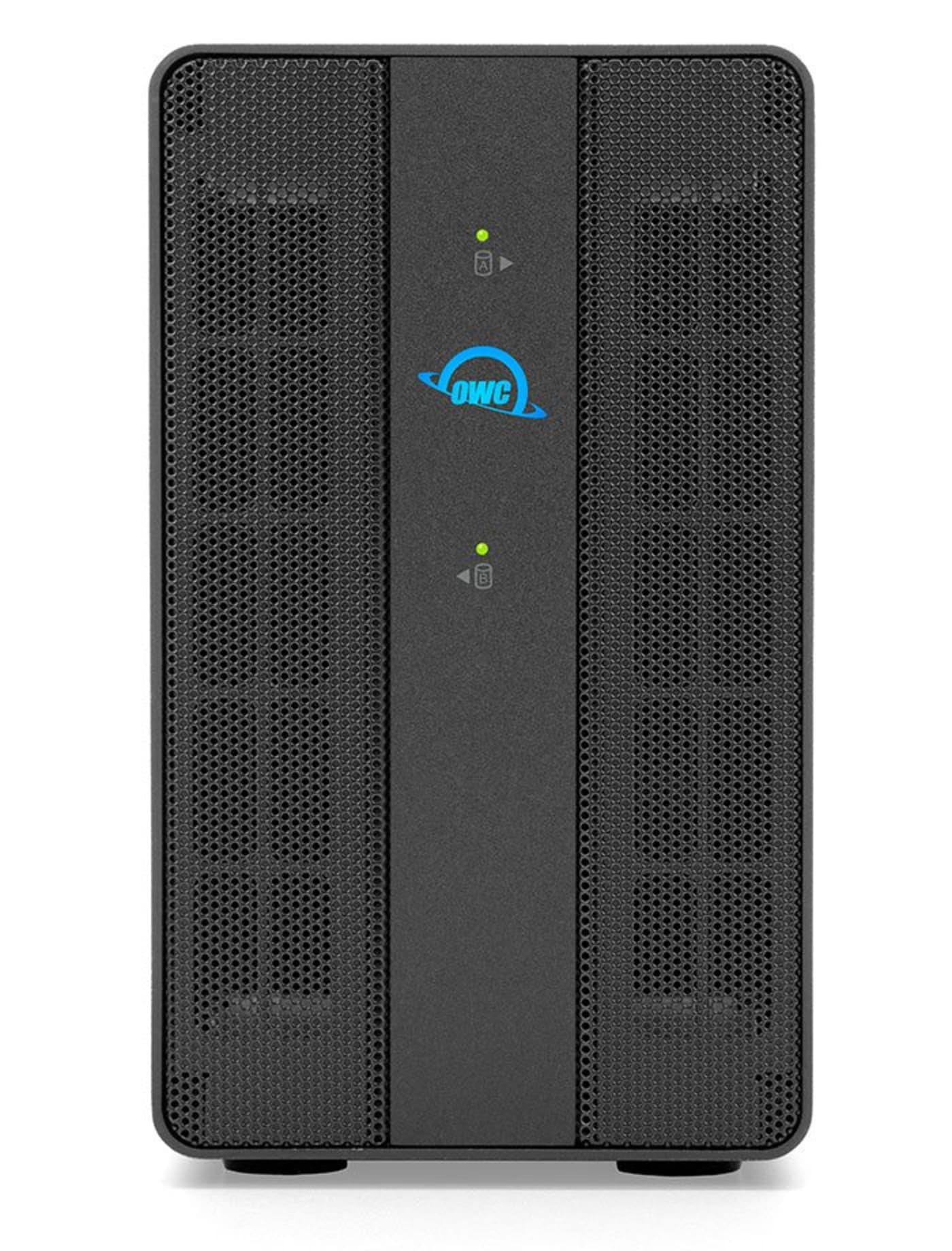 Nearly 6X Faster SSD Performance
NVMe U.2 SSD use began in the corporate and server market, where ROI is defined in nanoseconds and dependability is paramount. Now, the Mercury Pro U.2 Dual brings enterprise-level performance to your home or office. Its NVMe SSD array utilizes Thunderbolt's full 2800MB/s of data bandwidth capability, so it functions nearly 6x faster than your typical SSD.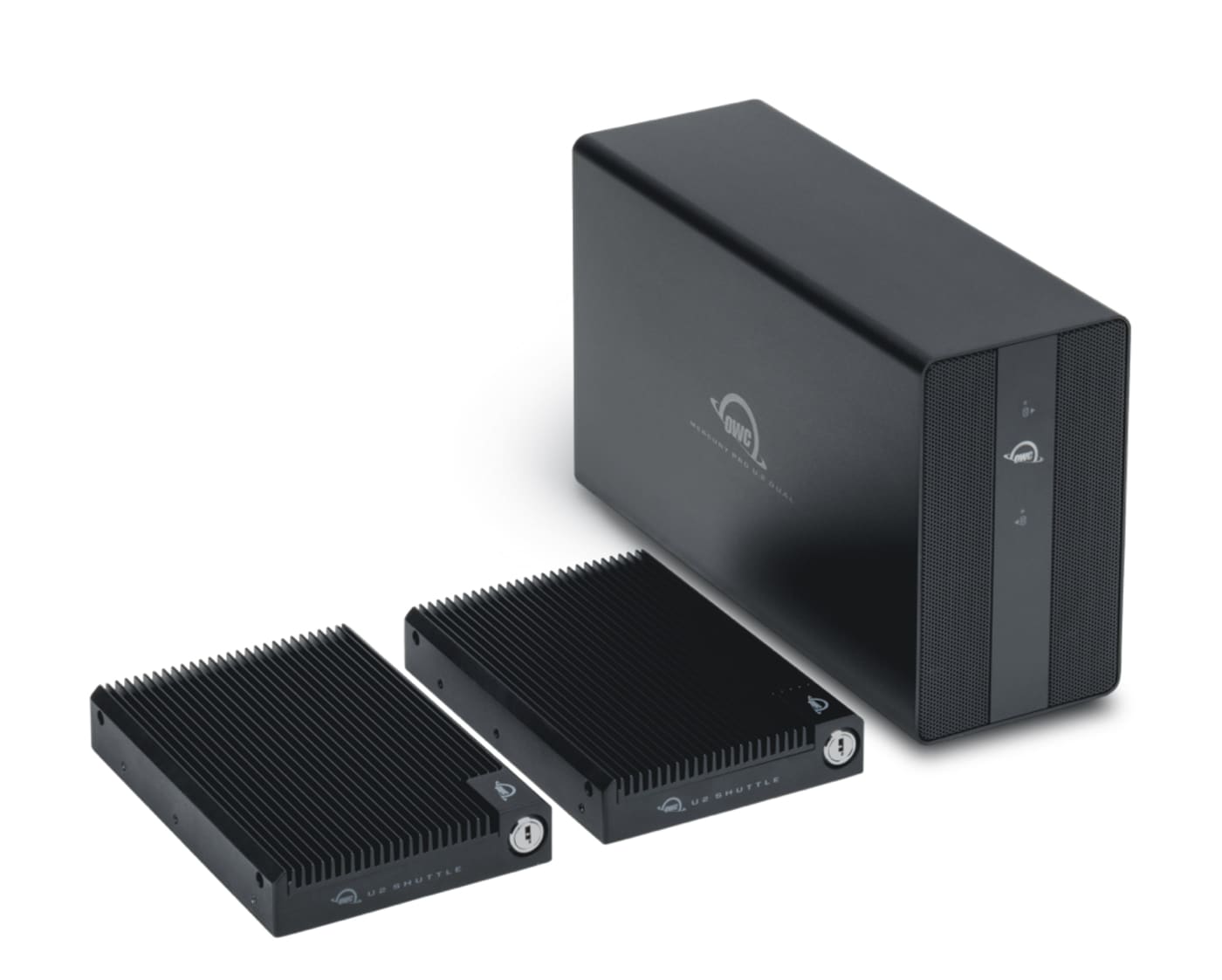 Adaptable Flexibility
The Mercury Pro U.2 Dual easily handles any project backup and storage task you throw at it. Dual drive bays house eight NVMe SSDs to tackle nearly any data need imaginable. From personal videos to major motion pictures, from photo shoots to file backups... the Mercury Pro U.2 Dual gives you necessary the capacity and horsepower get the job done.

Reconfiguration Ready
Need to change your drive configuration? No need to buy a costly new enclosure. The Mercury Pro U.2 Dual is ready to evolve with you, without the hassle. It enables you to configure each bay with: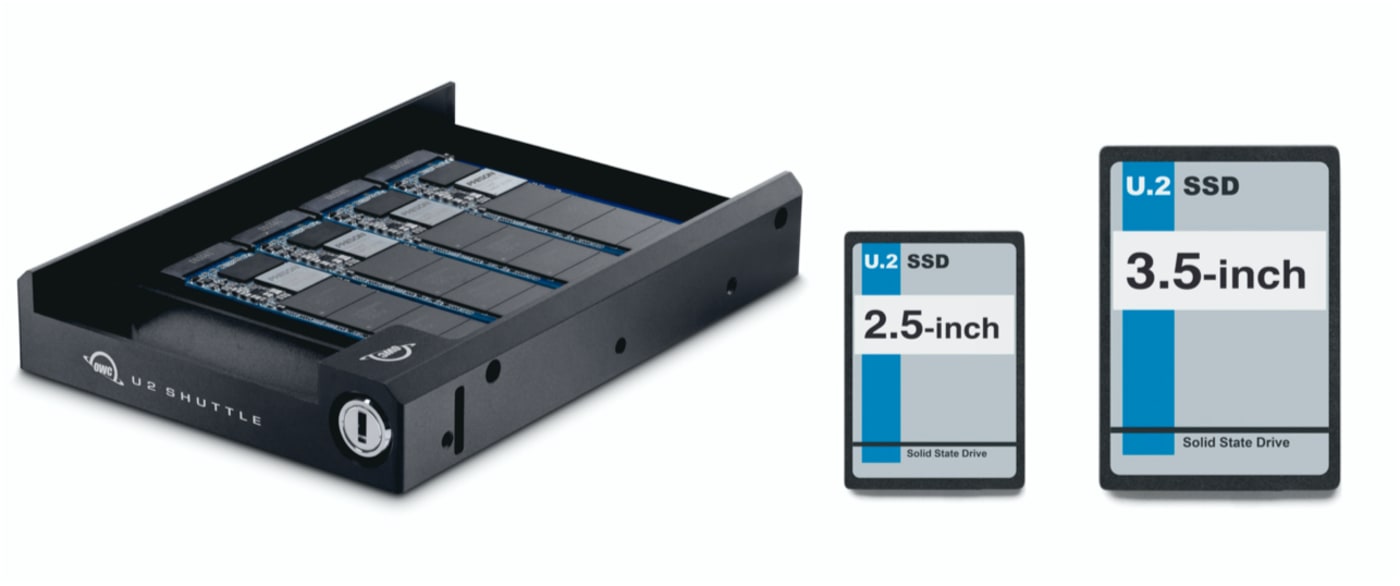 Store More, See More, Do More
An extra Thunderbolt USB-C port lets you daisy-chain devices to your Mercury Pro U.2 Dual to expand your capabilities. Add up to five additional Thunderbolt solutions and merge them with SoftRAID for mind-blowing storage. Attach a 5K display or two 4K displays. You can even place a USB device at the end of the chain. The Mercury Elite Pro U.2 Dual gives you the freedom to use more of what you need.

Easy RAID Options
Harness the full capabilty of this NVMe array with the easiest to use, broadest selection of RAID levels available. SoftRAID is a powerful and intuitive software RAID utility that guides your setup. It offers maximum volume capacity, optimum drive performance, data protection, or a combination of attributes. SoftRAID is ideal for anyone who needs to safely store and backup massive amounts of data, including video editors, audio producers, photographers and graphic designers.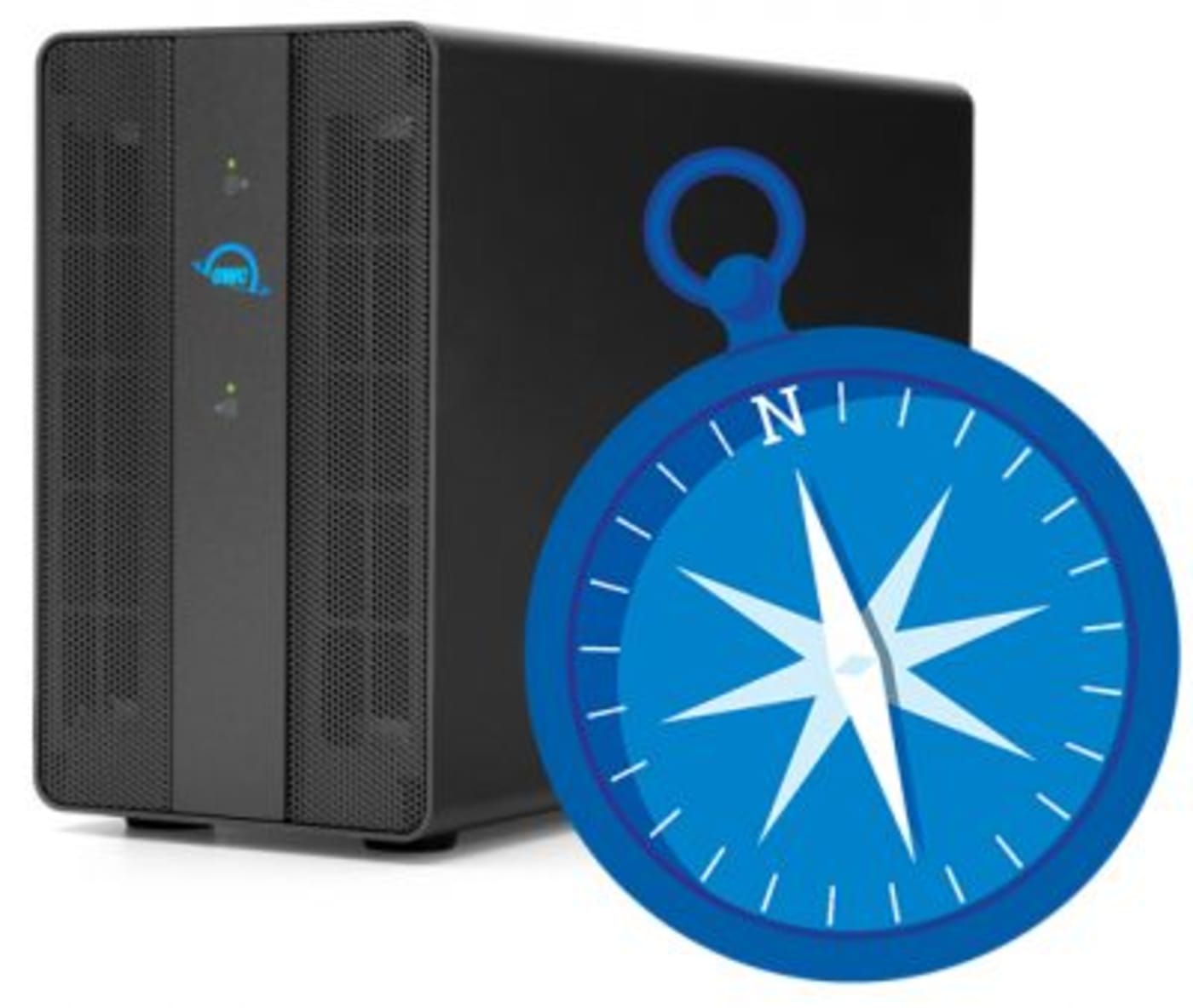 Ready to Work Anywhere
The Mercury Pro U.2 Dual can be taken wherever you need a compact yet super-fast massive capacity storage solution. At 3.3-inches wide, 5.8-inches height, and 9.4-inches in depth and weighing just 4 pounds with drives, the Mercury Pro U.2 Dual can travel anywhere your workflow takes you. It connects to Thunderbolt Macs and PCs2 and can work cross-platform using OWC's MacDrive software (sold separately).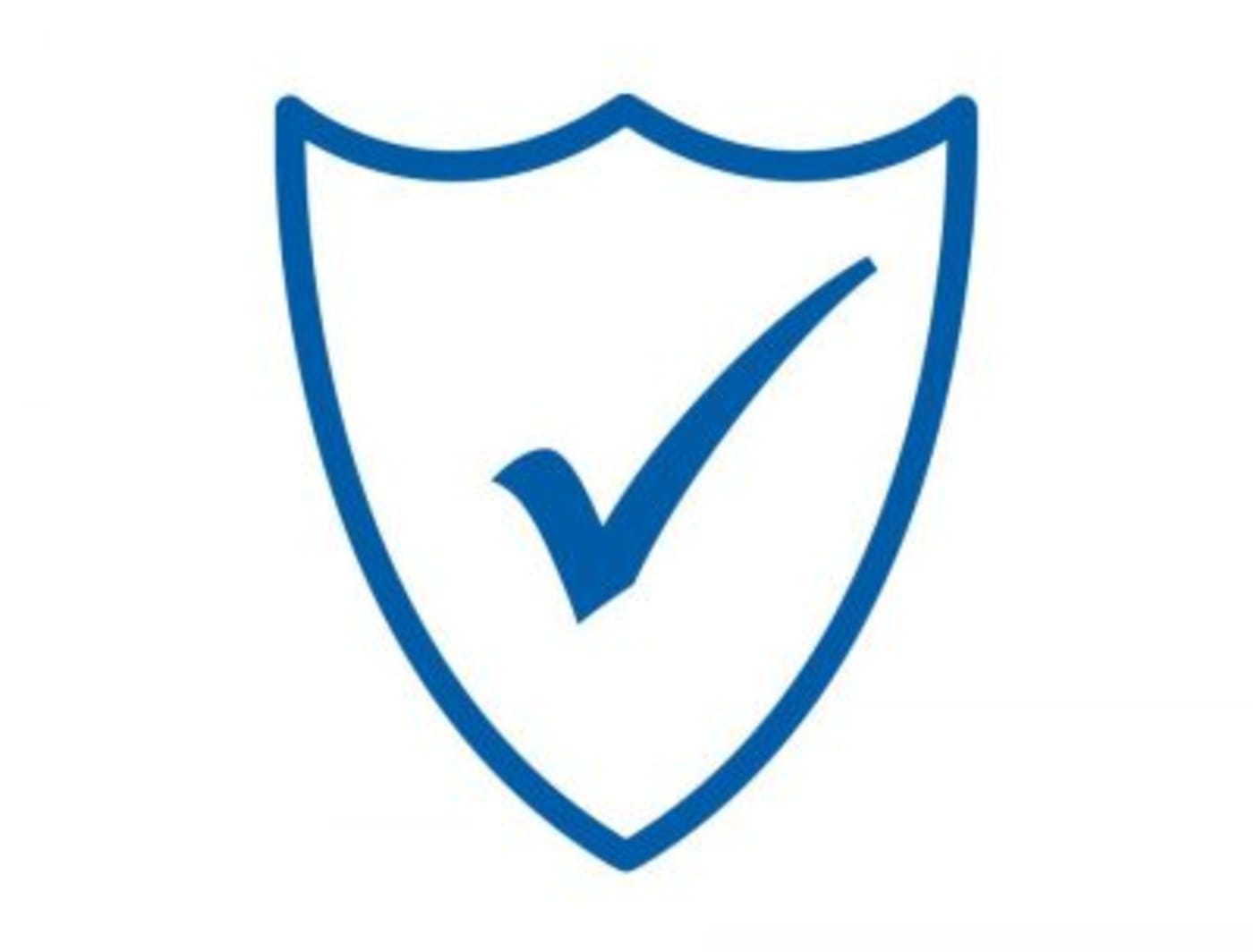 Certified for Demanding Use
We understand that creative professionals need to have confidence in the reliability of their gear. That's why every Mercury Pro U.2 Dual solution undergoes a multi-step performance certification prior to shipping, so it always arrives ready for demanding use. Blazing fast speed. More reliability. Only from OWC.
Requires use of DisplayPort to USB-C cable or adapter
Some Windows PC manufacturers use PCIe resource limited designs which may be incompatible with PCIe switched-based devices such as the OWC U2 Shuttles used in this solution. Please contact OWC support if you experience this limitation.