Tips for Integrating the iPhone 14 Pro Into Your Pro Video Workflow
Yes, the iPhone 14 Pro is a viable pro video machine. Here's how to maximize your production with Apple's latest pro iPhone.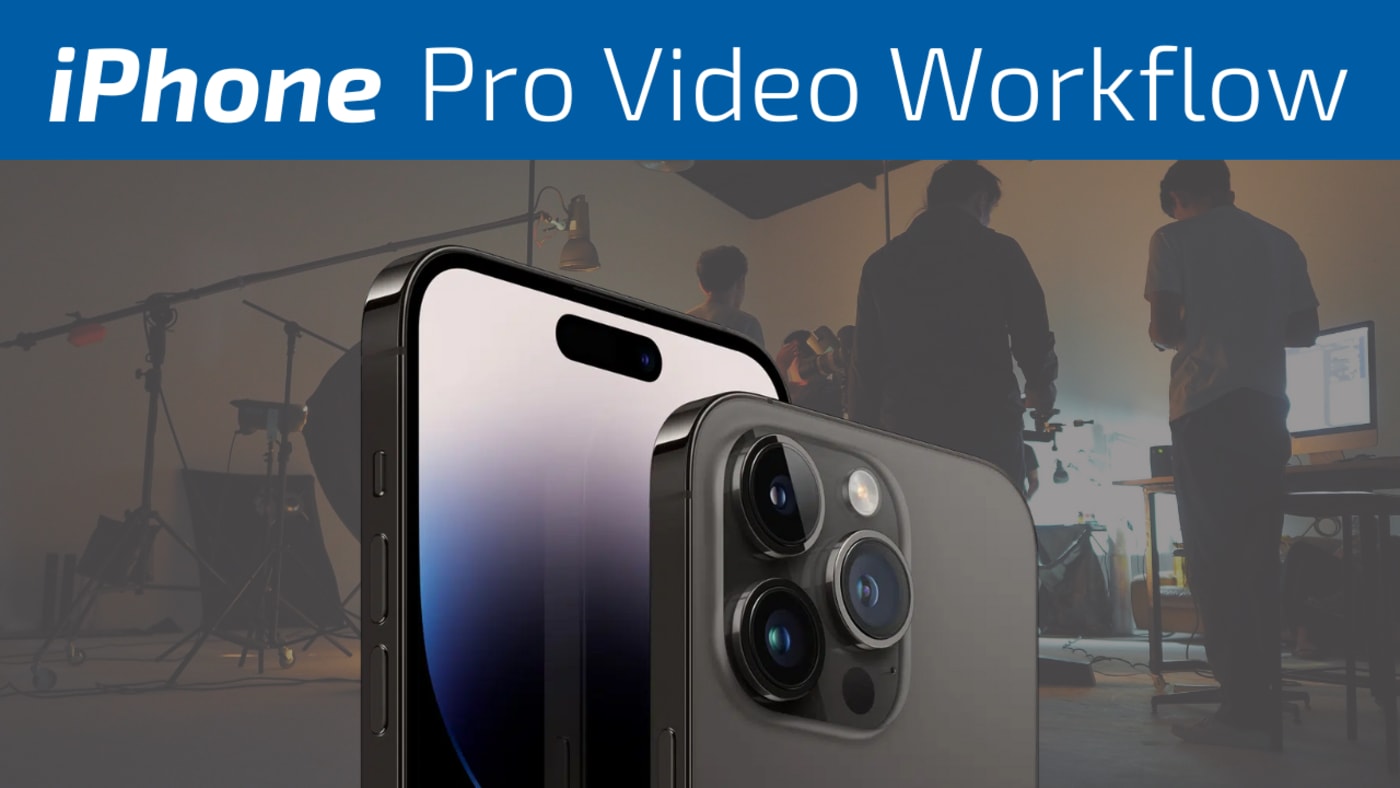 With the iPhone 14 Pro Apple has created a smartphone that can truly replace a prosumer camera for shooting high-quality video content, for what may be the very first time. The iPhone 14 Pro includes powerful built-in video capabilities, previously unseen in a mobile phone. With its innovative 48 MP (megapixel) camera, which is 65% larger than the sensor on the iPhone 13 Pro, you can get stunning shots with a cinematographic level of detail.
When you add the right hardware and software—and it doesn't take much—you can easily achieve a good video workflow with your iPhone 14 Pro.
Let's explore how you can achieve a professional video workflow with iPhone 14 Pro, including the best apps and tools, along with real-life cases.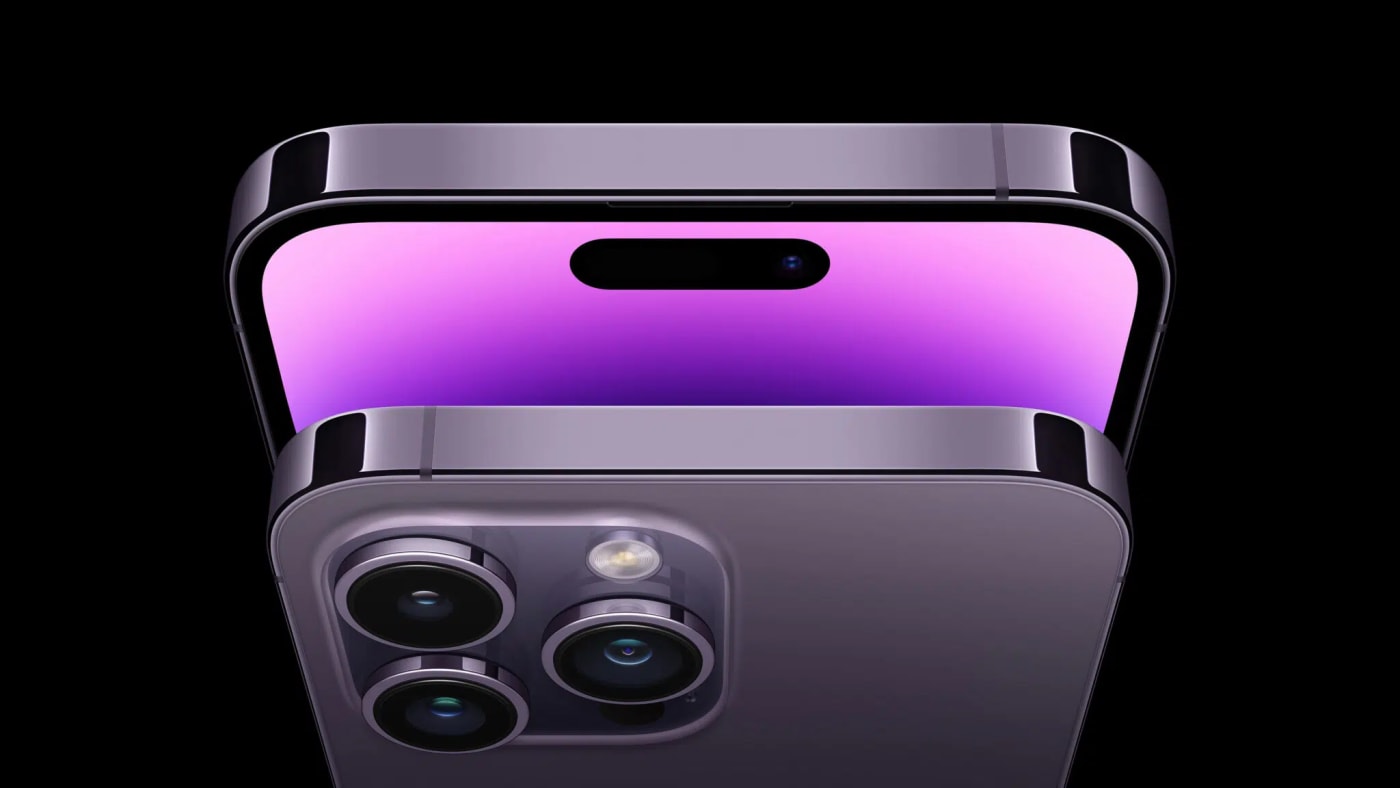 Professional Videographers and the iPhone 14 Pro
Many professionals will be skeptical about the idea of using the iPhone 14 as a pro video tool. It's natural. After all, there are high-end cameras, high-end lenses, and plenty of accessories that are specifically designed for professional videography. However, technology has evolved, the iPhone 14 has cutting-edge capabilities for a professional workflow, and it can produce excellent results when producing video content.
First and foremost, the iPhone is incredibly convenient. You can carry it in your pocket, and it's always ready to use. Gone are the days of lifting bulky equipment, spending time setting up shots, or packing up gear at the end of the day. The phone allows you to capture video content wherever you are, and whenever you need to.
One of the most significant advantages of using an iPhone for professional video is the availability of apps, which we'll get into later. There are a ton of video apps that can help you capture, edit, and share your video content. From camera apps that offer advanced settings and manual controls to editing apps that can help you create polished video content in just a few minutes, there's an app for just about everything you need. And if it isn't there, it's worth regularly checking the App Store for new releases.
Both the iPhone 14 and the iPhone 14 Pro Max can be specced out to 1TB of storage space, which was previously unthinkable. The Pro Max weighs just 8.47 ounces (240 grams), has a Super Retina XDR display, and looks great.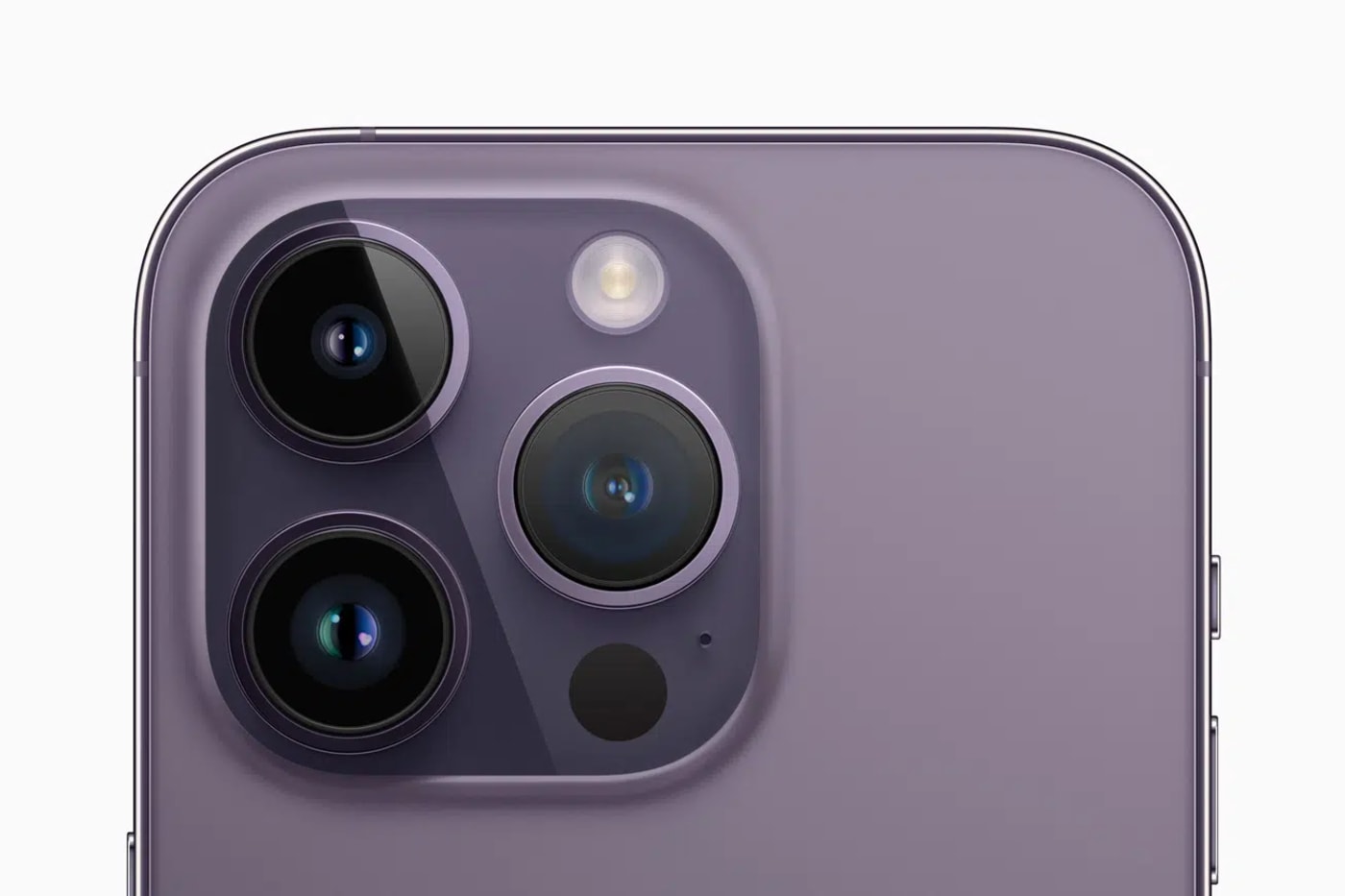 The four lens specifications are also very impressive:
48MP Main: 24 mm, ƒ/1.78 aperture, second-generation sensor-shift optical image stabilization, seven-element lens, 100% Focus Pixels

12MP Ultra Wide: 13 mm, ƒ/2.2 aperture and 120° field of view, six-element lens, 100% Focus Pixels

12MP 2x Telephoto (enabled by a quad-pixel sensor): 48 mm, ƒ/1.78 aperture, second-generation sensor-shift optical image stabilization, seven-element lens, 100% Focus Pixels

12MP 3x Telephoto: 77 mm, ƒ/2.8 aperture, optical image stabilization, six-element lens

3x optical zoom in, 2x optical zoom out; 6x optical zoom range; digital zoom up to 15x
It's also helpful to note that the recording options have a good range of frame rates:
4K video recording at 24 fps, 25 fps, 30 fps, or 60 fps

1080p HD video recording at 25 fps, 30 fps, or 60 fps

720p HD video recording at 30 fps

Cinematic mode up to 4K HDR at 30 fps

Action mode up to 2.8K at 60 fps

HDR video recording with Dolby Vision up to 4K at 60 fps

ProRes video recording up to 4K at 30 fps (1080p at 30 fps for 128GB storage)

Macro video recording, including slo-mo and time-lapse

Slo-mo video support for 1080p at 120 fps or 240 fps
The iPhone 14 also features a time-lapse video with stabilization, dual optical image stabilization for video (Main and Telephoto), audio zoom, continuous autofocus video, the ability to take 8MP still photos while recording 4K video, and much more. Plus, with the ability to shoot and edit 4K video directly on the device, you can get a professional-grade video without needing to transfer files to a computer.
Of course, there are limitations to using an iPhone for professional video. The lack of interchangeable lenses, limited storage space, and battery life can all be issues. This can be overcome with various accessories, to help you get the most out of your iPhone.
If you're a professional who's skeptical about using an iPhone for video, it's time to reconsider.
Getting your footage into the edit
The first step to beginning the edit is to import the footage from your iPhone onto your iPad or Mac. Here are five ways to do this, although using AirDrop or a USB cable are the best options.
AirDrop: AirDrop is a simple way to send the files from your camera roll, whether you have recorded them through the native iPhone app, Filmic Pro, or another app.

USB: You can also import your files directly by connecting a USB from your phone into your computer, and use Image Capture to import the files. This has some advantages over AirDrop, because you can control where you would like to import the files to - ie, to choose a specific folder - and you can also decide whether to leave the footage on your phone delete it.

iCloud: A slightly longer way around is to sync your photos and videos with iCloud, and you can then log into iCloud from your computer and download directly from there. This is a good option if you are not in a rush, don't have a USB cable, or your Bluetooth is not working, which would prohibit using AirDrop.

Email: This is a workflow hack with limited capability, but a quick way to transfer small video files is to send them as email attachments to yourself, then download them directly from your computer.

Google Drive: There are many different online storage options; one example would be to upload your videos to Google Drive and then download them from your computer. It is a more clunky workflow, but it allows you to back up your files online if you aren't using iCloud.


Best apps and tools for content creation & video workflow
It's hard to blame someone for working with their smartphone for their video needs these days, especially when it's as powerful as the iPhone 14 Pro.
While the onboard 48 MP camera is stunning - and there are impressive in-built features, including editing - you can get the most out of your iPhone 14 Pro by using the best apps on the market. From the seed of content creation through the entire video workflow, it is important to have some go-to apps and tools. While iMovie is free in the App Store and familiar to many long-time Apple users, it lacks some of the firepower of many newer apps.
Here are some of the apps that maximize the capabilities of your iPhone 14 Pro and streamline your video workflow process, whether you're making videos for fun or chasing virality on YouTube and TikTok.
Filmic Pro | Film like a pro with your iPhone 14 Pro
If you want to transform your phone into a professional-quality video camera, then Filmic Pro is a mobile app you should definitely consider. Ever since Apple's 2019 Fall iPhone event, Filmic has impressed Apple aficionados. Filmic Pro isn't a video-editing app—rather, it's about turning your phone into a professional-quality camera by offering you the high-level tools used by professional videographers.
When using Filmic Pro, you gain access to professional videography features, such as full manual controls for things like focus, shutter speed, exposure, ISO, as well as zoom. There are also live scene analytics and support for a wide variety of aspect ratios, bit rates, and frame rates. Plus, you get third-party hardware support.
As mentioned, this is not an editing app, so don't expect to use it for post-production. Filmic Pro is all about delivering you the tools needed to capture an amazing shoot by giving you total control. For editing, you'll need another app or computer program (and we'll cover some later).
Filmic Pro costs $50 per year or $2.99 per week.
iXpand | Save, store, and transfer video
SanDisk helped fill a considerable gap with its iXpand line of flash drives. Rather than fiddle with bulkier external hard drives or cheap, easy-to-lose adapters, the iXpand offers you impressive storage capacities and makes file transfer easy.
While they feature a range of connectors, one of the most popular is the iXpand Flash Drive Luxe, which features a Lightning connector on one end and a USB Type-C connector on the other. This facilitates the transfer of your video materials from your iPhone 14 Pro to your computer, where you can back it up, edit it, etc.
Simply plug in the iXpand Flash Drive Luxe into your phone so you can quickly back up your video each time you plug it in. And with the dual connectors, you can easily move your phone between your iPhone and any other devices you may have (e.g. iPad Pro, Mac, and any USB Type-C devices, including Android phones).
The iXpand Flash Drive Luxe will cost you $34.99, $44.99, and $65.99 for the three available sizes, respectively (64 GB, 128 GB, and 256 GB). As is common with storage, you save considerably on price per gigabyte when you purchase more.
AV adapter to monitor | See your masterpiece in all its glory
Shooting on an iPhone Pro 14 can produce mind-blowing video footage. However, if you're shooting in front of the iPhone, you can't preview the frame without a lot of back and forth. Getting an AV adapter to mirror your iPhone's display to your computer monitor or a small HDMI monitor is a simple way to preview your work in real time.
First, you'll need to figure out which adapter you need. For iOS devices with Lightning connectors like the iPhone 14 Pro models, you'll want to grab the Lightning Digital AV Adapter (HDMI) or the Lightning to VGA Adapter.
To get connected, simply plug your Digital AV or VGA adapter into your device's Lightning port. Then attach a VGA or HDMI cable to the adapter and connect the other end to your computer monitor or other display. Now you can see your iPhone screen on your monitor (or TV or projector), enabling you to more easily preview or screen your work.
Gimbal
The iPhone 14 introduced a new filming mode called "Action Mode." Using the phone's built-in components, such as its gyroscope and accelerometer, Action Mode digitally stabilizes your footage without a gimbal. The feature works quite well, a bit unsurprising as the iPhone's default stabilization when holding the device with two hands is already excellent for slow pans.
That said, using a physical gimbal is one of the simplest ways to improve your video shoots and give them a more professional look and feel—especially for anything featuring a lot of movement.
Let's take a look now at three of the top gimbals on your market, each of which will elevate your videography game and help turn your iPhone 14 Pro into a near-professional-level video camera.

DJI Osmo Mobile 6 - Featuring a magnetic phone clamp mechanism, the DJI Osmo Mobile 6 is arguably the best overall gimbal on the market. The Osmo series is a favorite of many, and it's for good reason. Getting set up is quick and intuitive, and the folding design and magnetic clamp facilitate shooting as soon as the moment strikes. | Cost: $159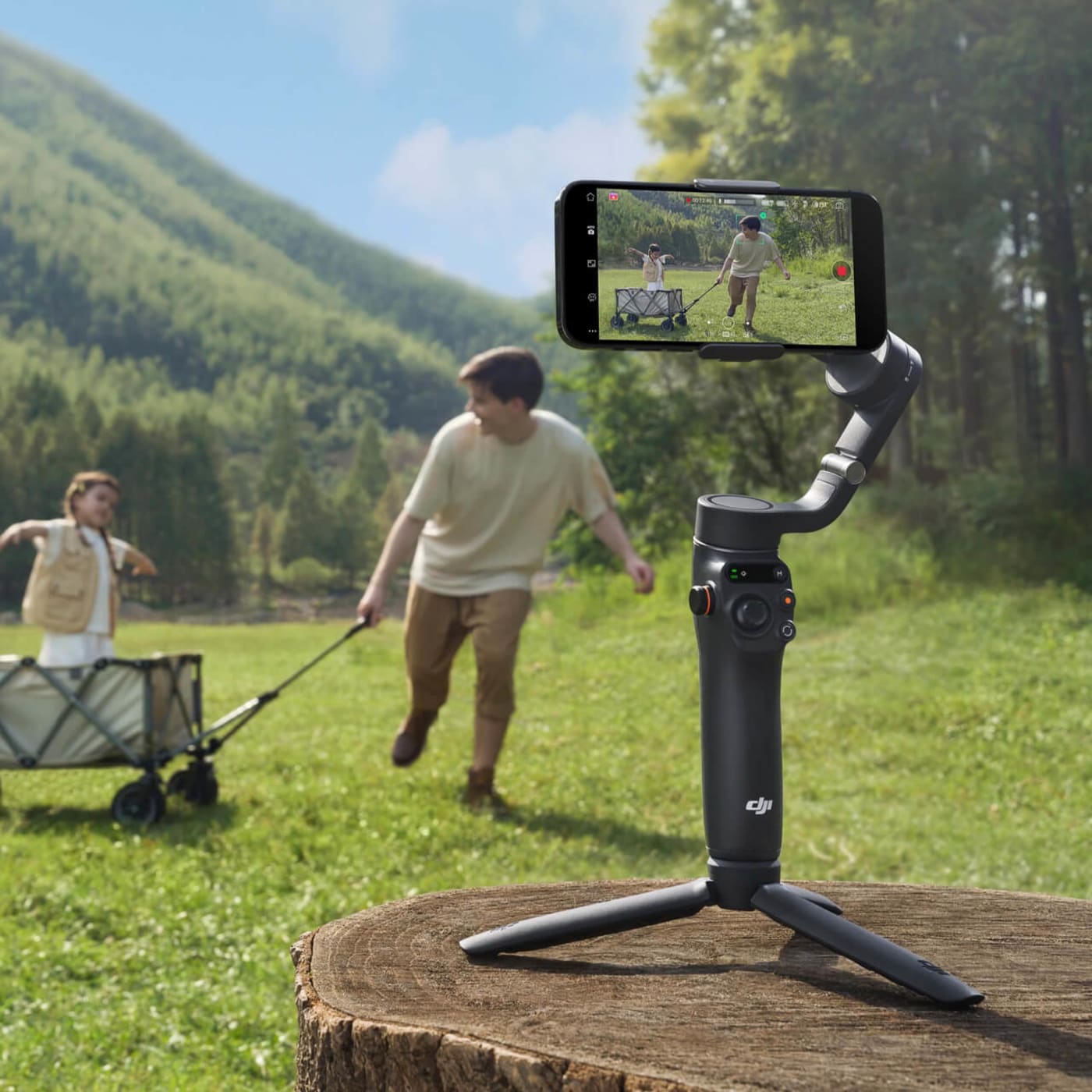 Zhiyun Smooth 5 - The Zhiyun Smooth 5 is oriented toward professional users. The name is fitting as this gimbal offers smooth stabilization and also enables you to keep your hands off your phone screen with handy buttons and controls built right in. Compared to its predecessor, the Smooth 4, the 5 has a sturdier build, more powerful motors, and a new joystick that allows for smoother panning. | Cost: $149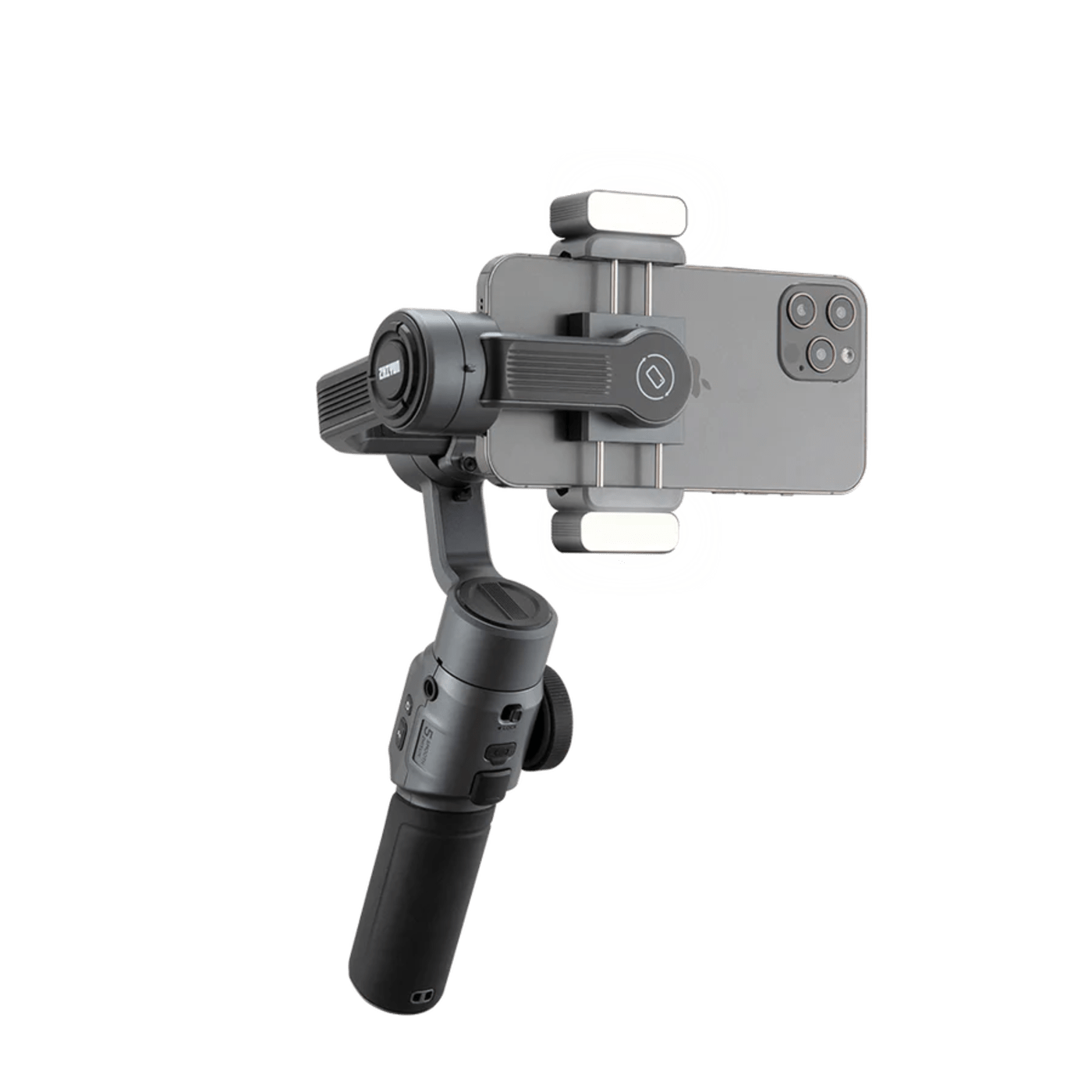 Use application: 3 case studies in video workflow
If you're unfamiliar with the current landscape of videography, you may be wondering: do people really get pro-level video with their phones? The answer is yes, especially with one as powerful as the iPhone 14 Pro.
Case Studies
Let's take a look at 3 case studies.
Jane | Makeup artist extraordinaire
Jane is a talented makeup artist who has leveraged her skills into a dedicated following on TikTok. To create high-quality makeup tutorials, Jane can conveniently use her iPhone 14 Pro. Since she's working in a static setting, she doesn't need a gimbal, which makes her setup even more streamlined and affordable.
Clarity and brightness are vital for makeup videos, so Jane uses a ring light that doubles as a phone stand for shooting her content. Using video editing apps downloaded to her phone, she's able to shoot, edit, and publish her videos all from the convenience of her iPhone.
Robert | Marketing for the electrical niche
More and more companies are realizing that they need snazzy marketing to win new clients, and this is where Robert comes in. By focusing primarily on electricians, he's found a niche that works for him and streamlines his process. Once again, the iPhone 14 Pro is just about all Robert needs to shoot engaging promotional videos for his clients.
Robert also makes use of DJI Osmo Mobile 6 (reviewed above), since he likes to film the electricians in action. Finally, he uses his preferred editing program on his computer to hone his videos and prepare them to hit the Internet.
Vicky | Promoting property listings
Real estate is a competitive business, and realtors need to learn to set themselves apart. Vicky has done exactly that by producing regular videos to promote her property listings. To get professional-quality video, she uses her iPhone 14 with the DJI OM 4. This makes filming a piece of cake as she walks around her property listings.
To get her videos ready for social media, Vicky uploads them to her computer and then edits them with iMovie. It doesn't take anything fancy to produce eye-catching videos that have helped boost her sales tremendously!
Bonus video workflow apps for your iPhone14 Pro
There are many ways that you can set up your video workflow. After all, it should be unique to your preferences and your end product.
Here are a handful of app types, however, that may help streamline your workflow and help you create more engaging content.

Captions apps - This is the age of accessibility, so it's vital to have captions for your viewers. Plus, people often scroll the internet with the sound off, meaning that you'll miss out on potential engagement if you don't have captions.

Design apps - Design apps like Canva enable you to create compelling thumbnails for your videos with just a few clicks.
Video editors - It's really convenient to have as much of your workflow on your phone as possible, especially when the end product is something like a TikTok video. Mobile editors such as Capcut make editing for social media (and especially TikTok) a breeze.

Scheduling apps - To really streamline your workflow, automation is a huge plus. Using software like Monday.com means that you can prepare your content in advance. No need to set an alarm to be sure you're capturing peak engagement!
It's a wrap
The impressive capabilities of the iPhone 14 Pro and its 48 MP camera mean that more people than ever can film in professional or near-professional quality. This amounts to nothing less than a revolution when it comes to content creation and video workflow.
Rather than shell out money on an expensive prosumer camera, simply use the right tools and apps with your iPhone 14 Pro and you'll be on your way to producing high-level content that captures everyone's attention.