SoftRAID 7.6 Now Available, Adds Support for macOS Sonoma, Expanded Windows Server Support
The latest version of OWC's SoftRAID software adds support macOS 14 (Sonoma) and Windows Server 2022/2019.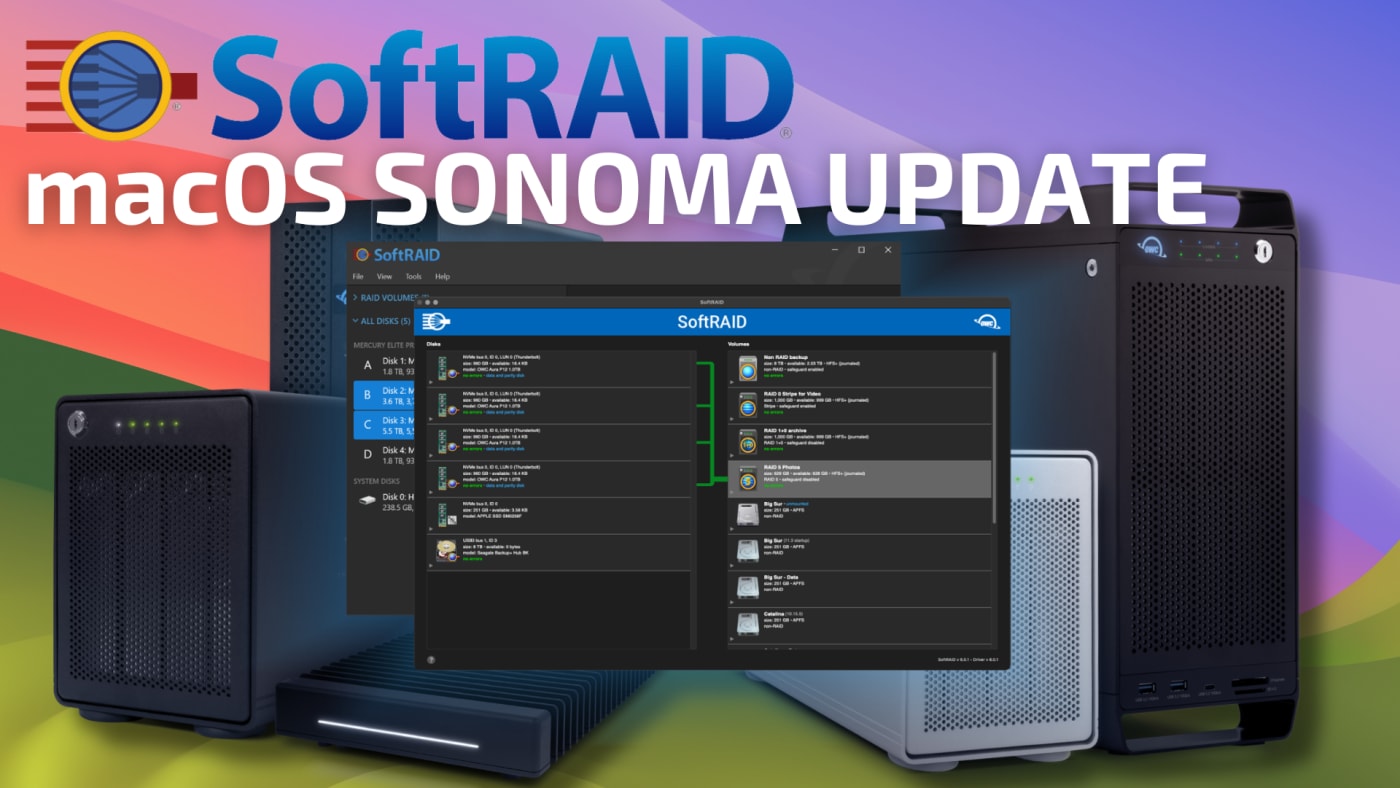 We are excited to announce new versions of SoftRAID for both Mac and Windows. Both versions add new OS support for both platforms and continue to make SoftRAID the best software RAID solution available.


Enjoy your trip to Sonoma
We have been testing macOS 14, Sonoma, ever since Apple released the first developer preview at WWDC 2023. After thousands of hours of testing and many long days of coding, we released SoftRAID for Mac, version 7.6 two weeks ago. This version incorporates bug fixes and features tailored to take full advantage of the new version of macOS. If you want to run the SoftRAID application to monitor the health of your disks, get error notifications, display the SoftRAID log, or create and delete new volumes, you will need to upgrade to version 7.6 when using macOS 14, Sonoma.
Windows compatibility expands
For Windows, we're happy to announce SoftRAID 4 brings support for Windows Server 2019 and Windows Server 2022. Our team has spent the last few months updating SoftRAID to work with the special constraints and security considerations in Windows Server.
We've also improved RAID 5 performance in Windows-users with SSD (or NVMe) RAID 5 volumes should see a noticeable improvement in writing speeds.
Connect your SoftRAID volume to any Mac, it just works
Starting with macOS 13.3, you don't need to run the SoftRAID application to use your SoftRAID volumes. You can attach a SoftRAID volume to any Mac, anywhere in the world, and it will just show up on your desktop. SoftRAID volumes mount, run full speed and continue to protect you from disk failure (for RAID 1, 1+0, 4, and 5 volumes) just as they always have. When you are on macOS 13.3 and later, macOS automatically installs and activates the SoftRAID driver as soon as the first SoftRAID disk is connected, without any action from you. Your SoftRAID volumes have all the speed and reliability you expect even if you never ever run the SoftRAID application.
The SoftRAID driver which macOS automatically installs is the full release version, not one with reduced performance or limited features. This is the same version of the driver we are continually testing and improving.
When running macOS 14, Sonoma, version 7.6 of the SoftRAID driver is the one which will always be used. When running macOS 13.3 - 13.5, version 7.5 of the driver loads.
In Windows, to access your volumes on any Windows computer, simply download and install SoftRAID. Once installed you have full read/write access to SoftRAID volumes – you will still need a licensed version for all extra features.
Why should you upgrade to SoftRAID version 7.6?
While you can use your SoftRAID volumes on macOS 14 and Windows without upgrading or having an active support plan, you will miss out on all SoftRAID's great volume and disk monitoring features. When you run the SoftRAID application, it installs the SoftRAID Monitor, the part of SoftRAID which watches over your disks and volumes and notifies you when there is a problem.

Using a SoftRAID volume without the SoftRAID Monitor is just like using an Apple RAID volume: you are protected from disk failure, but there is no periodic testing to see if your disks are reliable or likely to fail; there are no dialogs when an error occurs; and there is no log file to help you figure out what went wrong when a volume starts acting up.
You will also need to upgrade to this new version of SoftRAID if you want to verify or certify your disks before use. Certifying a disk is the single best way you can check that a disk is reliable before using it for your important files. We certify every disk we ship with any OWC enclosures which come pre-formatted with SoftRAID. This is why we have such low return rates on these products.
Other topics you might like