RED Approved: OWC Atlas Ultra 1TB and 2TB CFexpress Cards Officially Supported by RED Cameras
OWC Atlas Ultra CFexpress cards are designed for the most rigorous of professional workflows. And now, they're officially approved for use in RED cameras.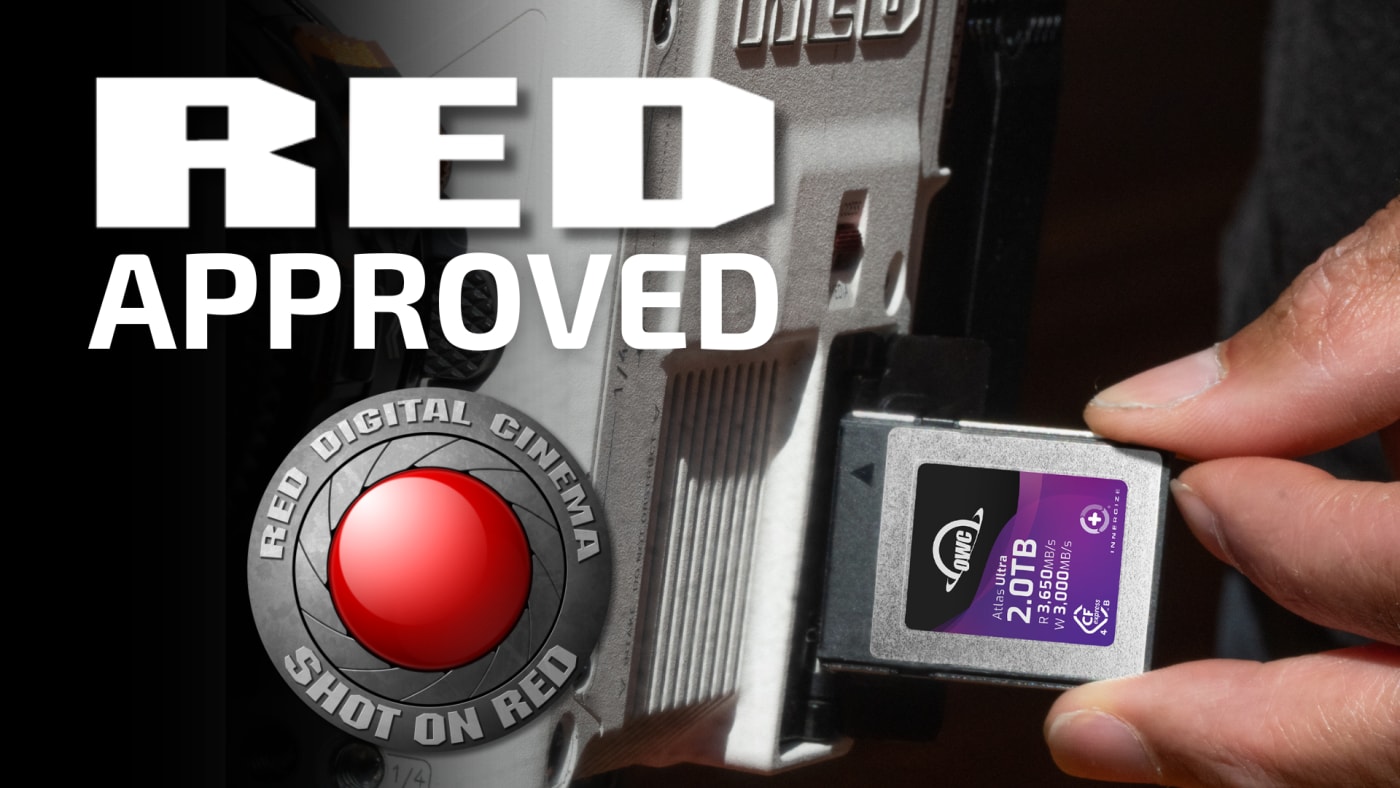 The fastest CFexpress cards on the planet just got a major stamp of approval.
Here at OWC, we provide solutions designed for rigorous, professional use, and our 1TB and 2TB Atlas Ultra CFexpress Type B cards are a perfect example. Capable of reaching read speeds up to 3,650 MB/s and write speeds up to 3,000 MB/s, the 1TB and 2TB Atlas Ultra cards boast minimum sustained write speeds of a workflow-changing 1,500 MB/s.
Recently upgraded to CFexpress 4.0, these two cards are capable of outputting double the speed of CFexpress 2.0 cards, with enough raw speed to handle tasks such as 120fps still image bursts with little buffering, and storing terabytes worth of data in the form of 12-bit 8K video.
And now, Atlas Ultra 1TB and 2TB cards are RED Approved.
Approved for the most demanding of shoots
OWC Atlas Ultra 1TB and 2TB cards are approved by RED to work with its KOMODO-X, V-RAPTOR, and V-RAPTOR XL cameras.
Support for OWC Atlas Ultra 1TB and 2TB cards is available today on RED's latest production firmware version of V-RAPTOR and V-RAPTOR XL in addition to KOMODO-X in 1.1.0 beta firmware.
To achieve RED approval, a card must demonstrate the ability to reach high sustained write speeds in the most extreme of conditions. That means it's not enough for a CFexpress card to just be fast. It has to be designed to withstand very high temperatures while maintaining high sustained write speeds over long periods of time.
Like RED cameras, OWC Atlas Ultra cards are designed to give professionals peace of mind no matter where they're shooting or for how long.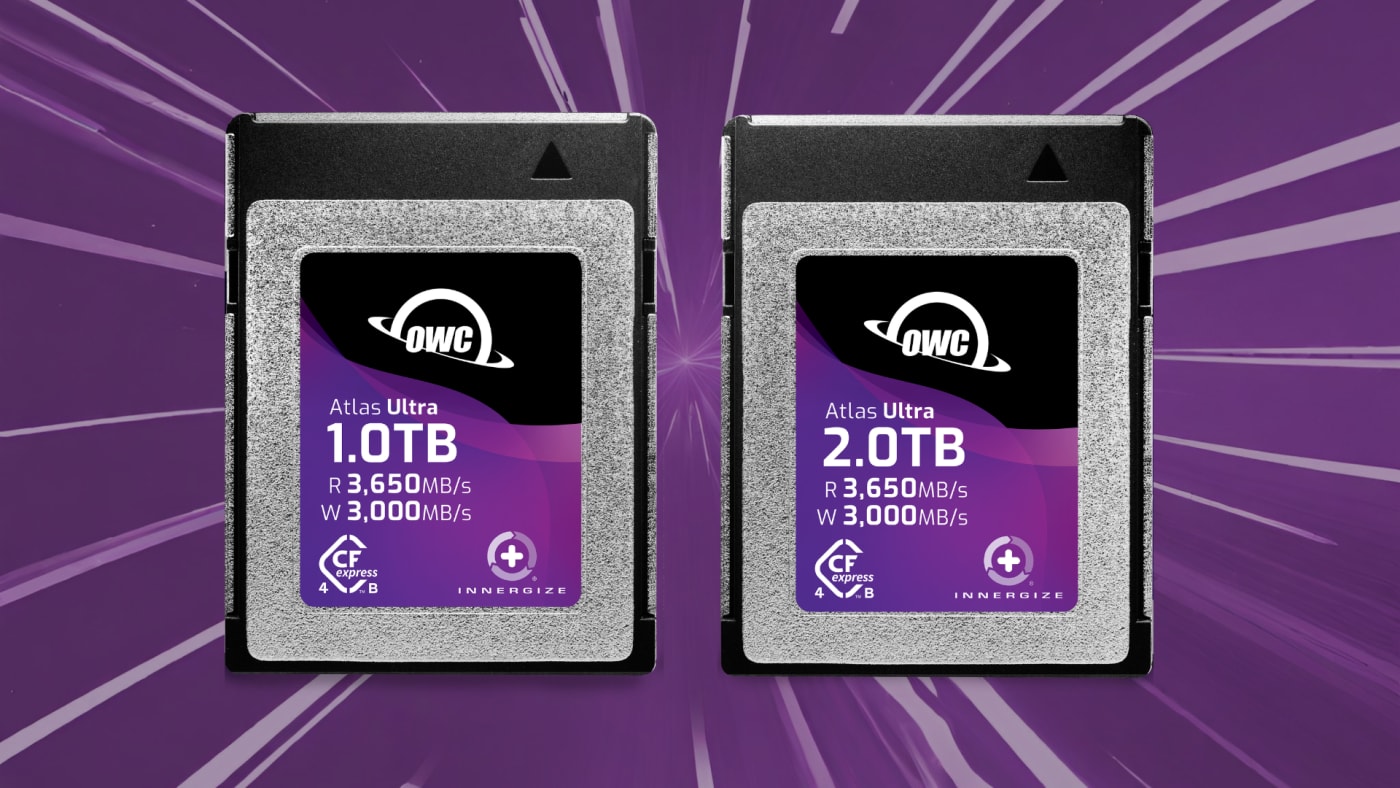 Footage that never fails
Atlas Ultra 1TB, and Atlas Ultra 2TB cards leverage PCIe Gen 4 technology to enable their 3,650 MB/s read and 3,000 MB/s write speeds—a 97% increase from the previous generation cards.
The major speed increases to Atlas cards make it possible to capture stunning 4K, 6K, and 8K+ videos—enabling the next generation of cameras and the ability to scale your available storage with future camera purchases.
"We had the opportunity to use the newest 1TB and 2TB CFExpress cards by OWC during our REDUCATION programs in Jackson Hole, WY and Los Angeles, CA in the Raptor VV and Komodo X cameras," says William Donaruma, a professor in filmmaking at Notre Dame University.
Plus, thanks to the massive read/write speed increases, these new cards provide the ability to access and offload content for editing and distribution like never before. Donaruma added that he recently used the Atlas Ultra 1TB and 2TB cards for a shoot with a RED Komodo that required 96 fps video.
"They performed outstanding running at various frame speeds without fail. Offloading was super-fast using the OWC card reader without slowdowns and I'm very happy to have the extra-large media always in my pocket!"
Even with these incredible performance increases, the power consumption of OWC memory cards is only one-third of the allowable specification, making them ideal for any battery-operated cameras—past, present, or future.
Industry's First Backward and Forward Compatibility
We first launched our Atlas Ultra 1TB and 2TB cards earlier this year. These cards were designed from the start to ensure forward compatibility through a firmware upgrade to the CFA 4.0 specification.
The new Atlas CFexpress 4.0 memory cards continue OWC's commitment to designing solutions that extend the use life of technology by utilizing OWC's Innergize™ software to allow owners to upgrade the firmware on previous PCIe Gen3 Atlas Ultra 1TB and 2TB cards to the new CFexpress 4.0 firmware.
That means if you have Atlas Ultra 1TB and 2TB CFexpress 2.0 cards, you can simply plug them in, run a firmware update in Innergize™, and eject what is essentially a brand new RED APPROVED card with nearly double the speed.
In addition, Atlas CFexpress CFA 4.0 memory cards are backwards compatible with CFA 2.0 PCIe Gen 3 hosts, providing both flexibility and performance.