Camo Studio is the Best App for Using an iPhone as a Webcam on Windows
Camo Studio connects an iPhone to Windows as a webcam with loads of tweaks and features aimed at pros.
If you spend a lot of your professional time on video calls or live streams, you might be exploring your options for improving video quality from your end of things. And you've probably noticed that your laptop's built-in webcam and many of the external webcam options on the market produce grainy, poorly-lit footage.
So, short of hooking up a spare DSLR you have lying around, what can you do to produce a clean, clear, and well-let image consistently? Well, if you have an iPhone, you have a great webcam. Mac users have a great utility called Continuity Camera that allows them to use their iPhones as a webcam automatically, but what about Windows users? That's where Camo and its PC companion app Camo Studio come in.
Camo Studio turns almost any iPhone or iPad into a webcam for a Windows PC or Mac with great results. The best part is; Camo Studio offers a fully functional free version and a suite of compelling upgrades for paid users.
Read on to see how to connect an iPhone to a Windows PC as a webcam, using Camo Studio.
Supported hardware
Camo Studio offers support for a wide range of computers and mobile devices. On the PC side, Camo Studio requires Windows 10 or better and for this rundown, I used Windows 11. On the macOS side, Camo Studio requires macOS 10.13, High Sierra. Between either of these operating systems, desktops and laptops as far back as 2009 are actively supported.
Camo Studio supports iOS devices running iOS 12 and newer, which goes as far back as the iPhone 5s, though many of the pro features such as portrait mode require newer hardware.
Another cool aspect about Camo Studio is that it also supports most USB webcams and many DSLR cameras as well. The software interfaces each camera's firmware to adjust settings like autofocus and white balance; or if these features are unavailable, it provides a convincing emulation. Webcams from Logitech, Razer, and more are supported, which means that if you ever want to get a dedicated camera for video calls or streaming, you can retain your Camo settings.
Getting connected
Connecting an iPhone to a Windows desktop with Camo Studio only took a few minutes for the first time setup. And, no accounts or subscriptions were required to get started with the free version. Here's what you need to do:
· Install Camo Studio for Windows (a macOS version is available here)
· Install Camo Studio on your iPhone from the App Store
· Ensure the latest version of iTunes is also installed on the PC
· Launch iTunes
· Plug in the iPhone to the PC using a Lightning cable
· Allow the iPhone to trust the PC
· Launch Camo Studio
The free version allows for unlimited use in any application but is limited to a resolution of 720p. Thankfully, there are no watermarks or time limits with this free version. To unlock the rest of the features, you'll need to subscribe to a monthly or annual subscription which starts at $4 a month.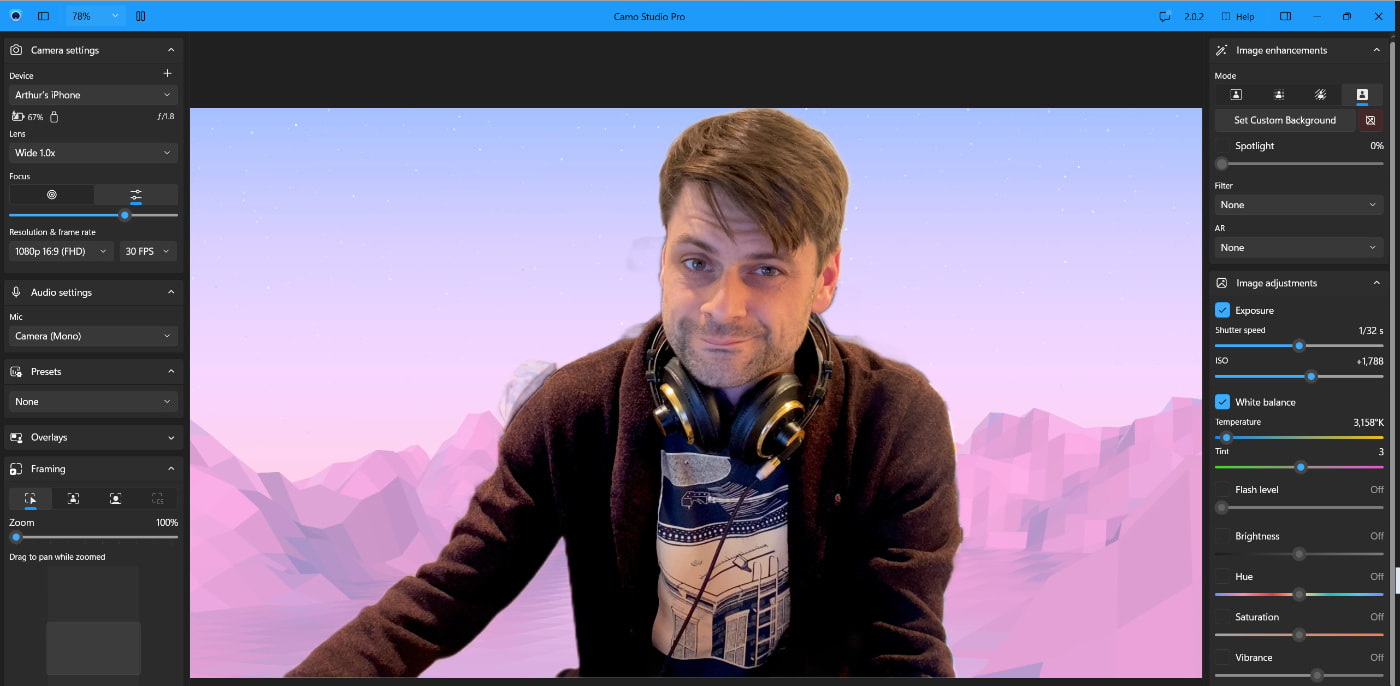 How good is the iPhone as a webcam?
In the early days of at-home learning and endless Zoom meetings, I invested in a Logitech C920 webcam. It was affordable and often cited by many bloggers as being an exceptional camera. Up until now, I found it perfectly serviceable, it fits snugly on my monitor, the microphones are good enough, and it was 1080p.
But how does my iPhone 11 Pro stack up against the C920? Let's take a look.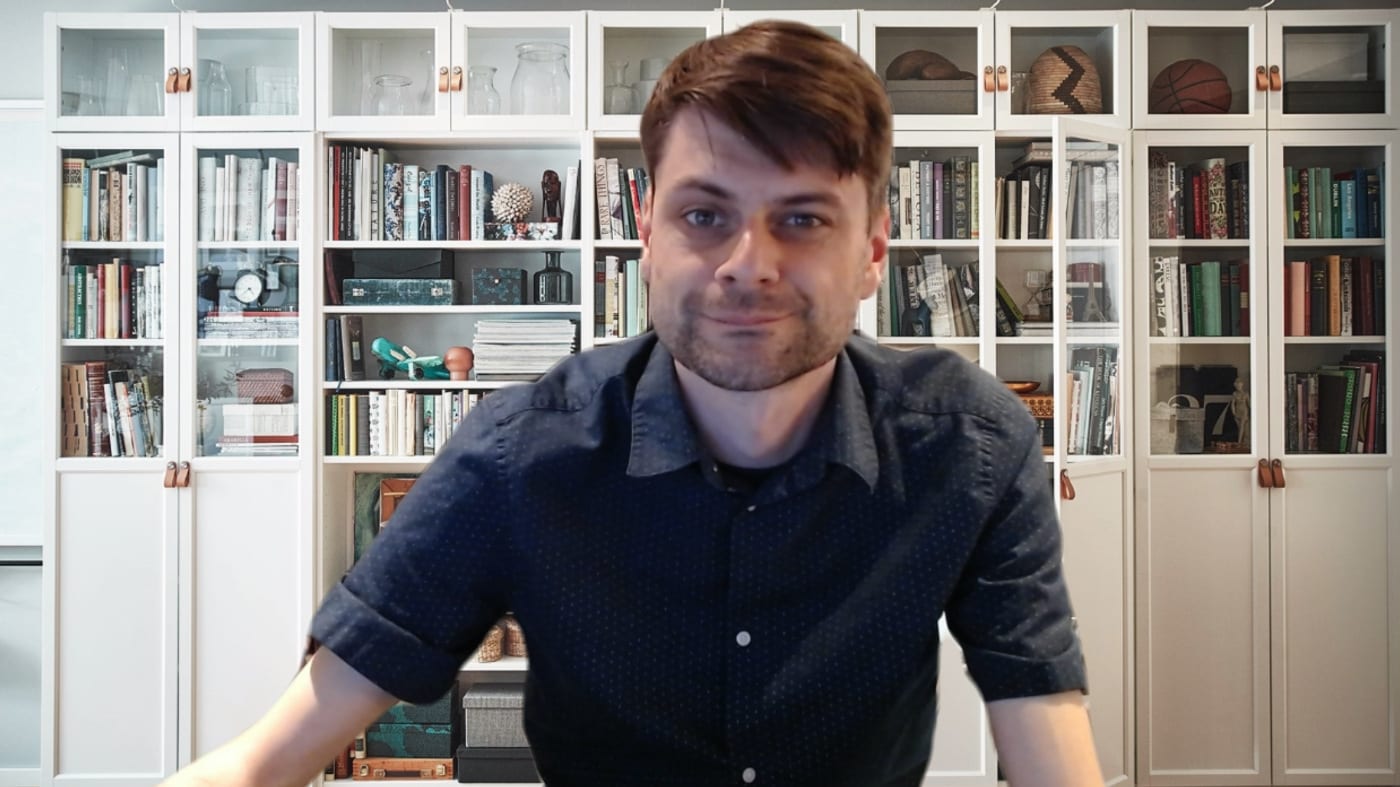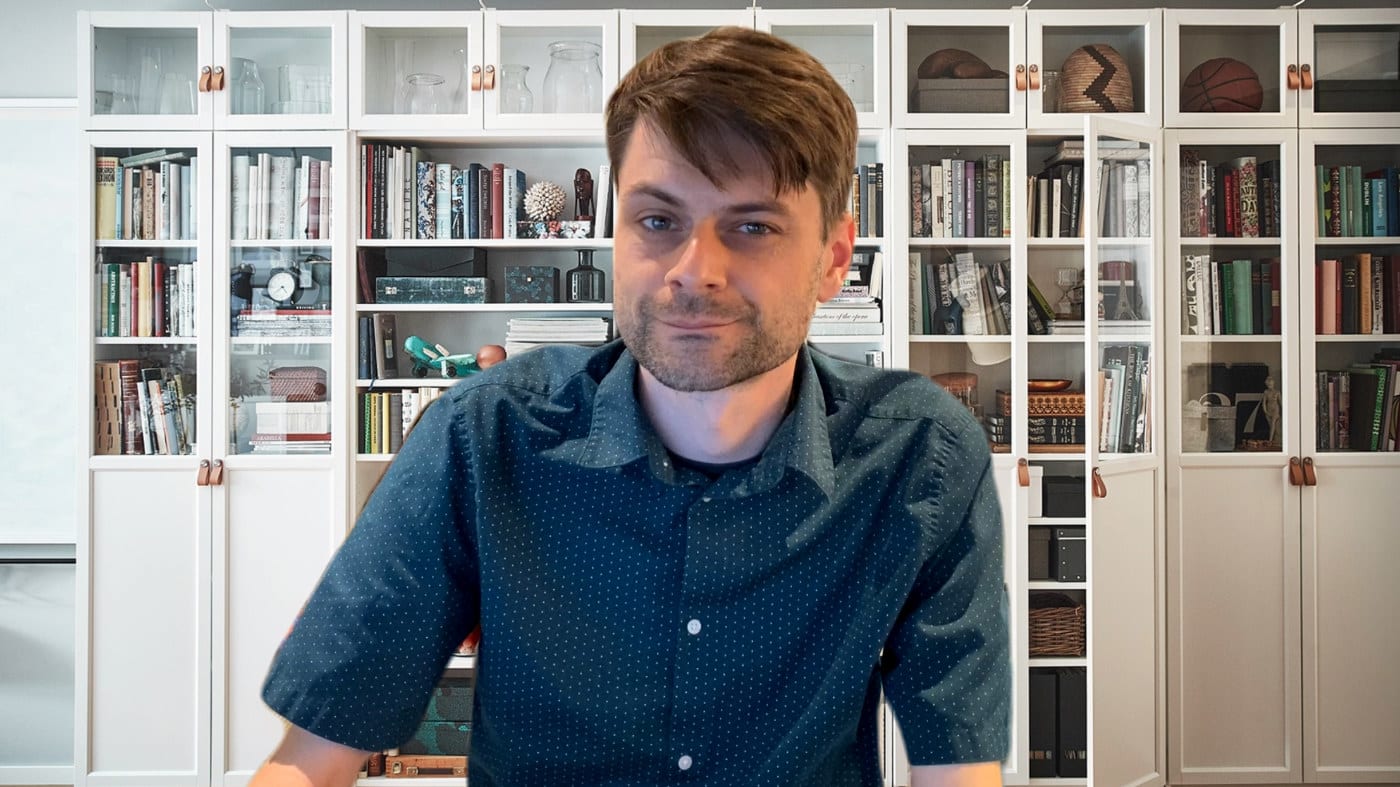 Not only is the color so much more vibrant on the iPhone, but the focus is also completely soft on the Logitech!
To be fair, I have done little to prepare for the on-camera appearance, the track lighting in my basement is hardly flattering for portrait photography, however, I wanted to test the software in a realistic way and not use professional lighting.
That was until I discovered that Camo Studio has control of the rear camera flash to use as a fill light! Since most webcams that feature a built-in ring light cost a pretty penny extra, this was a pleasant discovery.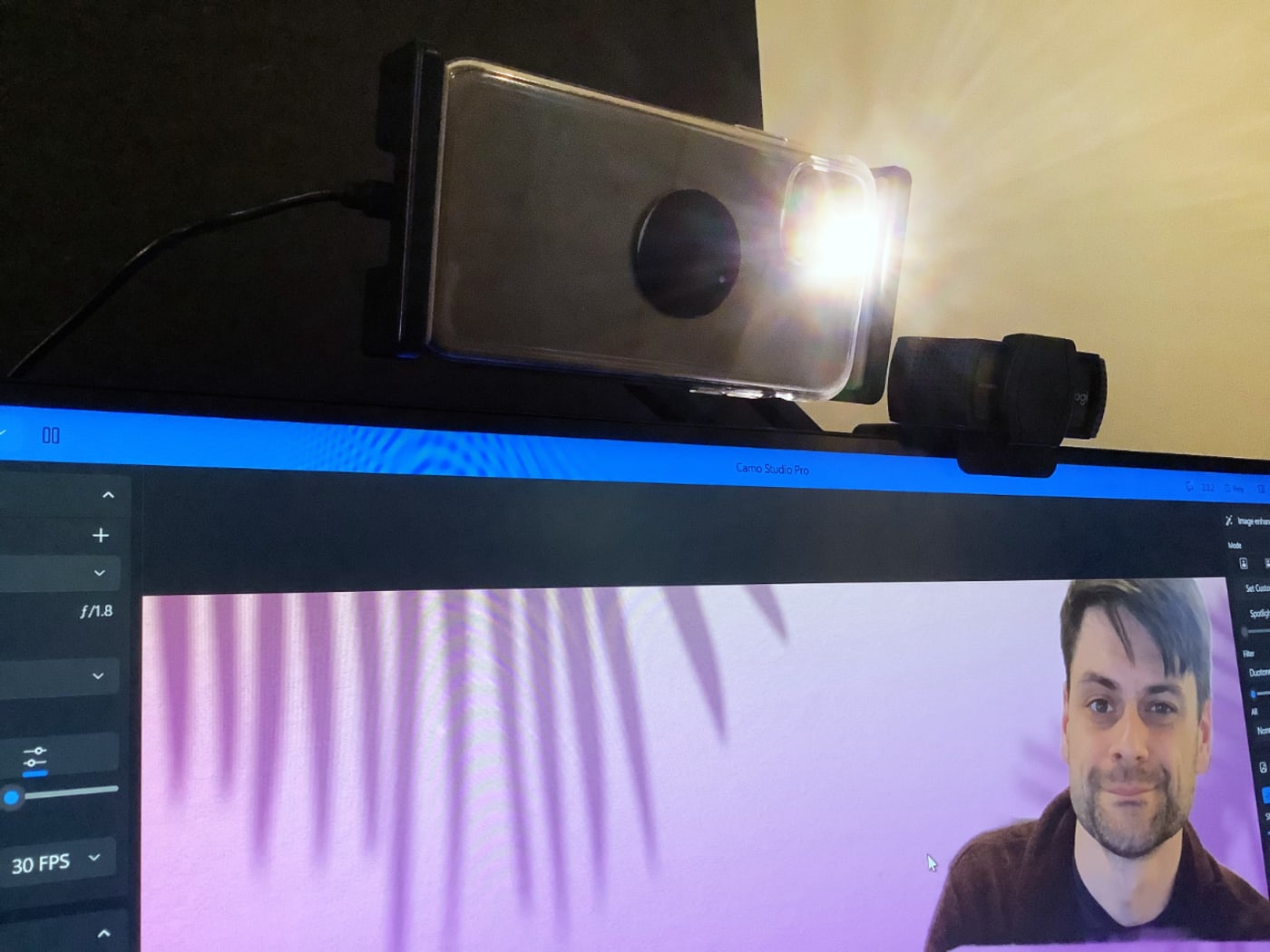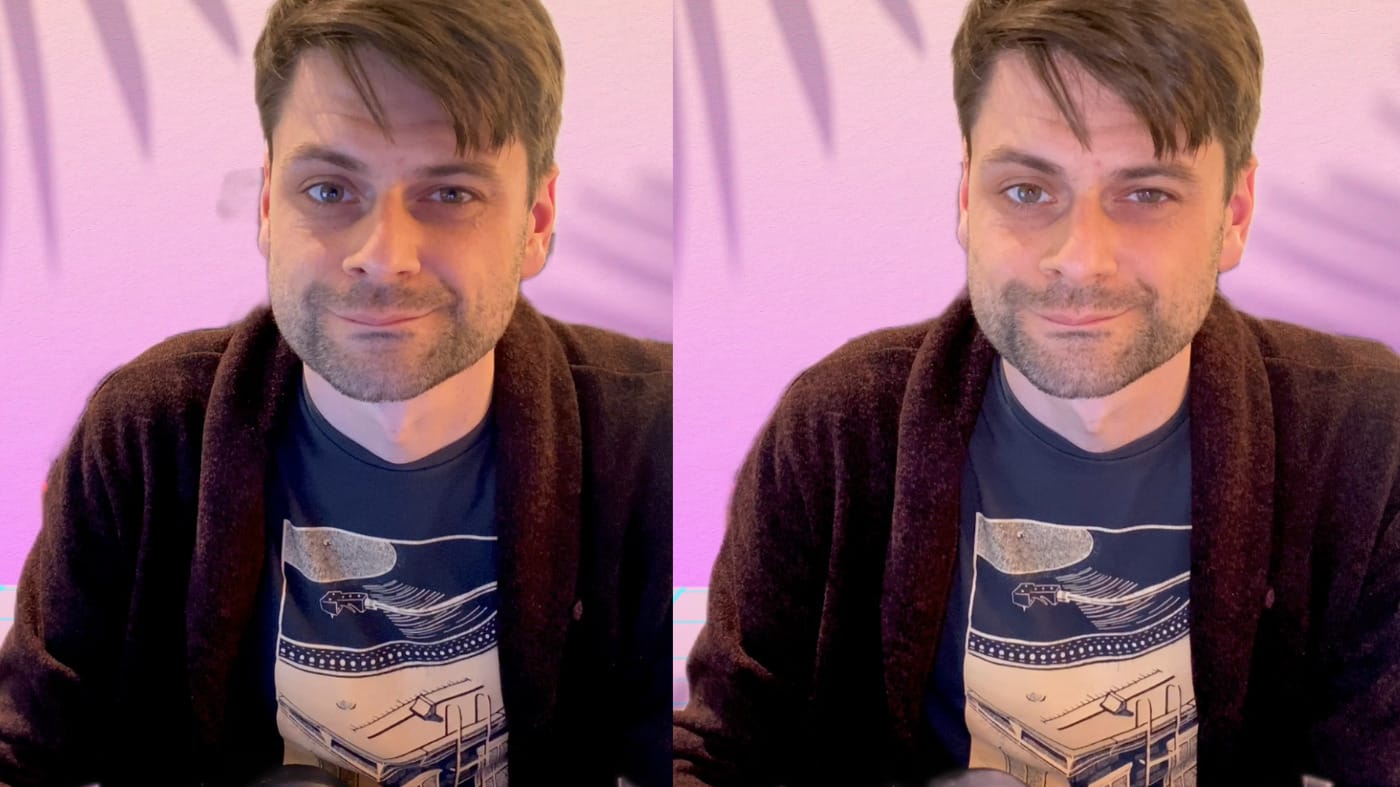 Recently added to Camo is a new filters gallery that features .cube LUT support. Meaning, if you are a photographer and have custom color profiles already configured with your cameras, you can apply them here. Or, you can use creative LUTs and employ a more dramatic look. Conveniently, there is a blend slider for combining a custom LUT against the original image to a more subtle degree. Very nice!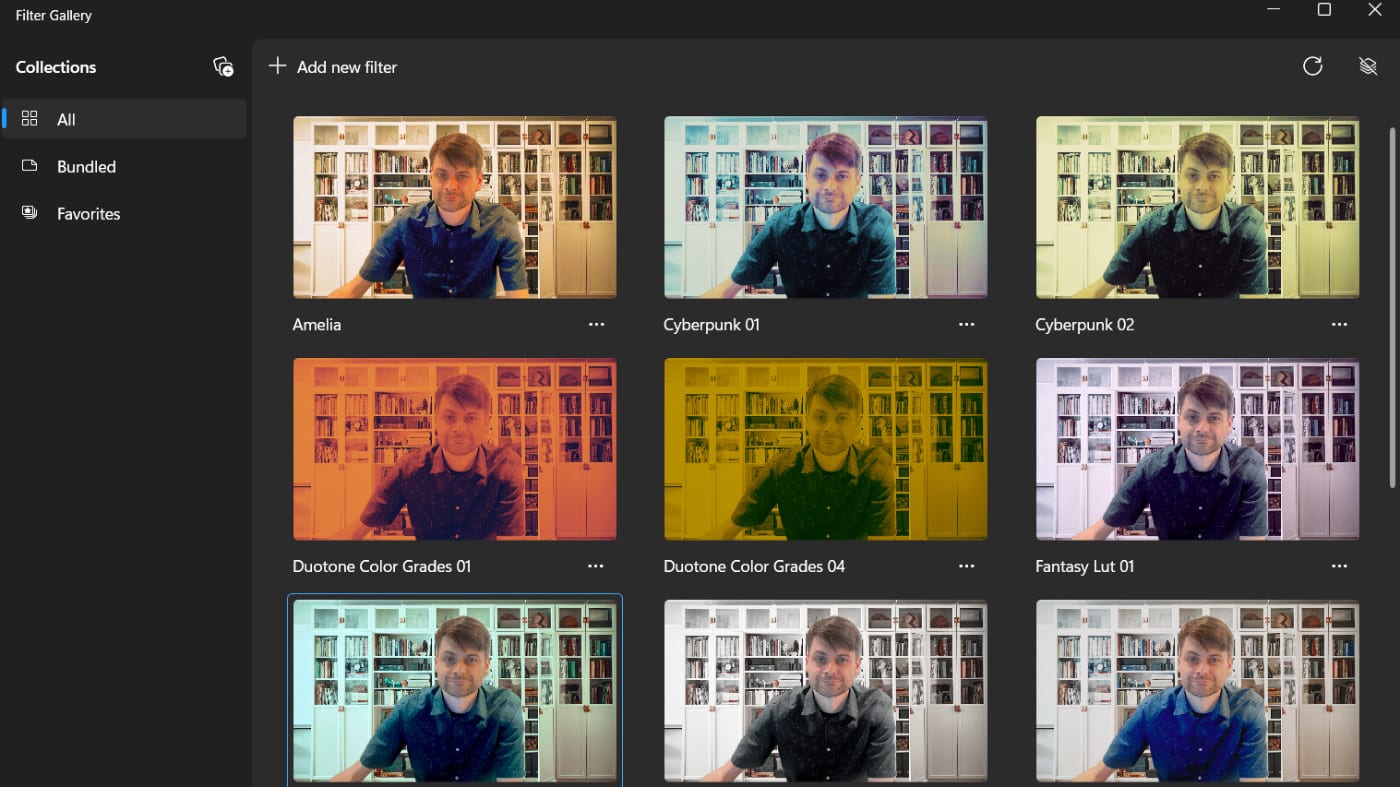 Using Camo for conference calls
Camo Studio interfaces with Windows just like any other hardware webcam, which means it can be used with any video conferencing app.
I used Camo for a slew of Zoom Meetings events planned today and, there were no hiccups moving over to this new application. Simply select Camo as a source within the Video settings panel within Zoom meetings. The output of the Camo Studio application gets sent into Zoom and there was no noticeable latency.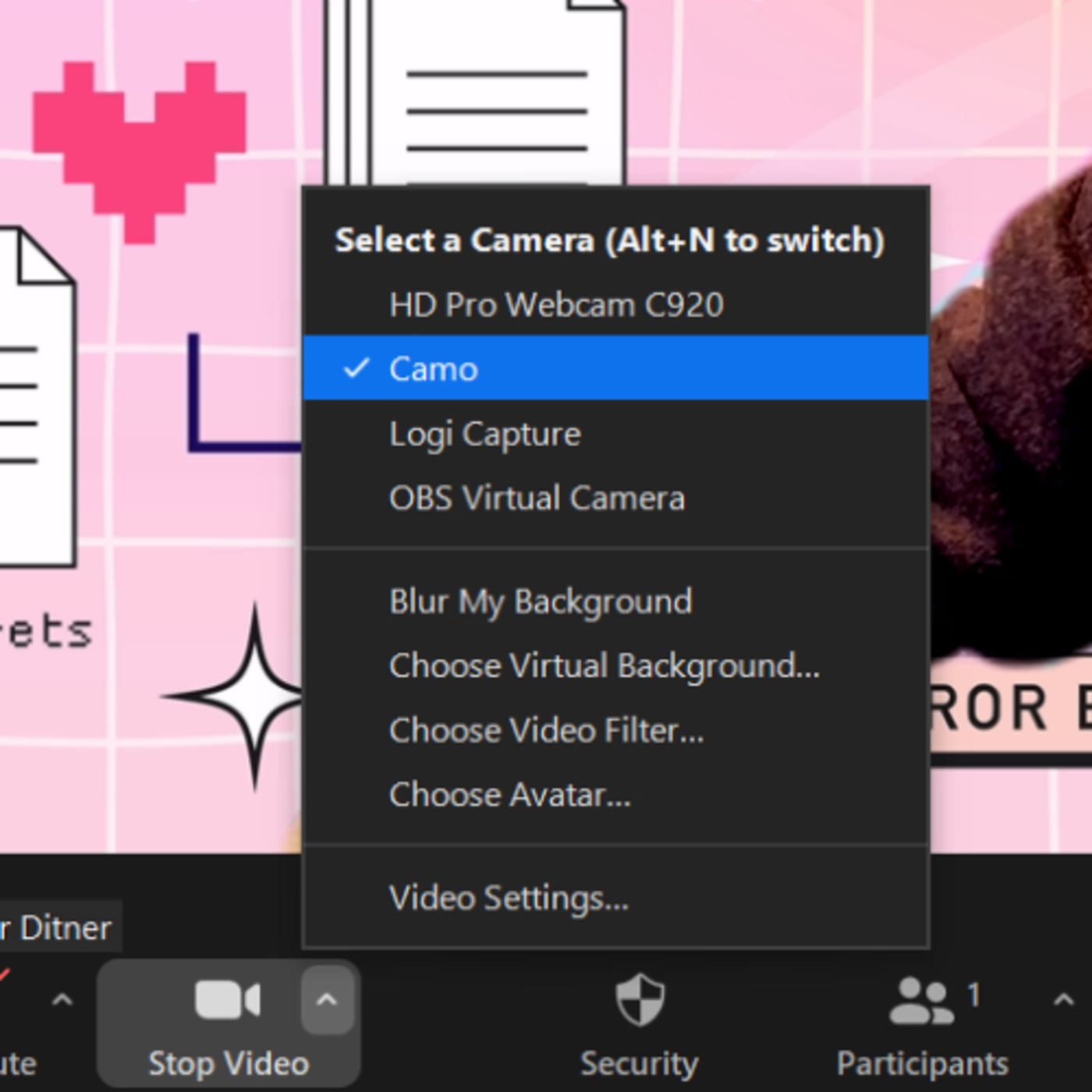 One thing I did notice was the quality of the virtual backgrounds. If I used the background replacement tool within Camo Studio, there was more noise cropping up around my shoulders vs what I was seeing in Zoom. So, I decided not to use the background replacement tool in Camo and instead, used the Zoom setting. There weren't any problems mixing and matching the best settings between apps, since Zoom treated Camo as if it were a regular webcam.
If I have a Mac, can't Continuity Camera do this?
New with the release of macOS Ventura, Apple natively supports using an iPhone as a webcam for this very application. There are even exclusive features like desk view, which have no equivalent in Camo Studio. However, there are some notable drawbacks with Continuity Camera that Camo solves, which includes:
· Both Windows and macOS compatible
· iPhone, iPad, iPod, and Android compatible
· No need to use the same Apple ID on all devices to connect
· Works with web cameras, DSLRs, and just about anything and everything else
· Photo editing style image adjustment controls
Conclusion
Camo Studio is a great utility with many practical uses (and maybe a few gimmicks too). While Continuity Camera or OBS might offer some of the same functionality for free, Camo offers a professional and straightforward user interface that adds overall convenience and stability. With a free, 720p limited version of Camo Studio available, there really is no risk at all to checking out this awesome app.

Other topics you might like