USB-C Dual HDMI 4K Display Adapter
Easily add two HDMI displays up to 4K to any Apple M1 & M2 Mac or computer with a USB-C or Thunderbolt port.
Highlights
Solution: easily solves the one external display limitation of Apple silicon M1 and M2 Macs
Expansive: connect two HDMI displays up to 4K to a single Thunderbolt or USB-C port on any Mac or Windows PC computer for up to four total external displays1
Flexible: choose either Extended or Mirror display modes
Convenient: bus powered via integrated 13-inch USB-C cable for use anywhere
Comprehensive: certified pass-through power delivery so you can fully power/charge your Apple silicon M1 or M2 MacBook Pro or MacBook Air and run dual displays all through a single port2
Portable: about the size and weight of a compact smartphone
Complete: one easy, affordable solution vs costly hassle of multiple adapters and cables
HDMI Pass Through Support: Allows audio signals to pass through the adapter to the connected displays
Worry-free: 1 Year OWC Limited Warranty
Hello Dual-Displays.
Now on your M1 and M2 Mac.
Oh and BTW… it works with USB-C and Thunderbolt Macs & PCs too 😉
When the first generation of Apple Silicon Macs were introduced, we immediately fell in love with the M1 and its ability to rival – and even go faster and run cooler than - higher-end, more expensive pro laptops. With the launch of the M2 and its performance and power efficiency improvements, we were as giddy as any geek unboxing a new gadget. But, our excitement and praise waned considerably when we discovered both the M1 and M2 are limited to a single external display. Since Macs and multiple displays go together like beer and pizza, we knew we had to create a solution to overcome this mega frustration.
Say hello to the OWC USB-C Dual HDMI 4K Adapter. It's the DisplayLink powered solution for expanding your M1 and M2 machine's digital window for easier video editing, seeing more of your workflow simultaneously, or even creating eye-catching digital signage. For the ultimate in convenience, we gave this compact, bus-powered adapter a USB-C power pass-thru port so you can charge/power your laptop. Being the leading dock innovator for Macs, we know you love having ports freed up on your machine!

Wondrous Dual-Displays for All
Besides creating delightful dual-display nirvana with Apple M1 and M2 Silicon Macs, you can easily use this nifty, pixel multiplying adapter with your USB-C or Thunderbolt equipped Mac or PC. Just connect the built-in USB-C cable to your machine, download the DisplayLink Manager application (Mac) or driver (Windows), and bam, dual 4K "Plug and Display" magnificence is yours to revel in.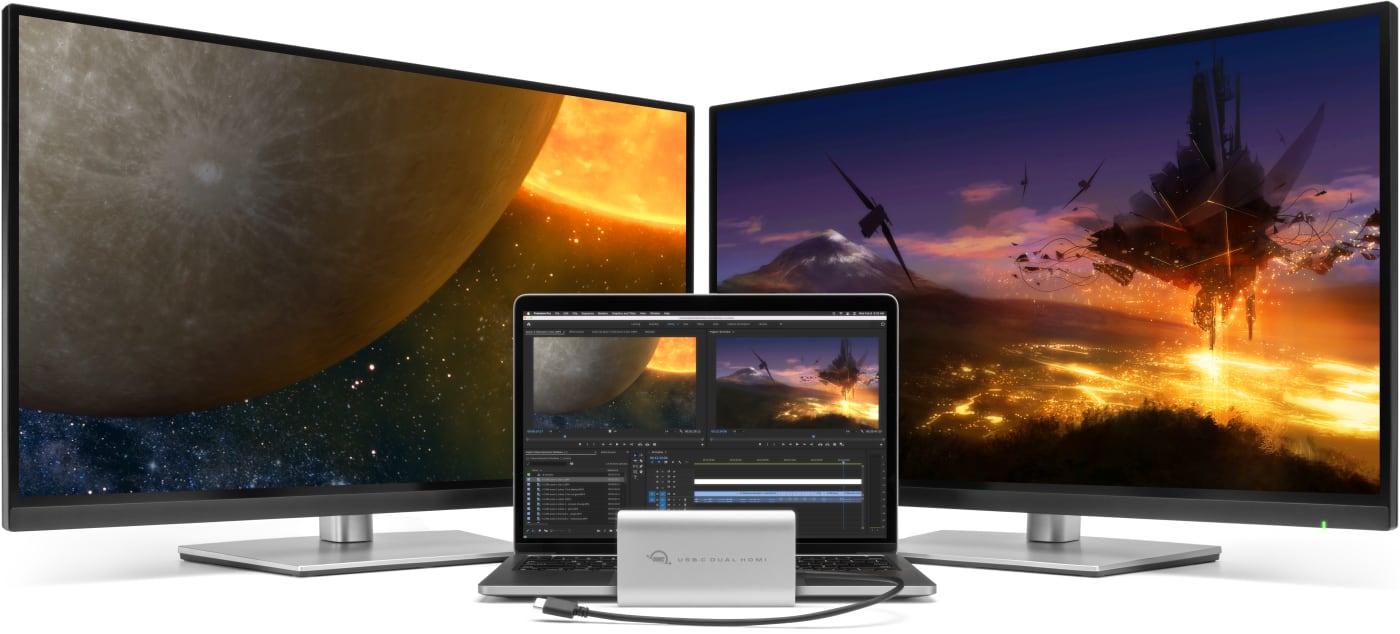 Display-It-All + Power-It-Up
With its compact travel-friendly size and bus-powered convenience, you'll always be ready to wow an audience or a team with your newfound multi-display capability. No longer will you have to choose between power and dual displays, or take up a second USB-C port to charge your laptop — this handy little adapter features a power pass-thru port. Simply plug in your laptop's USB-C power adapter to keep the electrons flowing.

USB-C
Thunderbolt 3
Thunderbolt 4 / USB4
M1 +M2 + Intel + Mac + PC
Universal compatibility means one great glorious thing — if your port matches the plug, you're all set. You don't have to fiddle around to see if you have the right interface, the correct port, or the correct cable.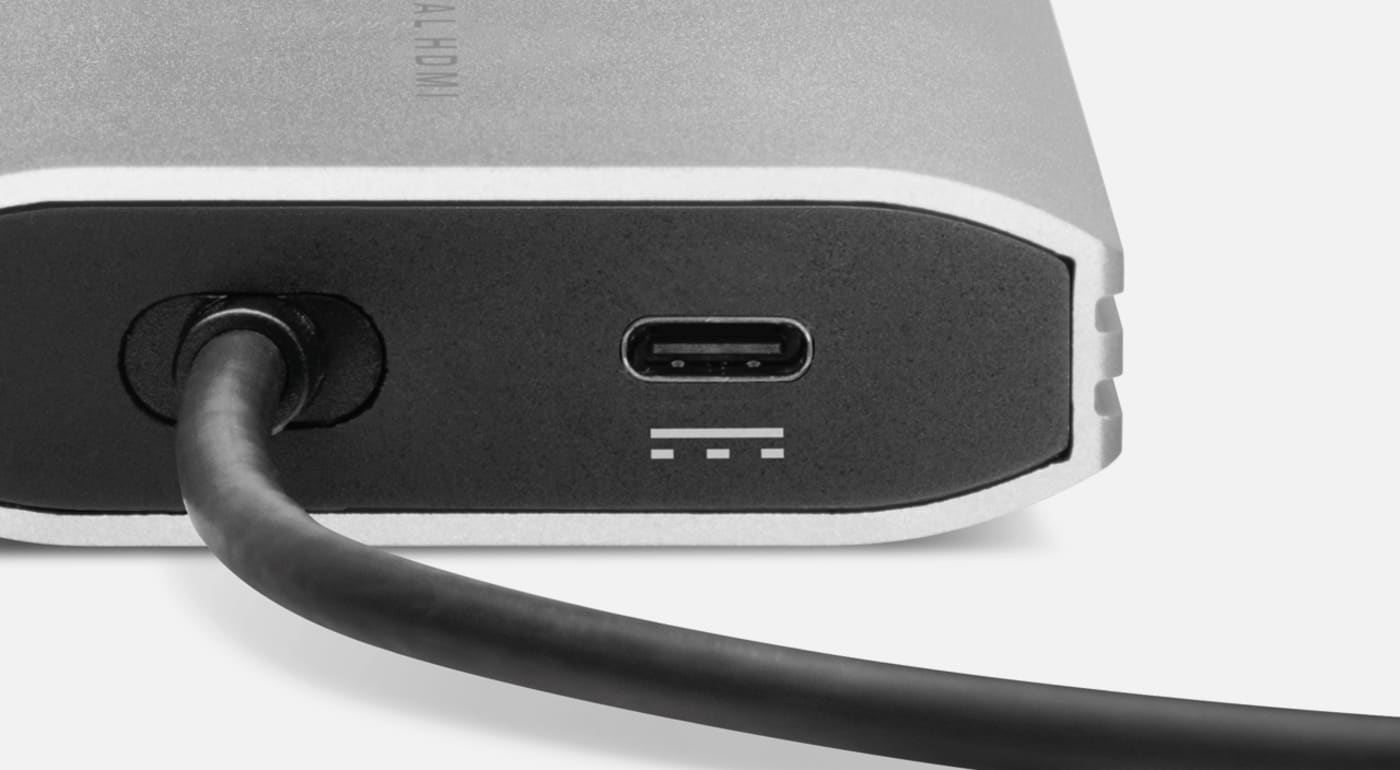 Charging convenience is yours with the USB-C power pass-thru port. Simultaneously charge your Mac or PC laptop while driving dual displays.1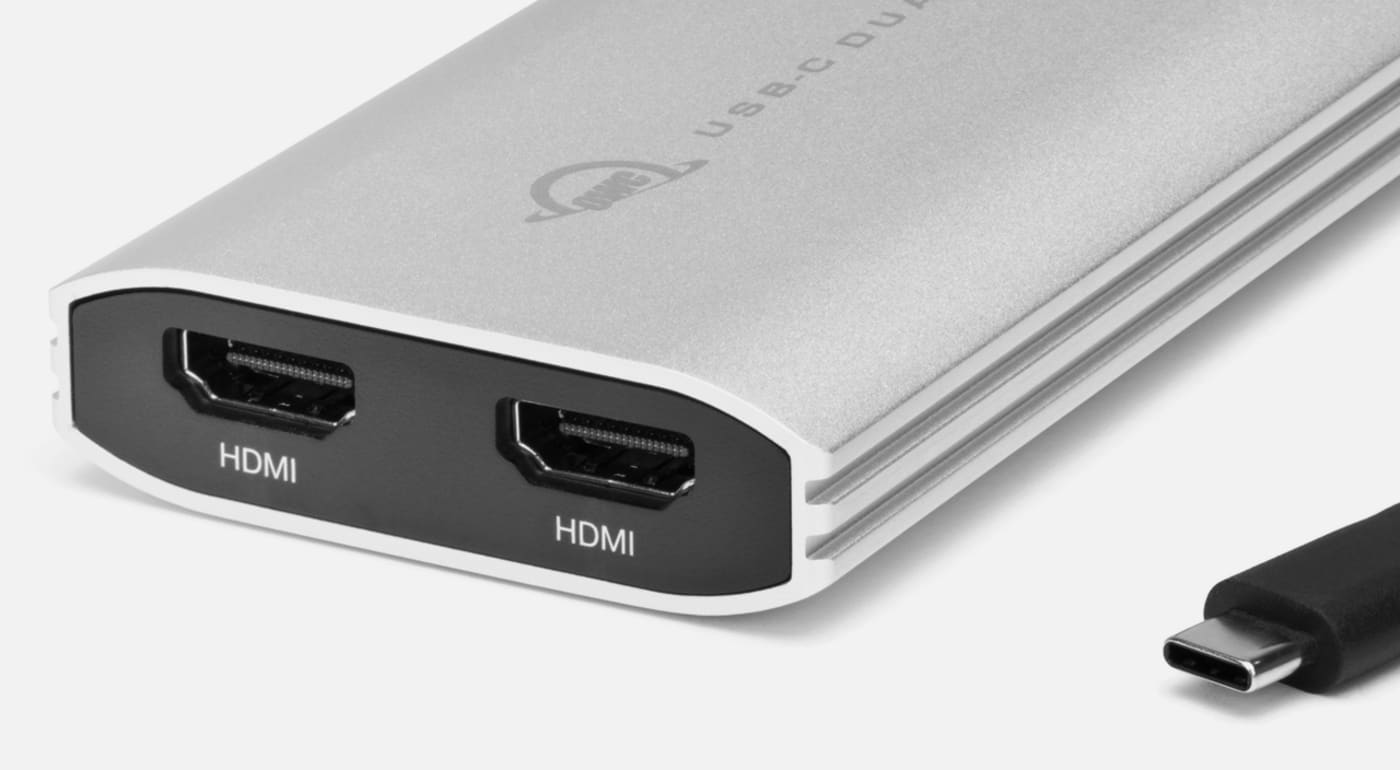 Connect up to two 4K displays, or add a second adapter to add up to four displays, and launch your display capability into the stratosphere.2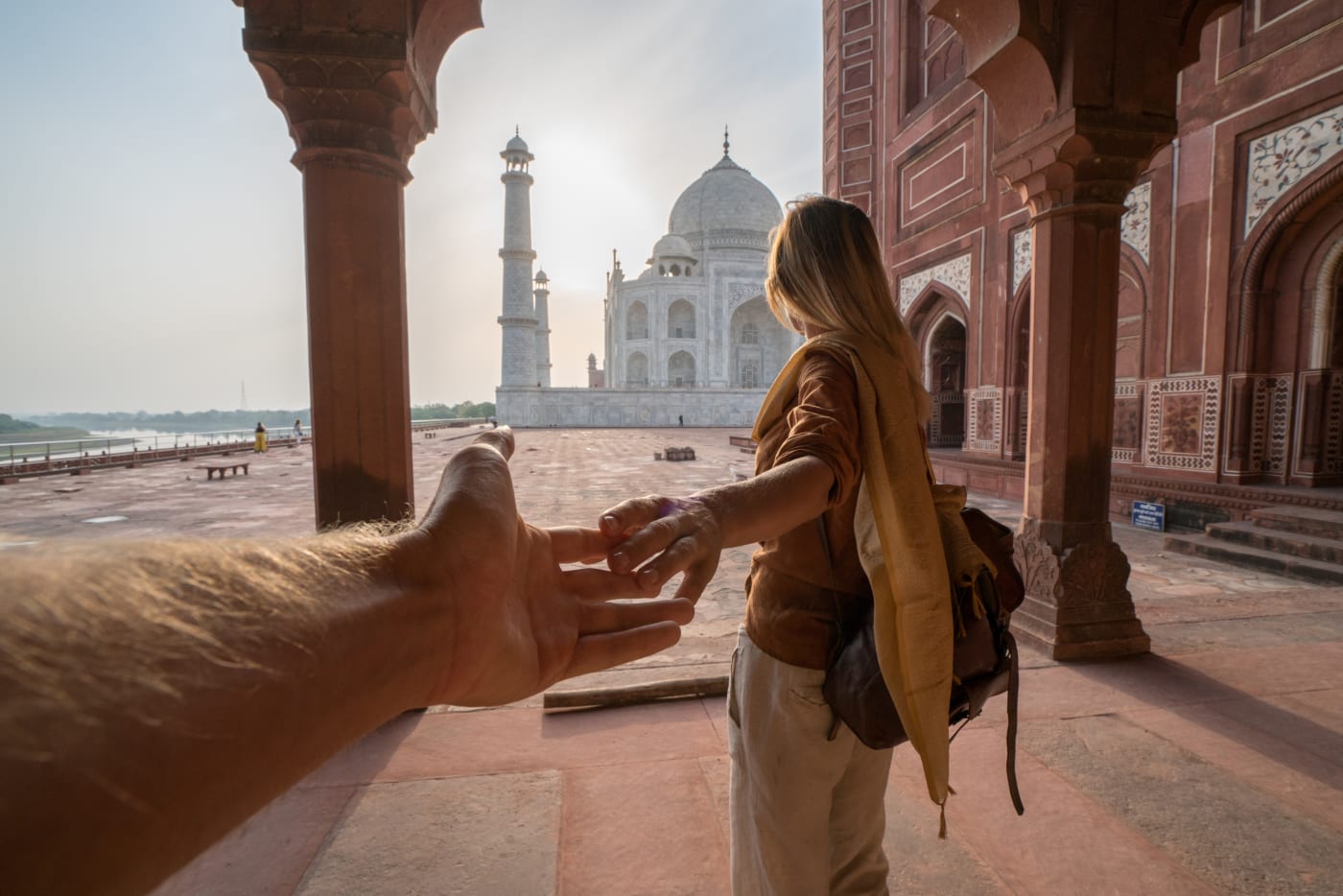 Planetary Exploration Encouraged
Take dual-display capability wherever you may roam, be it on the other side of the world, living the BYOD (Bring Your Own Device) life with clients, or nestled into your creative workspace dreaming up your next. About the size and weight of a compact smartphone, the OWC USB-C Dual HDMI Adapter hides away in bags, pockets, and camera packs, and tucks neatly out-of-sight at your workstation. Wherever your adventures take you, plugging dual displays into your Mac or PC doesn't get any easier.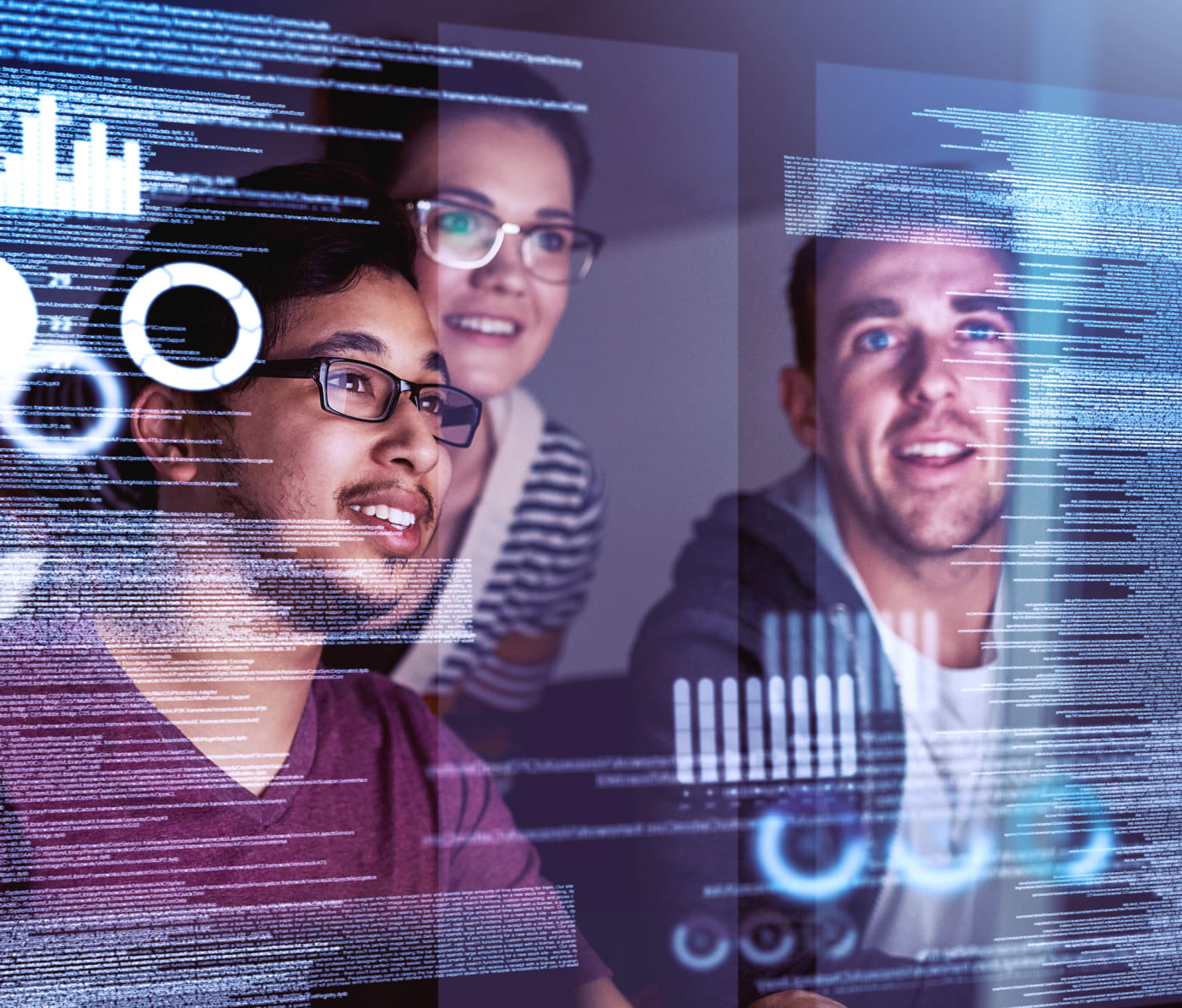 Pro Maestros
For pros, it's all about the workflows to gain that competitive advantage. When you become a pixel-pushing dual-display maestro, everything just gets more efficient. From working all-at-once in multiple programs like Photoshop, Final Cut, DaVinci Resolve, Logic Pro, Sketch, and Affinity Photo, to viewing all your Internet "research" – Calvin and Hobbes micro-breaks are part of well-balanced workflow, right? – you'll be project-hopping, app-swapping, and producing with greater ease than any single-display workflow can achieve.
And when it comes time to share all your awesomeness, what better way to collab with your team than having a vast digital window to showcase it all? You'll have room-a-plenty to riff ideas, travel multiple paths, and expand on your concepts with ease.
Influencers
Expand your followers with more digital space to edit, find, and respond to content, comments, mega fans, and if you must… trolls. Not the ones that live under bridges and in caves, the much-much worse online variety. 😀
Keep tabs on ever-important social media vitals to keep the posts, reposts, views, and likes flowing. All that extra display space expands a new world of content creation workflows so nothing will hold you back from enrapturing your audience with stunning videos, photos, and content. After all, when you're living the social life, you deserve the display capability to match.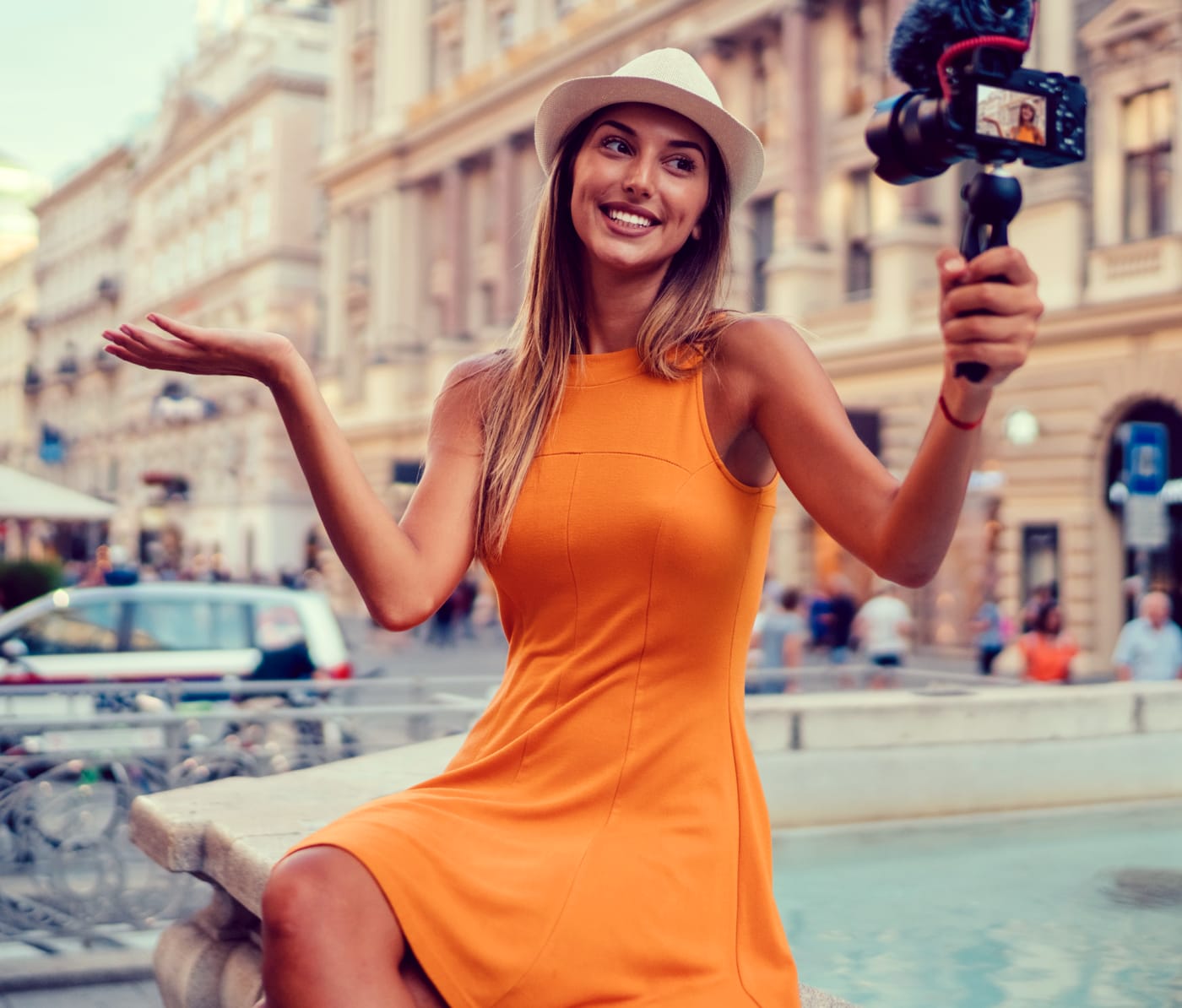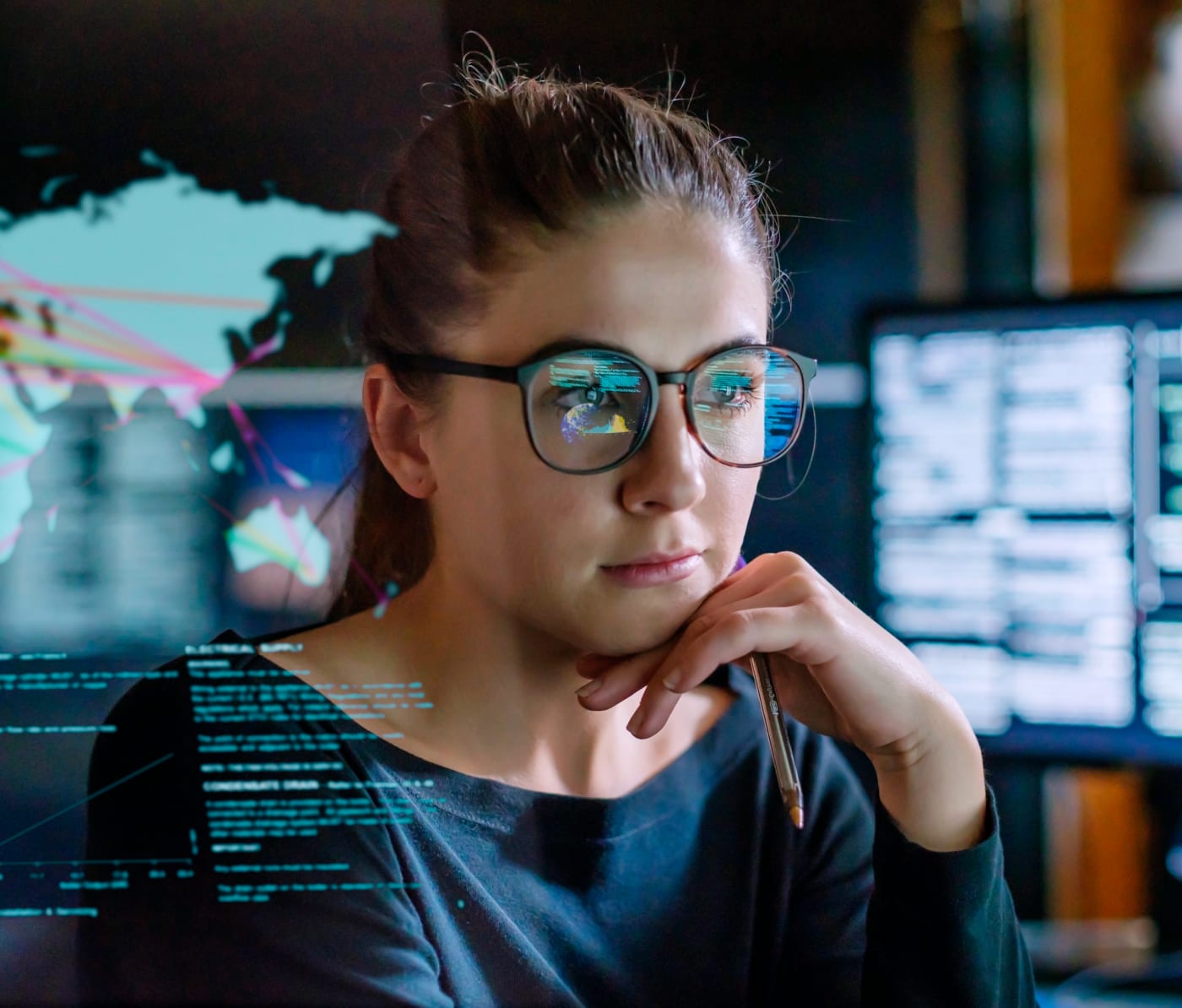 Next-Level Learning
You may be light on desk space, but you don't need to be short on pixels. Go next-level on learning with expansive digital real estate to dive so deep into lessons that you'll need to wear flippers. Take detailed notes which no ink and paper could keep up. Immerse yourself in the details and subtleties of videos and imagery only large displays provide. And make all the pirates jealous with your treasure trove of research docs.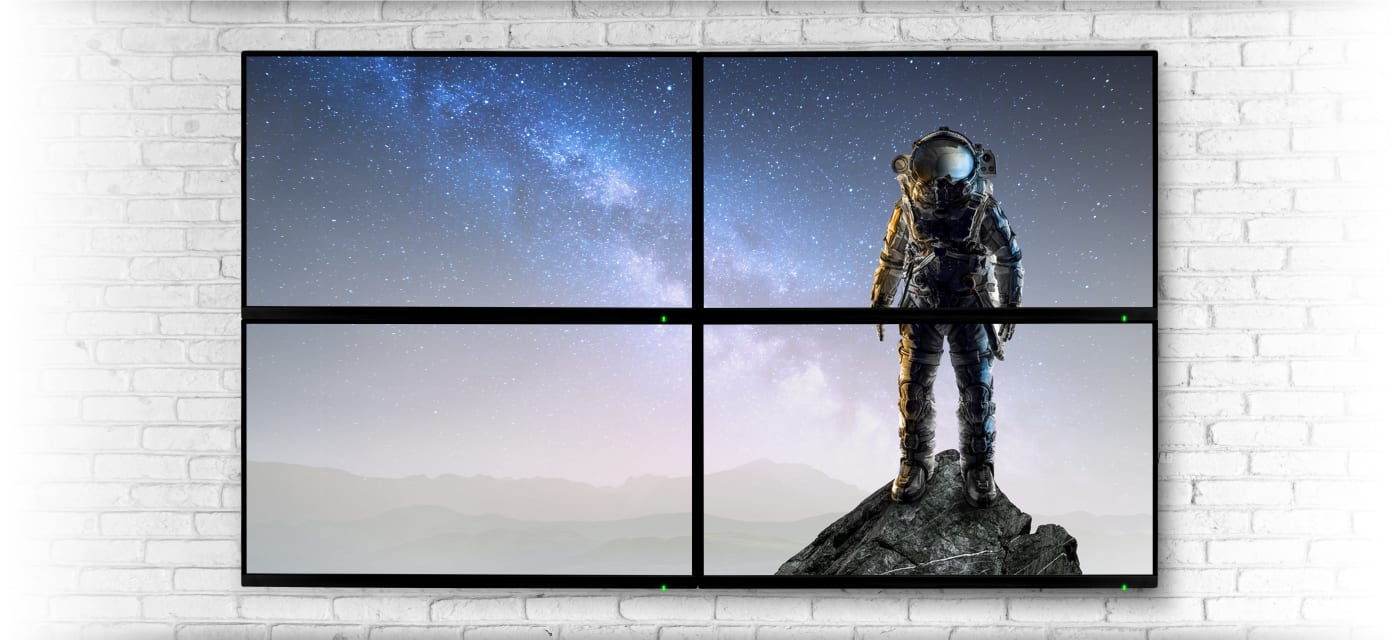 4… 3… 2… 1…
Launch your digital display capability into the stratosphere. Analyze multiple data sets for intensive research projects. Create a lasting impact with digital display signage at an event, in your store, or restaurant. Or give a dull lobby a punch of pixels with a welcoming digital showcase of your company's accomplishments. It's easy to enhance your digital window to the world by utilizing a single OWC USB-C Dual HDMI Adapter for a dual display experience. Or connect an additional OWC USB-C Dual HDMI Adapter to your Mac or PC to really push the pixels with three or four displays of glorious digital real estate.2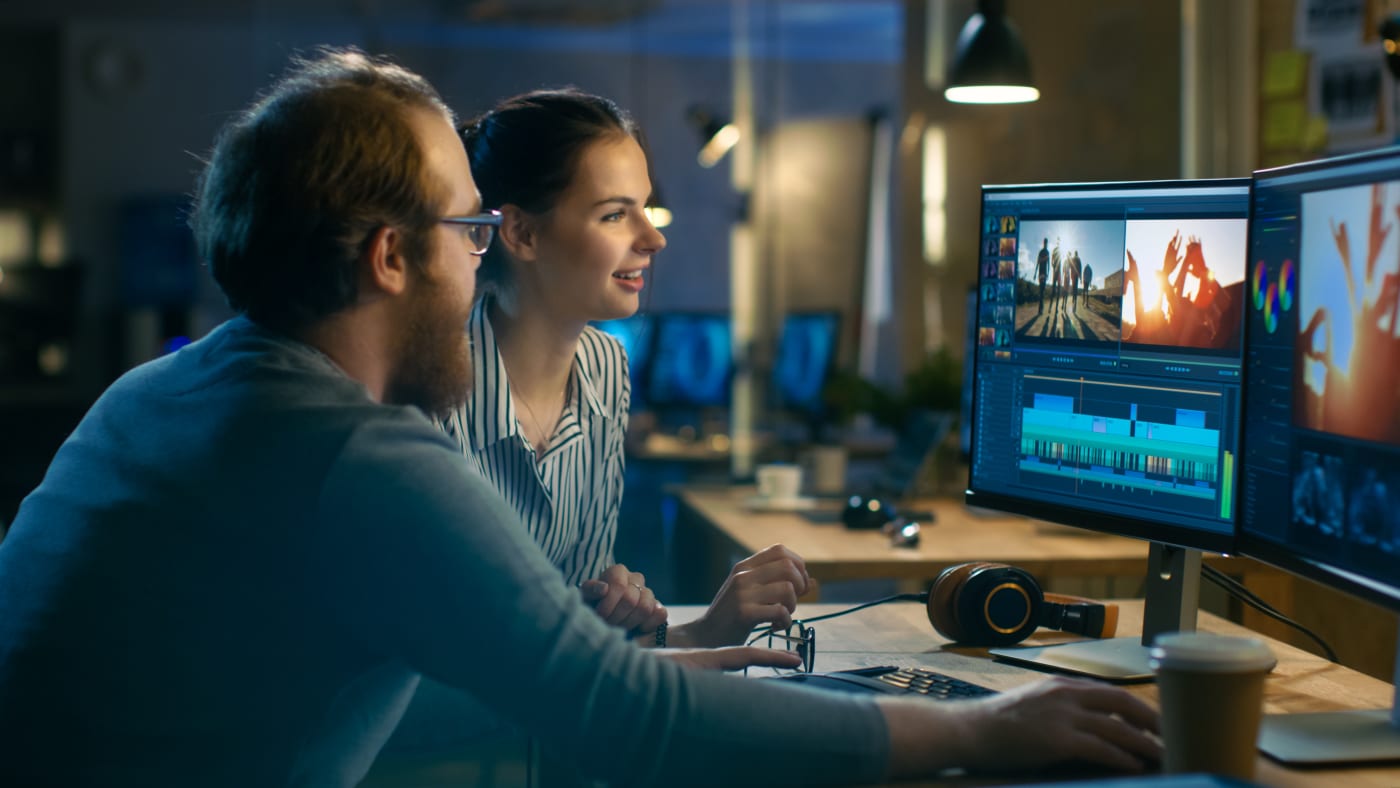 Suddenly… You Have More Time
Take advantage of expansive dual-display capability to realize productivity gains up to 35%.3 With all that extra time, you could take your kids to that new neighborhood park they've been begging you for the last few weeks. Take the dog for a well-deserved frolic on the town. Or sit down to enjoy the mental benefits of mindful meditation listening to your favorite tunes.
Or heck, take all that extra time from utilizing dual displays to explore your design more, push the envelope on your photography, hone your storytelling, connect-the-dots with your mad number crunching capabilities, or run more security ops. After all, it's up to you on how you'll take advantage of all that newfound time. We'd vote for a balance of both fun and work — but mostly fun.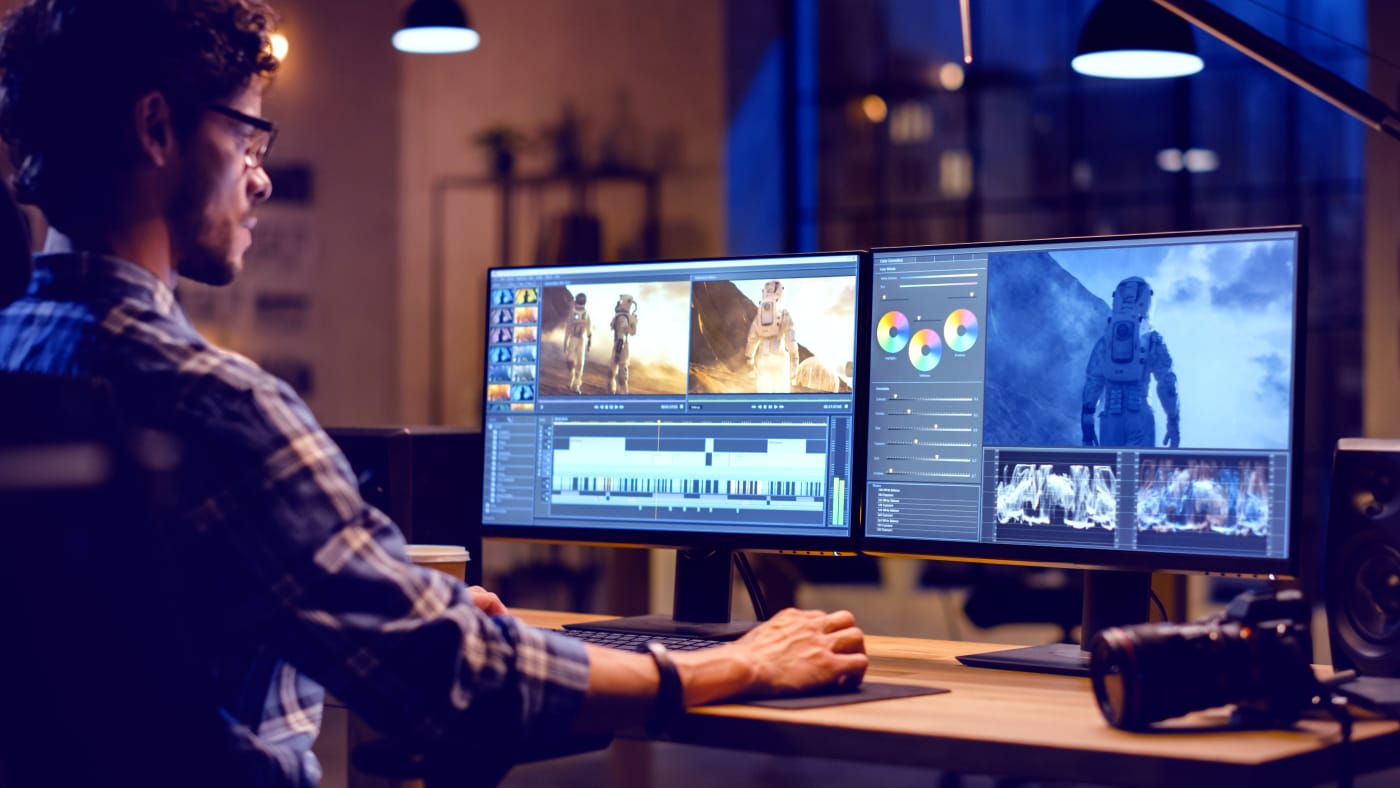 Less Errors + A Happier You
Go beyond improving productivity with a dual display workflow. Multiple research studies4 have found you can reduce errors by 20% and experience a 91% increase in your job satisfaction.3 Less errors. Less revisions. Faster turnaround times. Happier clients. Happier you. Imagine that. 😀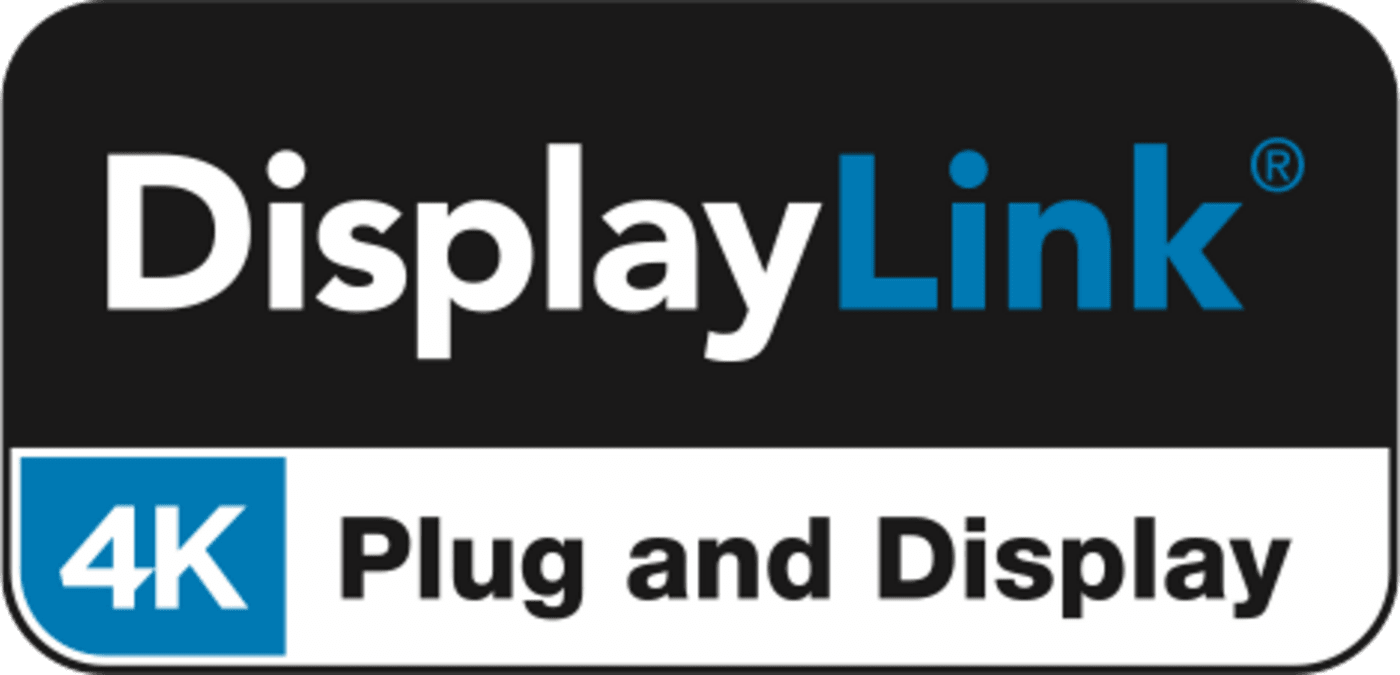 DisplayLink "Plug and Display"
Add displays to your Mac and PC with ease. Use any existing display, connect it to your adapter, install DisplayLink software, and plug it into any USB port.
Total power delivery dependent on capability of attached USB-C power adapter.
Apple M1 Mac mini and Intel based Macs can support up to four total external displays. Other Apple M1 Macs with a built-in display can support up to three external displays.
2017 Fujitsu Siemens Computers "Office 21" research results of users going from two displays to three displays.
Studies by the University of Utah and Wichita State University found dual displays reduce errors by 20%, increase job satisfaction 91%, and make work less stressful.