OWC Aura Pro X2
Gives you 16x more storage (up to 2TB) and up to double the speed of the original drive so you can keep your Mac running optimally for years.
Blazing Fast And Super Cool
Performance that thrills: Up to twice as fast as the original SSD

Up to 3200MB/s1 read
Up to 2400MB/s1 write

Room to spare: Up to 2TB, 16x greater capacity than original SSD
Less is more: Consumes less power and runs cooler than earlier models
Feels like home: Same Mac, faster SSD, your keyboard, your stickers and the ports you need
Revival of the fittest: Speed and stamina for years to come
Keep On Innovating
If storage is tight, there's no reason to ditch the Mac you know and love. Aura Pro X2 combines speed, stamina, and efficiency that will change the way you experience your Mac. With read speeds reaching over 3200MB/s1 and write speeds of 2400MB/s1, the Aura Pro X2 is up to twice as fast as the original SSDs, delivering performance on par with the latest models. It runs cooler and consumes less power than earlier SSD models, so you can run at peak for longer than ever.

Maintain Your Edge
When it's go time, getting off the line and maintaining a high level of performance are equally important. Aura Pro X2 is engineered with advanced SLC caching, providing instant full-speed write acceleration, meaning those media projects and games stream fluidly and respond without lag time. You might even forget what that beachball looks like.

Continuous Compatibility
Aura Pro X2 is designed for the latest macOS versions (macOS High Sierra 10.13 and later), taking full advantage of the advanced features of APFS including: strong encryption, copy-on-write metadata, space sharing, cloning for files and directories, snapshots, fast directory sizing, atomic safe-save primitives, and improved file system fundamentals.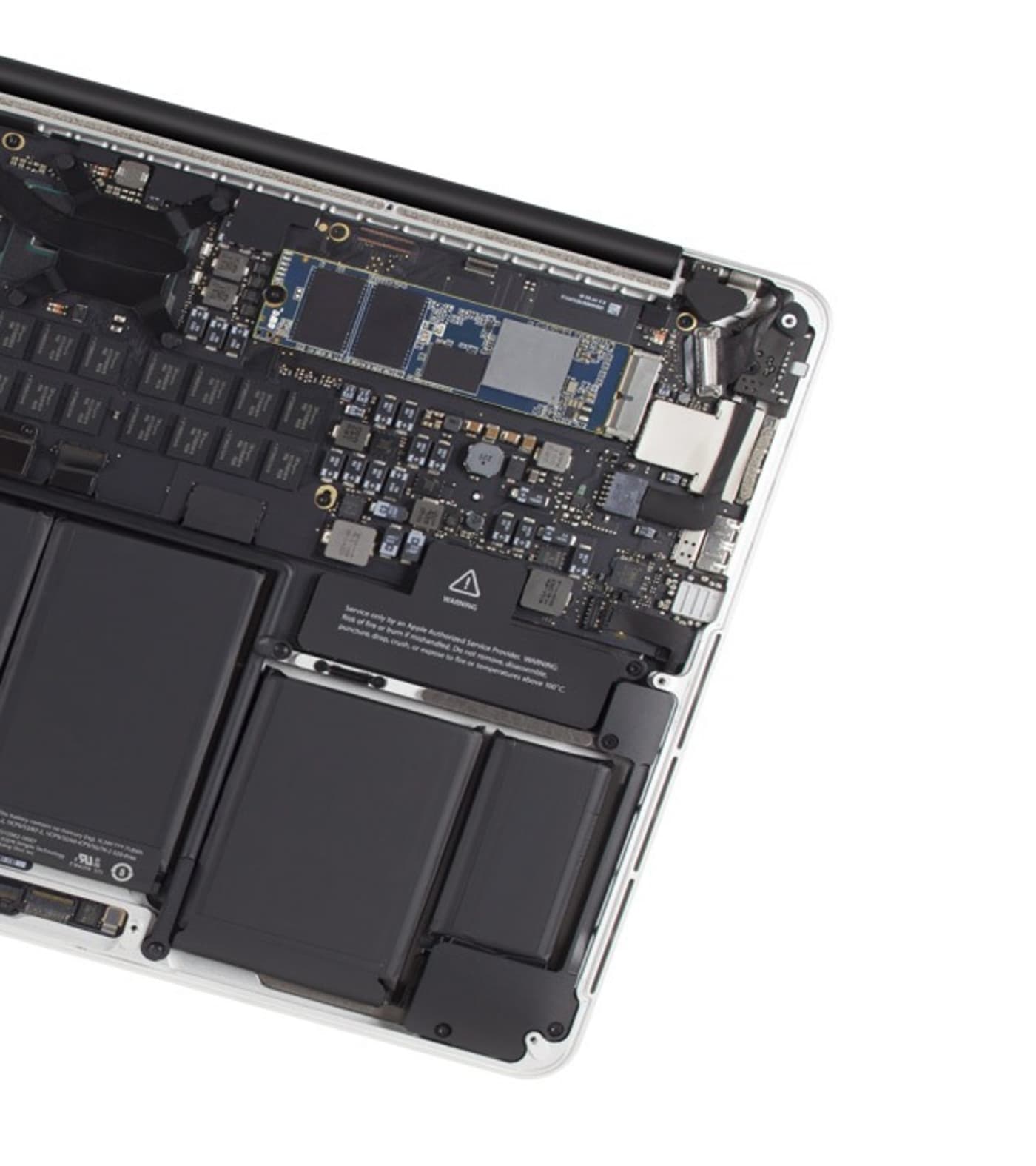 Right-sized For Work And Play
The smaller stock SSDs for Mac can fill up quickly, especially with photo and video files, games, or even your email. Aura Pro X2 SSDs are available in capacities up to 2TB, giving you more space to work and play. Newly calibrated to use less power and run cooler, Aura Pro X2 is the best way to upgrade your PCIe equipped Mac.

No Hassles Or Hacks Compatibility
Aura Pro X2 SSD upgrades are precisely engineered for your Mac, so you'll never need to compromise your data by relying on complicated software hacks or TRIM-enablers to get the most from your upgrade. Just install, migrate your data, and enjoy the great performance of flash storage with up to 16x the capacity of the original drive.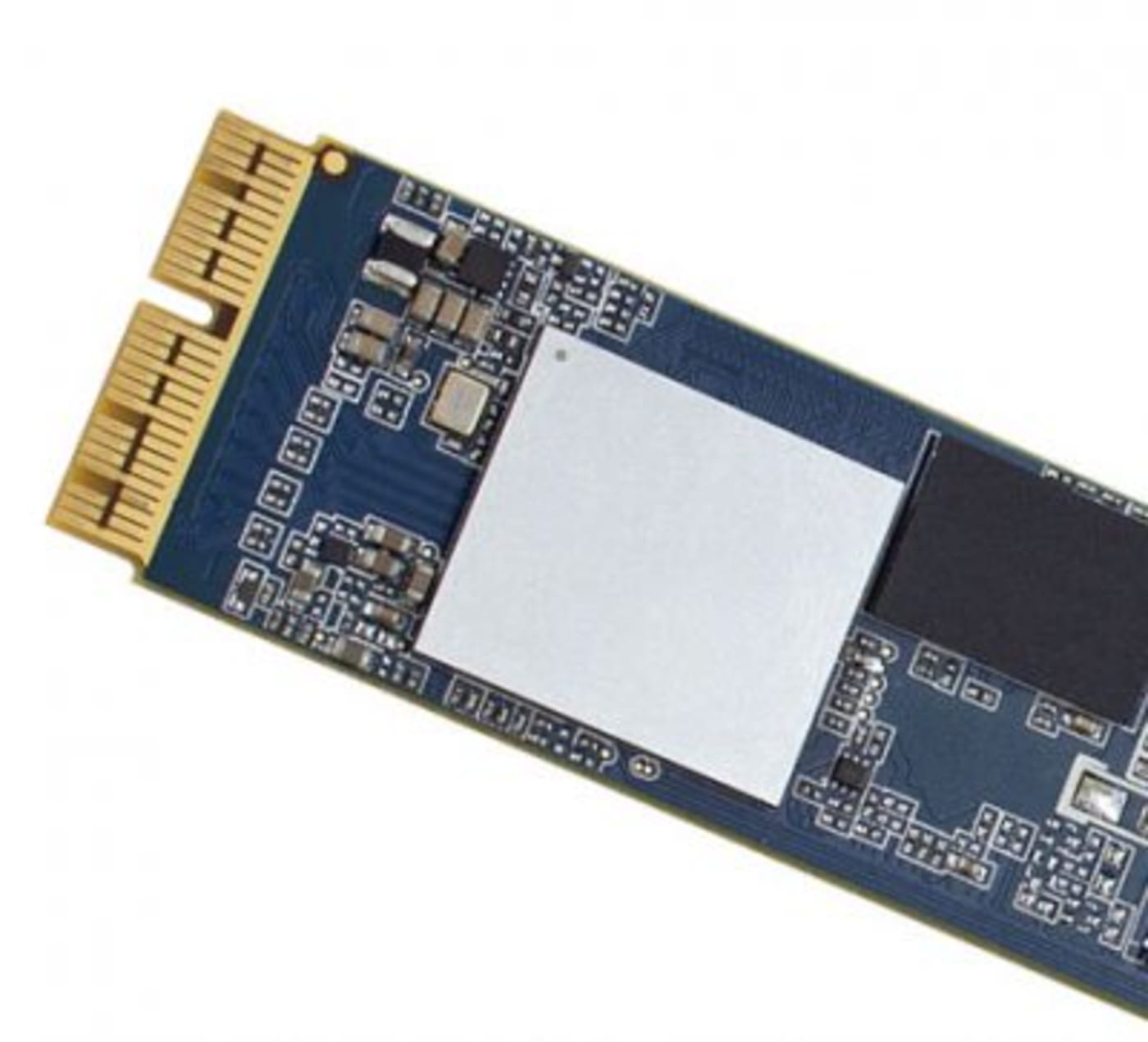 High-performance + High-style
Your upgrade should be a seamless experience. That's why Aura Pro X2 upgrade kits come with Envoy Pro, the beautifully designed, high-performance SSD enclosure to reimagine your original drive.
When you remove your original SSD, it fits perfectly into Envoy Pro so you can transfer all your data to the new Aura Pro X2 inside your laptop. Once the file transfer is complete, enjoy using your Mac's original SSD as a fast, external USB drive with transfer speeds up to 426MB/s1.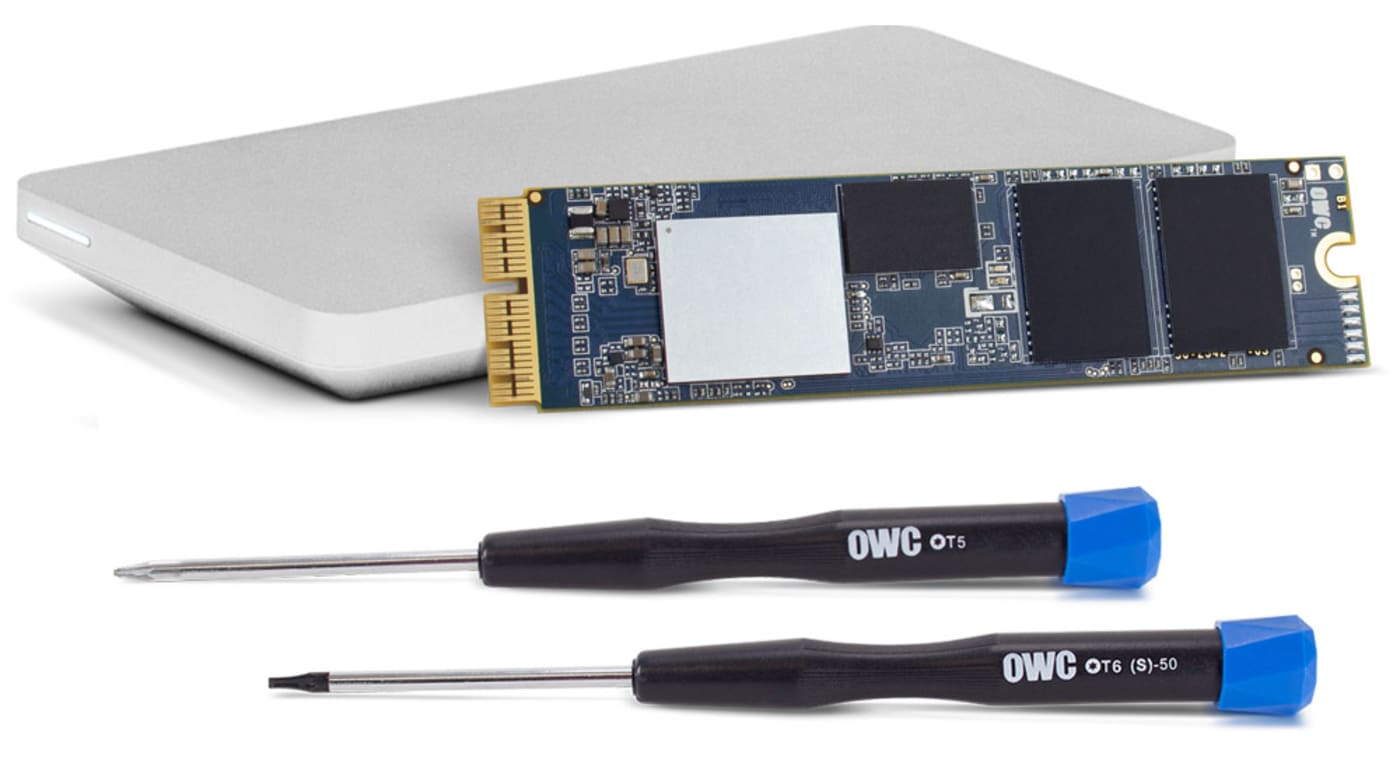 The factory-installed SSD and Included Envoy Pro Enclosure
7% Over Provisioning
OWC SSDs perform maintenance tasks in the background that optimize the health, performance, and endurance of your drive. These jobs take advantage of available, unwritten areas on the SSD. Aura Pro X2 storage reserves 7% of the overall capacity as free space. Always. With this allocated free space, Aura Pro X2 SSDs can perform these normal maintenance tasks making your drive more stable, dependable, and ultimately a safer place to store your data.

Actual performance may vary depending on host computer, environment, and use conditions.
The Aura Pro X2 is a high performance PCIe 3.1 x4 NVMe SSD capable of performing in excess of 3000MB/s in Macs with PCIe3.0 x4 SSD slot. Performance can vary depending on many factors, including the Mac model and its drive bus specifications.
Read/write (max) performance numbers are based on testing with AJA System Test (4K-Full resolution, 64GB file size, 16bit RGBA codec) on a Mid 2015 MacBook Pro (MacBookPro11,4).
The Mac must be upgraded to macOS 10.13 or later prior to removal of the original SSD and installation of Aura Pro X2 SSD.
Not compatible with Apple Boot Camp on MacBookPro11,1 or MacBookAir6,1 or MacBookAir6,2.