Accelsior 1M2
Lets performance upgraders, system builders, and server admins add their choice of PCIe M.2 SSD to create a speed boosting, capacity expanding solution.
Welcome To The Fast Lane
Test-certified: Verified compatible with Mac Pro 2019, as well as Mac Pro 2012/2010 machines and PC towers
OWC Aura SSD-powered: Advanced NVMe technology for over 3400MB/s real-world speed1 for bandwidth-heavy video, audio, photography, and design
Store more: Adds capacity for critical footage, images, files, and games
Bootable: Start working and launch apps in seconds2 
Play better: Experience immersive, stutter-free game play 
Cool: Aluminum alloy heat sink for silent, throttle-free performance
Slot-powered: No extra power cables needed
Versatile: Installs into x4, x8 or x16 PCIe slots
Plug and play: No drivers needed
Worry-free: up to 5 Year OWC Limited Warranty
The Accelsior 1M2 is a Plug and Play PCIe 4.03 x4 NVMe SSD storage solution. Boost the speed and expand the storage/backup capacity of your Mac Pro 2019, Mac Pro 2012 and 2010, or PC tower in seconds. Add a new world of performance-maximizing capabilities to your machine, so you can enjoy:
Near instant start-up and app launch
Real-time processing on intensive transfer tasks like multi-stream video editing
Shorter render, capture, and process times in video suites like Adobe Premier, Final Cut Pro/Pro X, DaVinci Resolve, and Avid Pro Tools 
Quicker photo and audio production capabilities in platforms like Adobe Photoshop, Lightroom, and Apple Logic Pro X 
Faster game level-loading, responsiveness and save times
More years of productive use from your machine
Do It In Real Time
When your upgrade goal is to make your machine as fast as possible, the Accelsior 1M2 is the answer. It utilizes an open PCIe slot in your Mac Pro or PC to deliver the thrilling speed advantage of an NVMe PCIe SSD — giving you maximum reliability at a budget-friendly price-point. It's Plug and Play ready to put you in the fast lane of pure, uncompromised storage performance.
Powered by the Best, So You Can Be Your Best
At the heart of Accelsior 1M2's mind-blowing power is an OWC Aura SSD that's been engineered with fail-safes, so you can increase longevity and preserve the best consistent performance from your device. Write-intensive workflows will never be the same. From running double checks on data and correcting errors to ensuring the uniform use of its flash media, the Aura-based Accelsior 1M2 is a stable, dependable, and safer place to store your precious data.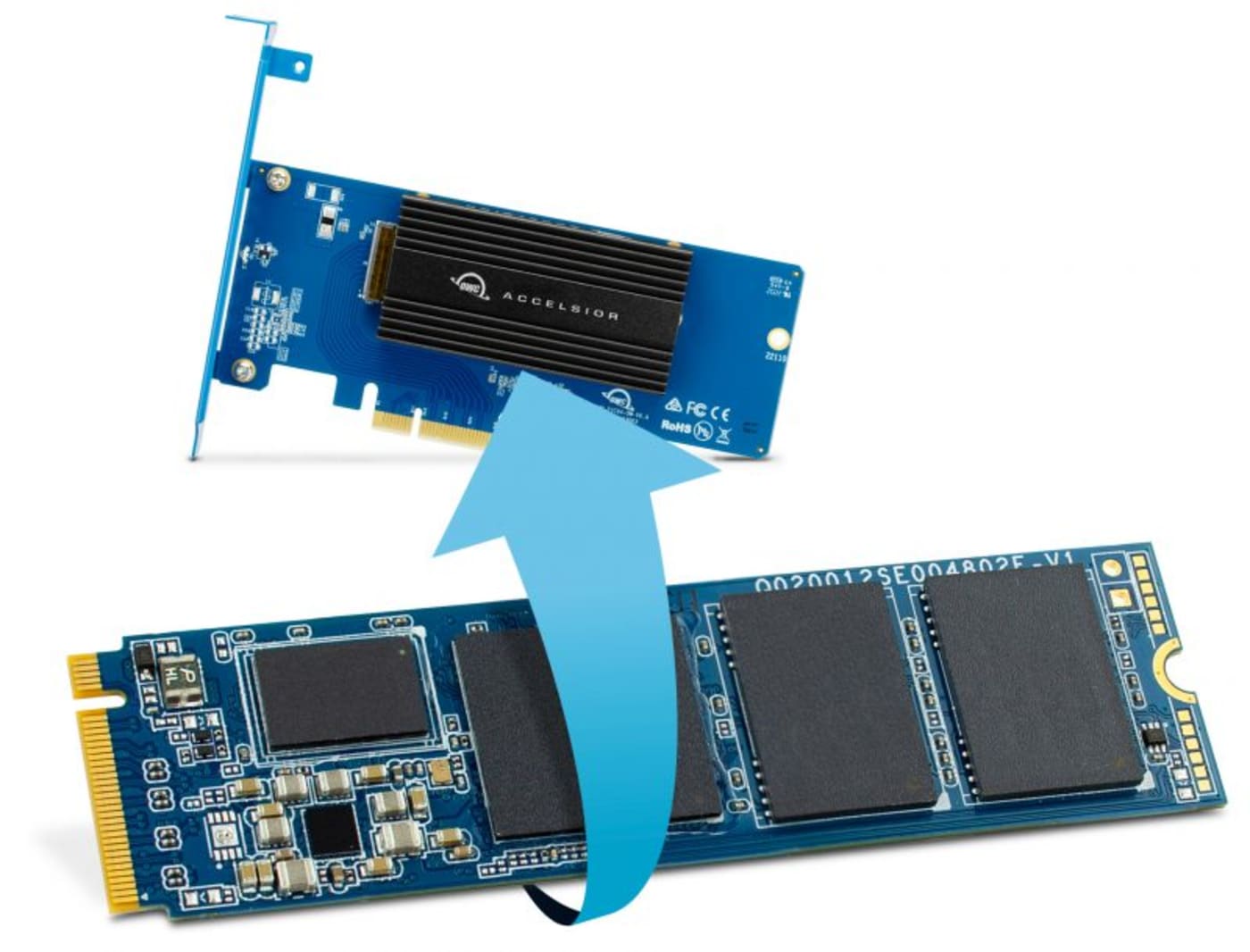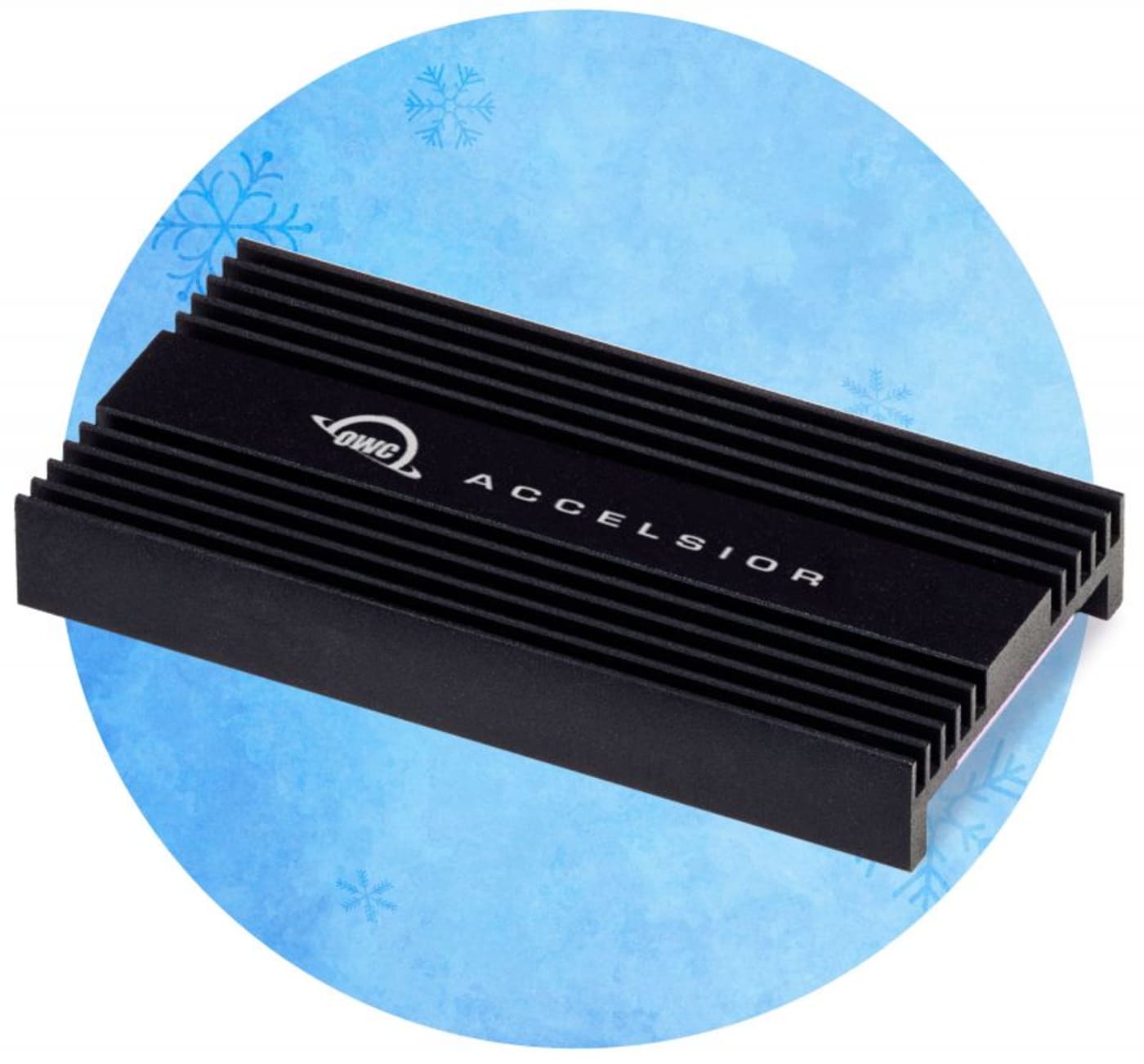 Keep Your Cool, Silently
When deadlines and workload pressures start to mount, the Accelsior 1M2 helps you keep your cool. An industrial quality black aluminum alloy heat sink with deeply grooved fins keeps the Accelsior 1M2 performing silently so you can stay chill and focused in even the most challenging environments.
The Performance Advantage Of Nvme
Non-Volatile Memory Express (NVMe) is a communication standard specifically built to optimize the performance of modern flash technology. Using it enables the Accelsior 1M2 to deliver significantly faster SSD performance than an SSD that's still using the old SATA interface — a communication protocol that was originally designed for hard disk drives. Instead of tinkering around with slow-performing SSDs, you can shift your workflow into the fast lane with Accelsior 1M2.

OWC NVMe SSD with over
3400MB/s
real-world speed1

OWC NVMe SSD with over
550MB/s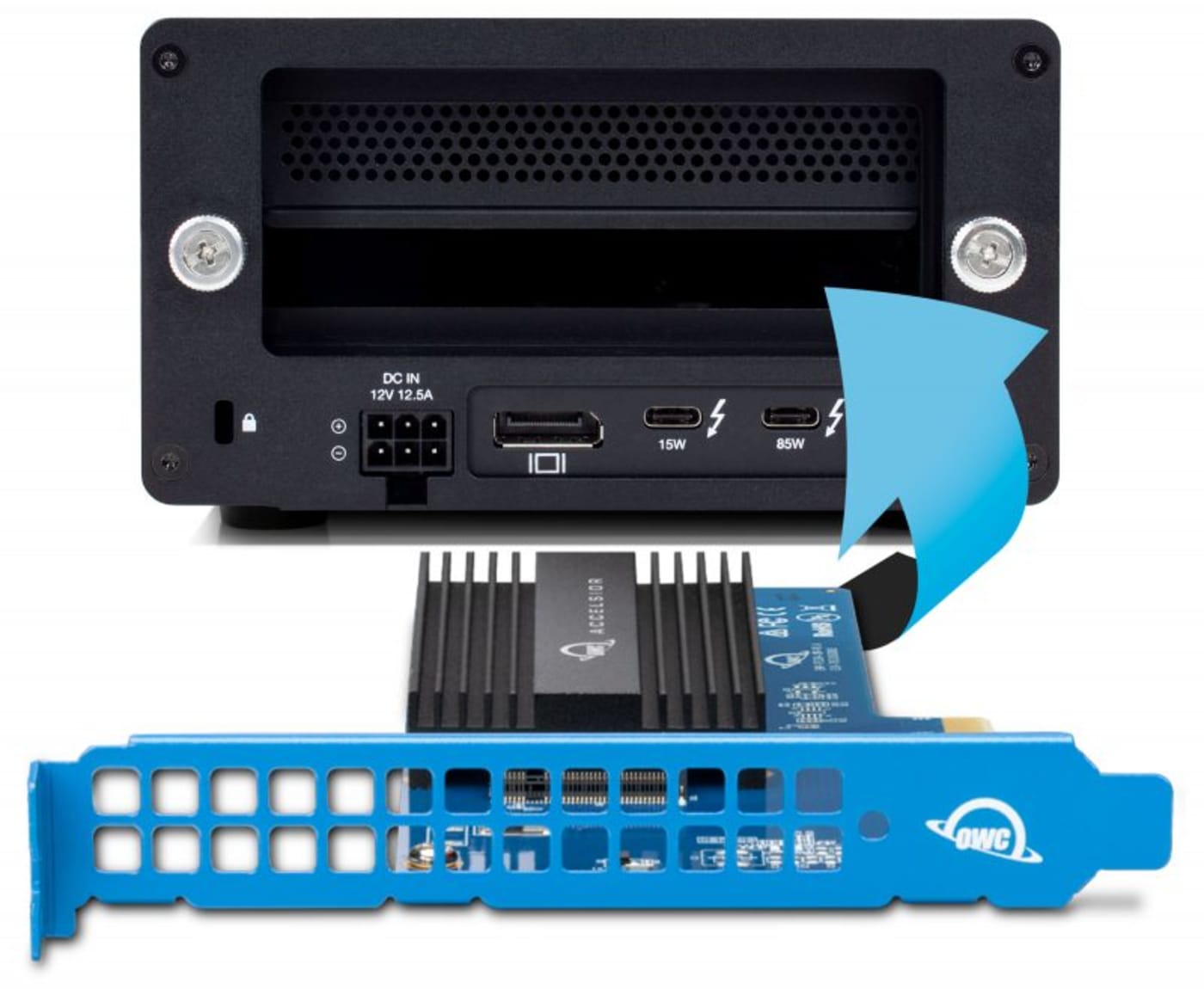 Perfect Inside Or Out 
Meet the is a perfect performance drive upgrade for a variety of full-sized and small form factor computers. Accelsior 1M2 supports PCIe 4.0 and earlier motherboards, and it is able to plug into x4/x8/x16 PCIe slots.
No open or compatible PCIe slot? No problem! As long as your computer has Thunderbolt 3 or later, the Accelsior 1M2 can be used externally in a PCIe expansion chassis like the OWC Helios 3S (sold separately)4.

Sequential read/write (max) performance based on testing an OWC Aura Ultra III SSD (PCIe 3.0) equipped Accelsior 1M2 on a Windows 10 PC equipped with a Gigabyte GA-Z170X-UD5 motherboard, 16GB RAM, and an Intel Core i5-6400 2.70GHz processor running Crystal Disk Mark 6.0.2x64 (32GB test size, Q32T1). 
Motherboard BIOS must support booting from PCIe NVMe drive. Check with your PC manufacturer. Booting on Mac Pro (2010-2012) requires macOS 10.14.6.
OWC Accelsior 1M2 is PCIe 4.0-compliant. Pre-built solutions currently built with PCIe 3.0 OWC Aura SSD. Data transfer rate performance will vary based on OWC Aura SSD used, CPU capabilities, and PCIe generation slot used.
Performance in a Thunderbolt 3 PCIe expansion chassis limited by maximum Thunderbolt 3 PCIe bandwidth of 2,800MB/s. 
OWC Accelsior 1M2 is PCIe 4.0-compliant. Pre-built solutions currently built with PCIe 3.0 OWC Aura SSD. Data transfer rate performance will vary based on OWC Aura SSD used, CPU capabilities, and PCIe generation slot used.
Booting on Mac Pro (2010-2012) requires macOS 10.14.6
Booting support requires that your motherboard BIOS support booting via PCIe NVMe drives