Other World Computing Announces 1TB and 2TB Atlas Ultra CFexpress Memory Cards
OWC Atlas Ecosystem grows with increased capacity and performance for demanding photo and video projects

Jun 27, 2023 | WOODSTOCK, Ill., June 27, 2023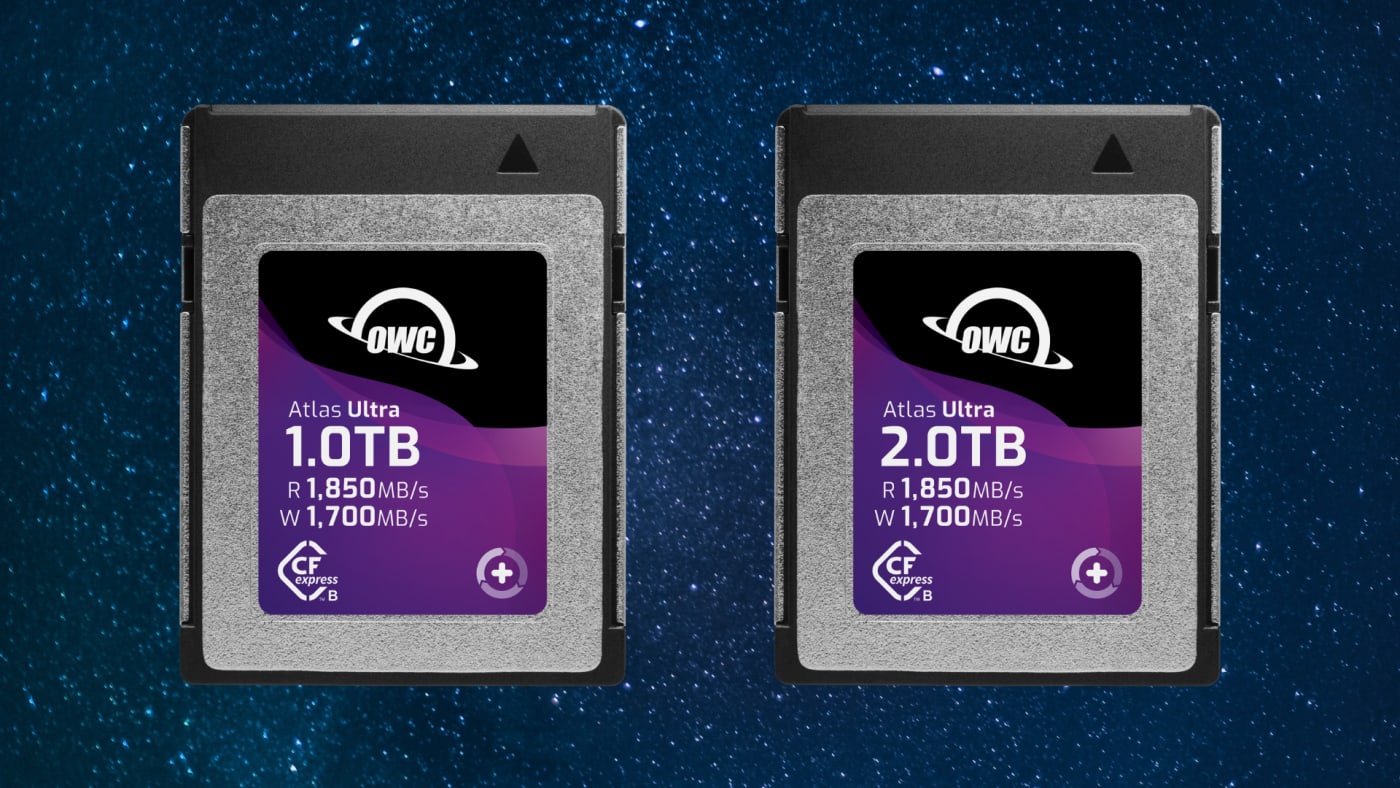 Other World Computing® www.OWC.com - The leading end-to-end ecosystem solution provider of computer hardware, accessories, and software for both consumers and professionals – today announced the expansion of the OWC Atlas Ecosystem with the release of 1TB and 2TB Atlas Ultra CFexpress memory cards.
The two new high-capacity memory cards provide incredible 1700MB/s write and 1850MB/s read real-world speeds and ultra-dependable 1500MB/s minimum sustained write speed. These high-performance Atlas Ultra CFexpress cards are designed to tackle today's extreme data needs, enabling professional filmmakers to capture amazingly life-like 8K RAW video with cinema cameras like the RED V-Raptor/XL and Komodo-X and flagship professional mirrorless cameras like the Nikon Z8 and Z9 or Canon R5C.
"As image resolution and color depth increase, recording time decreases. These higher capacity cards are the perfect solution for longer recording times at the highest resolutions and bitrates. The larger capacity points are also incredibly performative, giving us best-in-class reading, writing and workflows optimization," said Ian Stone, Category Manager for OWC memory cards.
OWC's extremely thorough quality control process allows users to shoot fearlessly knowing the Atlas Ultra CFexpress cards will flawlessly deliver the speed and data integrity needed when users only have one chance to capture the moment. The Atlas Ultra memory cards shrug off the toughest environmental challenges, including X-rays, UV rays, shocks, drops, and extreme temperatures. Shoot, store, and swap with peace of mind that each card has creatives' work – and back – well protected.
The new capacity points complete a full ecosystem of cards, readers, and software. OWC does not look to make point solutions, but instead a suite of products that aim to make the creative professionals' workflow move seamlessly and faster. Innergize™ works with all Atlas cards to keep them out-of-box fresh throughout the product lifecycle and is a free solution that comes with the new 1TB and 2TB Atlas Ultra cards.
The OWC Atlas Ecosystem
OWC has built the most comprehensive assortment of hardware and software solutions to support anyone through the creative process from Capture to Completion™. The OWC Atlas Ecosystem is the first step of the process to ensure photographers/videographers have the tools they need to get their vision from the camera to the audience.
Atlas Memory Cards
Atlas CFexpress and SD memory cards provide flexibility and choice for photographers and videographers based on their cameras and how they use them and tested under the most aggressive settings each card type can handle, Atlas memory cards securely store irreplaceable content and deliver the performance and reliability to spec.
Atlas Card Readers
Go from ingest to edit with a range of bus-powered portable Atlas card readers, as well as SD and CFexpress card reader equipped OWC docks and storage solutions. OWC memory card readers like the Atlas FXR have been specifically designed and extensively test proven to deliver effective heat dissipation so Atlas memory cards will deliver maximum sustained throttle-free performance.
OWC Innergize™
OWC's Innergize software is an integral part of the ecosystem built for OWC Atlas memory cards and readers. Innergize provides health monitoring to ensure the card is healthy enough before a shoot begins, field firmware updates to ensure the cards and readers will perform optimally with future cameras, and card sanitization that ensures that there will be zero dropped frames when shooting video or continuous burst photos.
OWC Copy That®
For when users have captured their footage and need to disperse it quickly and accurately to backups, editors, producers, directors, and other stakeholders. OWC Copy That streamlines the offload process with lighting fast, verified copies of files to single or multiple destinations.
Pricing & Availability
OWC Atlas Ultra CFexpress 1TB and 2TB are now available starting at $599.99 at Macsales.com, amazon.com, bhphotovideo.com, and other dealers worldwide
OWC Innergize is now available for download for both Mac and Windows
OWC Copy That is available for Mac on the OWC Software store
About Other World Computing (OWC)
Other World Computing (OWC), founded in 1988, provides Mac and PC enthusiasts with reliable solutions for computer hardware, accessories, and software at both the consumer and professional levels. In opposition to our disposable world, OWC's products are intended to serve as the life-extending foundation of personal and/or professional digital life, from capture to completion, enabling users to maximize their technology investments. The company has extended its quality, long-term solutions for creative professionals to serving enterprises, small businesses, and education administration. OWC's award-winning team of technologists, engineers, creatives, and professionals have a passion for improving technology and are dedicated to bringing the best solutions that last and true leadership in doing so sustainably for the benefit of all. Learn more at OWC.com/green.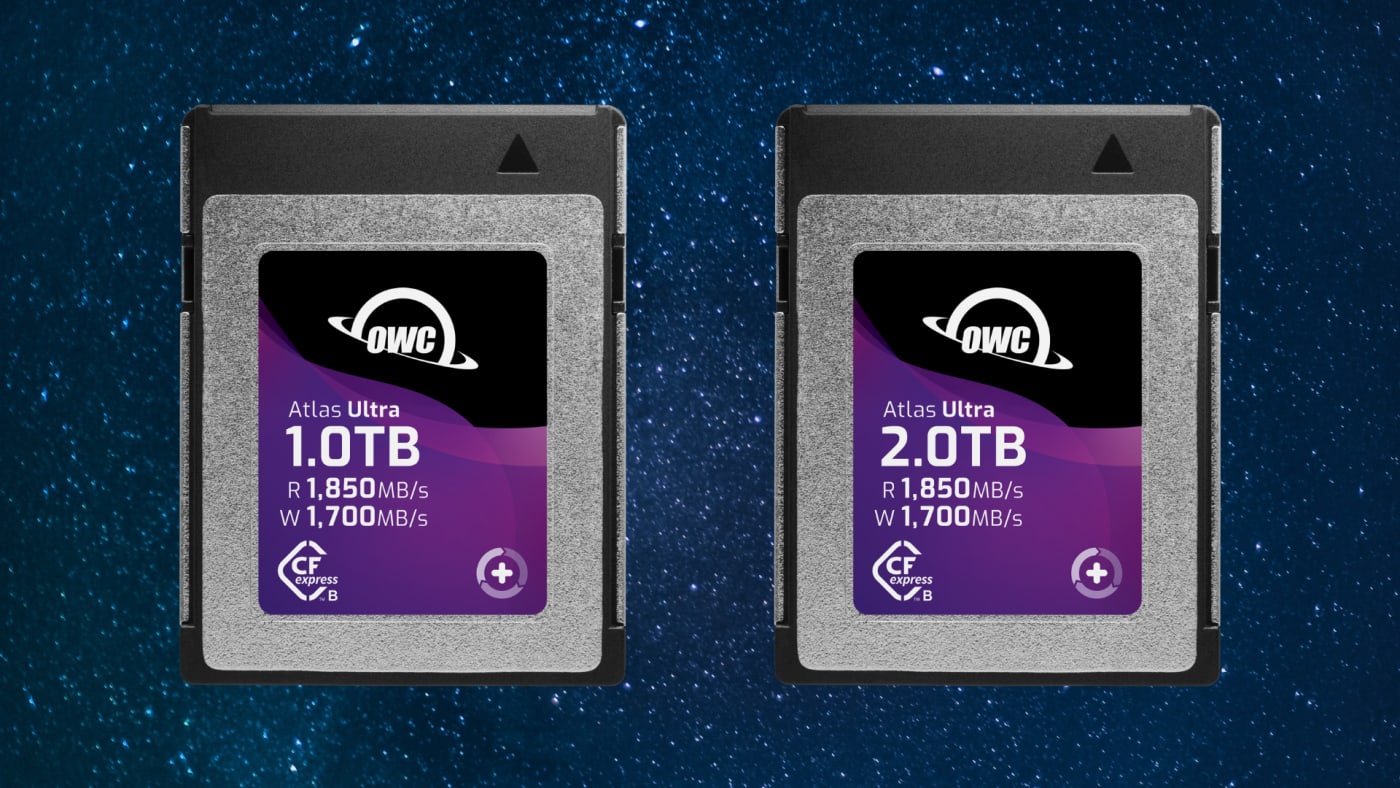 About OWC
Other World Computing (OWC), founded in 1988, is dedicated to helping Mac and PC enthusiasts do more and reach higher. We believe in sustainability – OWC solutions are genuinely built to last, go the distance, and enable users to maximize the technology investment they have already made. OWC's operation provides leadership in business sustainability, with its headquarters among the first in the world awarded LEED Platinum certification. OWC features an award-winning technical support team and an unparalleled library of step-by-step DIY and informational videos. From the home desktop to the enterprise rack, the corporate backup to secure medical data, the recording studio to the motion picture set, and beyond, there should be no compromise. That is why OWC is here.
Company Contact
Matt Burkey